Step 1 – Design Development
Your design agency will have handed over a comprehensive set of brand guidelines. The clue in in the name – they are there to guide you in implementing your brand consistently. But with the best will in the world, they cannot cover every scenario and detail.
We all know that it's important to plan ahead. No doubt you will have already scoped various scenarios and may be working already with a brand implementation partner who has provided a full audit of your brand touchpoints.
Equipped with these insights, it's now time expand on the guidelines and flesh out the rules and solutions in detail.  Take signage as an example.
Consider how your design is specifically applied to a multitude of different real-life signage requirements. What is the signage hierarchy, what is the purpose – wayfinding or standalone? Pylon, monument or fascia, illuminated or backlit?
This is where it really pays to work with specialists who know the product field, but who also how to deliver solutions that will maintain your design integrity.
Developing your design and showing how it will be applied in the real world will be an ongoing feature of your rebrand. The way you capture the developments and nuances is also key and forms part of your brand governance strategy. But that's a whole other topic for another time!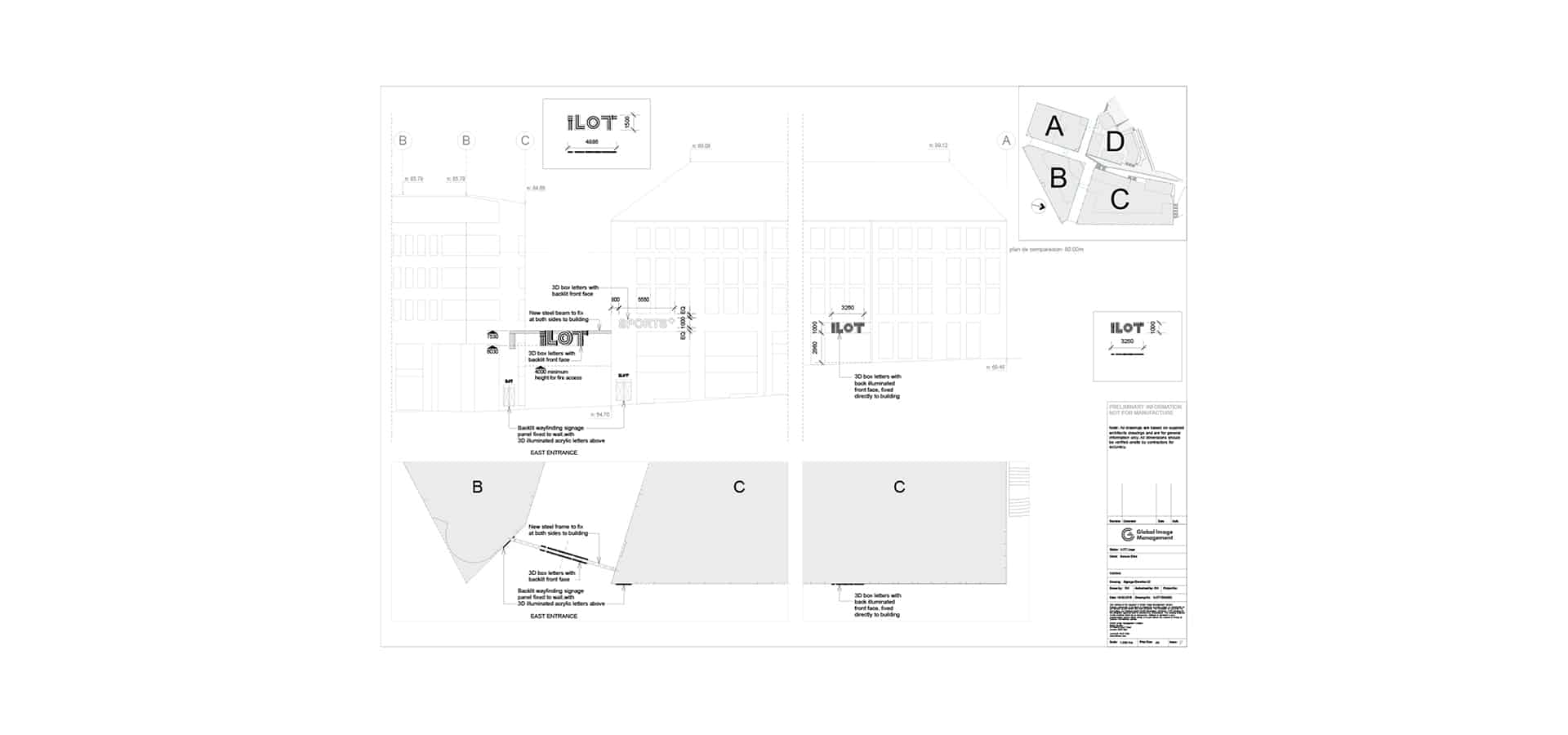 Step 2 – Detailing and specification
Once you have a full picture of what is required in each area, you can start to add all the finer details. The more detailed you can be, the better:
Specific design application
More accurate costing
Find the best supplier
Let's consider colour. There are nearly 2,000 Pantone colour references.  Your design guidelines will be very specific about which colour to use, most often in 2D print. But it's a whole different story when you have to achieve the exact colour match in your retail store, car dealership or workplace – be it graphics, tiling, wallpaper or paint.
Of course, product knowledge is important but what probably counts most is experience. What works on paper does not always translate in reality. Tried and tested solutions are worth their weight in gold.
Trusted sources
Designers, architects, interior designers, specifiers – they can all contribute to detailing and specifying the right materials and in the right quantities.
They understand how different materials work, which finishes or lighting solutions will give you the best result.
Remember to reach out to suppliers too – their technical teams are always happy to advise on the best solution. Obviously be aware that their advice will be restricted to their own product range.
To save doing the rounds with multiple suppliers in an attempt to find the best solution, consider using an independent adviser who has experience across the board.
Brand implementation companies undertake this exact task day in and day out – tap into their experience and product knowledge.
'Protect your design integrity - the more detail you can specify, the greater your chance of achieving your brand vision'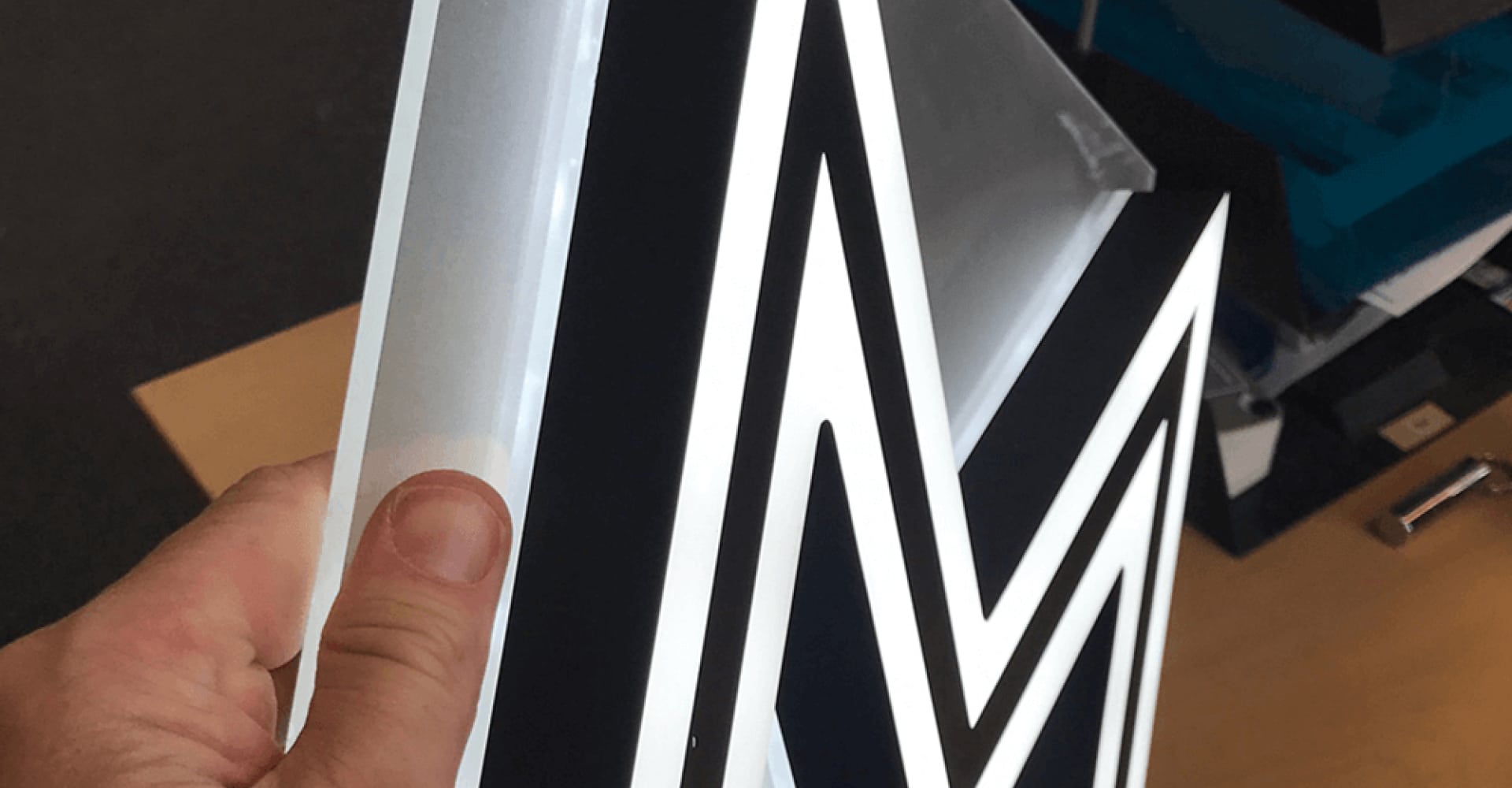 Step 3 – Documentation & Prototyping
"We are drowning in information but starved for knowledge."
I don't think anyone reading this blog would disagree with this statement.  There is more information, more choices, more sources of information than ever before and it's more readily available than ever.
In Step 2 'Detailing & Specification' you have honed down the many and often overwhelming number of choices available – to convert this 'information' into knowledge that can be shared with your team, it's time to document and then test drive the solutions.
Many people will be involved in your rebrand – to keep them aligned and delivering against your specific objectives, it's vital to pass on and share your knowledge.
ocumentation
The better the brief to all involved, including suppliers, the better the outcome. Leave no room for doubt – robust documentation results in consistent branding and eliminates the risk of costly mistakes or going over budget.
Create a comprehensive set of instructions that covers:
Quantities required
Technical drawings
Architectural plans
Artworks
Materials specification
Workstreams
Prototyping
Particularly for larger branding programmes and the branding of physical environments or experiences, a pilot scheme will identify potential issues and pre-empt issues.
Often larger organisations have their own 'dark' sites where design concepts are tested, sometimes with customers.
This is your chance to try out options – experiment with different finishes, formats, lighting, layouts, materials and colours.
Experiment with formats and layouts
Test the customer journey
Add product
Trial different product solutions
A pilot also provides the ideal opportunity to engage with key stakeholders. Chief Executives love to be involved at this stage and express their opinion. Getting them on side at this stage will smooth the way for the next step in your rebrand journey – your national or international rollout programme.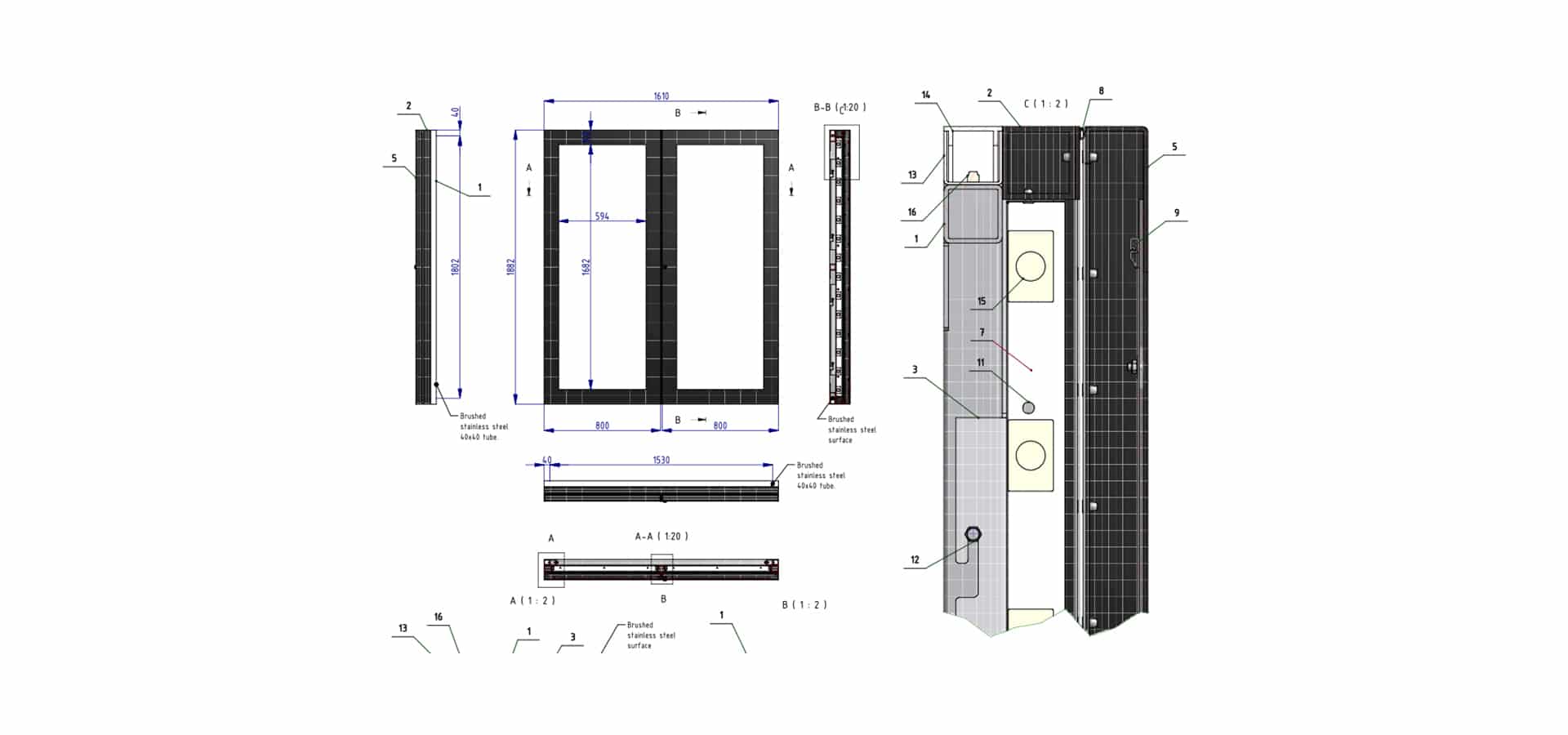 Stage 4 – Tendering
Your prototype site has turned your information into valuable knowledge – you know what works where.  Now it's time to share this knowledge with those who can deliver your solutions.
Armed with your guidelines and documentation, it's time to create your 'tender pack' so that you can brief the best suppliers.  Remove any room for interpretation – provide as much information as possible including visualised design concepts, graphic schedules, profile packages and architectural placement plans and elevations.
The process for finding, qualifying and appointing suppliers can be time-consuming. Don't underestimate the time needed to prequalify, brief, evaluate, shortlist, listen to presentations, visit sites, select, negotiate and finally appoint suppliers.
You may want to involve your Procurement team and of course require input from the Legal team.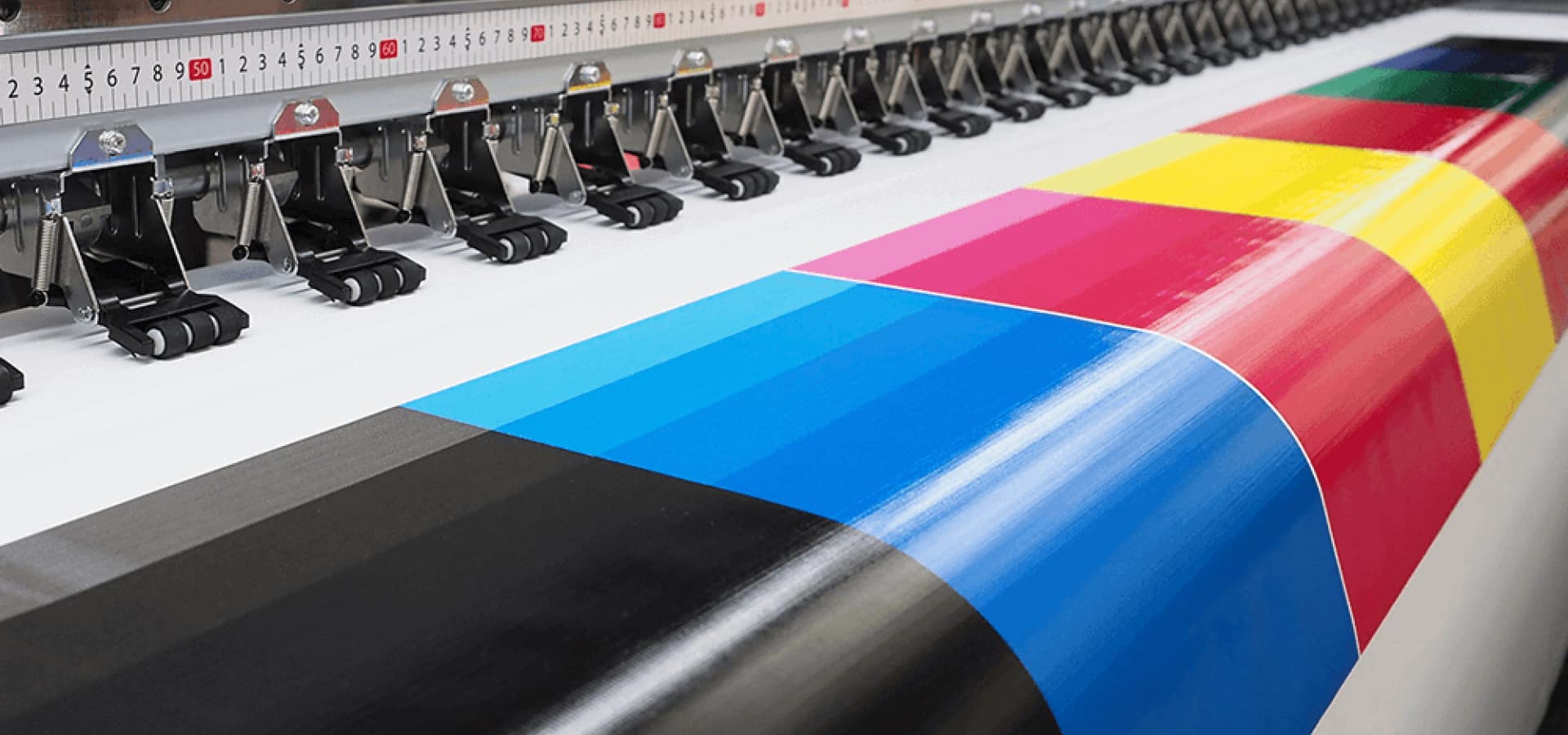 Top five tips
Accept that brand guidelines are never 'finished' but they develop and grow organically as you rollout your brand.
There is no magic wand to translate your on-paper design into real-world branded touchpoints. The painstaking work of detailing and specifying every element of your brand solutions will pay off in the end. Your reward will be brand consistency, cost control, a smoother rollout, better supplier relationships and a happier team.
Don't be afraid to rely on external resource.  When it comes to understanding product solutions that will protect the integrity of your brand identity, then experience is everything. If you're doing your first rebrand, you cannot possibly be expected to know the plethora of latest products that are available.  This is what specialist rebrand companies do – why not benefit from their experience?
Test, test, test, particularly if you are facing a large rebrand. Before you scale up your efforts to multiple locations or markets, a prototype or pilot will check that all solutions work and gives you the chance to adjust accordingly.
Pre rebrand checklist: brand guidelines, specifications, documentation packs, pilot scheme, suppliers appointed.  You're good to go. Let the implementation begin…Good luck!
Find out more
Our team of rebrand specialists is on hand to help with your rebrand, from strategy through to implementation. Contact us for an initial no-obligation chat.
'We design flexibility into our workplaces to optimise team productivities and individual personal performances.'
Developing and delivering the HSBC Employer Brand
We worked with HSBC to develop, design and implement a global branding programme that brought brand consistency to their work spaces but at the same time, allowed for local customisation. At the hub of this large-scale and award-winning programme, we provided central control and input in terms of design, rollout, material specification and installation.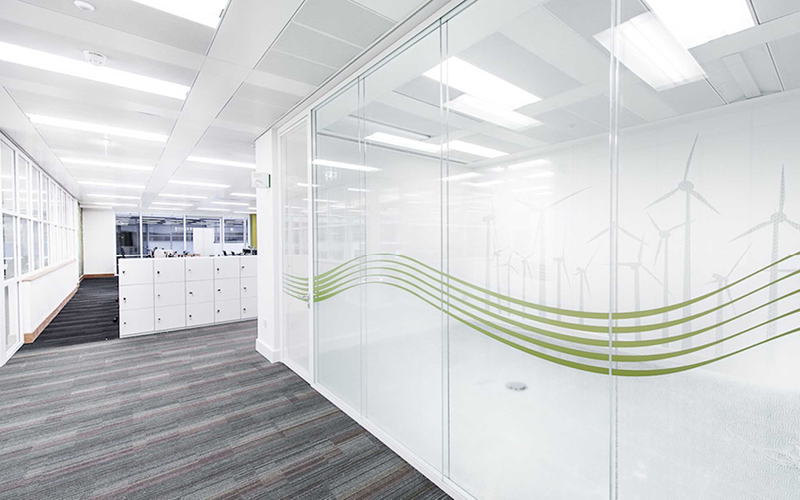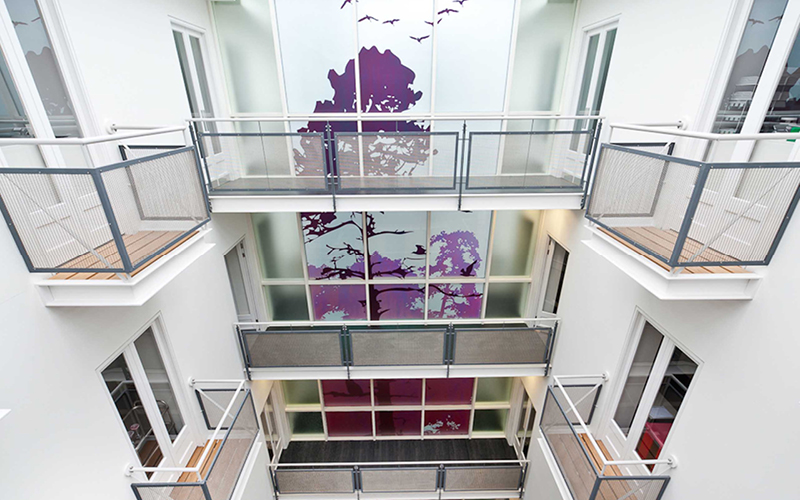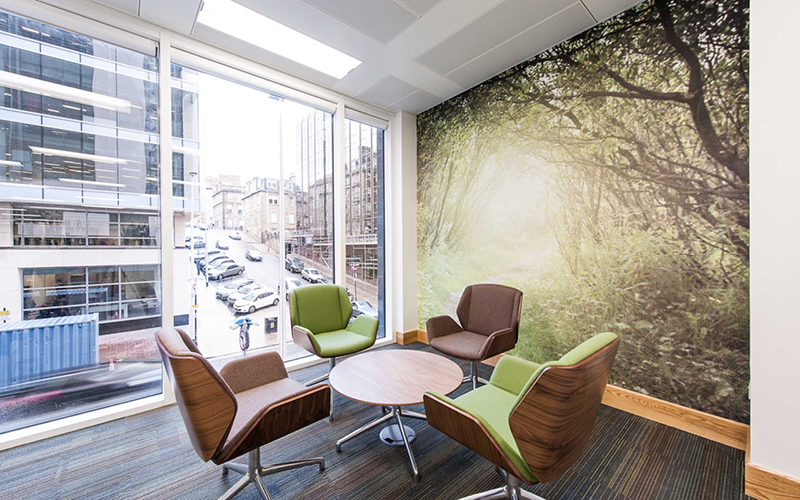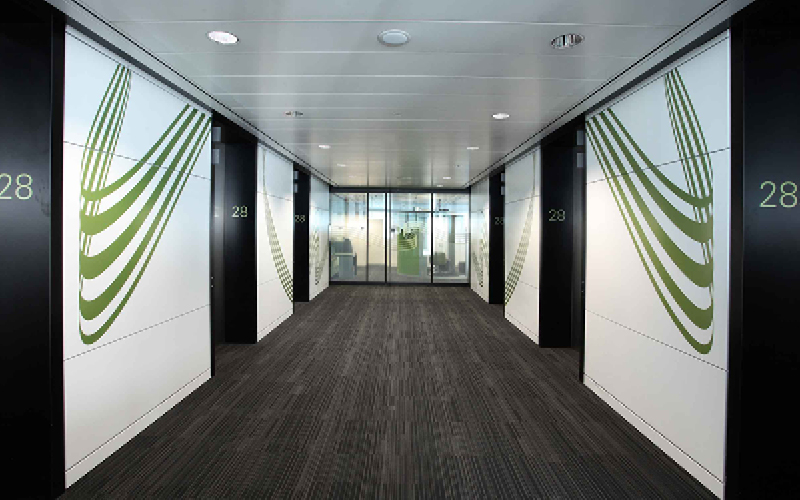 Immersing teams in the purpose and culture of your brand will enable your values to be owned and shared more effectively, we design brand language into workplaces to encourage brand and purpose ownership. We are currently rolling out dynamic branded workplace programme for a global brand, who are blending local art and cultural notes into their designed spaces to elevate local team brand values.
'Immersing teams in the purpose and culture of your brand will enable your values to be owned and shared more effectively.'
Our experience in real estate, hotel and retail design enables us to think and plan for every step in an employees daily journey and translate an organisations values and purpose into a culturally resonant and engaging place of work, opportunity and ambition.
'Unlock the potential of your team. Create places that inspire ideas that make the right difference.'
'Visibility matters. In a hyper-digitalised world, real world visibility is often over-looked and opportunities to position and promote brands are missed.'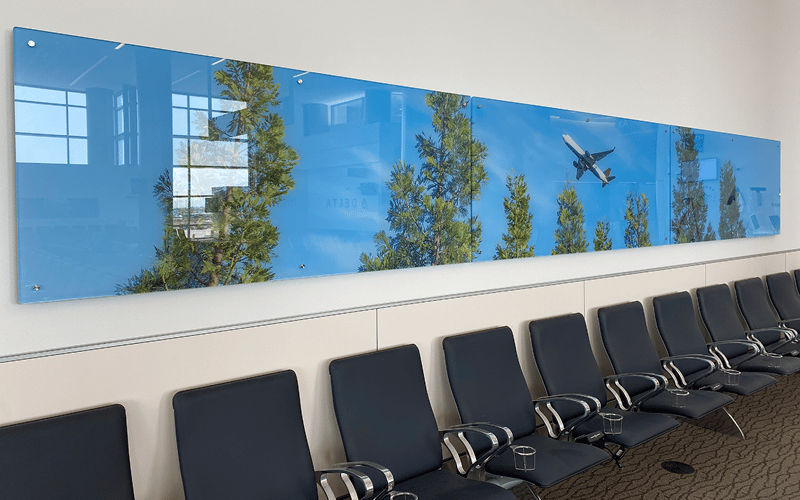 Delta brand visibility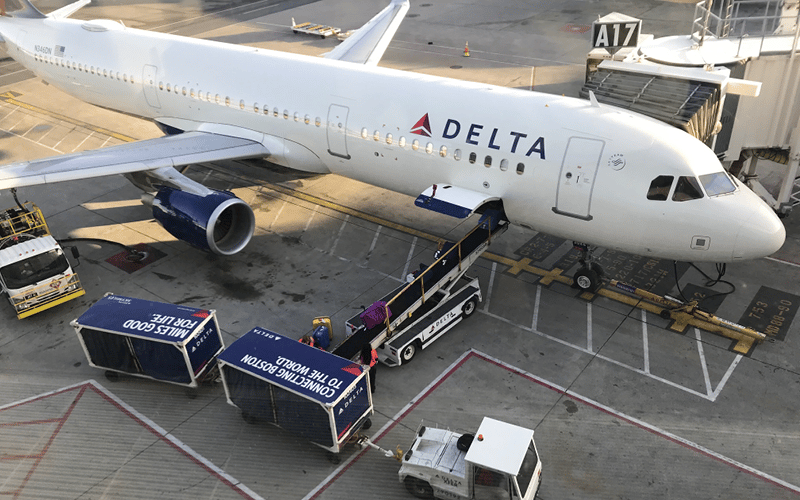 Delta bag carts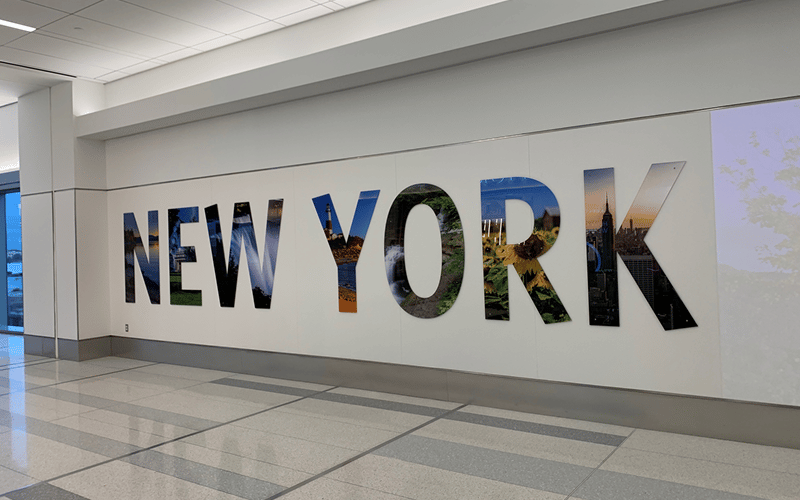 Delta brand visibility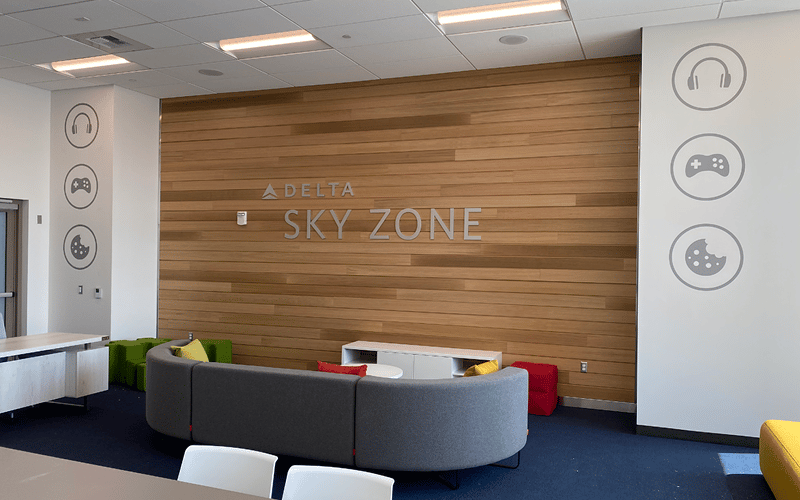 Delta sky zone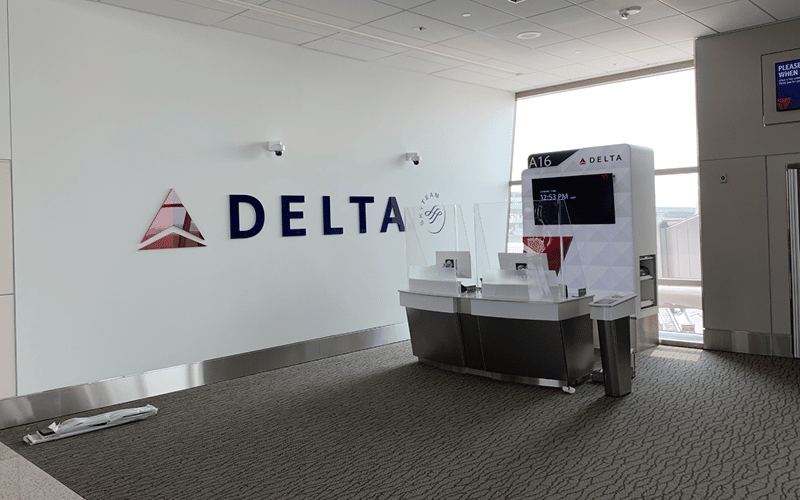 Delta brand at the gate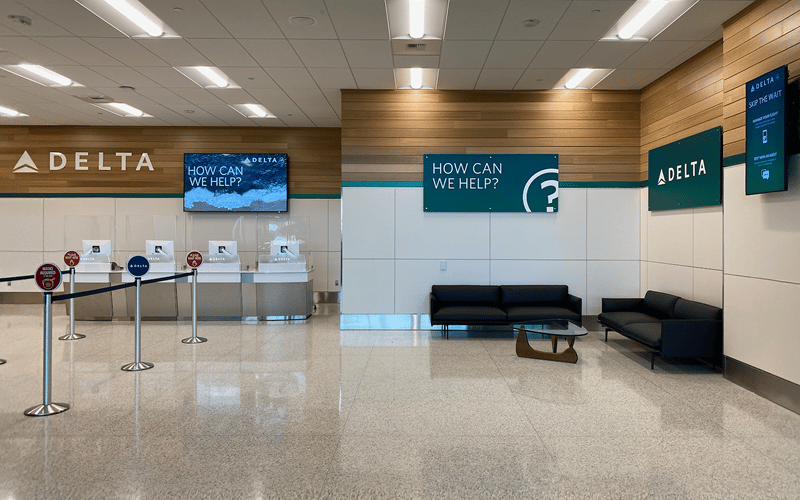 Delta brand at check-in
This data is carefully captured into a Brand Asset Management system and analysed to provide the planning blueprint for your rollout.
Our detailed reports provide the foundation for your brand implementation.  They also leave you with a legacy asset management system that can be easily maintained and kept for future use in brand management and mobilisation.
If we've developed your brand, we will have created this legacy asset management system for you. 
'In some client cases, the master-brand has already been developed and our role is to then work from the guidelines and extend the brand into new product services and new markets.'
'A sensible starting point is understanding how you are currently perceived and how visible and resonant your brand is compared to your competitors.'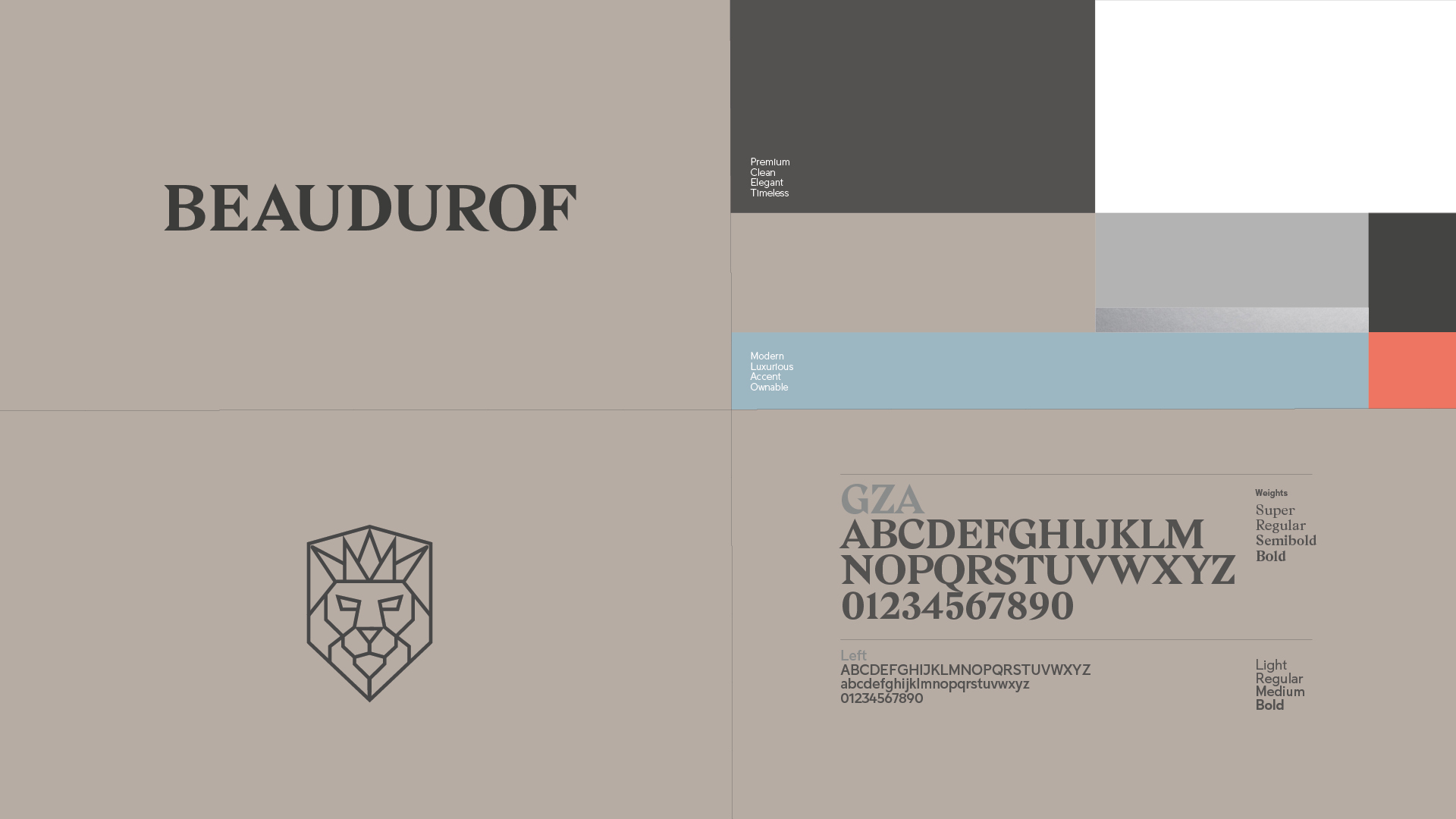 Beaudurof Brand Identity Elements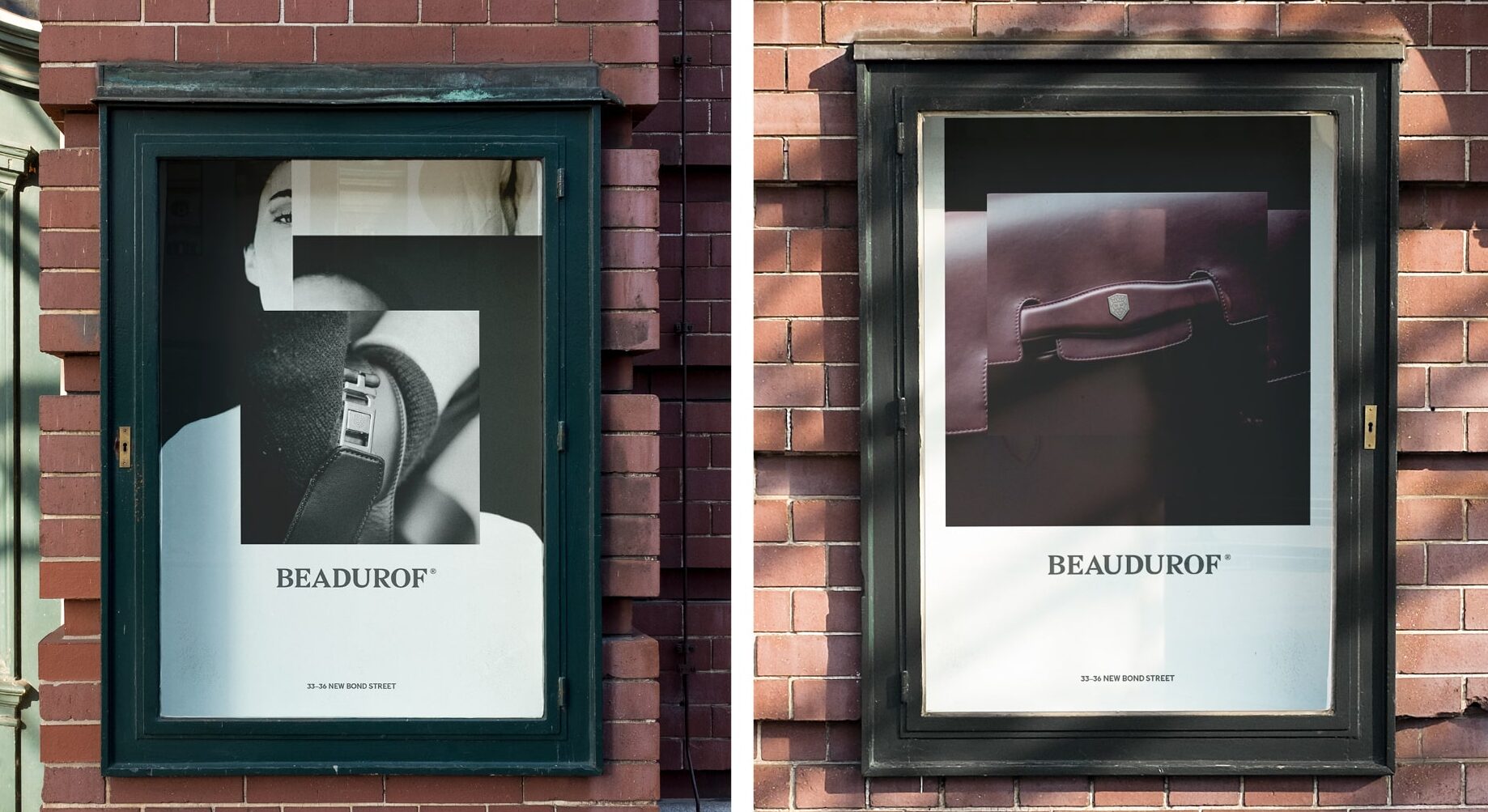 Beaudurof OOH Advertising
Your consumer research agency may have already conducted these perception audits as part of your strategic reviews and your marketing team will have provided analysis of marketing campaigns to understand consumer response to current brand campaigns. Your HR team will have polled employees on their views on whether the brand reflects their values and is engaging and inspiring.
To complement your internal analysis we will combine a visual benchmarking exercise, with a review of consumer sentiment and undertake a full brand visibility review to understand whether you are making the best use of your physical assets.
'The combined outcome of your analyses is that we are able to develop a visual, statistical, sentiment and physical assessment of how your brand is perceived, performs and its place compared to your competitors.'
When combined with your business and beliefs objectives, we have the basis for a solid brand design brief.
From this brief we will design the visible elements of your brand that identify it and distinguish it from competitor brands. A cohesive identity that wholly reflects the personality and purpose of your organisation, which will enable you to build a positive brand image. And a language that encourages audiences, from customers to investors, to buy-into your brand image.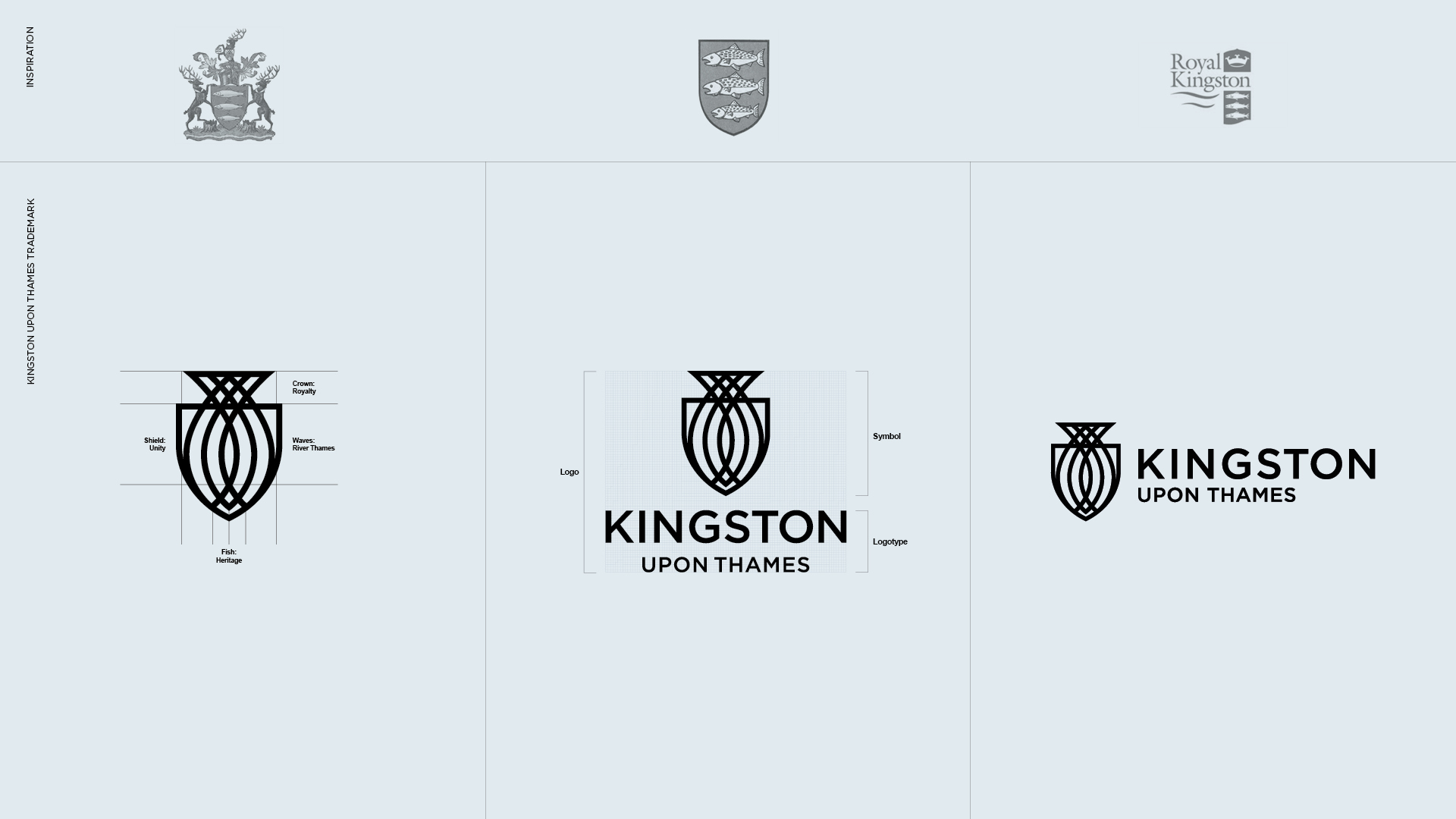 Kingston Upon Thames Branding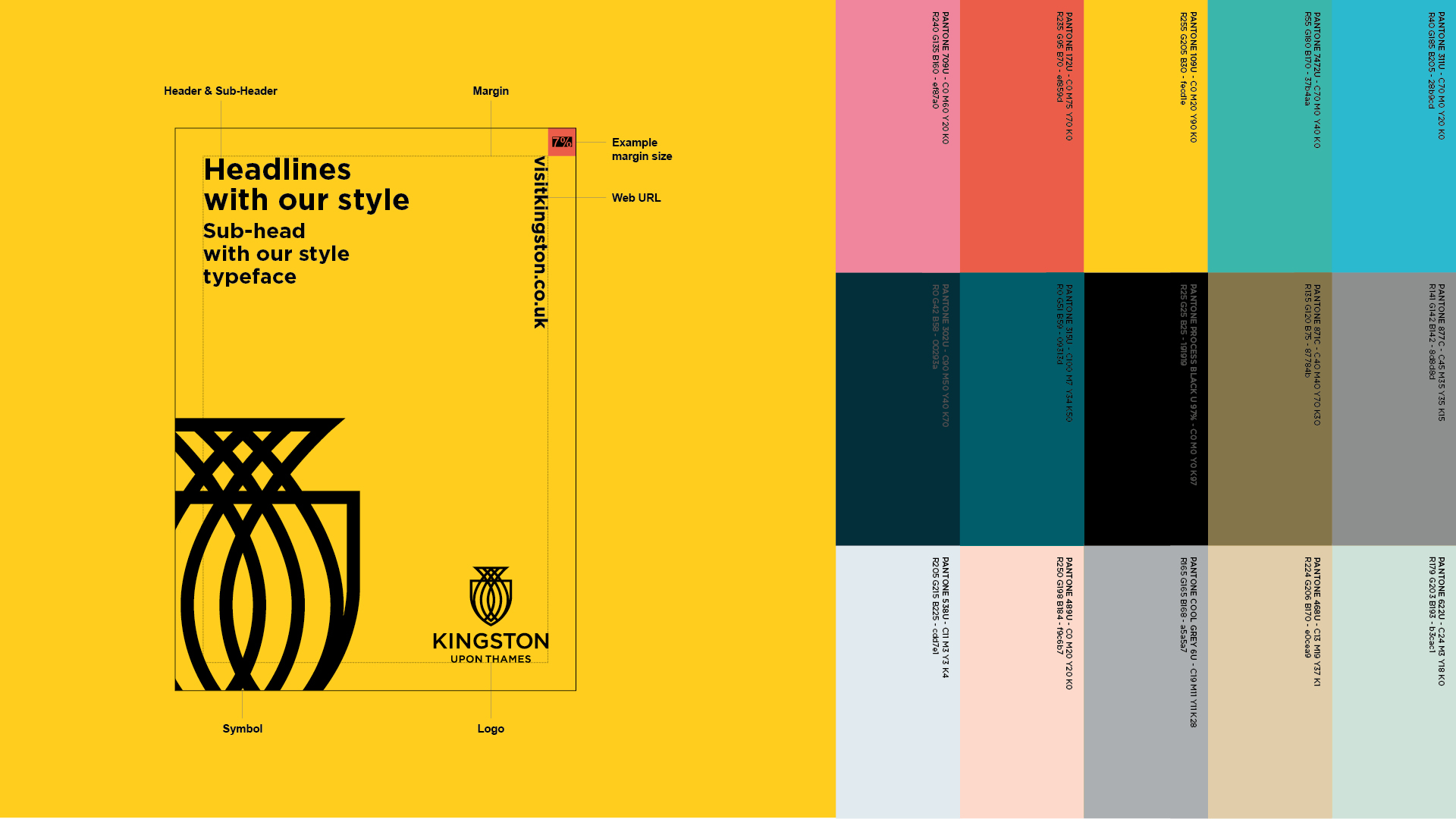 Kingston Upon Thames print specs and colour scheme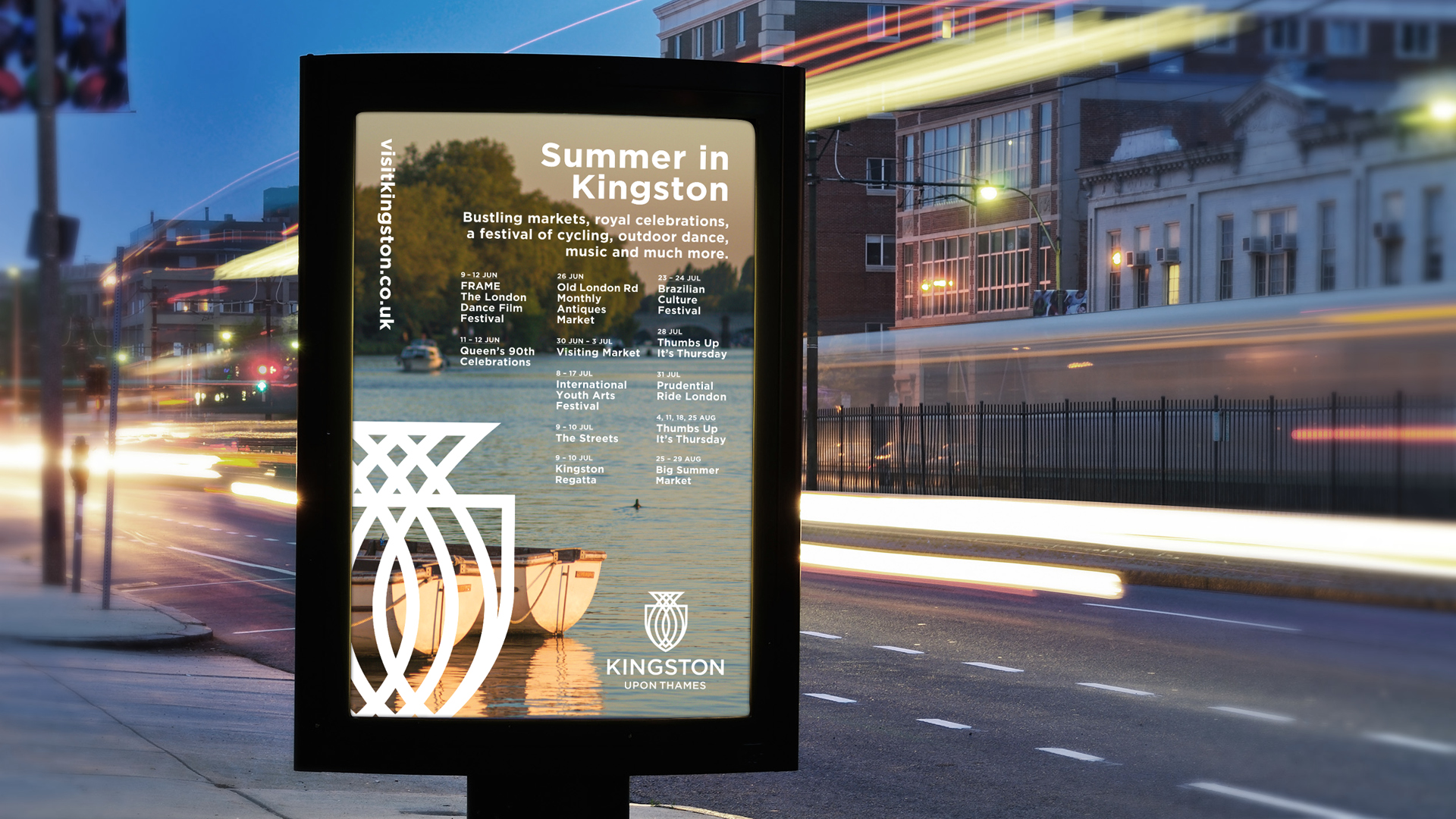 Kingston Upon Thames OOH Advertising
We develop the brand design through multiple media formats, create future campaigns and compare these campaigns to the visual benchmarking exercise. This enables everyone to see the brand in comparable real-life scenarios. We also advocate that brand design routes are tested internally with employees and externally, if the project scope allows, with consumer focus groups or even in some online campaign activity.
We will produce a full suite of brand guidelines to enable all partners to understand why and how the brand is implemented. We can help deliver those onboarding sessions internally and externally.
'There are many brand agencies and many brand implementation agencies. There isn't one agency that does both as expertly as we do.'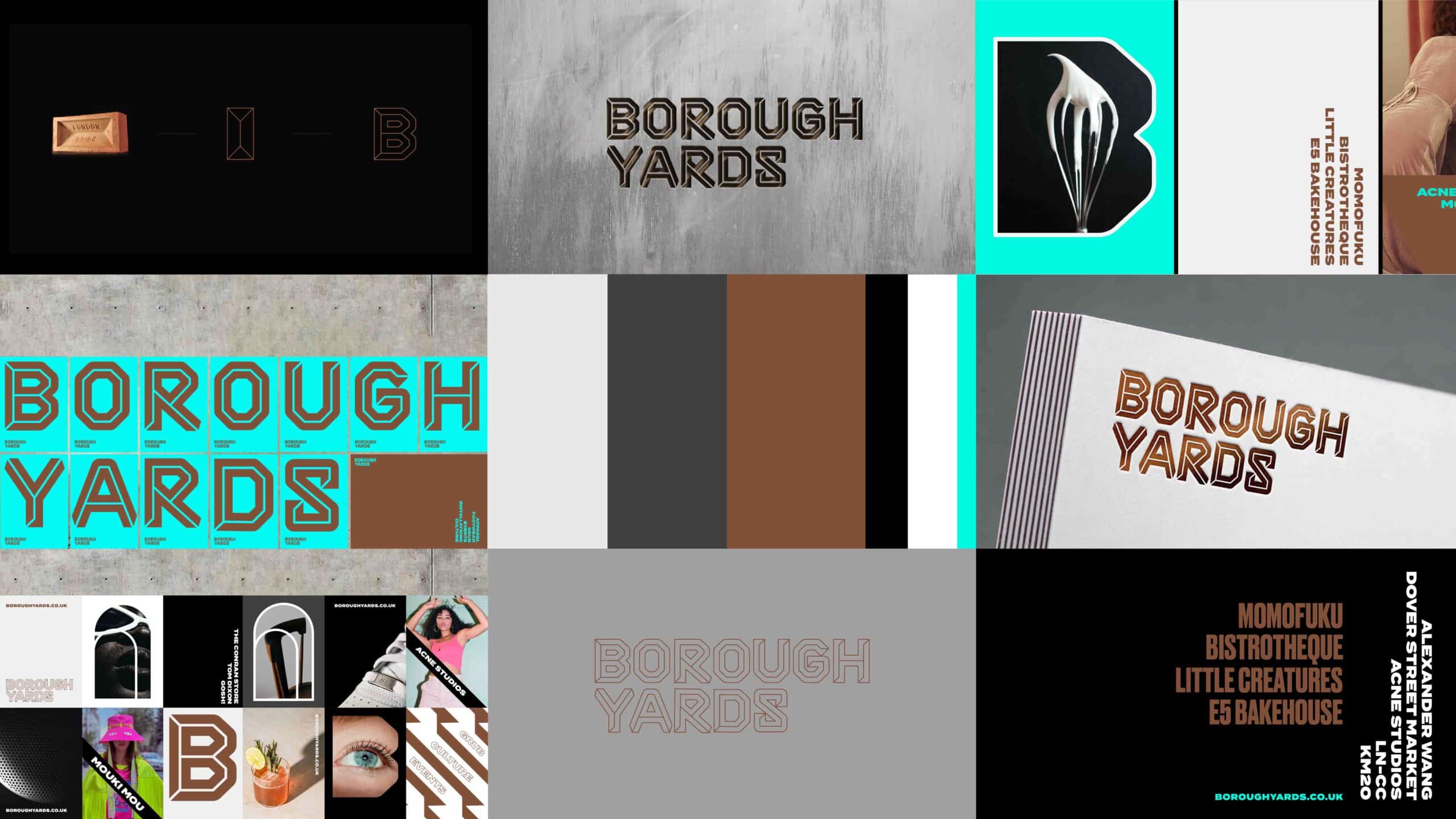 Borough Yards Brand Identity Elements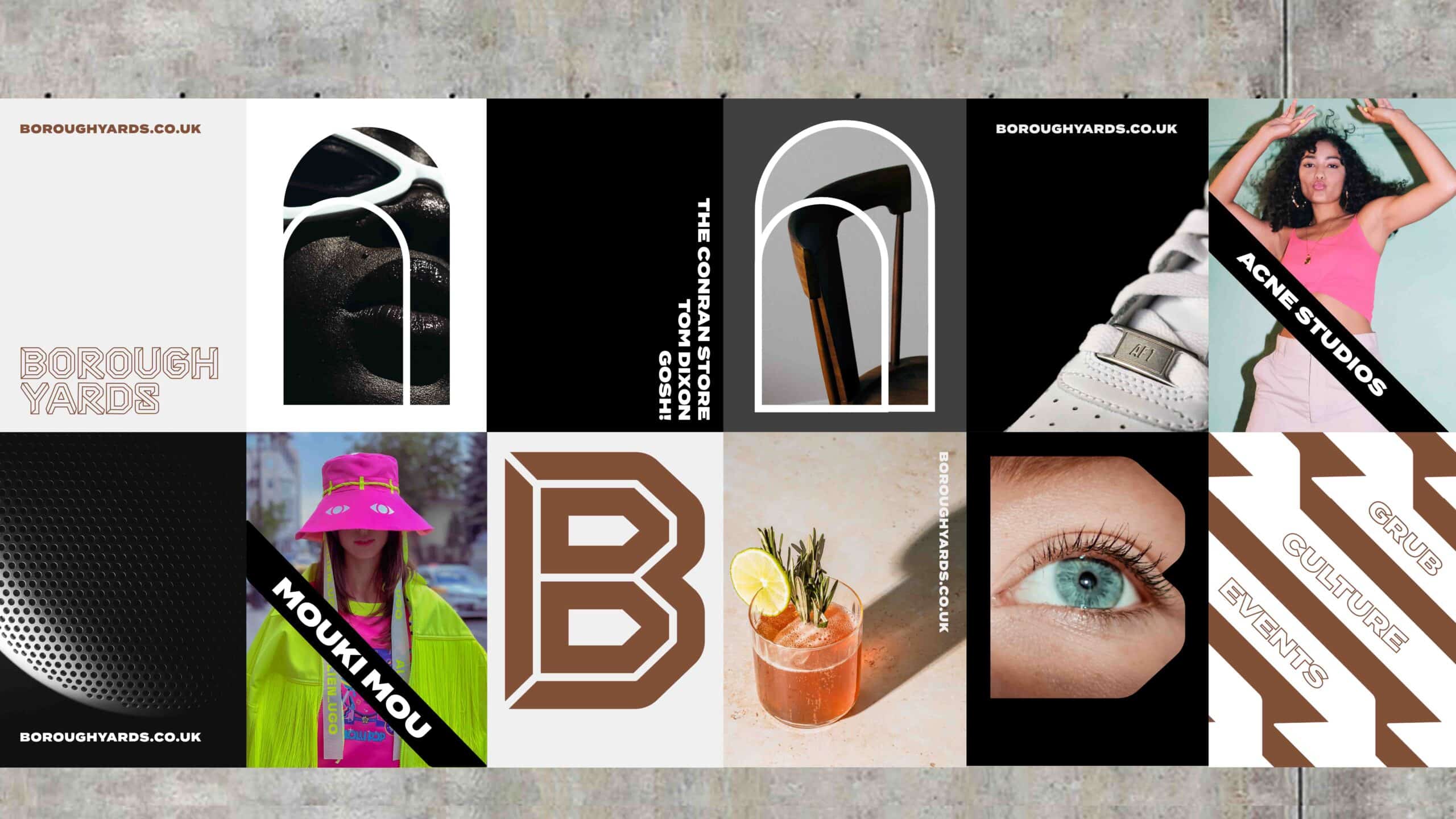 Borough Yards OOH Advertising
So, once your brand identity is developed, we are very well placed to support the delivery through marketing and mobilise its physical implementation, across the globe.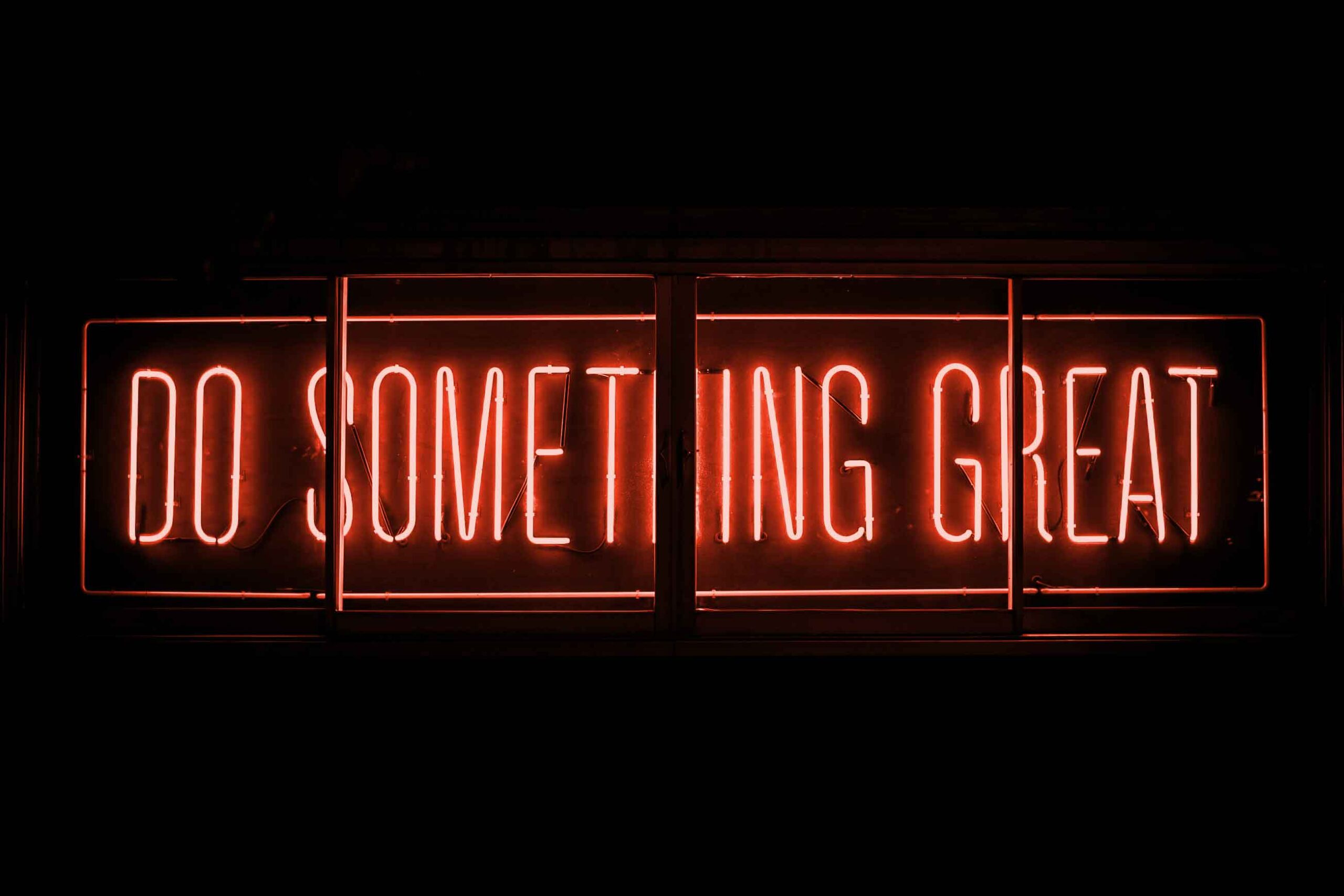 86% of B2B companies recognize purpose as important to growth, but they are still working out how to implement their purpose so that it influences business and social outcomes. Only 24% said purpose is embedded into their business to the point of influencing innovation, operations and their engagement with society. (Carol Cone 2020)
'At companies that have clearly defined and communicated how they create value, 63% of employees say they're motivated, versus 31% at other companies; 65% say they're passionate about their work, versus 32% at other companies.'
A unique brand purpose can differentiate your brand from competitors. It's part of everything you do, so will be woven into your visions, values, culture and company missions.
64%
of global consumers find brands that actively communicate their purpose more attractive. (Accenture 2018)
62%
want companies to take a stand on issues they are passionate about. (Accenture 2018)
52%
SAY THEY ARE MORE ATTRACTED TO BUY FROM BRANDS THAT STAND FOR SOMETHING BIGGER THAN JUST THE PRODUCTS AND SERVICES IT SELLS (ACCENTURE 2018)
86%
of B2B companies recognize purpose as important to growth, but they are still working out how to implement their purpose...(Carol Cone 2020)