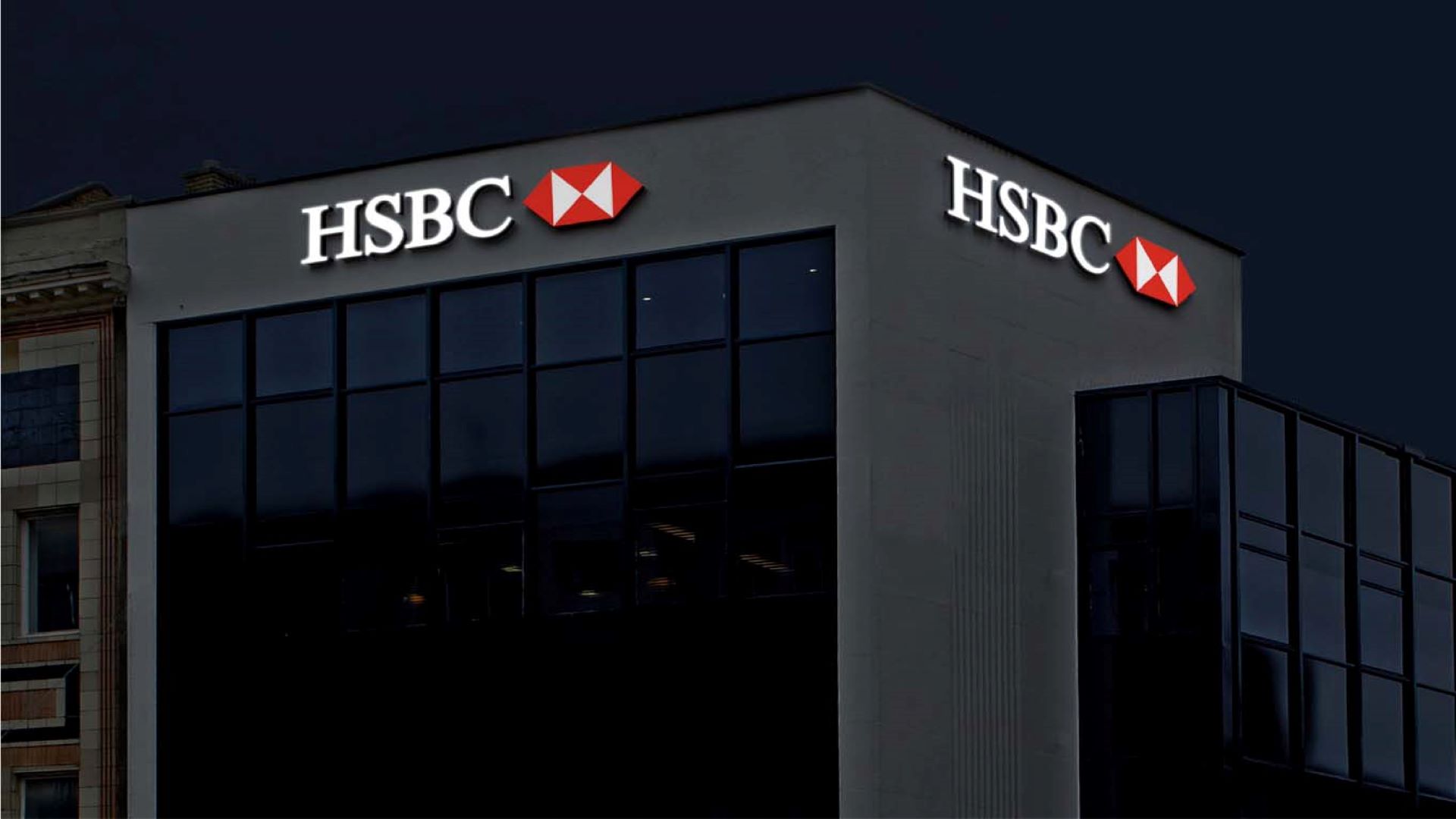 The Brief
To develop and deliver a global branding programme across 85 countries, including workplace branding, wayfinding and external signage.
HSBC Group Design sought to create individual designs for their workplaces around the world, to reinforce the Employer Brand and to enrich the workspace.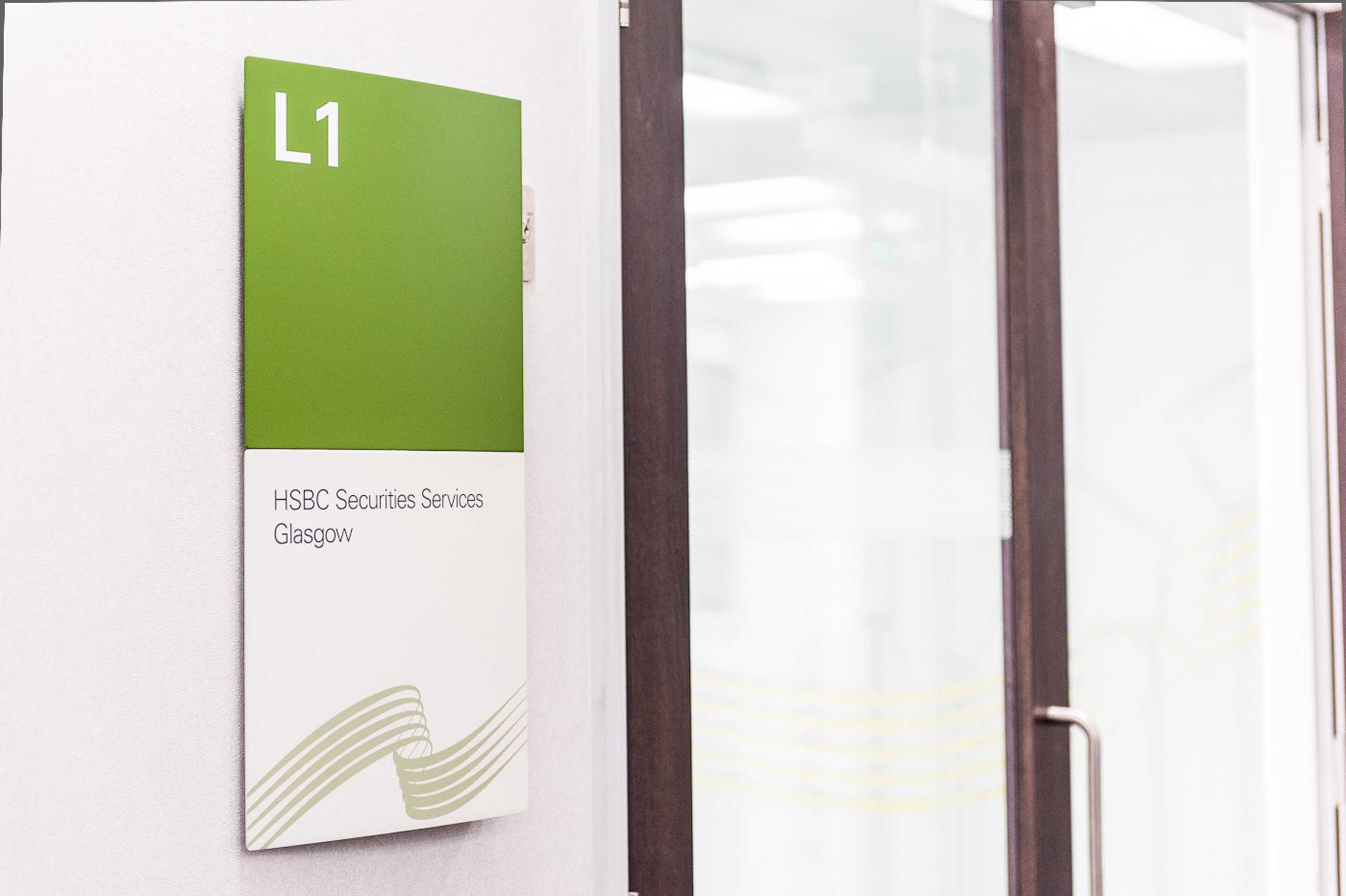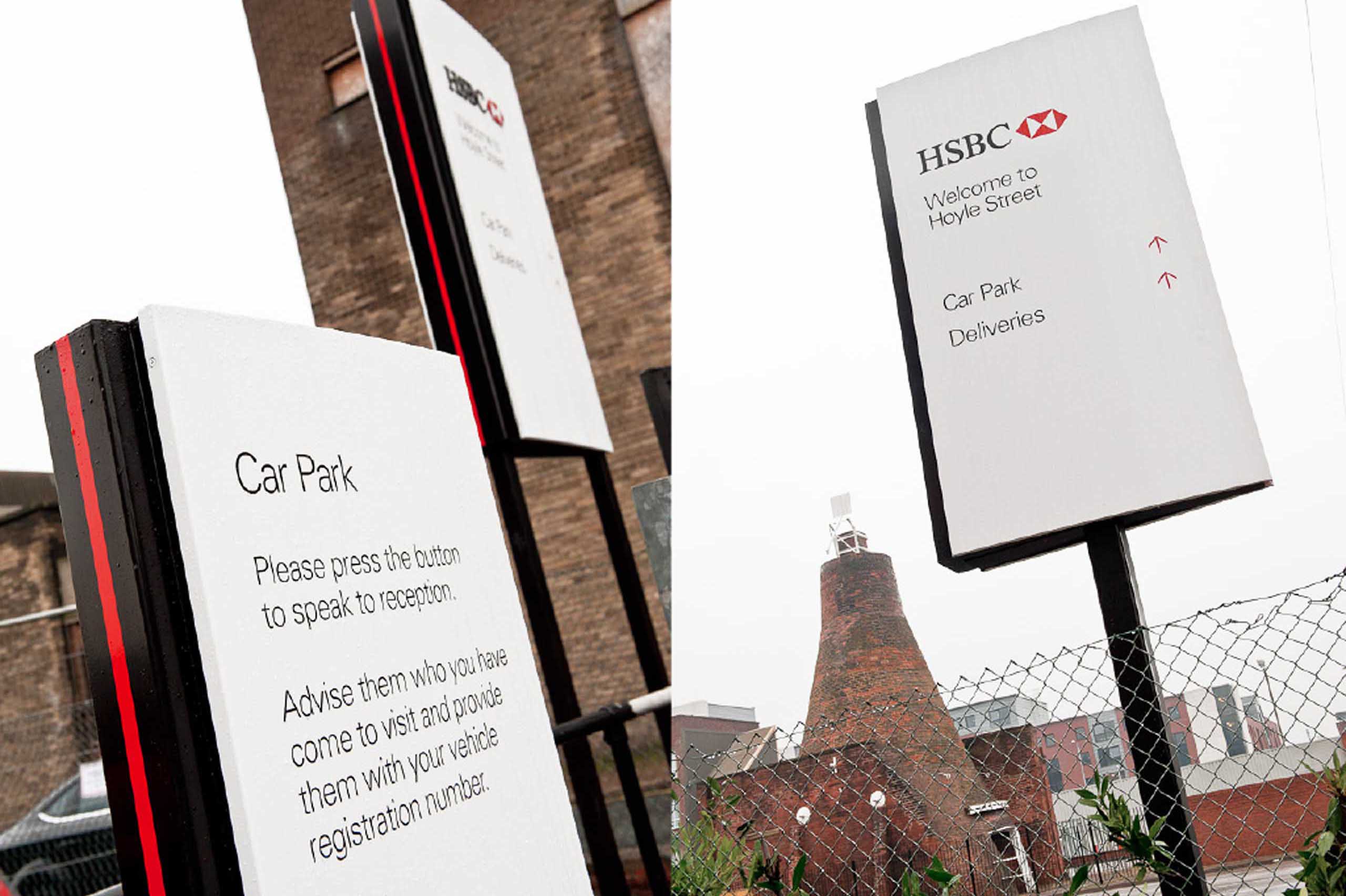 Developing and delivering the HSBC Employer Brand
We worked with HSBC to develop, design and implement a global branding programme that brought brand consistency to their work spaces but at the same time, allowed for local customisation.
At the hub of this large-scale and award-winning programme, we provided central control and input in terms of design, rollout, material specification and installation.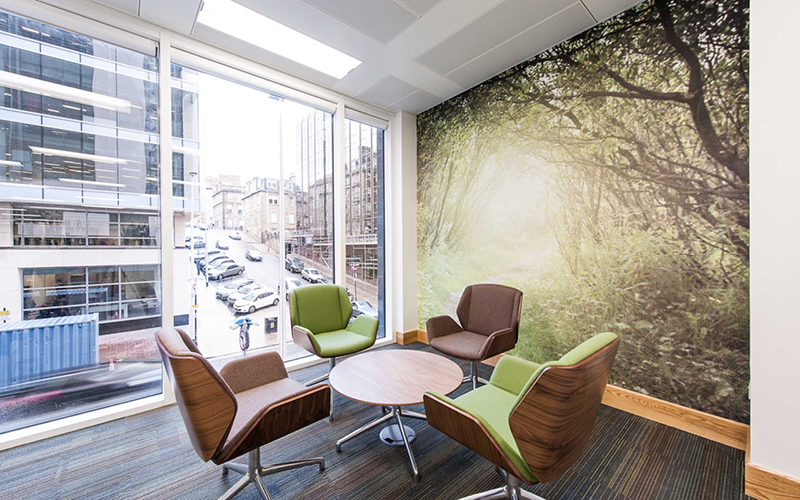 The implementation strategy was based on central control but delivered by our local project managers and our local network.
This provided HSBC with the scope to deliver consistent but customised designs internationally, resulting in better engagement, lower costs and quicker delivery times.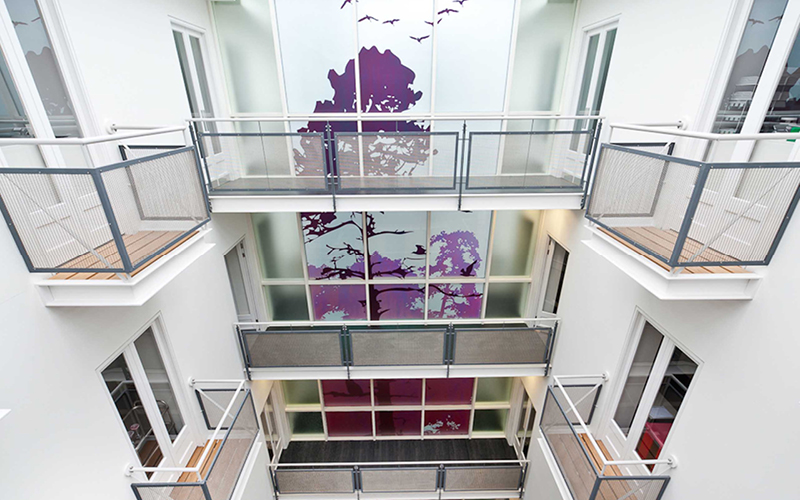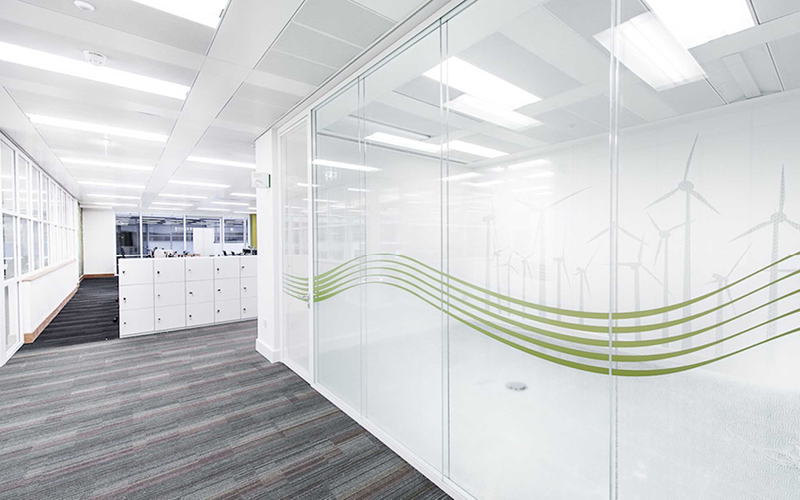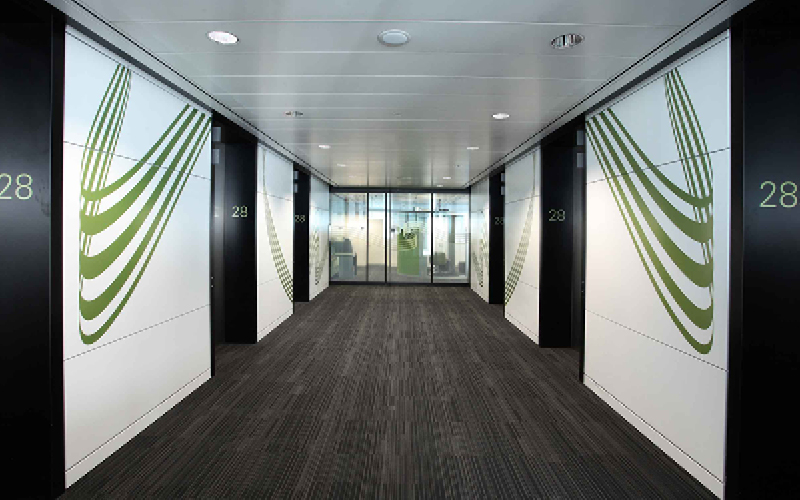 The environment's important
An environmental approach to signage was adopted. To minimise costs and carbon footprint, all the specified materials were sourced locally, environmentally friendly and recyclable.
Through careful choice of innovative mechanical sign designs,  we helped to reduce the on-going cost of ownership by allowing maintenance staff to easily carry out day-to-day additions, moves and changes.
We're proud to have won three international awards for our global branding programme for HSBC.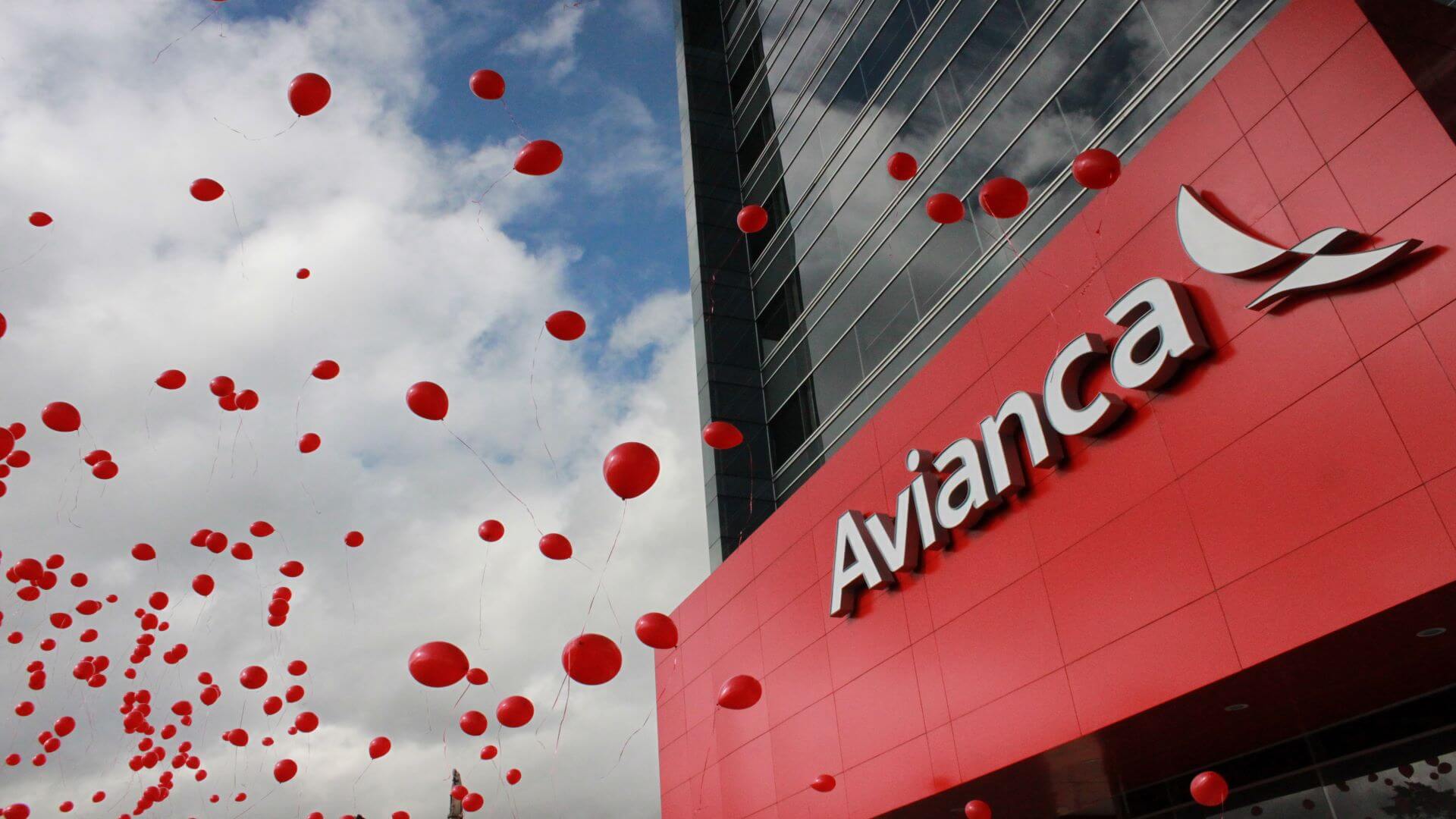 THE BRIEF
To implement Avianca's new brand identity across airports and ticket offices globally.
When Colombia's national airline took over TACA airlines and expanded their coverage in Latin Ameria, they decided to rebrand.
'Speed was essential and GLIMMA really rose to the challenge. They succeeded in delivering our new branding in 29 countries across four continents, rebranding more than 80 airports and 220 ticket offices within just 180 days.'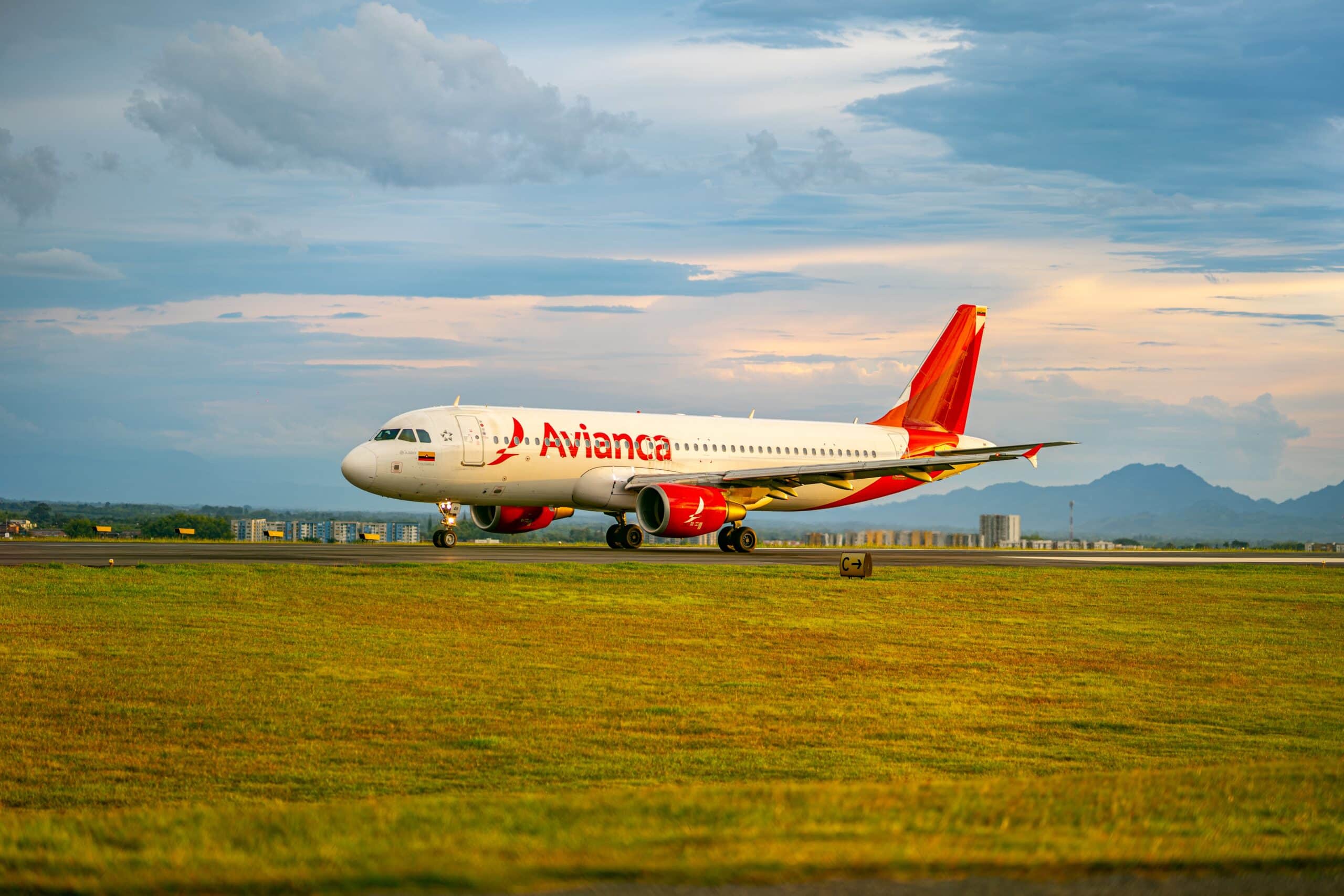 HOW DO YOU DELIVER A REBRAND IN 84 AIRPORTS IN JUST 180 DAYS?
Their new brand identity was created by Lippincott. Our role was to fully rebrand over 300 locations in the new brand identity, whilst keeping the design under wraps until launch day.
Working closely with their designated Rebrand team – HR, Marketing and Corporate Affairs – we started by undertaking a full audit of all their branded assets. This included real estate, fleet air, ground fleet and every brand touch point (including digital).
The rebrand covered every possible element – paint, digital screens, graphics, signage, point of sales materials, office branding and their entire ground fleet.
LOCAL KNOWLEDGE
We project managed the implementation of the rebrand from our offices in Mexico and Colombia.
The local knowledge of our network was critical in understanding cross-border restrictions, particulary given the senstive nature of airport environments. It also helped in providing multi-lingual signage solutions.
Avianca's award winning rebrand and our role was featured in the UK's top branding publication 'Communicate'.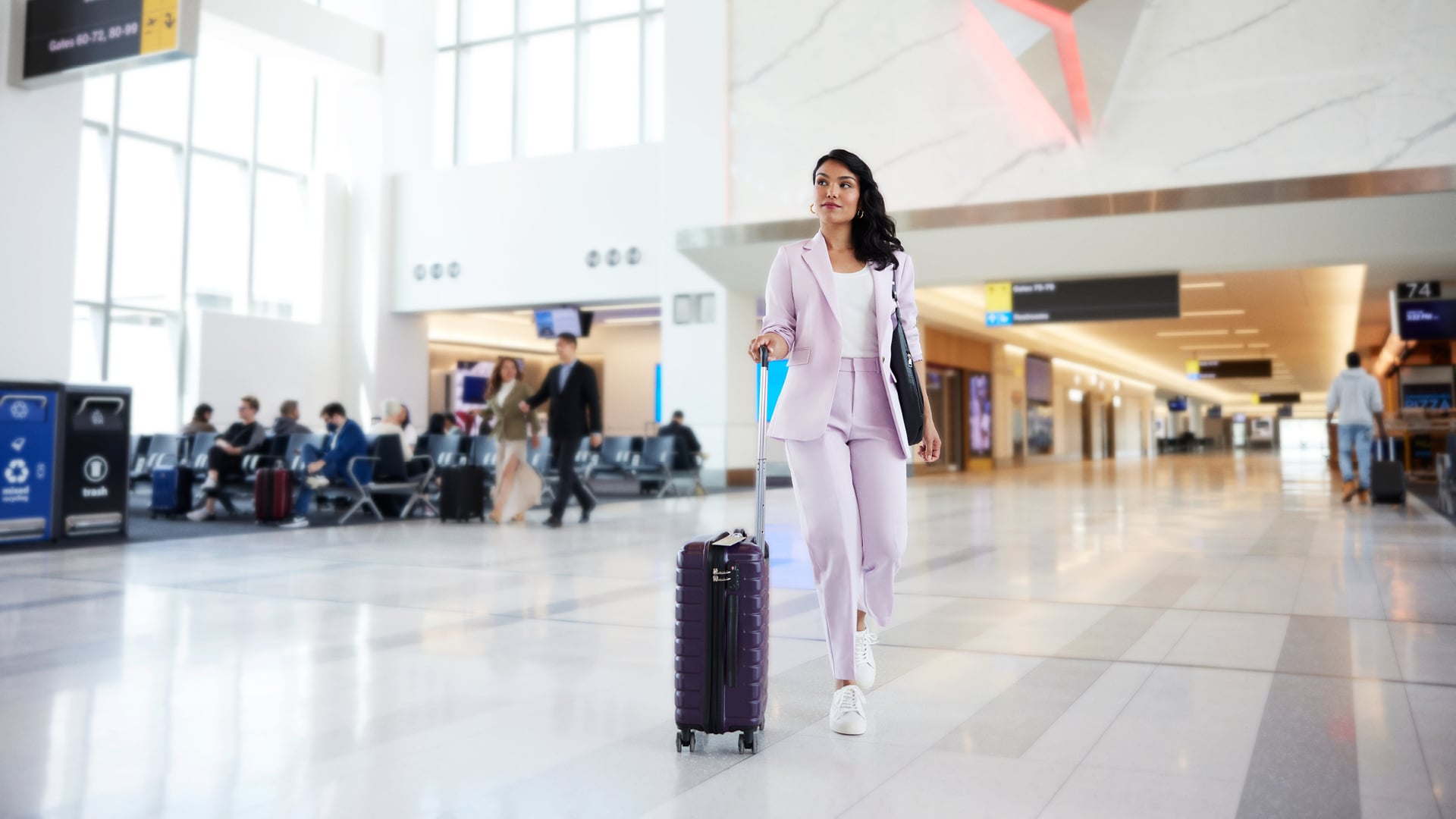 We created brand experience that is rich in quality, impact and emotion across the entire customer journey on behalf of Delta Air Lines in over 275 airports worldwide.
More than 4,000 Delta Air Lines flights take off every day, connecting people across more than 275 destinations on six continents. Delta's 80,000 employees serve over 200 million customers annually.
'We worked collaboratively to design, produce and install visual brand assets in all 275 airport destinations around the world.'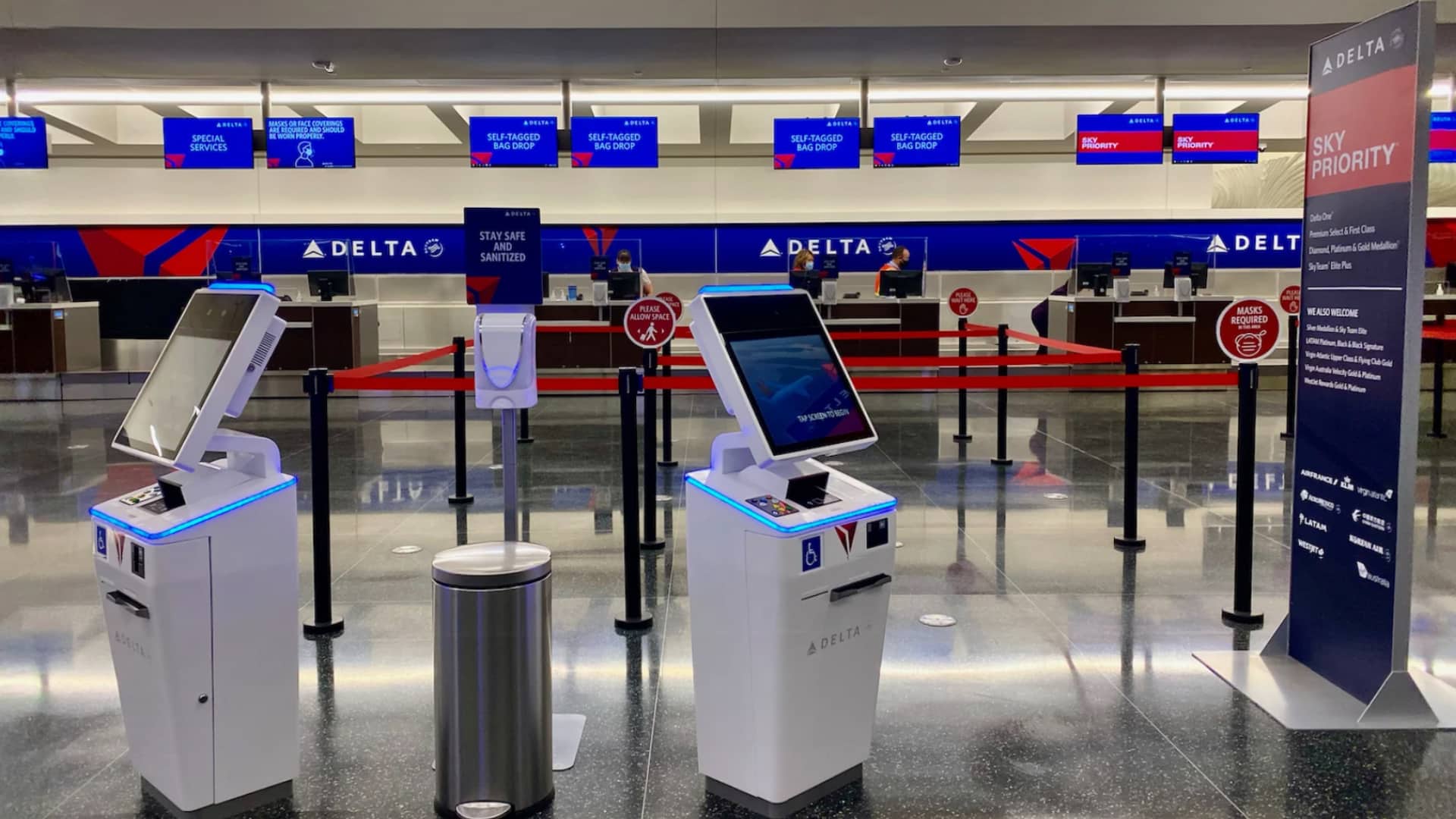 Delta Check-in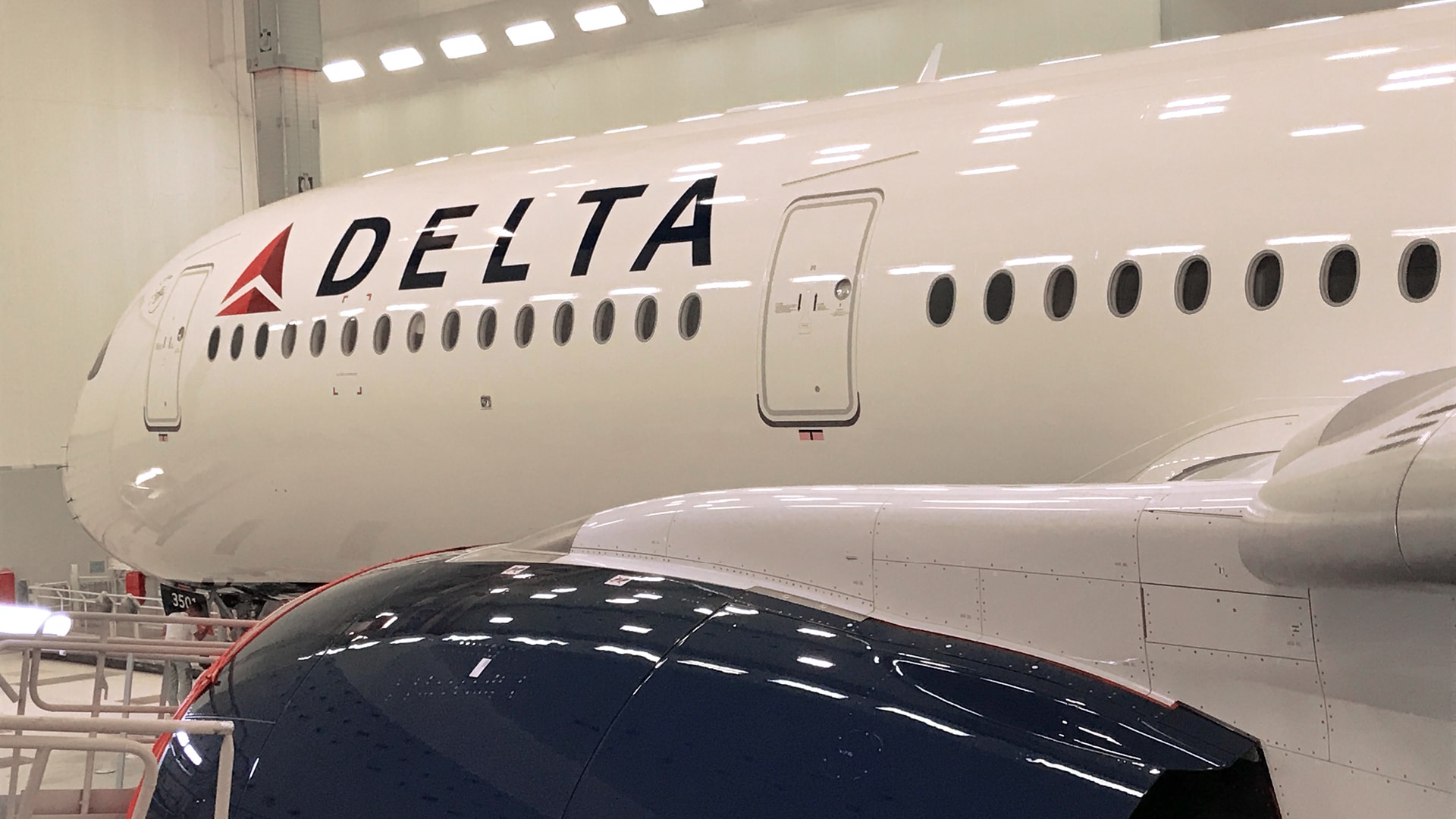 We manage an extensive range of brand assets for Delta globally and frequently complete on-site surveys, track completed projects and gather specific brand data to feed it into our brand asset database to help track Delta's branding and in-market messaging for their teams.
Our design team interpret Delta brand guidelines to create consistently effective visual signage, wayfinding, and marketing communication assets across the entire customer travel journey and we are constantly innovating with the Delta teams adding new services to the solution portfolio, including vendor network management, technology services, fleet services and product specification,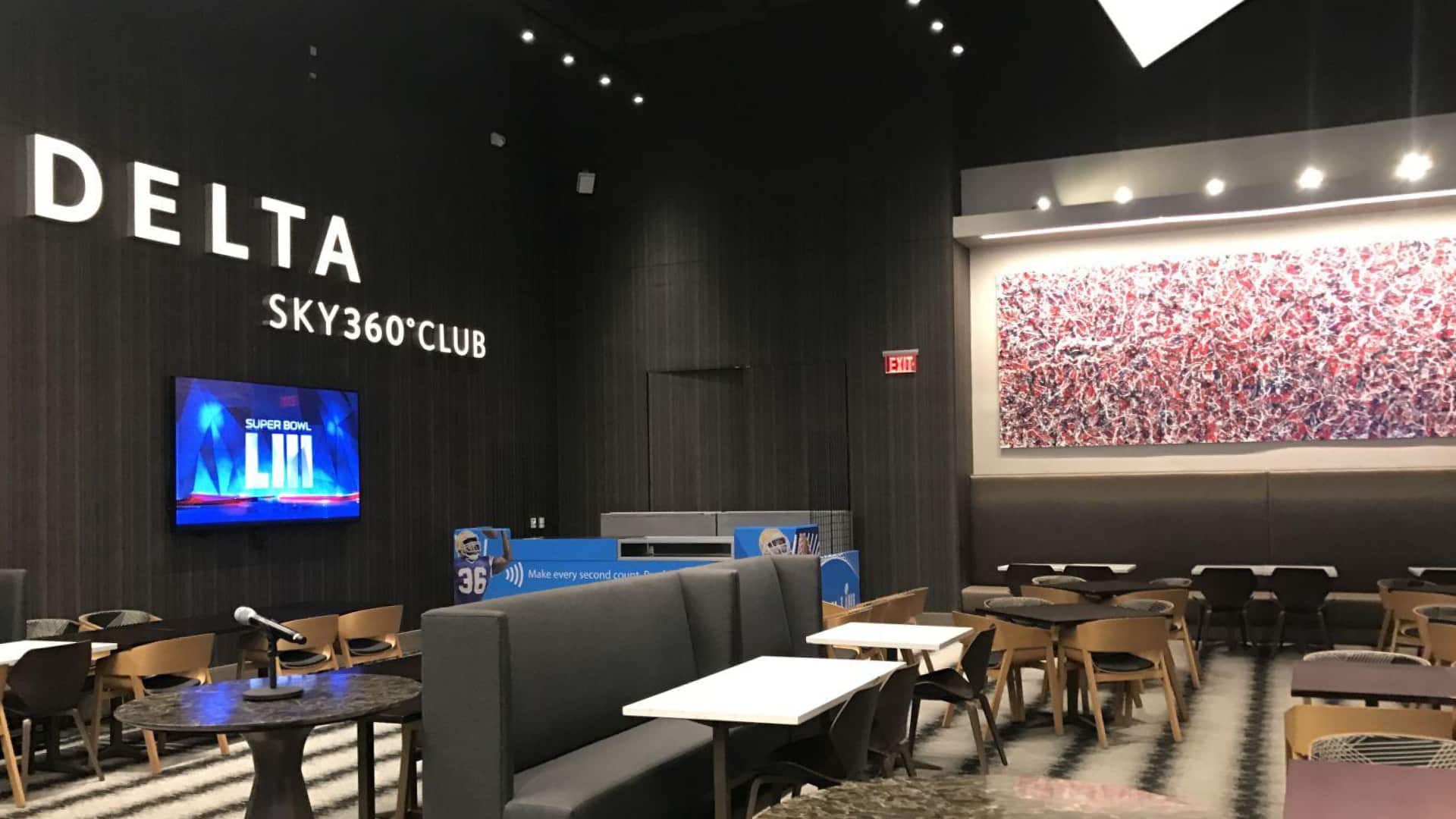 Delta Sky Lounge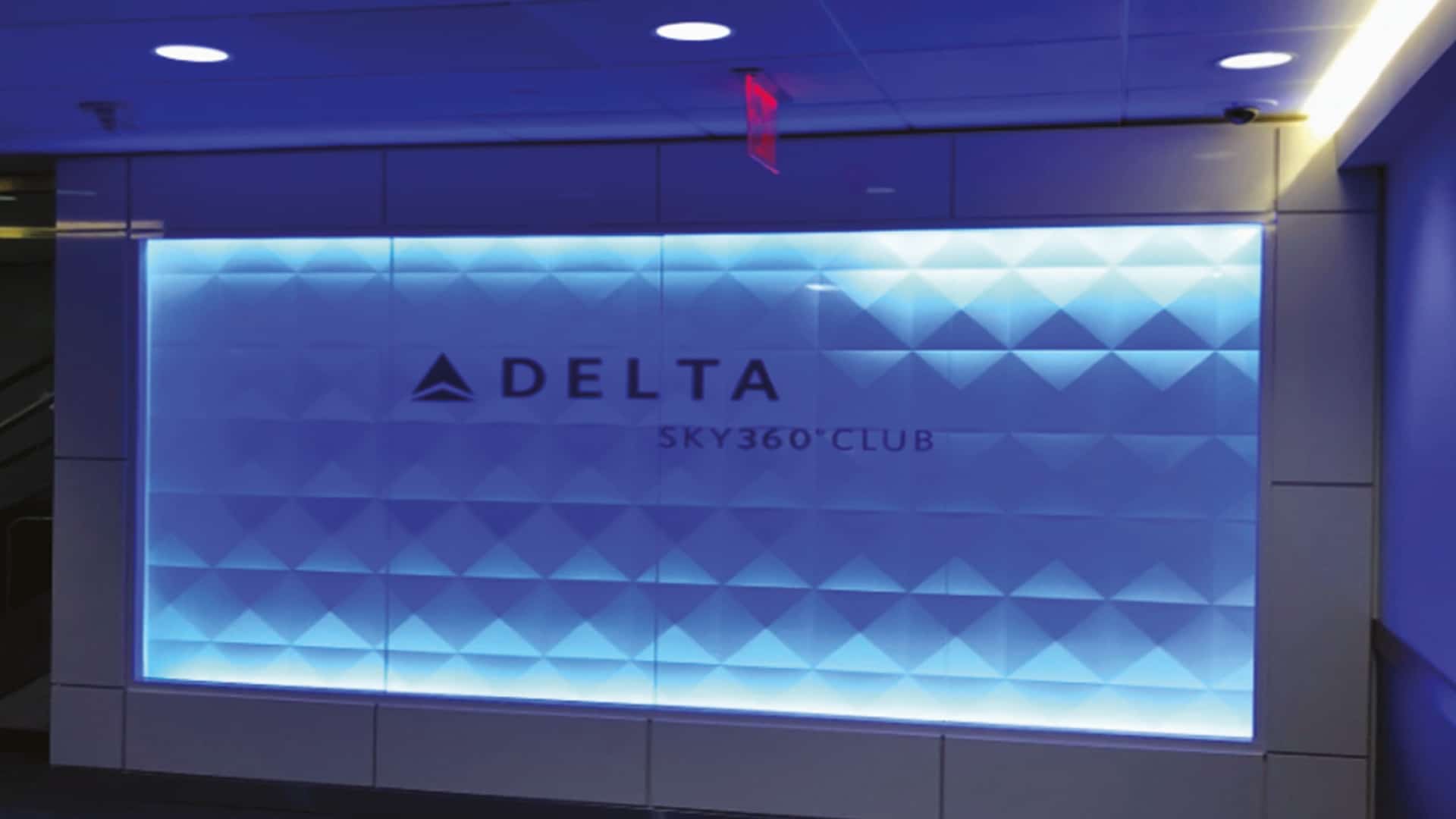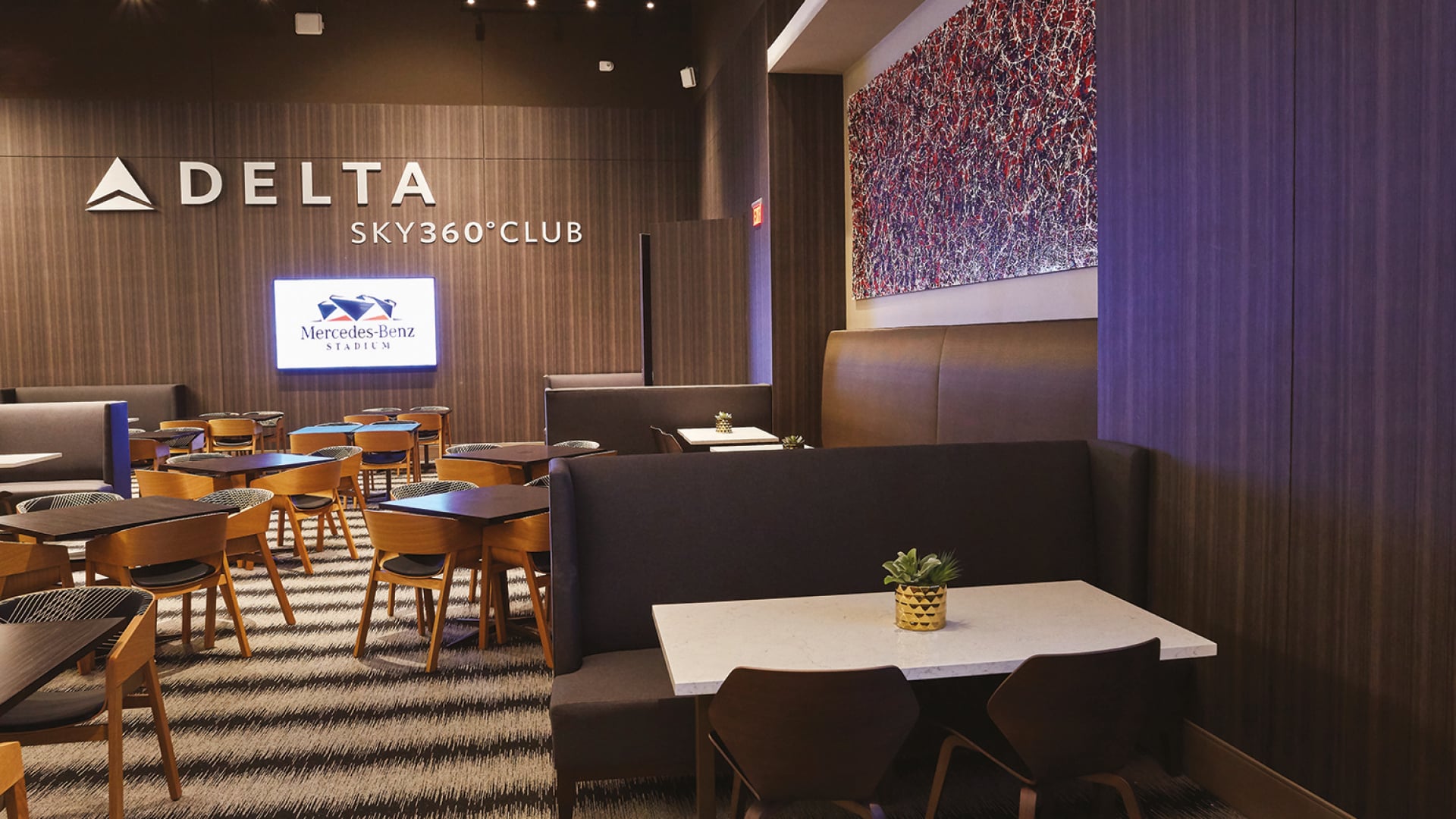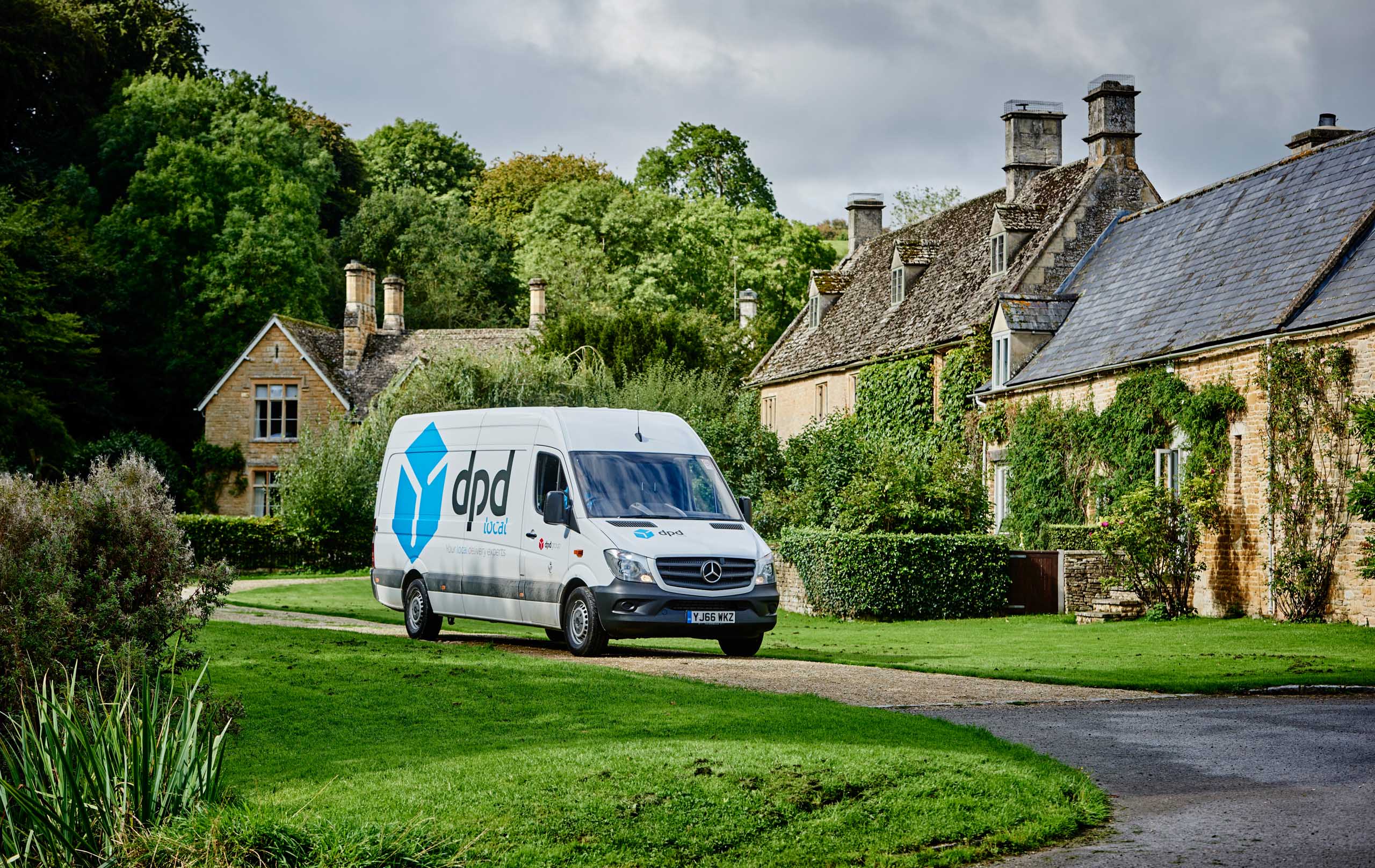 Aura Brand Solutions represents our operation in the UK. Commissioned by DPD to rebrand their entire fleet in the United Kingdom, our team also drew upon its international expertise, as part of the GLIMMA network, to develop a specification for the rollout of the rebrand across the rest of the European fleet.
The rebrand was prompted by the need to consolidate the branding of 4,500 vehicles across multiple markets.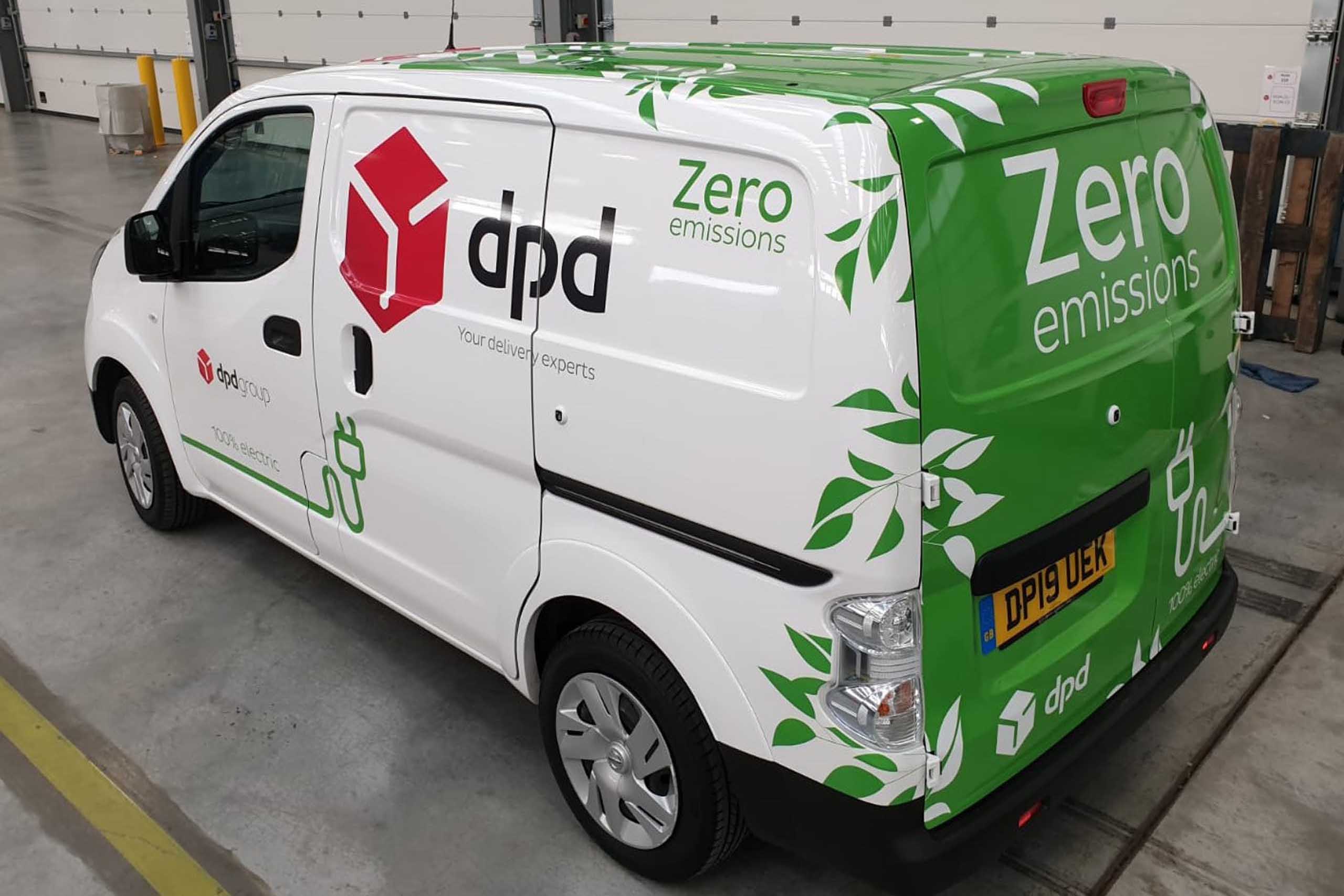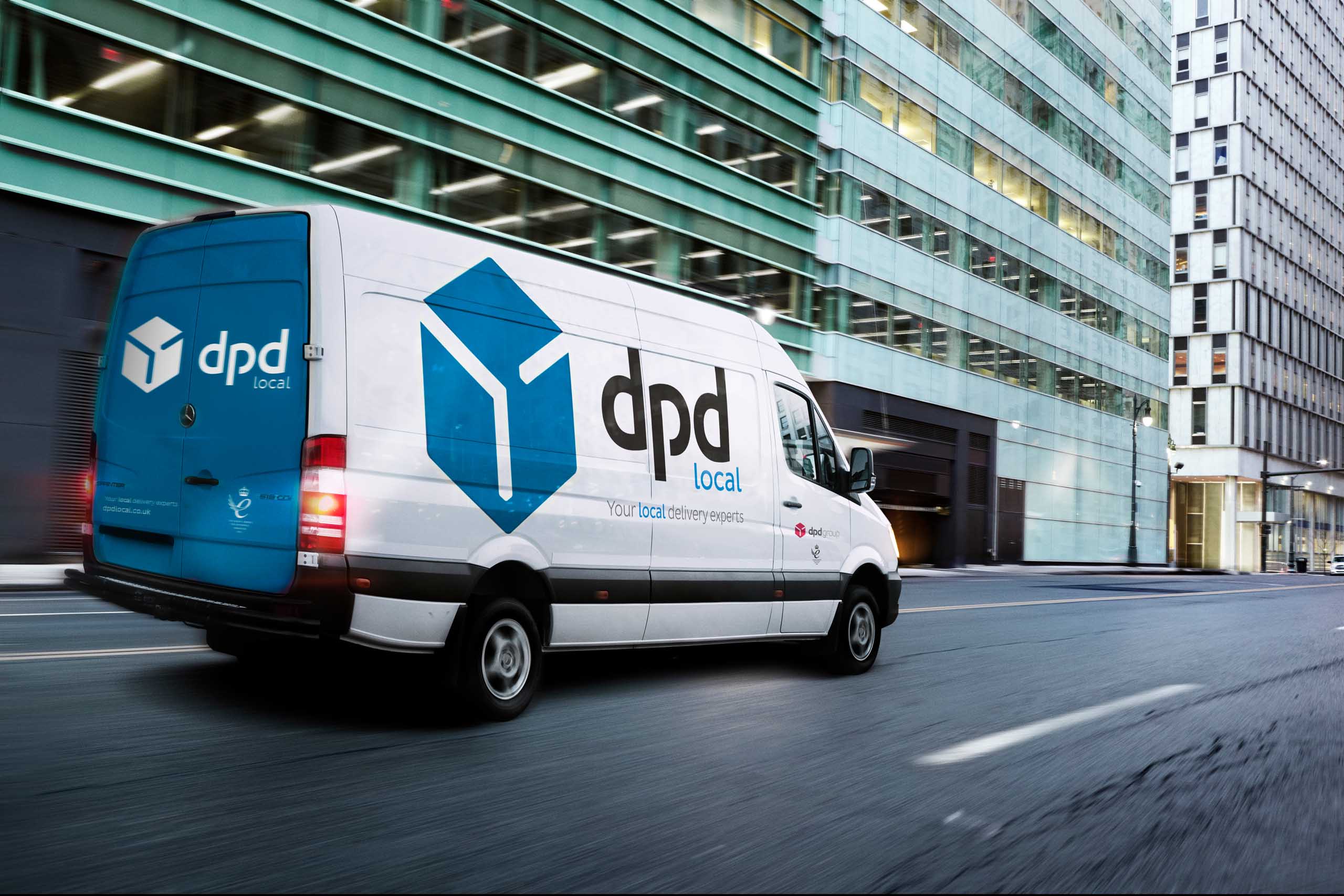 Given the international nature of the project, we started by examining the product options available in all markets.
Working closely with DPD's creative design team and our global partners, our technical team helped to develop the optimum product solution – one that would guarantee consistency in all markets.
Once agreed, we advised on the different implementation options for the most efficient pan-European rollout in terms of quality, time and cost.
'Working closely with DPD's creative design team and our global partners, our technical team helped to develop the optimum product solution – one that would guarantee consistency in all markets.'
UK Fleet Rebrand
For the UK fleet rebrand, our team was responsible for managing the design, manufacture and installation of the new livery designs nationwide, across a spectrum of different vehicles.
A full audit of the UK fleet was undertaken and prototypes were developed to ensure the most appropriate technical design.  Significant prototyping and colour profiling was carried out to reach a final graphics specification.
This provided full warranty cover, achievable only thanks to Aura's status as a manufacturer approved converter and installer.
The variety of vehicle types was matched by the variety of vehicle owners, adding a layer of complexity to the project. A large part of the project management role being liasion with the company-owned fleet managers, the franchise-owners and the individual owner drivers, to ensure brand consistency across the entire fleet.
To minimise the time that vehicles were off the road during the rebrand, we also undertook any existing accident damage repairs at the same time.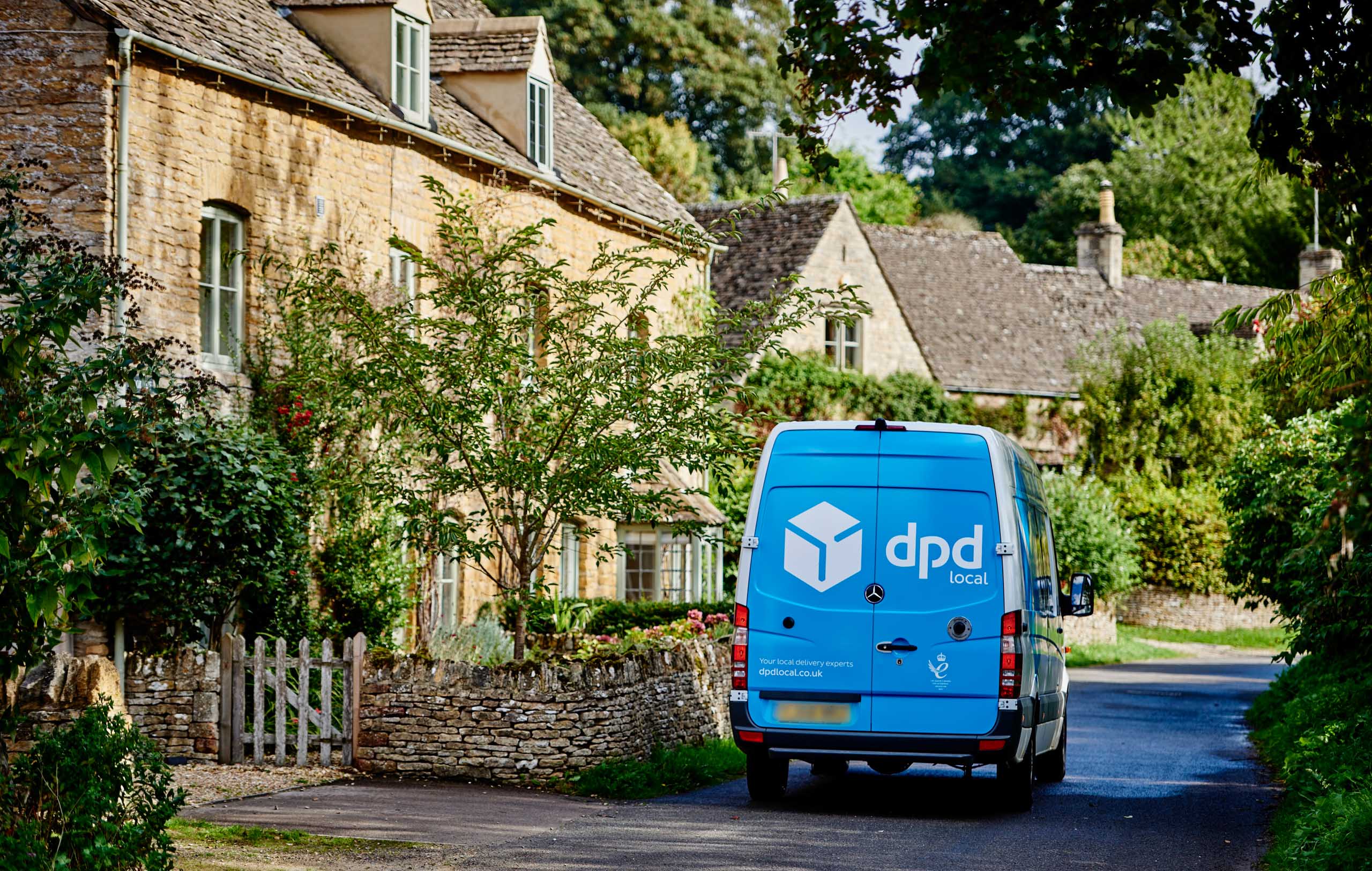 'This is a testament to the collaborative relationship we enjoy with both the DPD team and our Partners in Europe. We worked closely with their creative agency and various fleet owners to create tried and tested product solutions that were centrally managed but implemented locally and available across multiple markets.'
Maintaining the UK fleet
The ongoing management and maintenance of the DPD fleet also falls to our team.
With a continuous churn of new and old vehicles, an online ordering system and a bespoke accident management service has been developed, ensuring that vehicles remain in tiptop condition and remain on the road.
Extending the DPD brand
Interlink Express also operates in the UK but focuses on providing a more local service for shippers with smaller volumes.
Our team has also rebranded their fleet of 1,500 vehicles to DPD Local, using a blue variant of the now familiar DPD box design.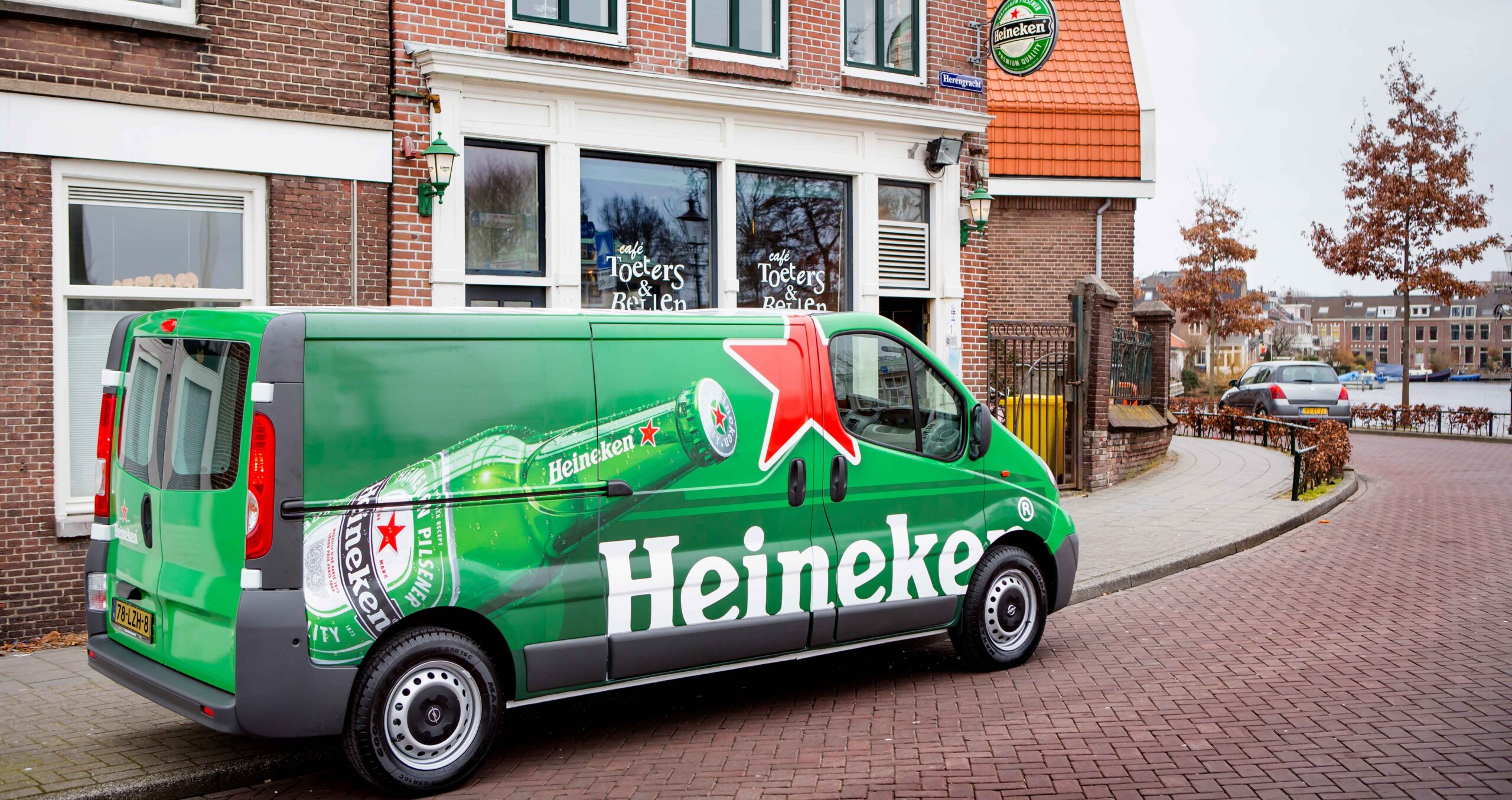 The Brief
A long-standing client; we've worked with Heineken over many years to deliver various branding programmes, including a rebrand and to support their sponsorship programmes.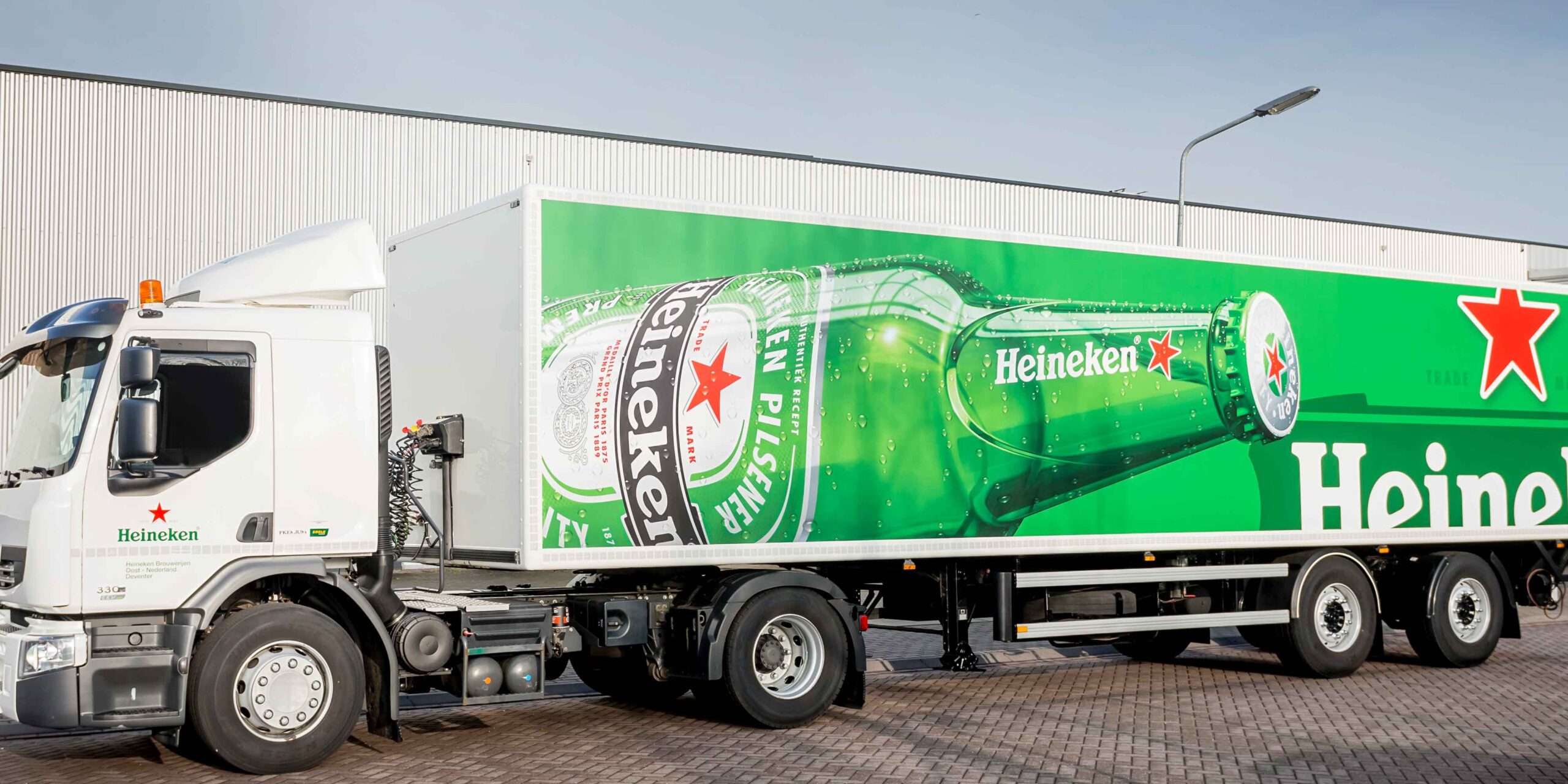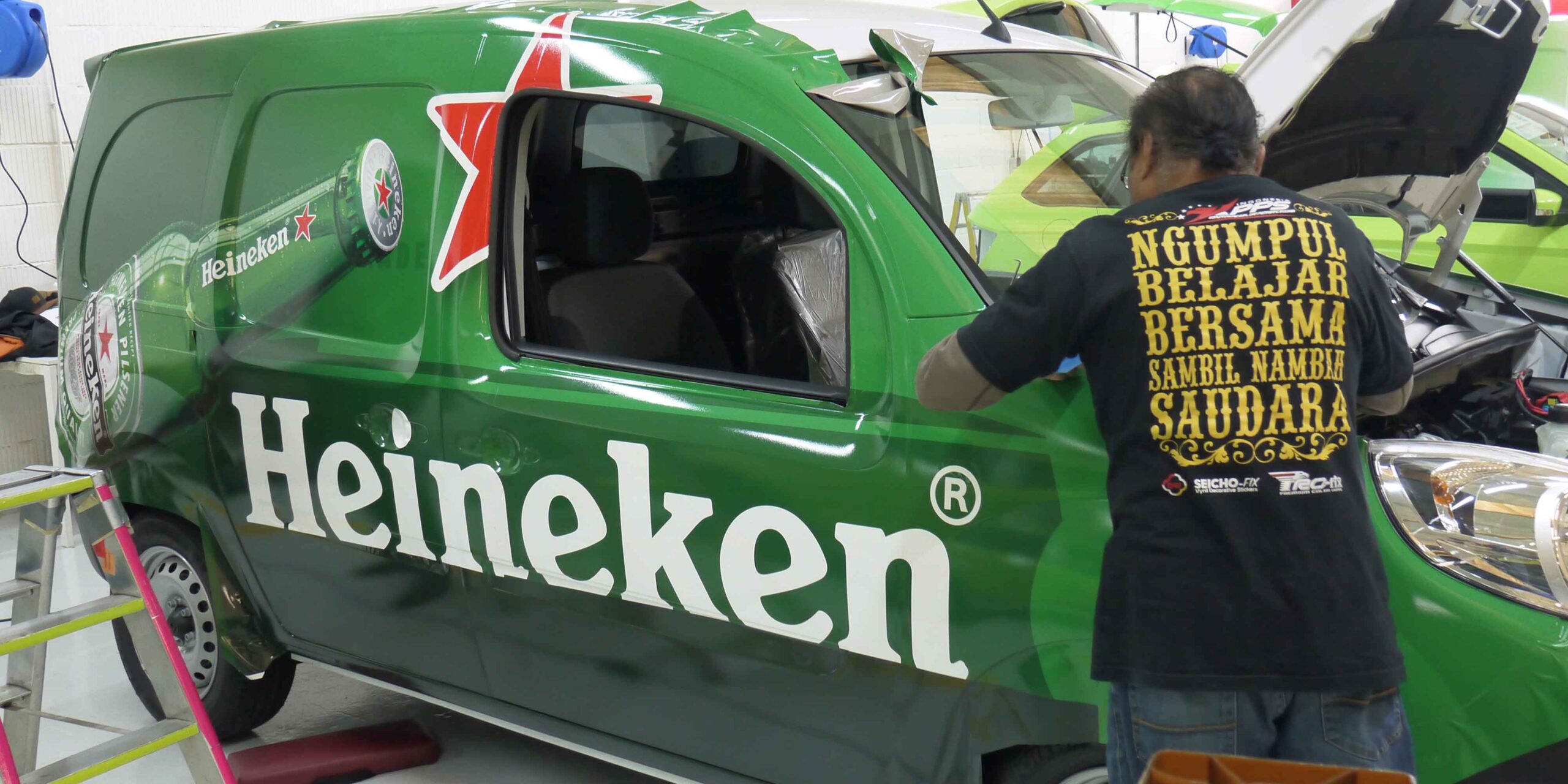 Fleet Rebrand
When the iconic green bottle became central to Heineken's design approach, their European fleet of vehicles was one of the most prominent items to be rebranded. With an extensive distribution network, comprising a wide variety of vehicles types and sizes, this was quite a challenge.
We were appointed as their branding partner, to centrally co-ordinate the rewrapping of their European fleet. Through our local network, we used the latest digital technology and latest generation UV curable inks to reduce environmental impact.
Having become very familiar with the Heineken brand over the years, we continue to advise, develop and support the rollout of their fleet branding across new and replacement vehicles in Europe.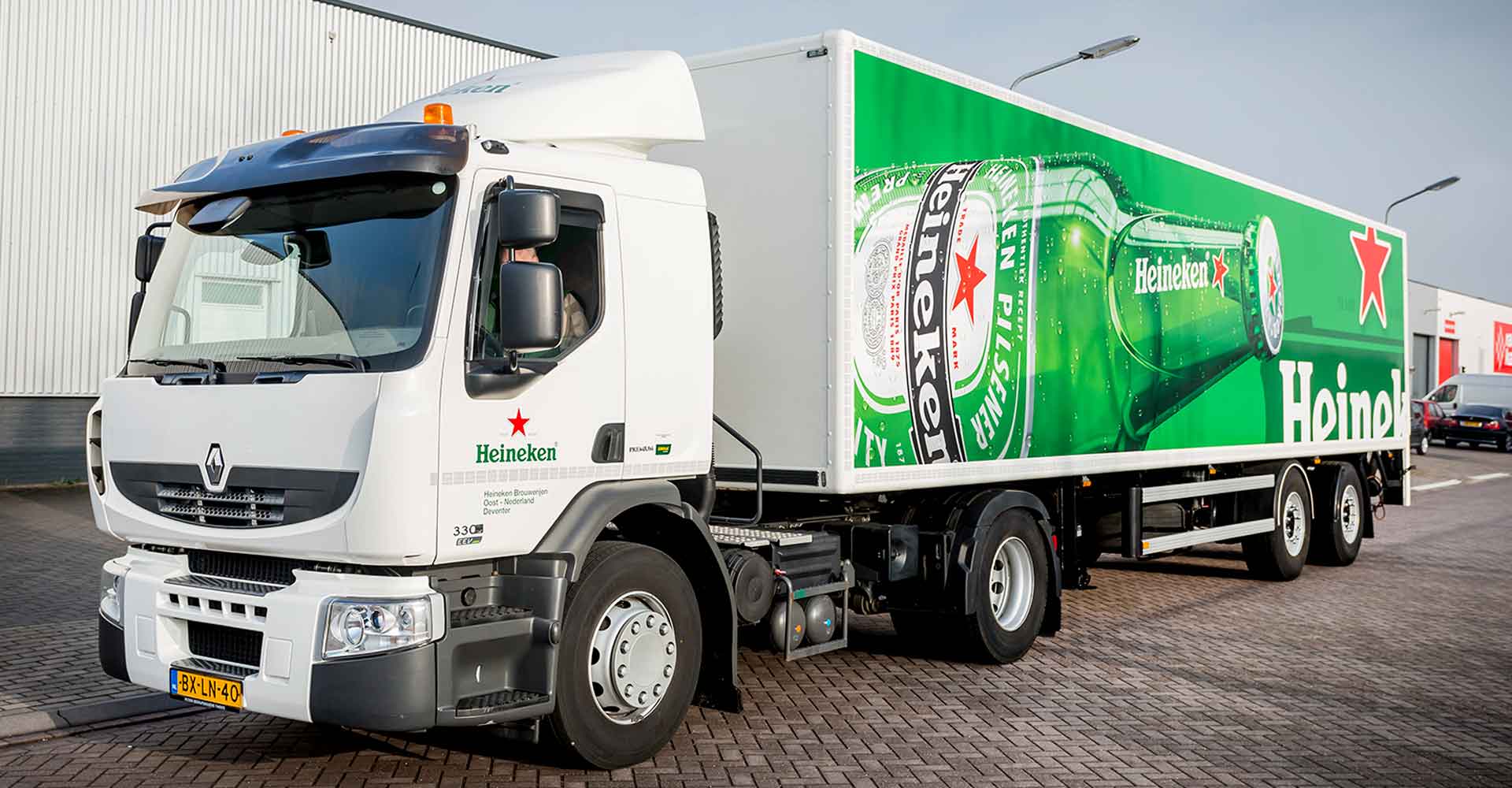 Sponsorship Support
Heineken was an official sponsor to the UEFA Champions League and we have helped to brand their event villages and to temporarily rebrand their fleet in sports livery.
Branding solutions in support of sponsorships or events is all about speed – a fast turnaround to make sure you make the most of the short 'window of opportunity'. We used specialist graphics that can be removed easily and act swiftly, using our on-the-ground network to deliver quickly.
As football mania reaches fever pitch, Heineken is ready at the airport to greet and transport their VIPs and guests to the Cup Final in true style, using fully branded luxury coaches.
In Berlin we designed and delivered 20+ coaches, 8+ mini buses and 40+ Trabants.
We also helped Heineken to paint the town "Heineken green" for the final in Lisbon, Portugal.
From the airports to the city centre, we produced and installed various branded banners and signage graphics, as well as branding the Tuk Tuk taxis to carry supporters around the city.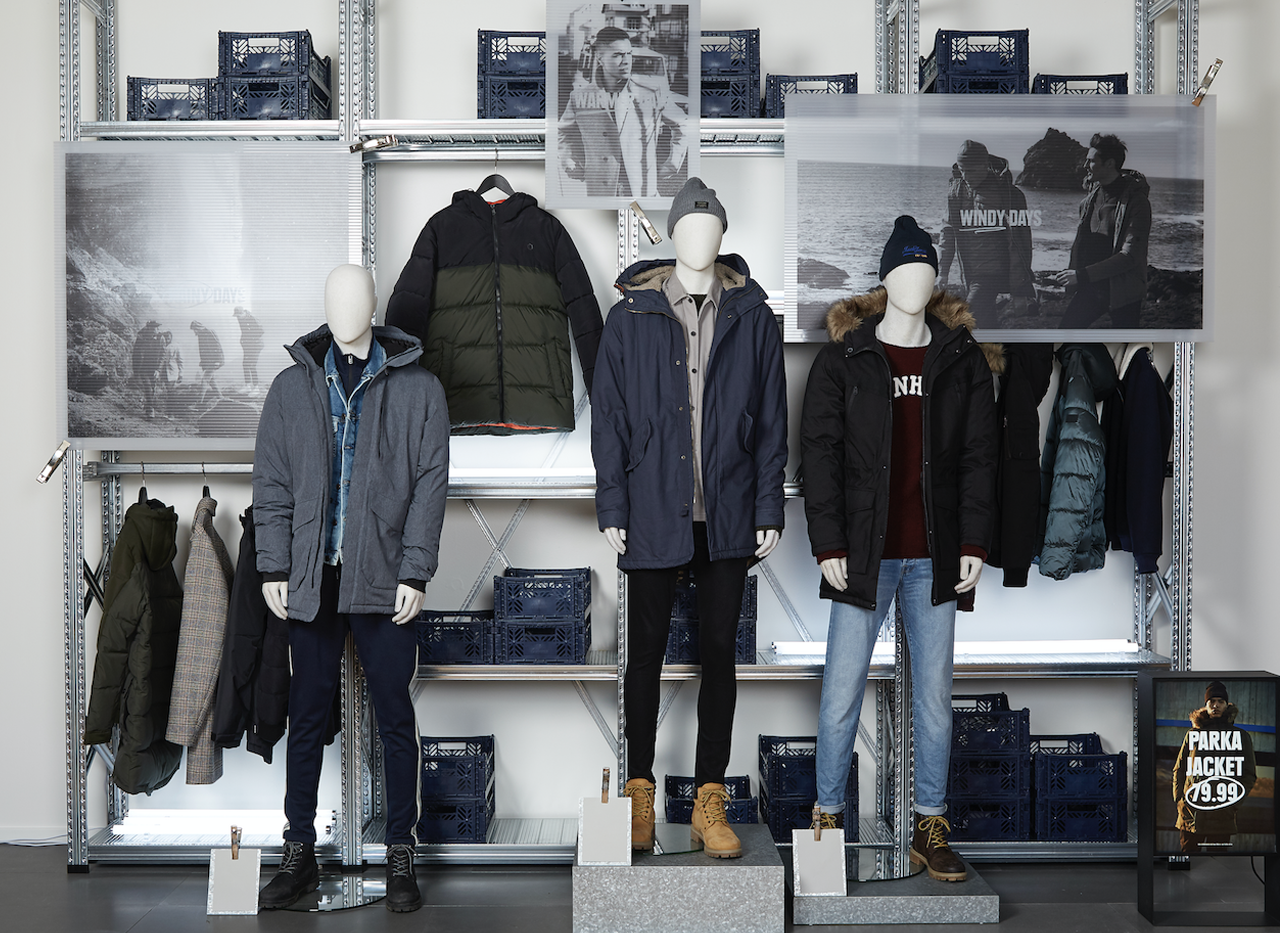 We were asked to manage the rollout of JACK & JONES' latest window displays in over 450 stores and to create a compelling and consistent retail experience across Europe, the Middle East and Canada.
With more than 1,000 stores across 38 countries, they are one of Europe's leading men's fashion retailers.

DRIVING SALES THROUGH RETAIL DESIGN
Visual merchandising is key to high street sales success.  The Interior Store Design team commissioned a bespoke racking system that can be used in a versatile way to display both their Spring and Summer collections in a variety of ways.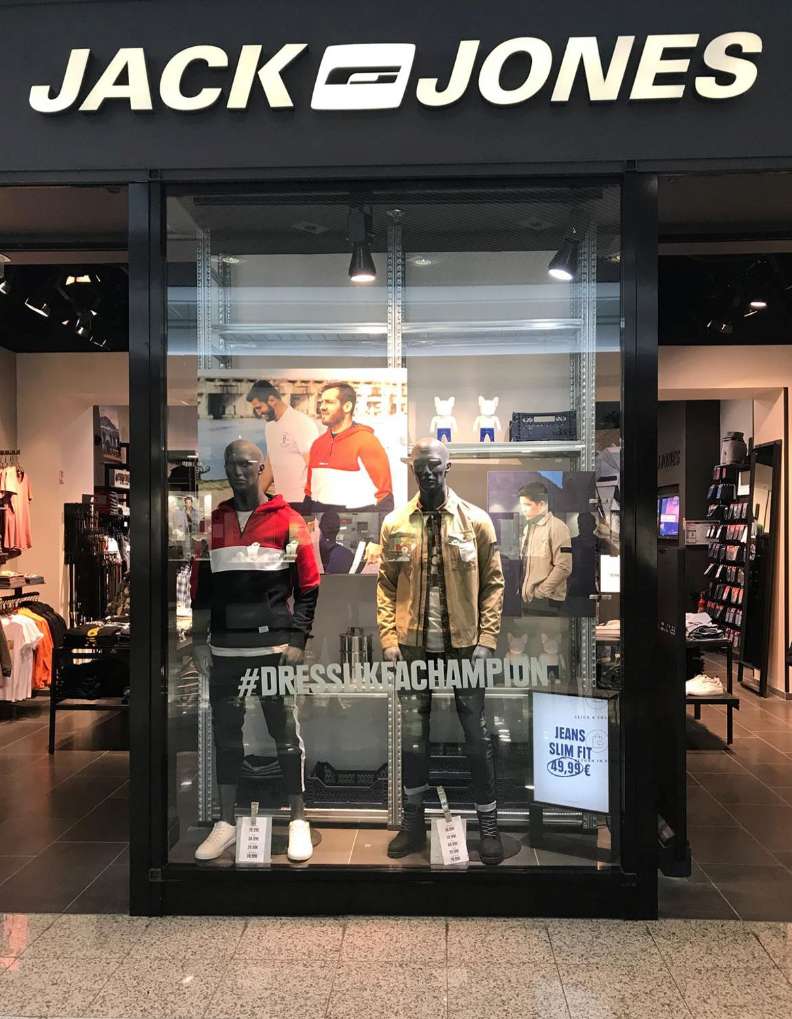 'The team at GLIMMA co-ordinated and installed the new racking system in 450+ retail stores globally. They successfully overcame the challenges associated with global supply chain, variances in store layouts and different cultures, delivering the entire program on time. The result is magnificent – with the support of GLIMMA we now have the perfect communications platform to attract and excite our customers.'
THE NEED FOR SPEED
Having secured the design and manufacture, JACK & JONES commissioned our team to manage the installations globally. Within two weeks of receiving the brief, our implementation team, working together with the manufacturer and in close liaison with each local store, completed the entire project in just 17 weeks.

ADAPTING THE LOCAL ENVIRONMENT TO ACHEVE GLOBAL CONSISTENCY
No store is the same – dimensions, architectural considerations, materials, local working restrictions – they all differ from store to store.
Our central project management team co-ordinated the rollout to achieve maximum cost efficiencies, using site surveys from the stores, to plan and implement the refurbishment.
This included the removal and disposal of old systems, posters and mannequins, as well as the construction and installation of the new racking system. Faced with a wide variety of window layouts and dimensions, our team often had to think on their feet to adapt the new system and make it fit-for-purpose.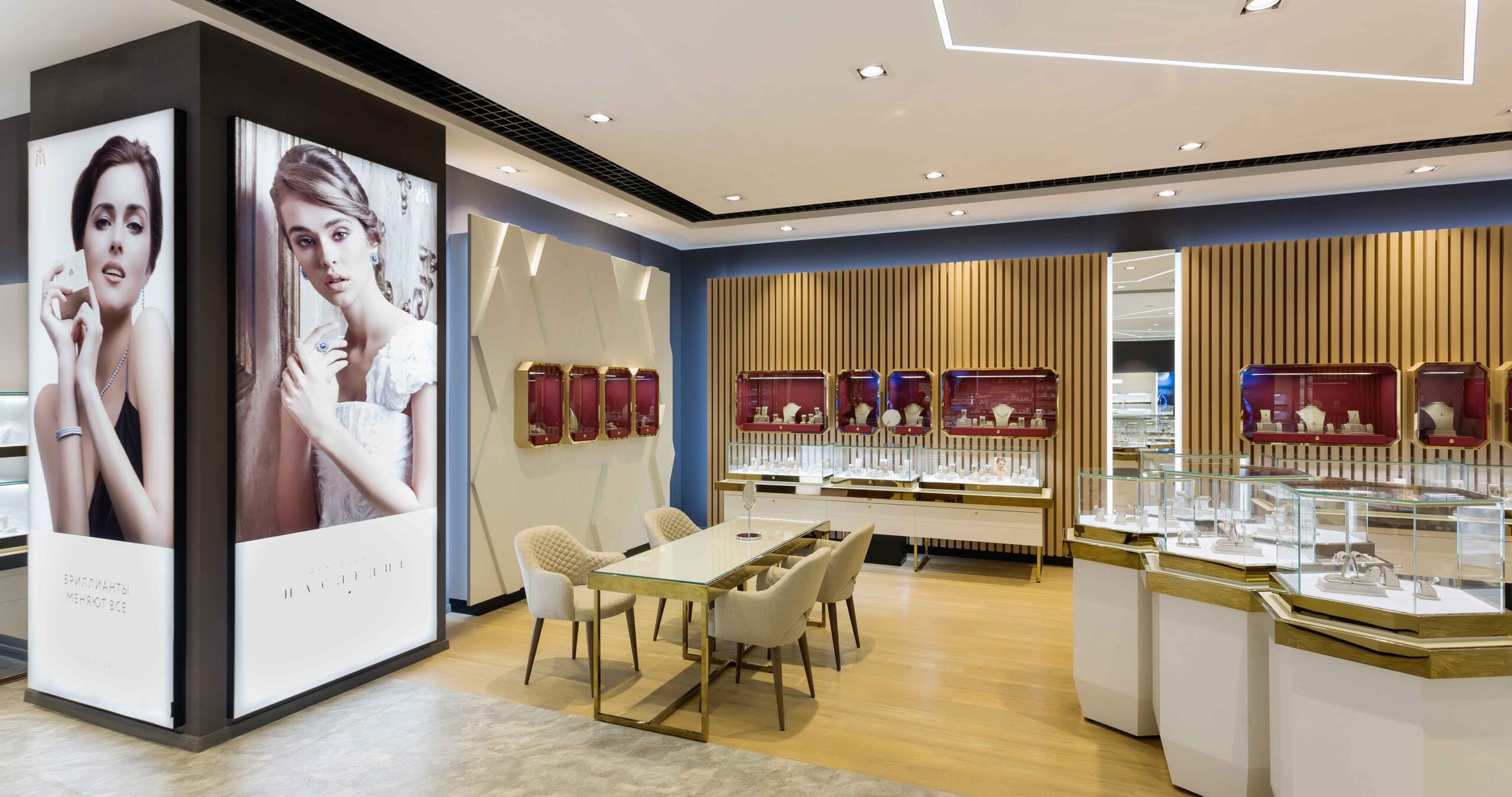 The Brief
To develop a new modular retail design concept which can be scaled to fit any size store. This concept is to design and implement the retail space in Moscow Jewelry's flagship stores in Moscow.
With over 300 stores across 104 cities, Moscow Jewelry is one of Russia's leading jewellers. Selling more than one million items in-store every year, their retail network is critical to their success.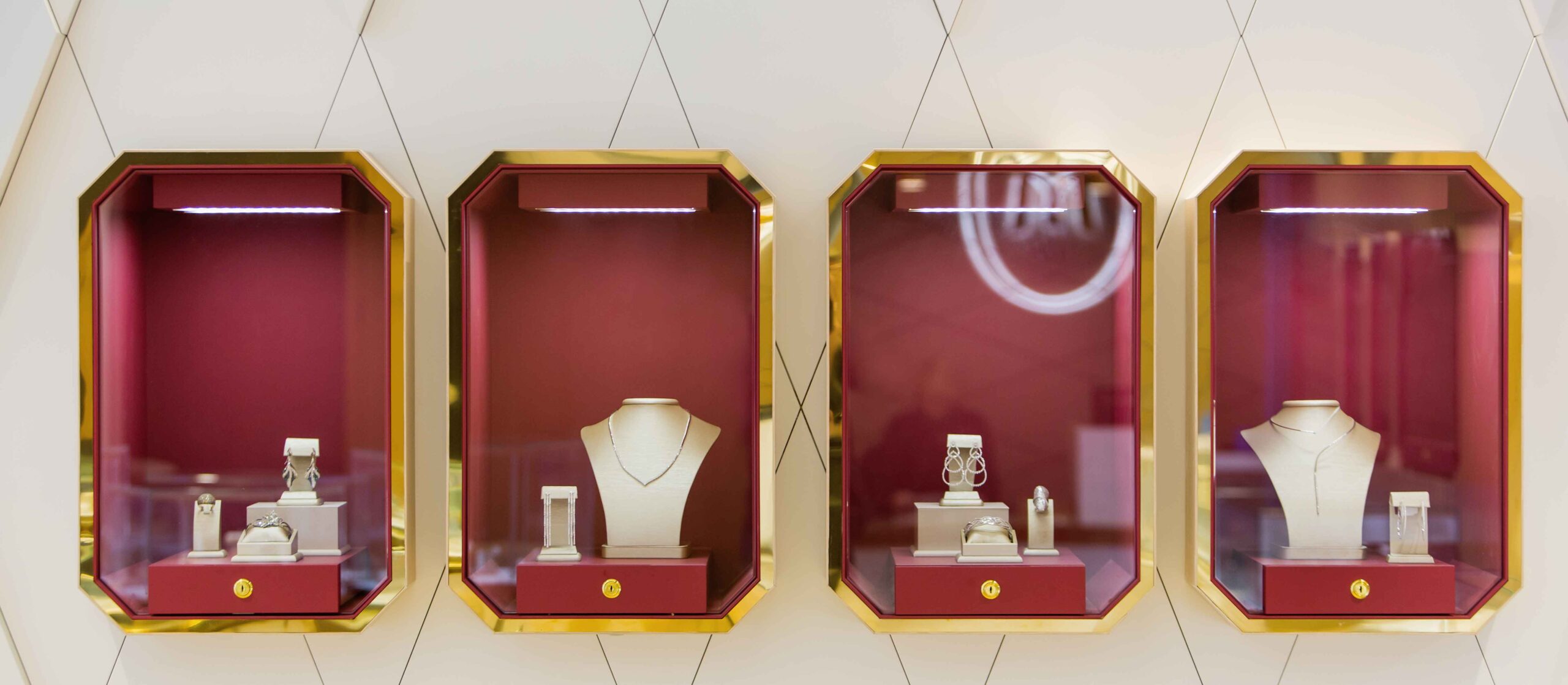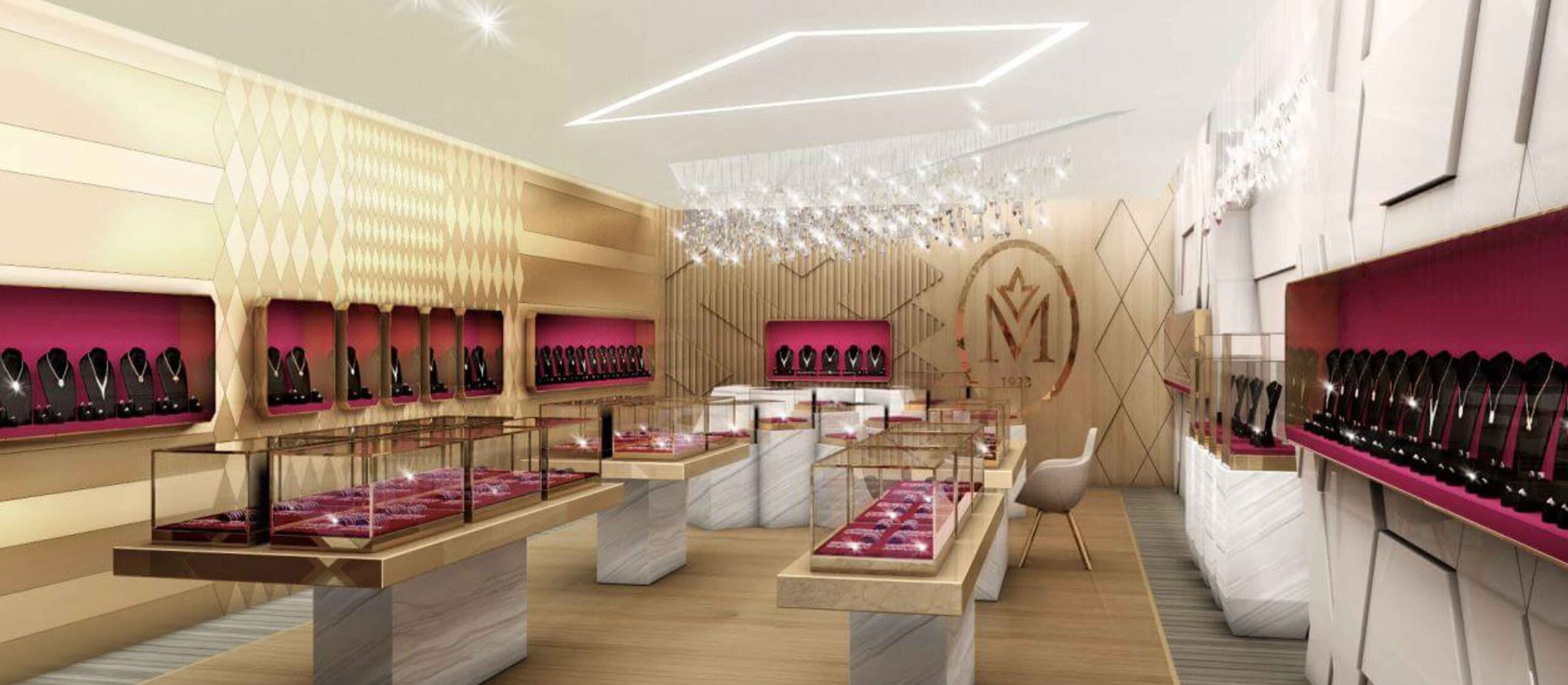 Central to success was an in-depth knowledge of their brand proposition and how this is reflected across their different product ranges.
The 1000m2 store in Moscow's AFIMALL is laid out in zones, one for each product range.
Every zone is designed with specific customer profiles in mind.
The design concept considers every aspect, from lighting, fittings and finishes to carefully planned seating areas with handpicked furniture.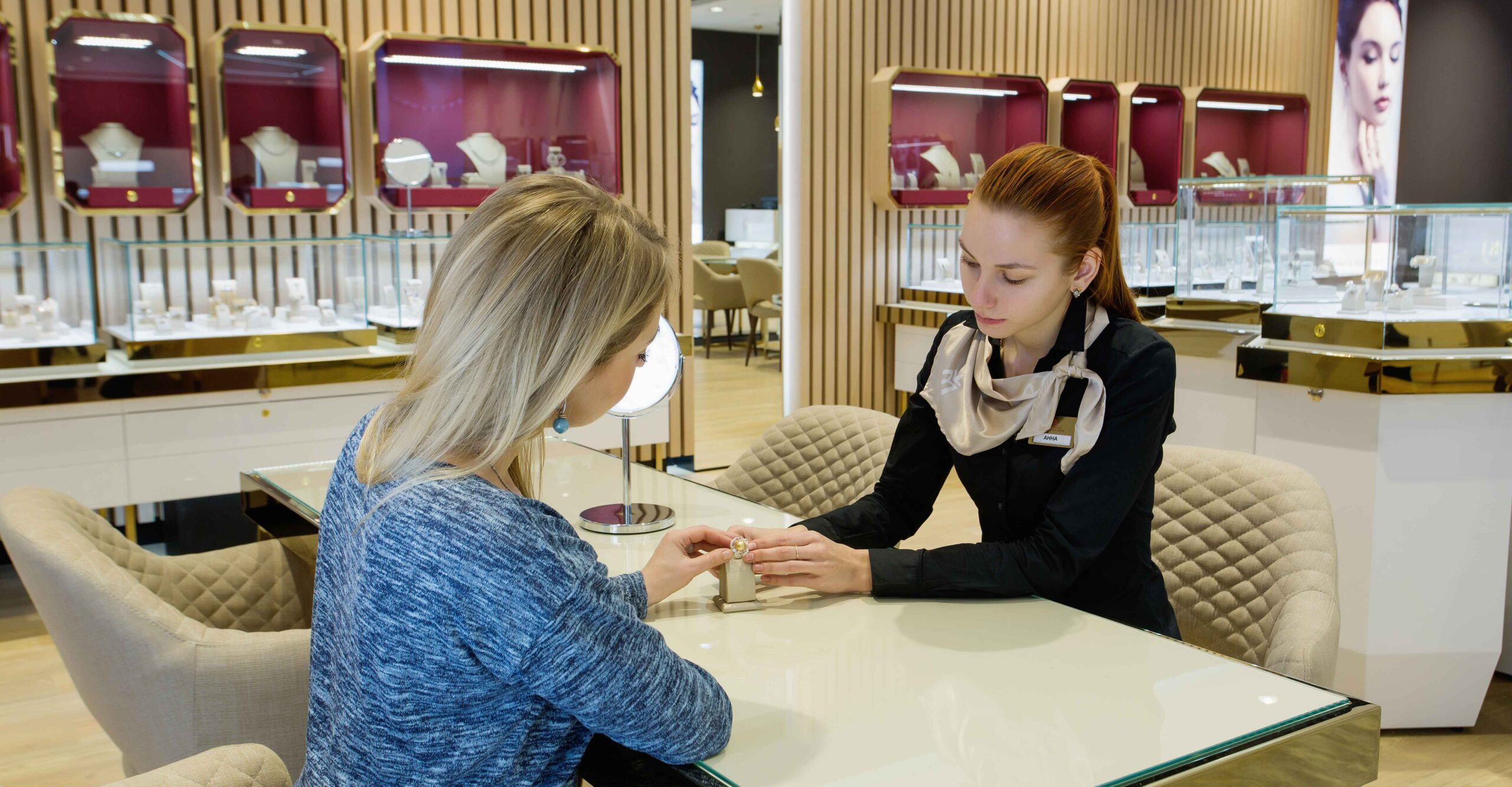 THE INVESTMENT PAYS OFF
We implemented the new design concept in two of Moscow's top shopping malls – Metropolis and AFIMALL. Since then, sales at their stores have grown by 30-35%, bucking the retail trend for luxury items in this market.
The design concept is now being rolled out at future stores.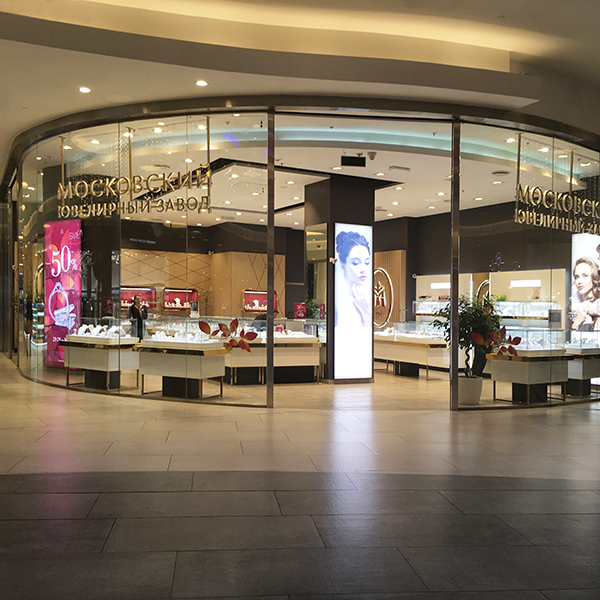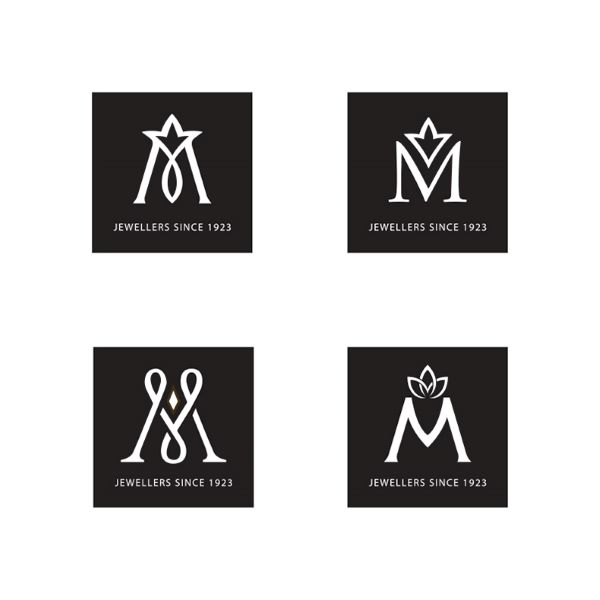 BRAND INSIGHT IS KEY TO SUCCESS
Our aim was to successfully translate their brand proposition into the retail environment, ensuring that the interior design and architecture engage every customer in the right way. The design incorporates a high level of digital interaction, with high quality video used to actively engage visitors.
The result is a welcoming branded space where every customer feels comfortable browsing and is motivated to purchase.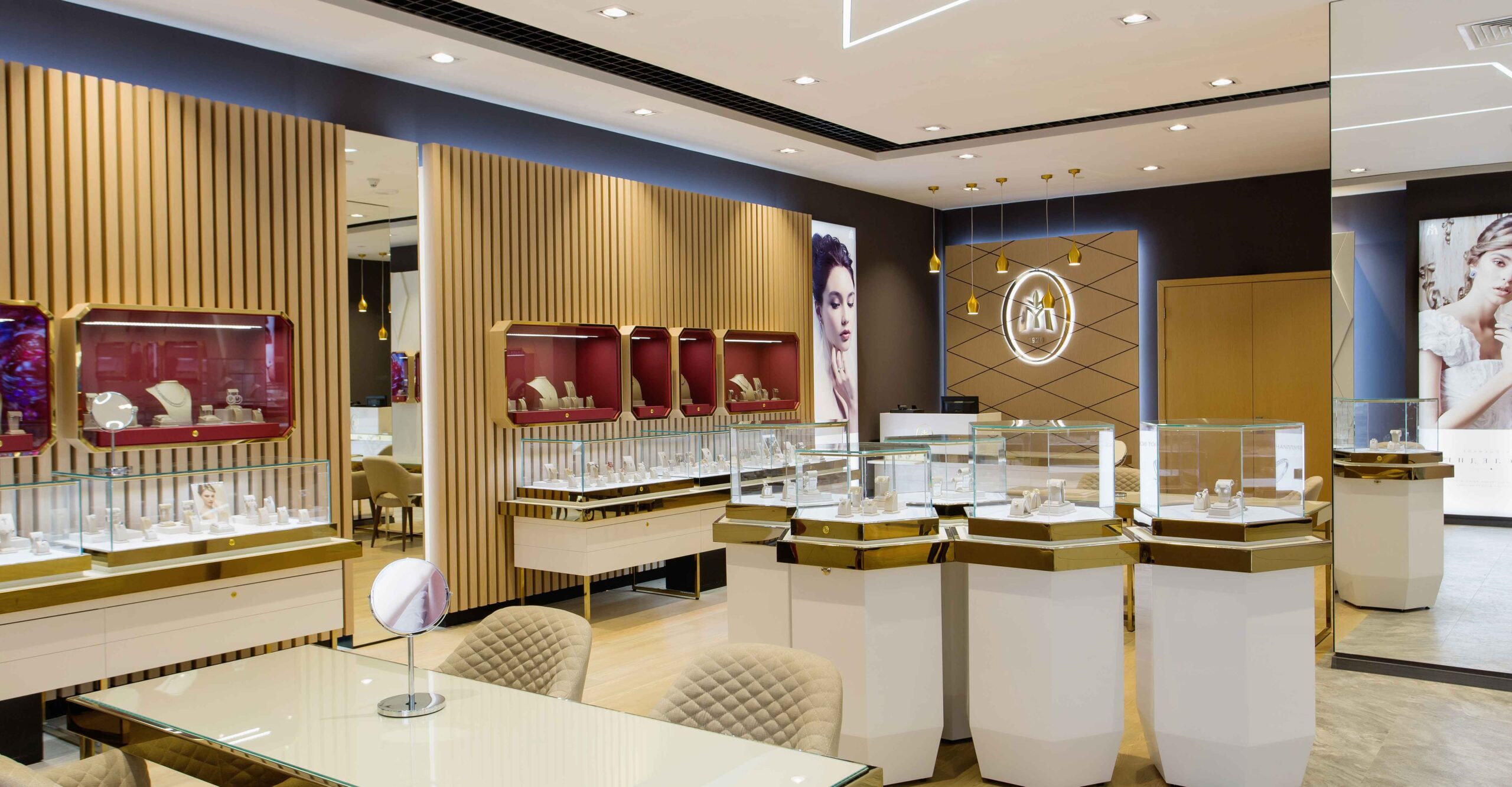 'The new retail concept has provided an incredible boost to our brand's image. Our customers and staff have truly welcomed the flagship concept and this has been reflected in our sales, which have grown by 30-35%. The combination of planning, product display and digital presence has helped us move our offer beyond what we had anticipated.'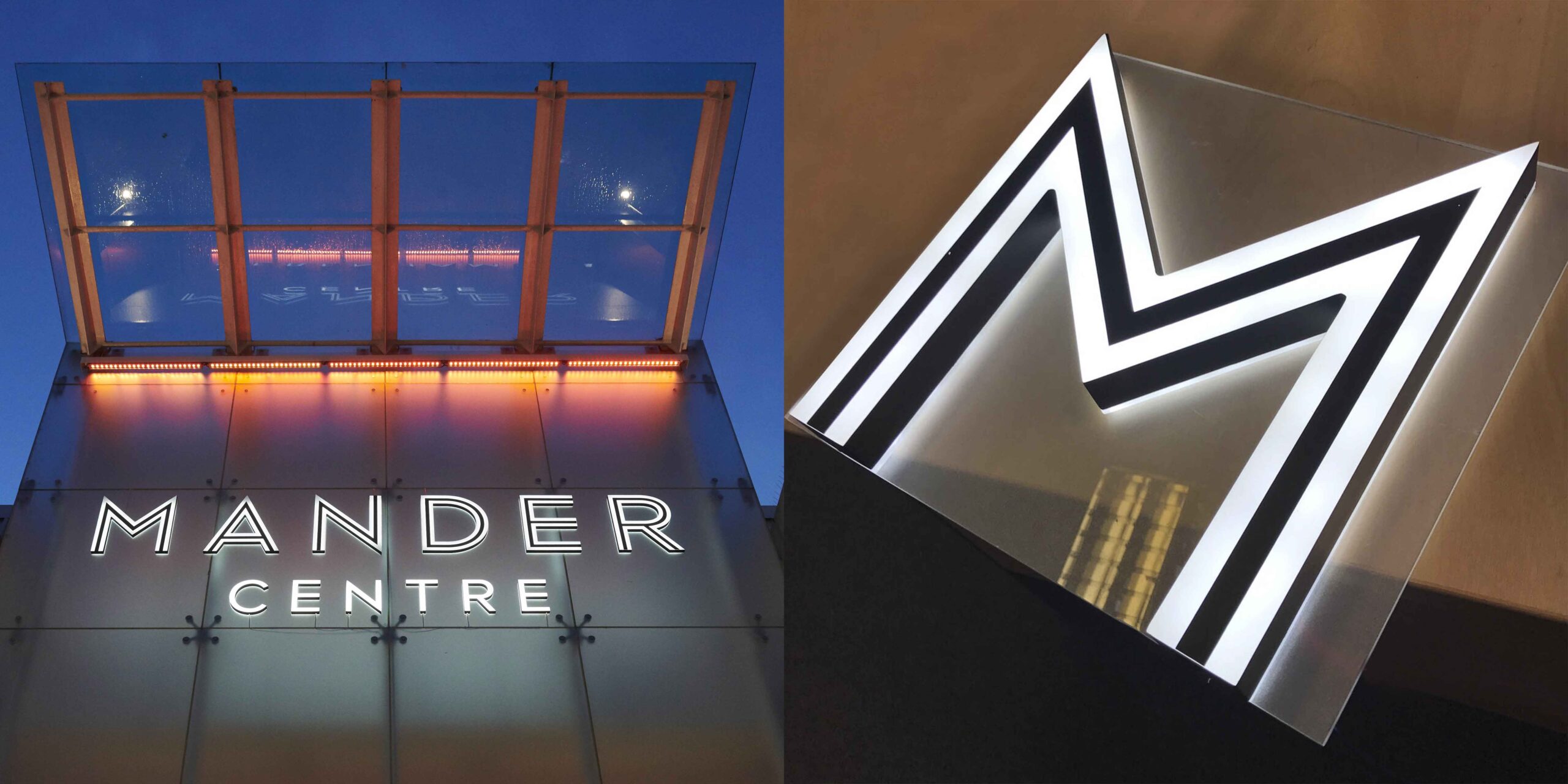 THE BRIEF
To breathe new life into the Mander Centre, a 1960s retail destination in Wolverhampton, UK. To create a new tenant mix that will attract a different profile of shopper and encourage them to stay longer.
At 52,500 m2 gross leasable area, the Mander Centre is the largest shopping centre in Wolverhampton, a lively city with a catchment of over 584,000 residents and attracting over 17 million visitors a year.
The centre was purchased by Benson Elliot in 2014. They commissioned the most significant redevelopment programme to date. The £35 million investment includes a new flagship Debenhams department store of 9,400m2, along with 10 other retail stores.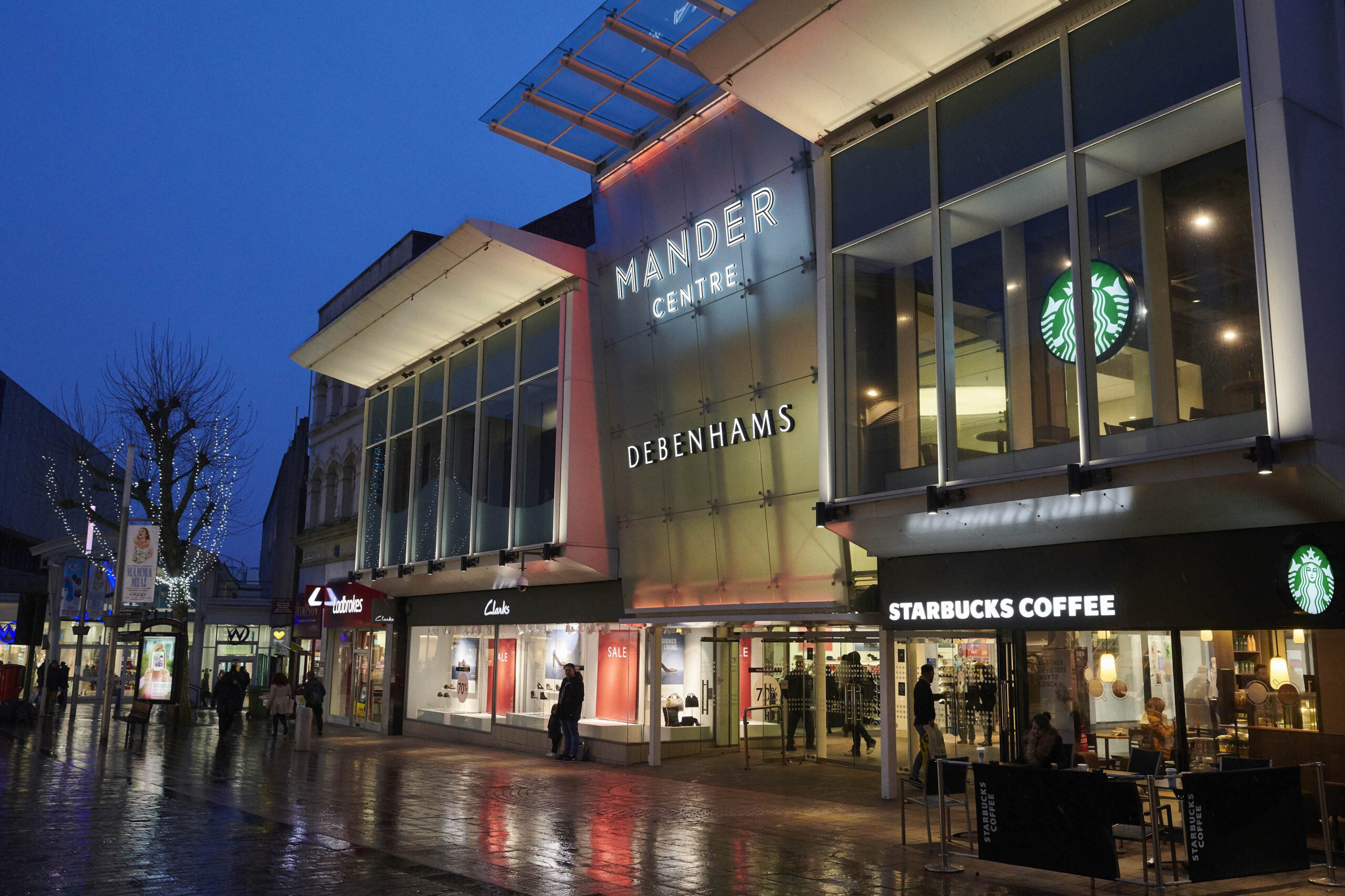 Mander Centre entrance vibrant lighting scheme
The key design features are the main entrances. The introduction of new signage and a vibrant lighting scheme ensures that the centre stands out and is welcoming, attracting visitors both day and night.
The dramatic transformation continues inside with contemporary and intuitive wayfinding signage to enhance the visitor experience, strategically located by newly installed lifts and escalators.
'The design team at GLIMMA immediately understood the brief and ran with it, producing design concepts that hit the mark with all stakeholders, from architects to the individual retailers. Their innovative ideas were readily translated into signage and lighting solutions that have dramatically transformed the Mander Centre, making it the retail destination of choice for the people of Wolverhampton.'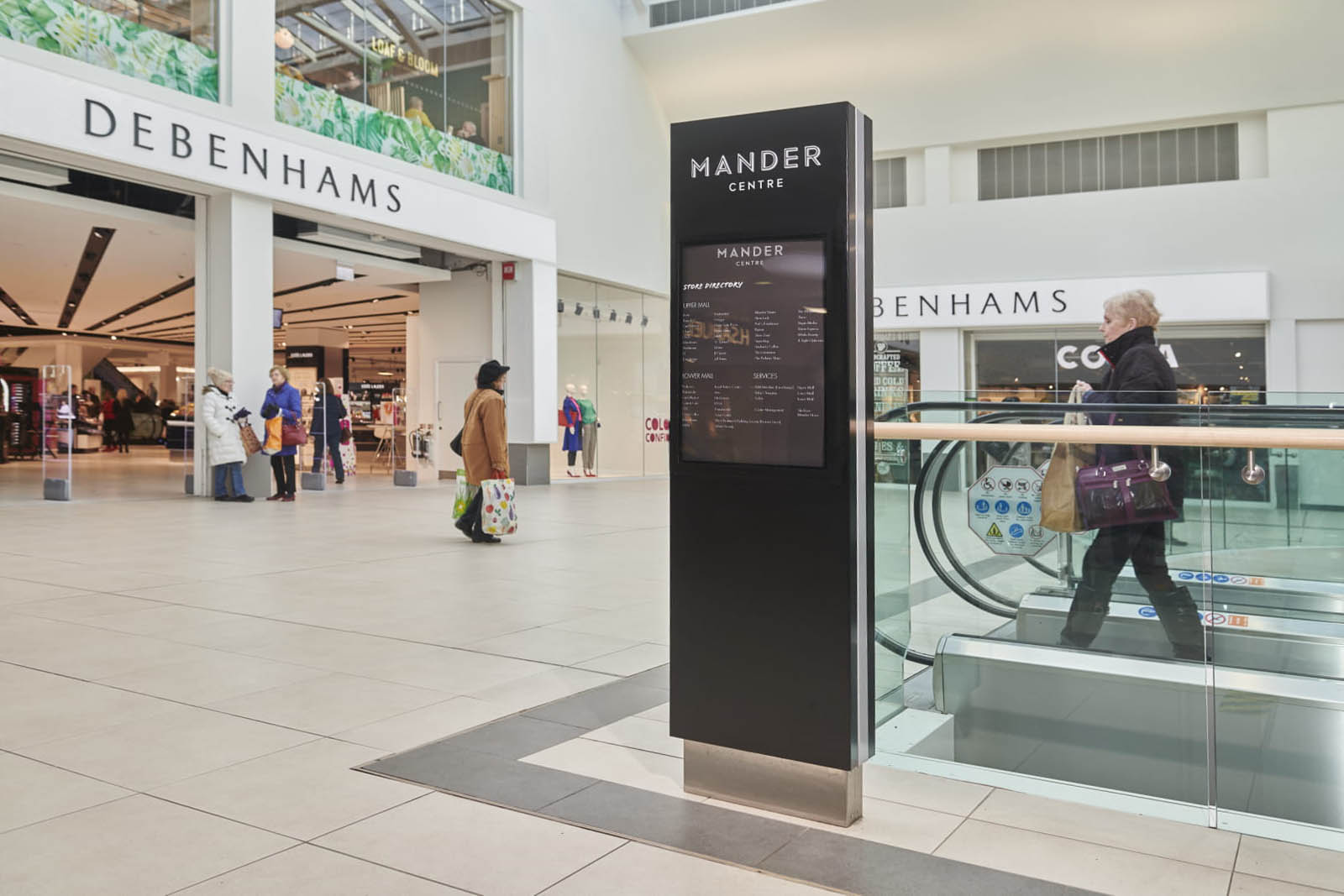 Contemporary and intuitive wayfinding signage to enhance the visitor experience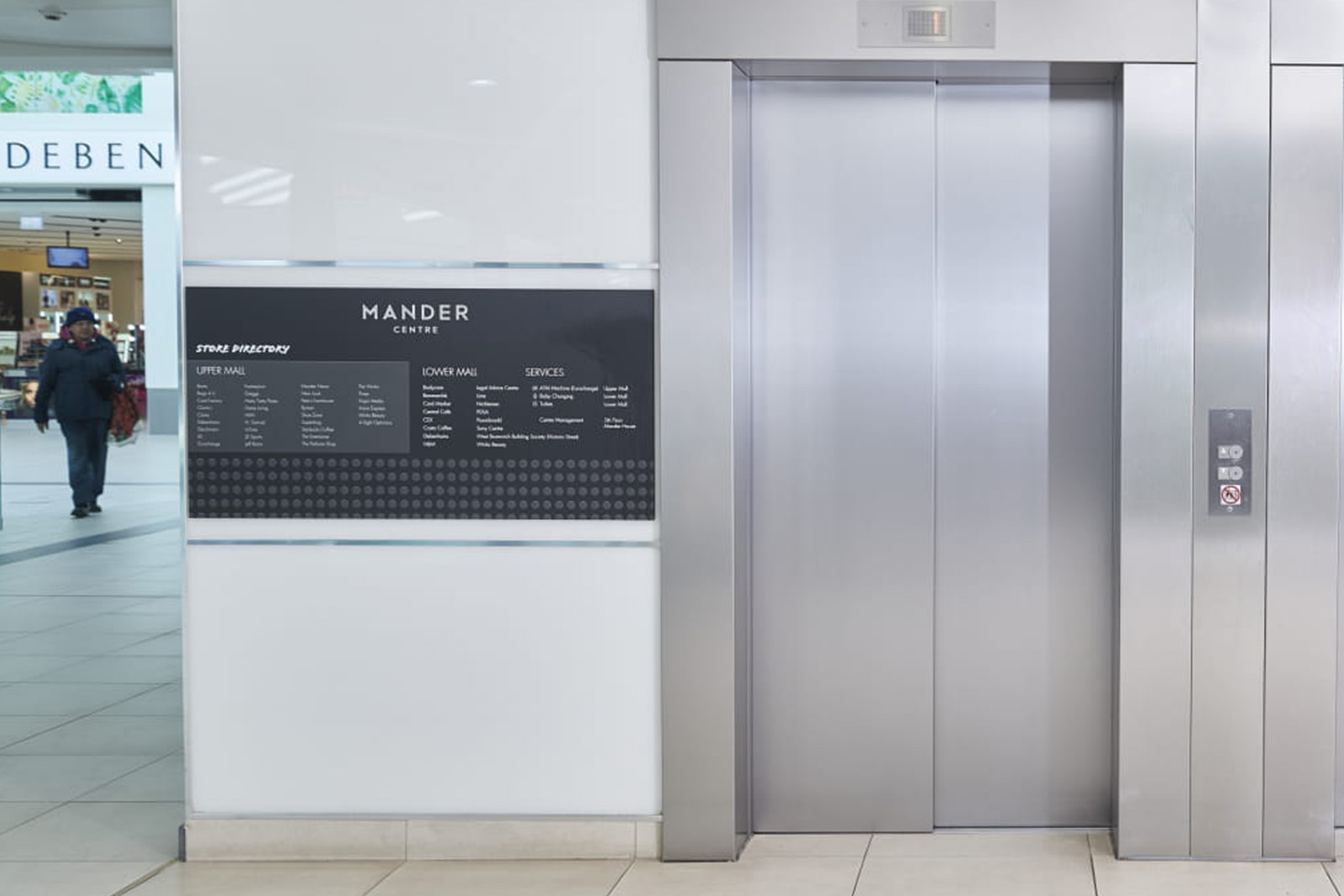 A customer journey with impact
These environmental enhancements have not only transformed the appearance of the centre but also helped to change shopper behaviour. The customer journey is carefully managed, encouraging visitors to stay longer and enjoy the wider food and entertainment experience that the Mander Centre now has to offer.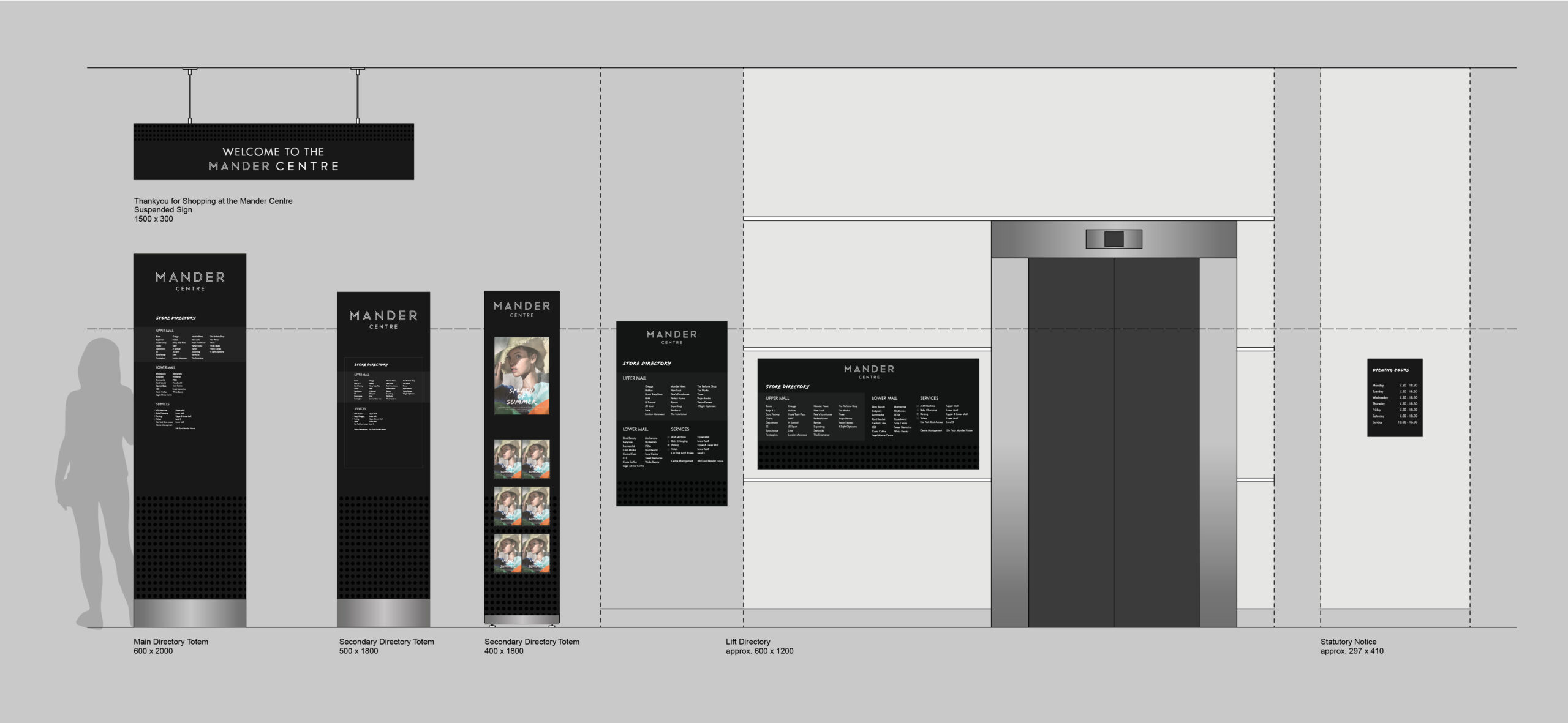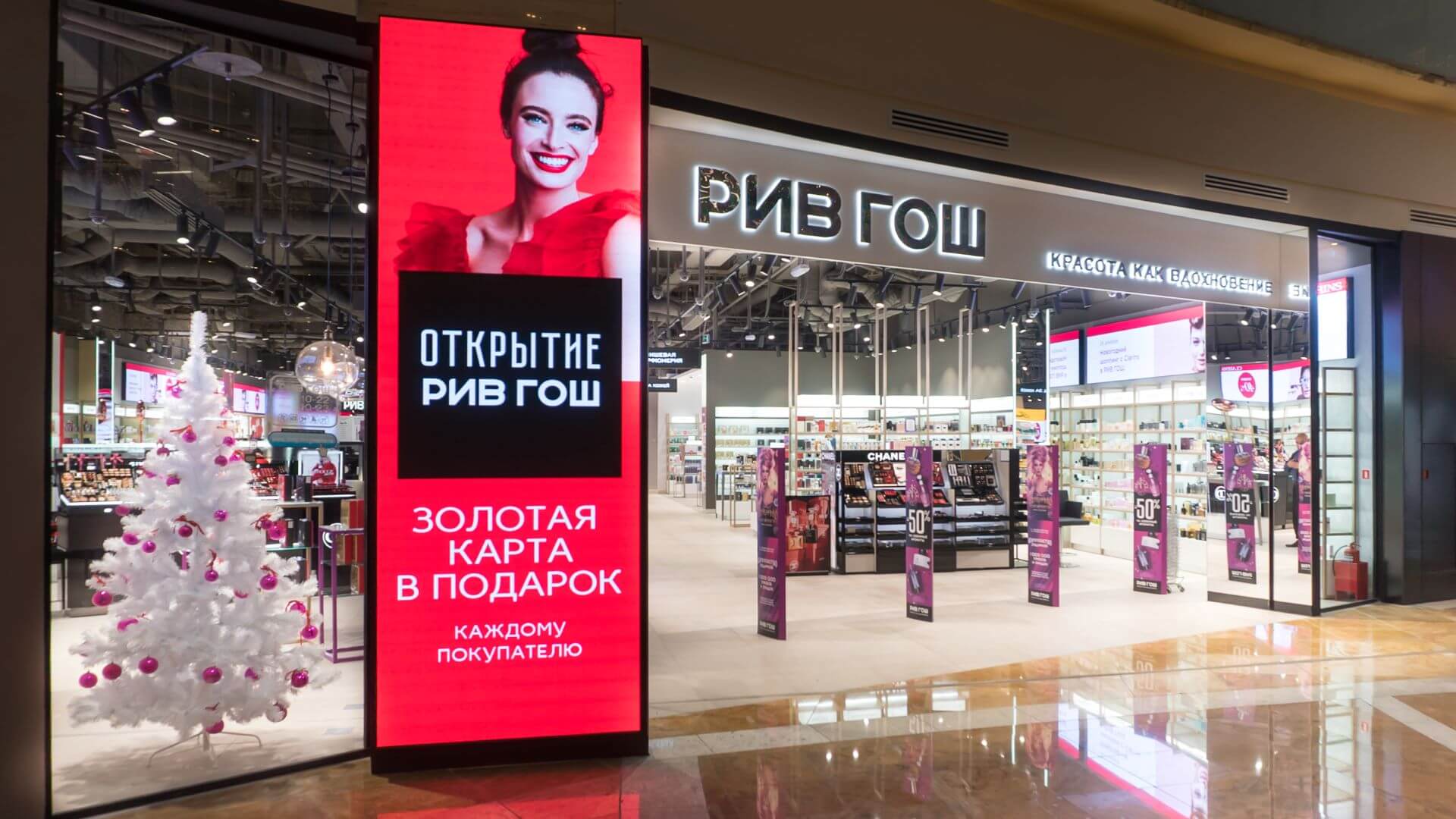 THE BRIEF
To create and deliver a new brand identity and store concept for Rive Gauche, a leading cosmetics retailer.
With 250+ stores across Russia, Rive Gauche is one of Russia's largest beauty retailers, selling brands such as Chanel, Givenchy and Dior, in addition to their own brand make-up.
BRAND STRATEGY AND DESIGN
Working with Rive Gauche's brand and marketing leaders, our G CREATIVE team in London helped to define a new brand hierarchy. Following indepth analysis – market and brand position, target audiences, tone of voice and extensive retail benchmarking – we developed a new brand identity and retail concept.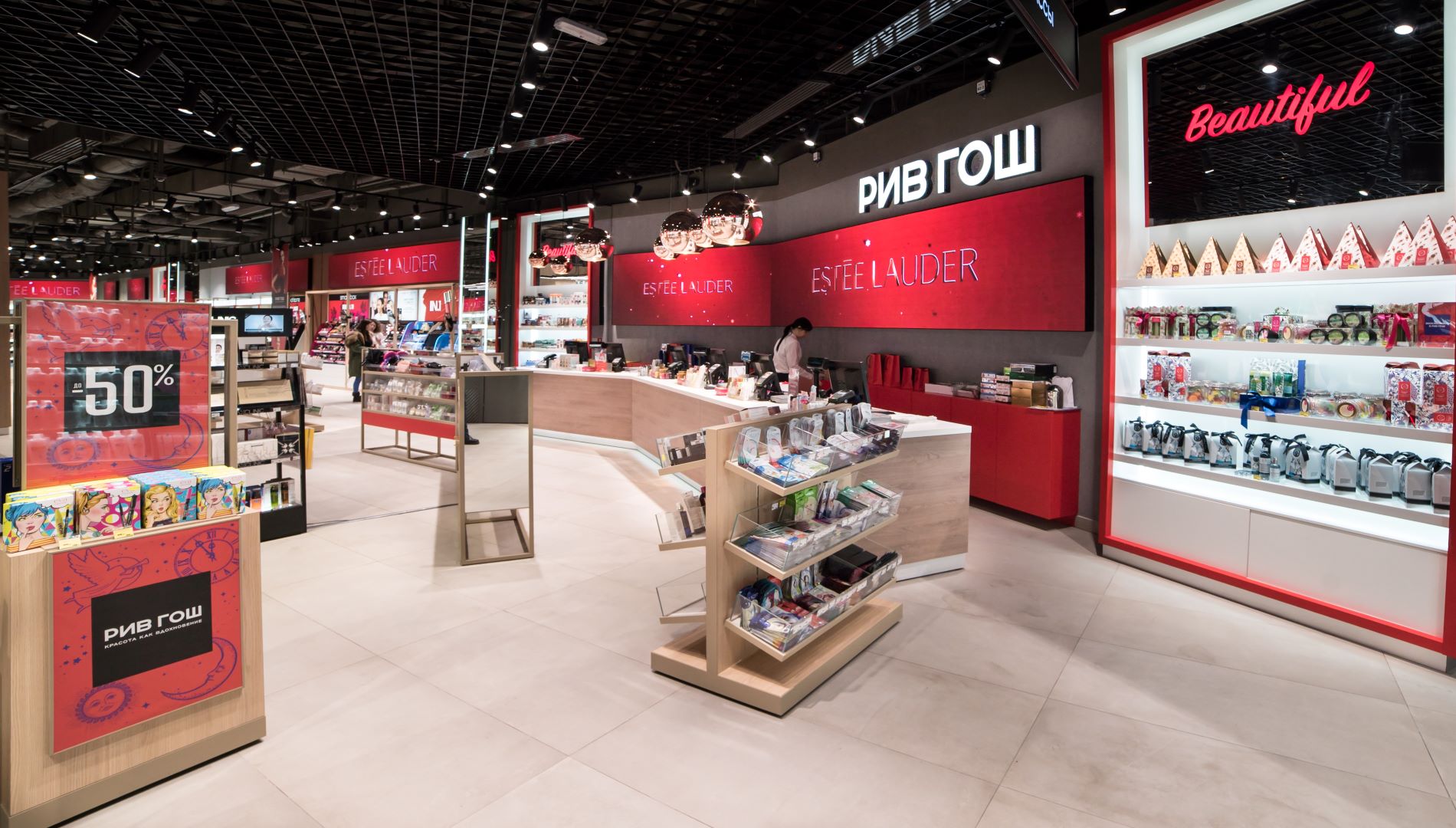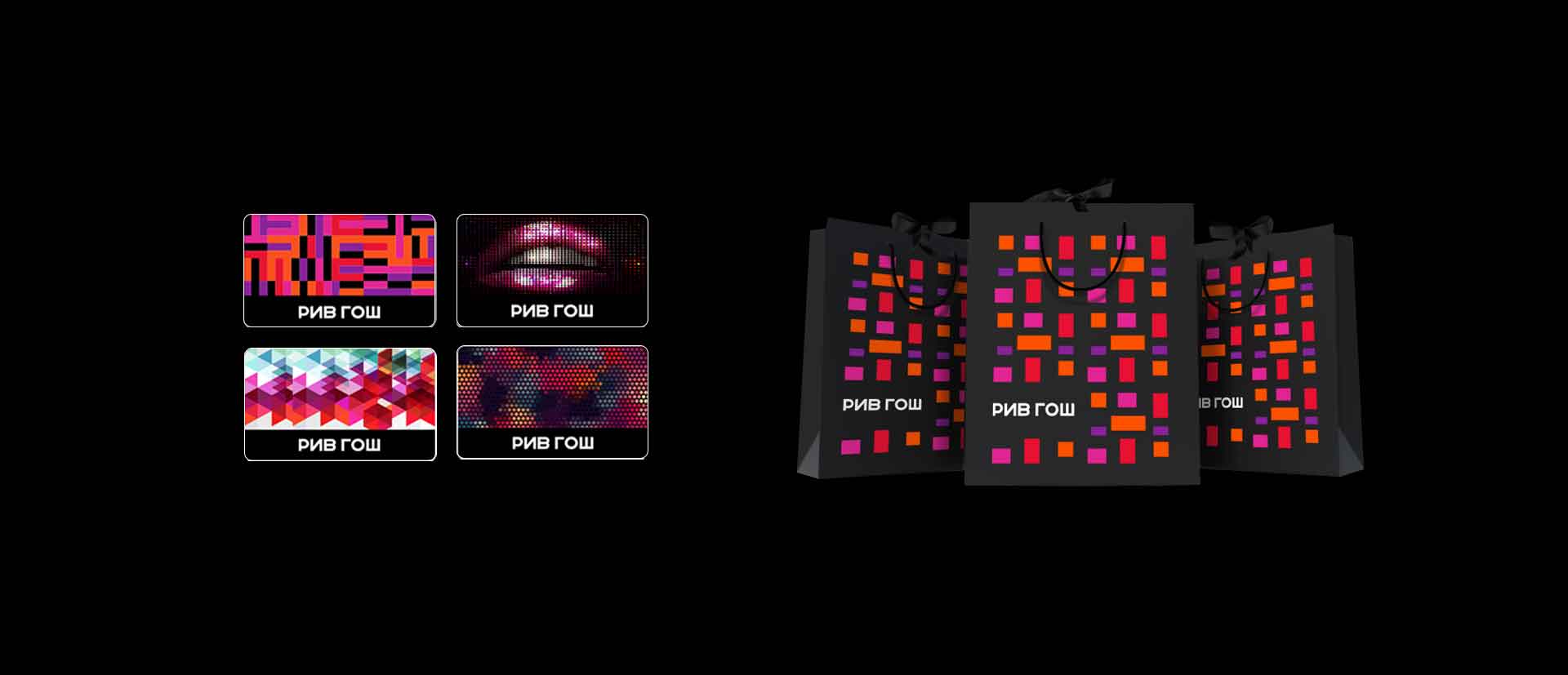 EVERY BRANDED ITEM IS DESIGNED TO MAKE A STATEMENT
The new identity has been applied across all product ranges, merchandise and instore.
Bags are important merchandise – we designed them with everyday luxury in mind. This was incorporated into the shopping bag design, strongly implying the quality of both the products and the customer experience.
The Customer Loyalty cards are clearly distinguished through choice of colour. A variety of card holders help to personalise the experience, allowing individual customers to choose the design that best suits their personality.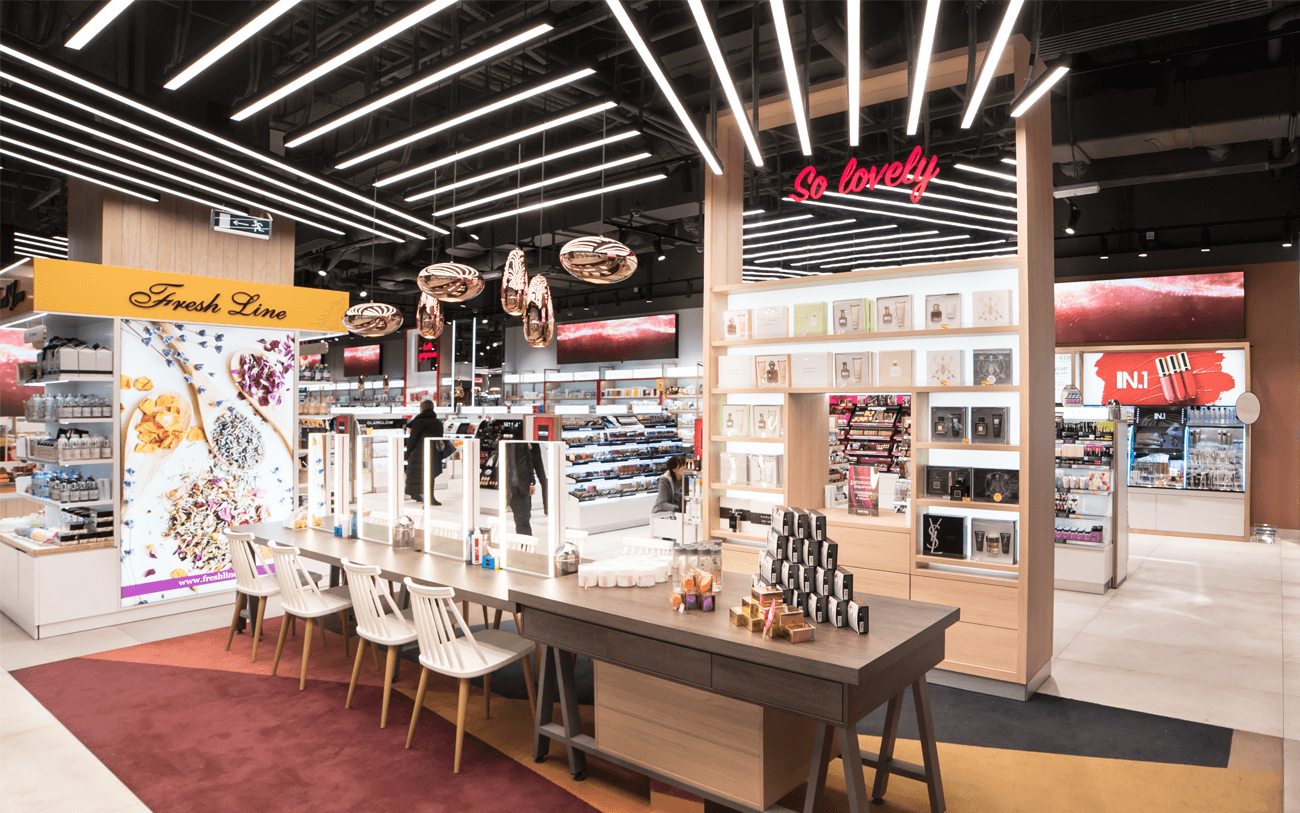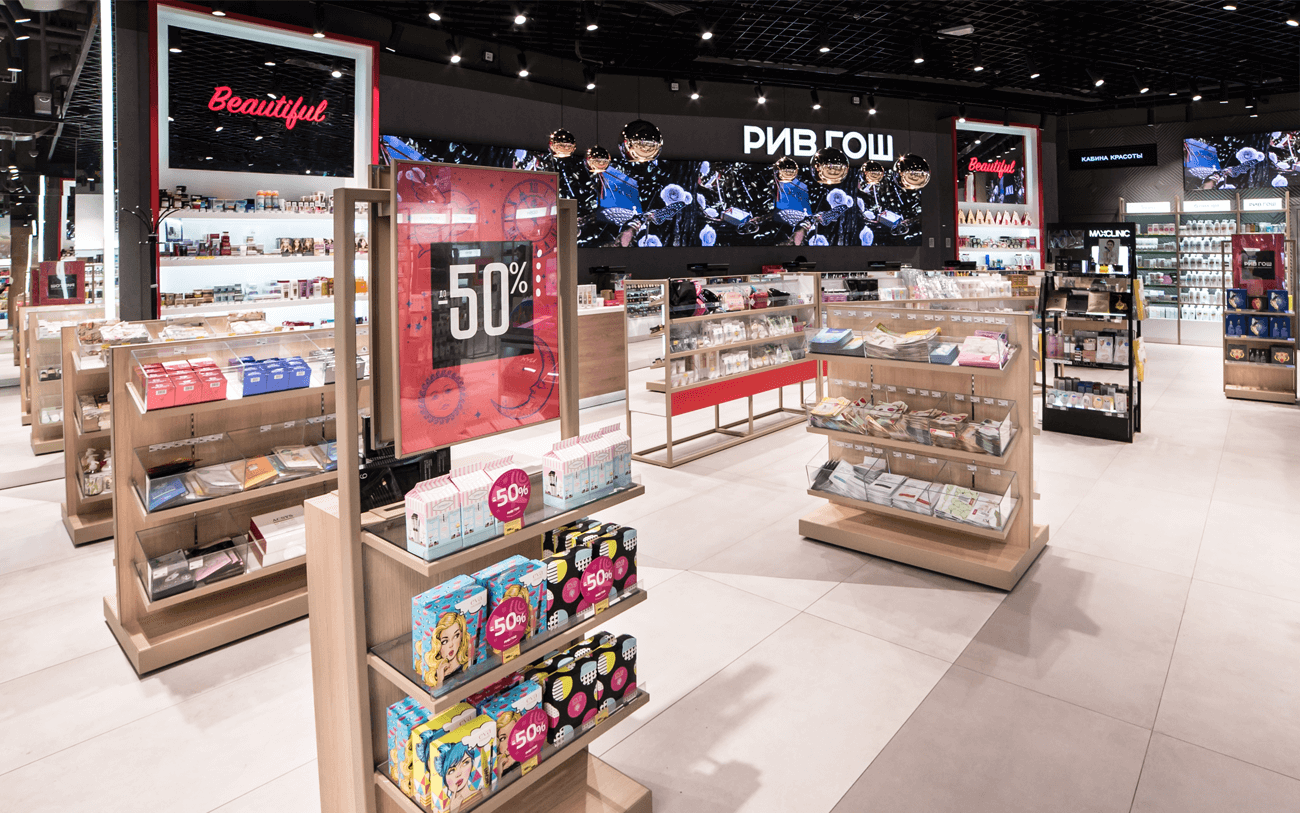 TRANSLATING THE BRAND DESIGN INTO THE PHYSICAL RETAIL SPACE
The brand vision was encapsulated into our store designs: clear and spacious floor plans, differentiated brand zones, focused promotional areas, unified graphics and formats and consistent clear signage to create a pleasant and easy customer journey that is appealing to the eye. Brand colours were implemented throughout.
Digital was a key element, creating energy and movement to catch the eye of customers and draw them into the store, into particular zones or to specific products.
We implemented the new retail concept at their 600m2 flagship store in the AFIMALL shopping centre in Moscow.
'Our new brand positioning represents a big step towards achieving our marketing goal of strengthening our leadership position. The G Creative team were able to quickly and precisely understand our objectives, translating them into a vibrant and relevant design. But perhaps more importantly, they have succeeded in making the new brand become alive instore, to create a unique customer experience.'
The end result is a warm welcoming environment. The openness encourages visitors to linger and browse.
The use of natural finishes and clean lines, the careful choice of lighting and illumination… all these elements help to create a ambience and look that ensures Rive Gauche stores will stand out from its competitors.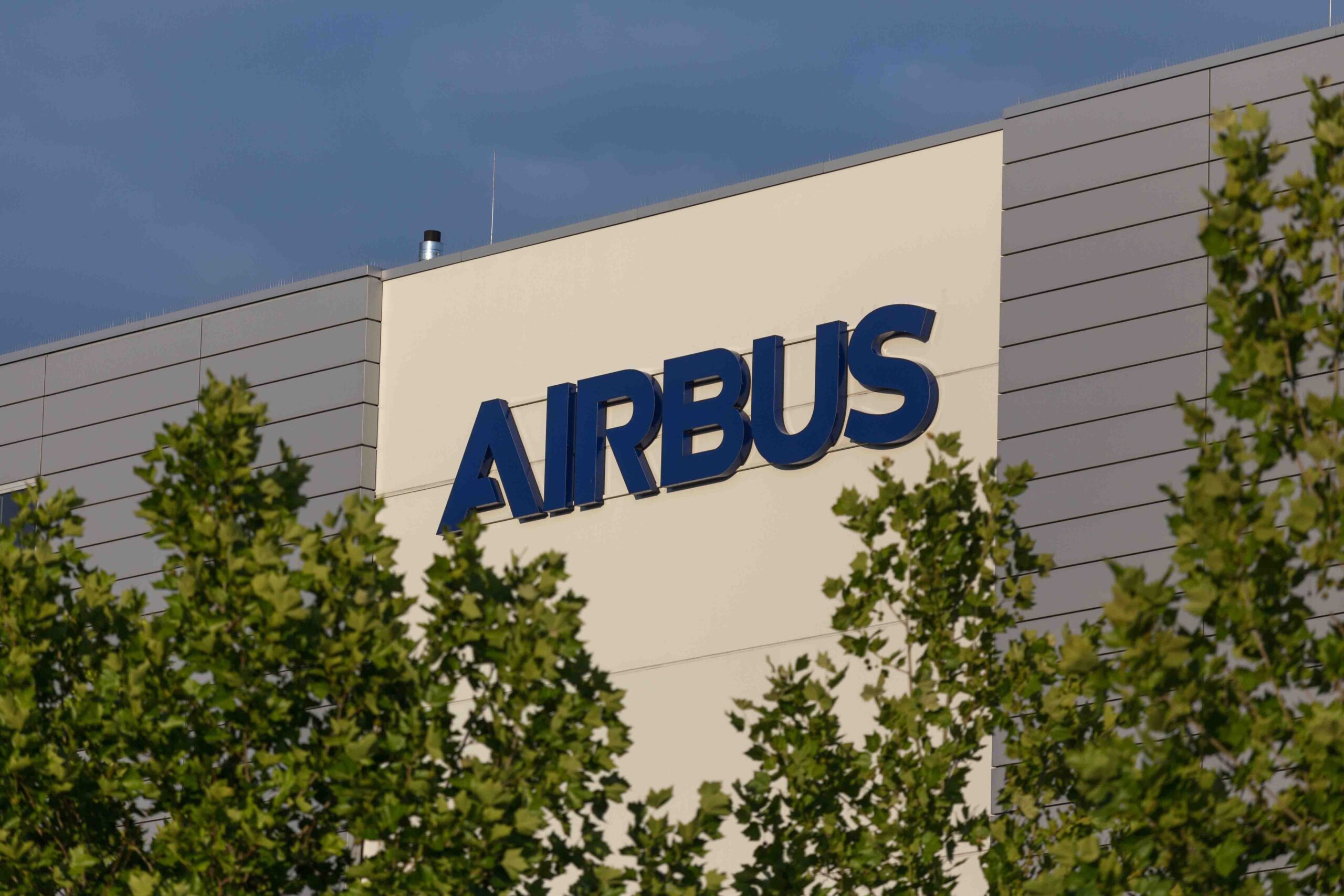 THE BRIEF
To roll out the strategic rebrand for Airbus, with a focus on signage and wayfinding, at 118 sites, across 26 countries in five continents.
THE AIRBUS GROUP
Airbus is a global leader in aeronautics, space and related services, offering the most comprehensive range of passenger airliners. It is also a European leader in tanker, combat, transport and mission aircraft, as well as one of the world's leading space companies. In helicopters, they provide civil and military rotorcraft solutions worldwide.
'When facing a rebrand of this scale, it is often difficult to bring together the right team internally to make it happen within the timescale required. By working with GLIMMA, we were able to efficiently rollout the new signage and wayfinding branding globally. The central team brought technical knowledge and expertise. By using their extensive global network we were able to ensure that the work was completed on time and within or below budget, leaving us to get on with our day jobs.'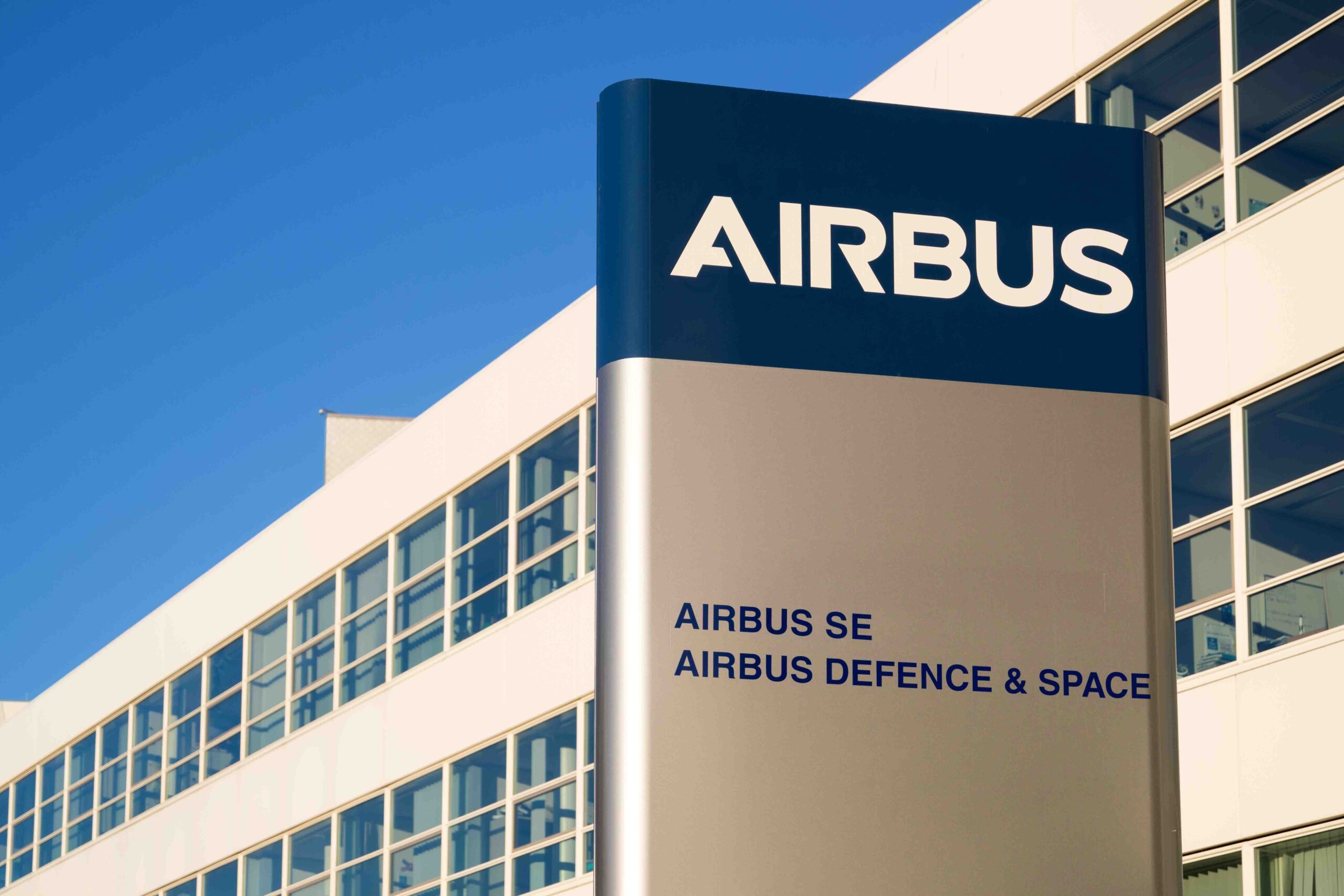 UTILISING LOCAL POWER 
With carbon footprint front of mind in this rebrand, we adopted a sustainable approach, opting for local production to minimise transportation costs and environmental impact.
We started by technically translating their brand guidelines, to ensure the designs and renders could be used for local tender – reducing time, manufacturing and shipping costs.
Following the success of the rebrand, we continued to work with Airbus on the rebrand of 60+ Helicopter service centres across 17 countries, this time focussing on illuminated signage solutions too.
FLEXIBLE PROJECT MANAGEMENT
Using a flexible timeline, we adopted a phased approach, working with the Airbus branding and facility management teams to identify priority sites and ensure minimum disruption to day to day operations.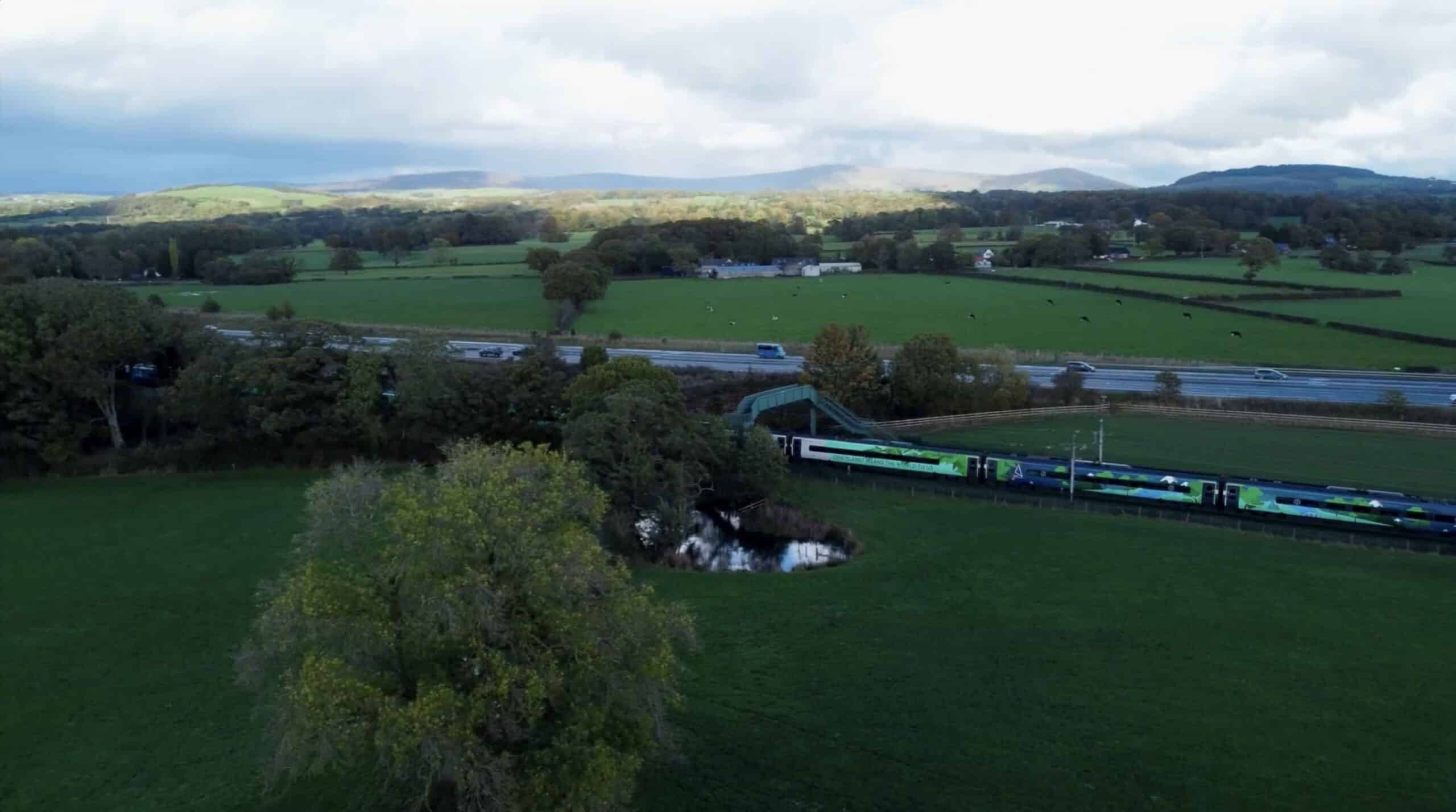 Avanti West Coast provide the principal long-distance passenger services on the West Coast Main Line between London, the West Midlands, North West England, North Wales and Scotland. Its services connect six of the largest cities in the UK: London, Birmingham, Liverpool, Manchester, Glasgow and Edinburgh, which have a combined metropolitan population of over 18 million.
Watch how our brand partner delivered a comprehensive rebrand across the trains.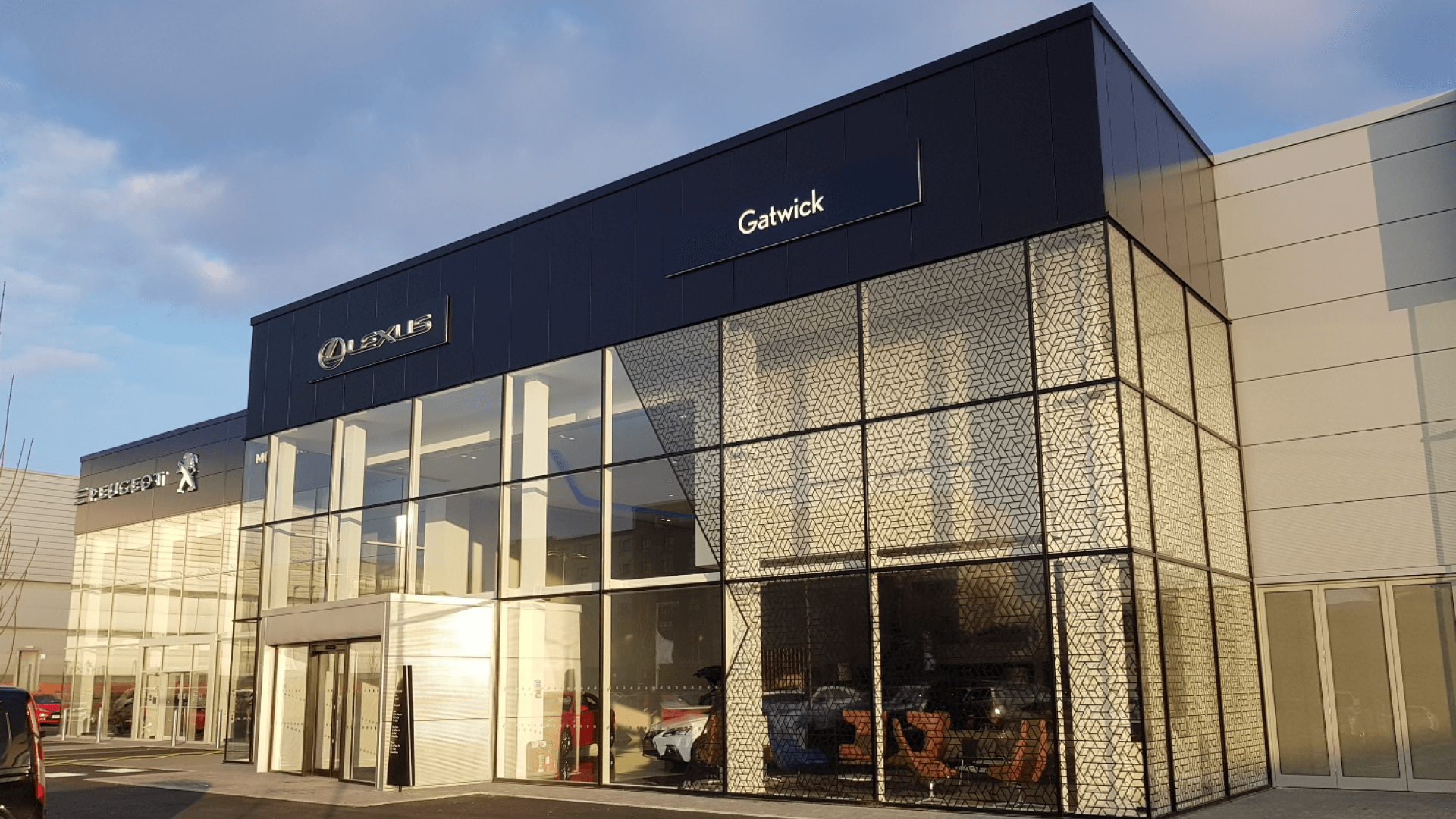 Lexus has consistently pursued its goal to build the world's best cars, reflecting their brand values of design excellence and luxury.
This is achieved through the careful design and engineering of both their vehicles themselves, and through the creation of exceptional customer experiences with their dealership network.
One of our aims was to make the branded environments more resilient and robust.
By reviewing many of the materials that were originally specified, we achieved this.  Thanks to our buying power, we also delivered considerable cost savings.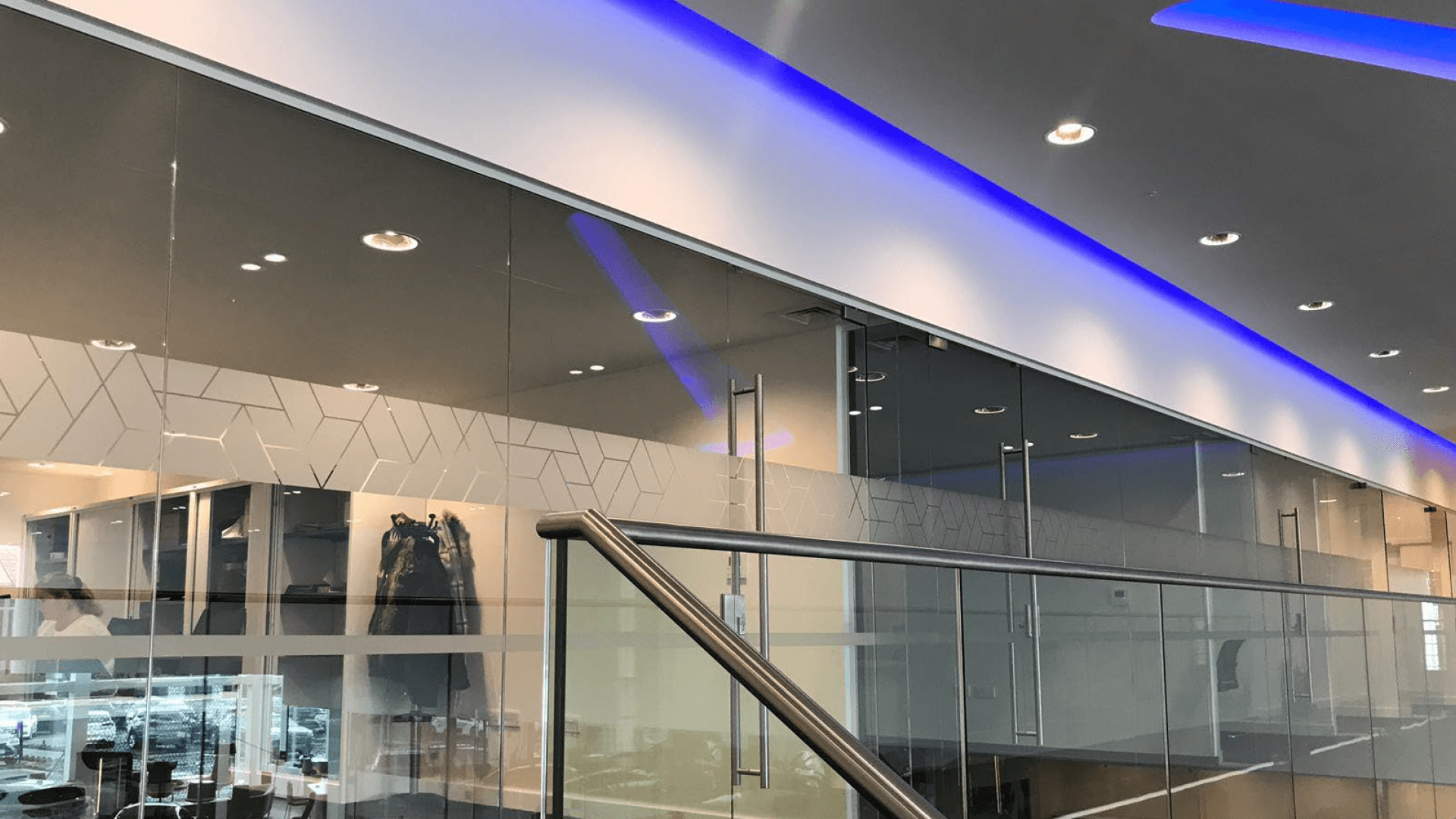 Flagship sites in Cardiff, Exeter and Gatwick were more heavily branded and included both internal and external glazing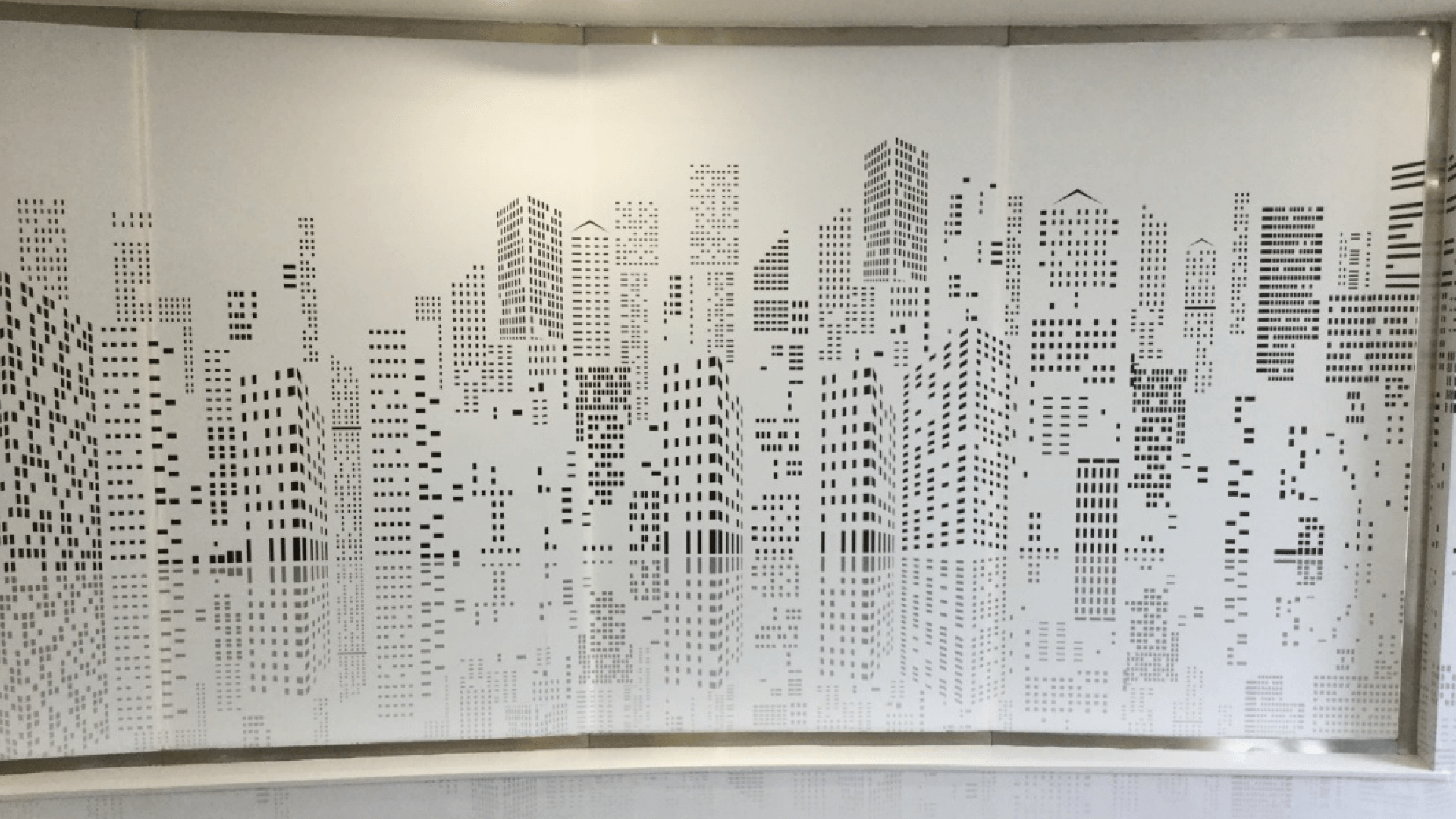 The cityscape graphics helped to reinforce Lexus's brand values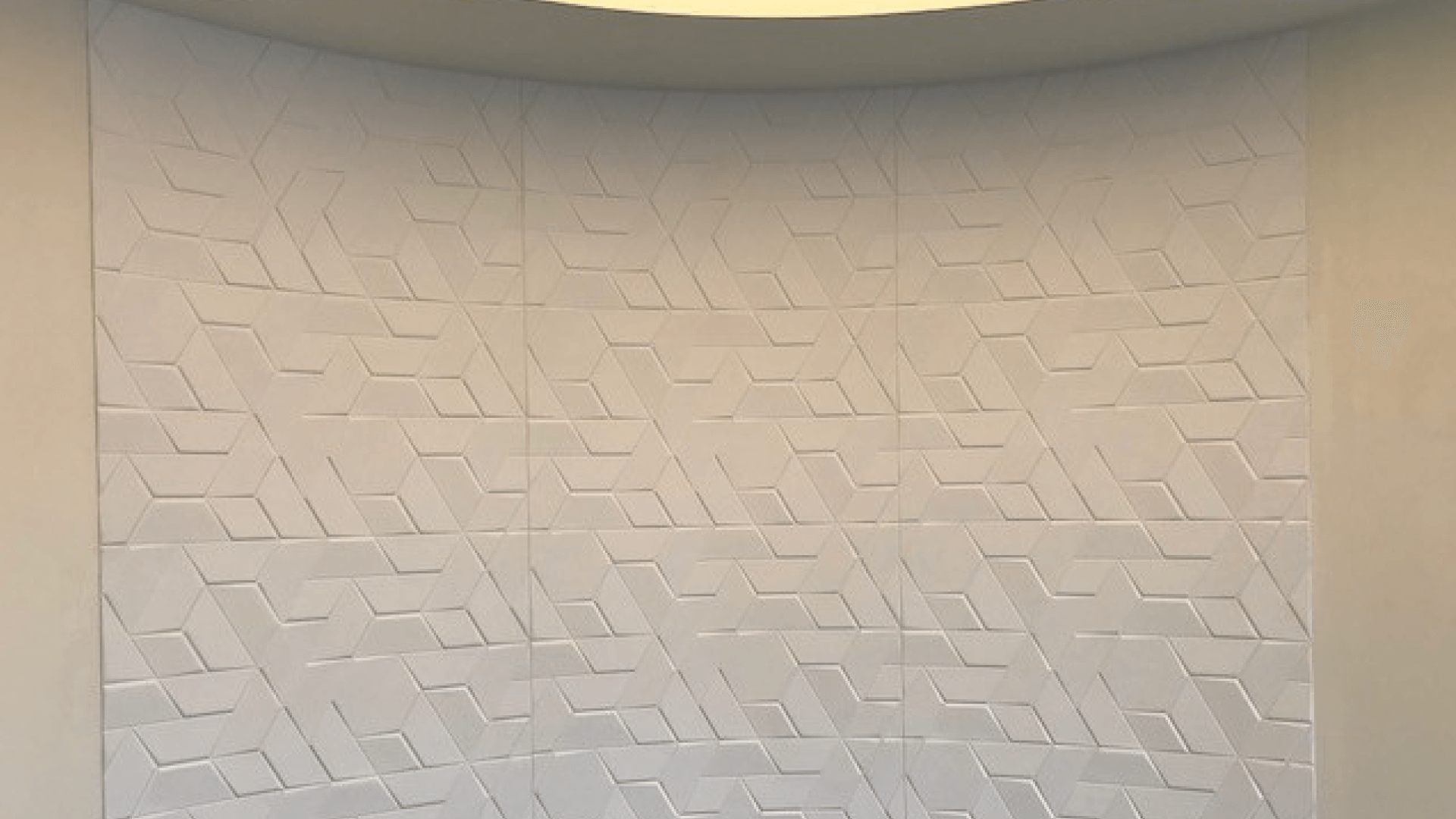 3D wallpaper creates texture and depth
We designed, manufactured and installed the highest quality graphics to reflect their premium market position.
This included:
Design and materials specification
Manufacture and application
Site surveys and installation
Interior branding, including 3D wallpaper, solar film, graphic prints, workshop banners, frosted vinyl and health and safety manifestations
The branding programme was intially rolled out across ten dealerships in the UK, Norway and Spain. Following successful implementation, it was extended to a nationwide programme across the UK, including 20 new sites and 20 refurbished sites.
The customer-centric approach to dealership design is evident, with graphics used to designate different customer zones to meet the needs of a variety of customer groups. We also installed and laid out furniture to facilitate the designated customer journey.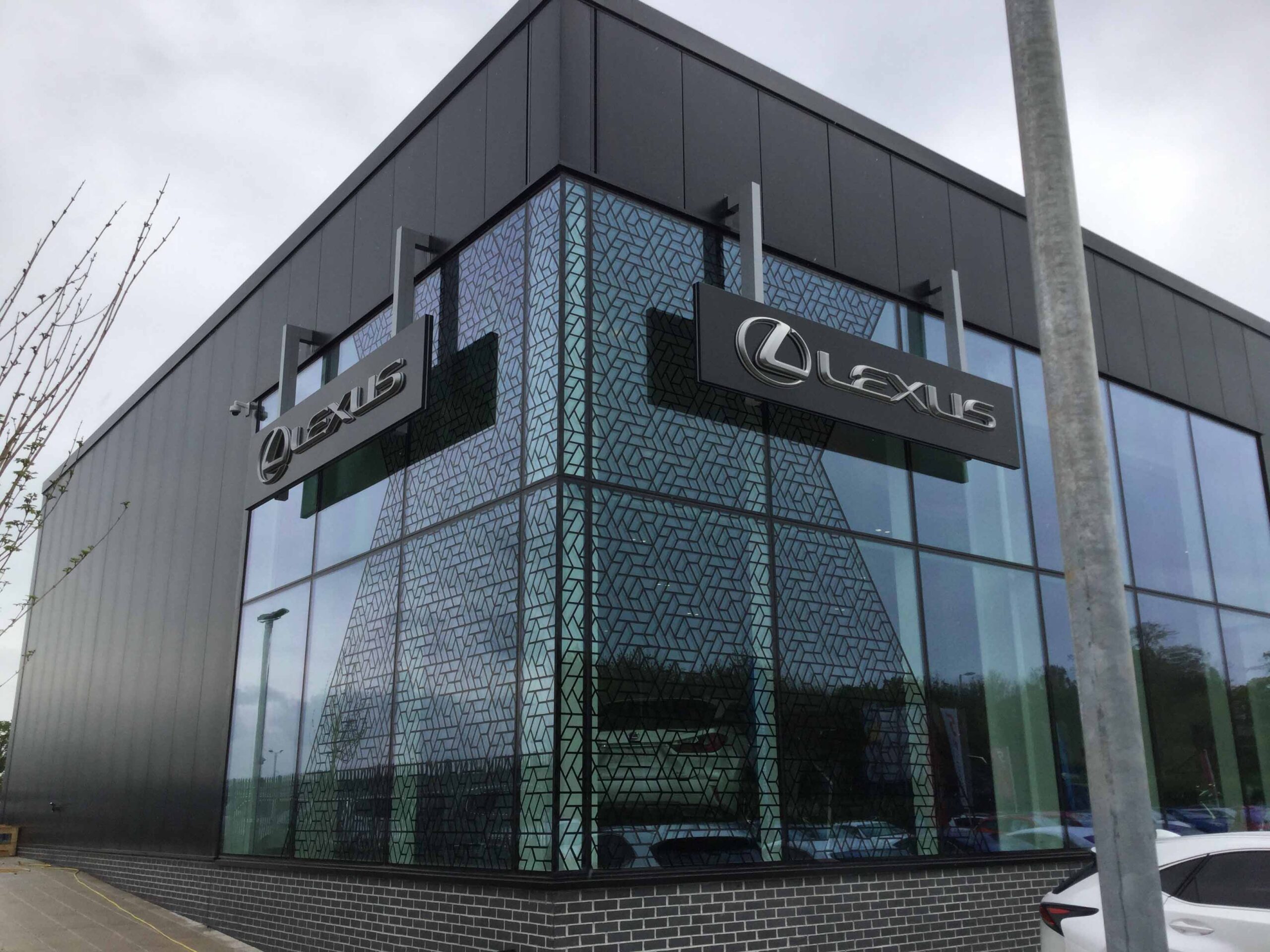 'Client feedback cited our personal touch as one of the biggest success factors in this brand rollout. Attention to detail was our mantra throughout - we provided the most detailed instructions to installers and were on site for every installation to ensure the highest quality control. It's an absolute pleasure to work with Lexus.'