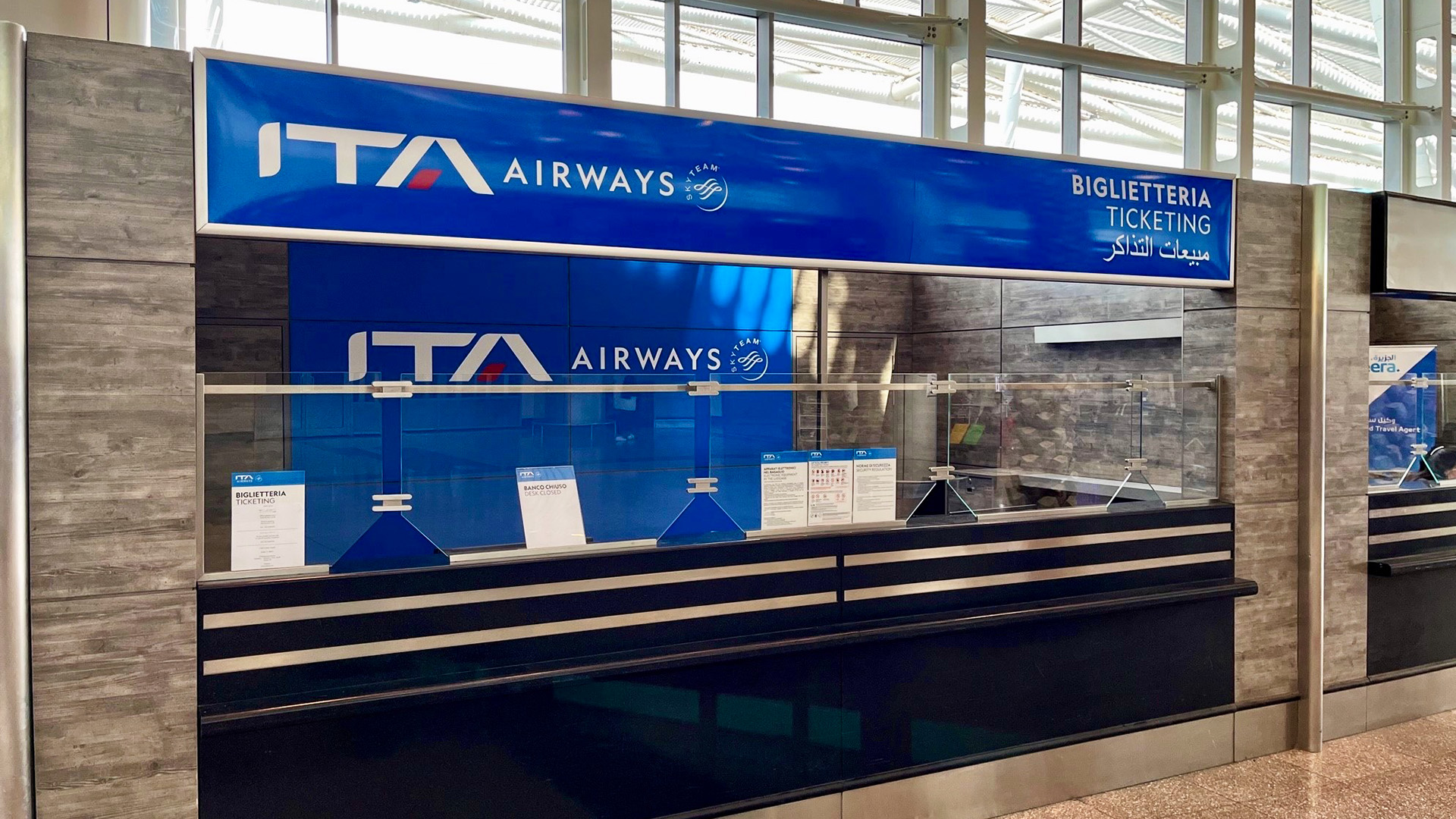 ITA Airways, the result of a bold endeavor following the crisis of former Alitalia, emerged as a new air transport company under the name Italia Trasporto Aereo. Despite securing the brand Alitalia, the company chose to enter the market with a fresh identity, ITA Airways.
In this transformative journey, GLIMMA, in collaboration with our Gold Partner DB Ingegneria dell'Immagine (Italian-based large-format print solutions company), undertook the task of replacing all previous Alitalia logos with the new ITA Airways branding across various touchpoints at international airports.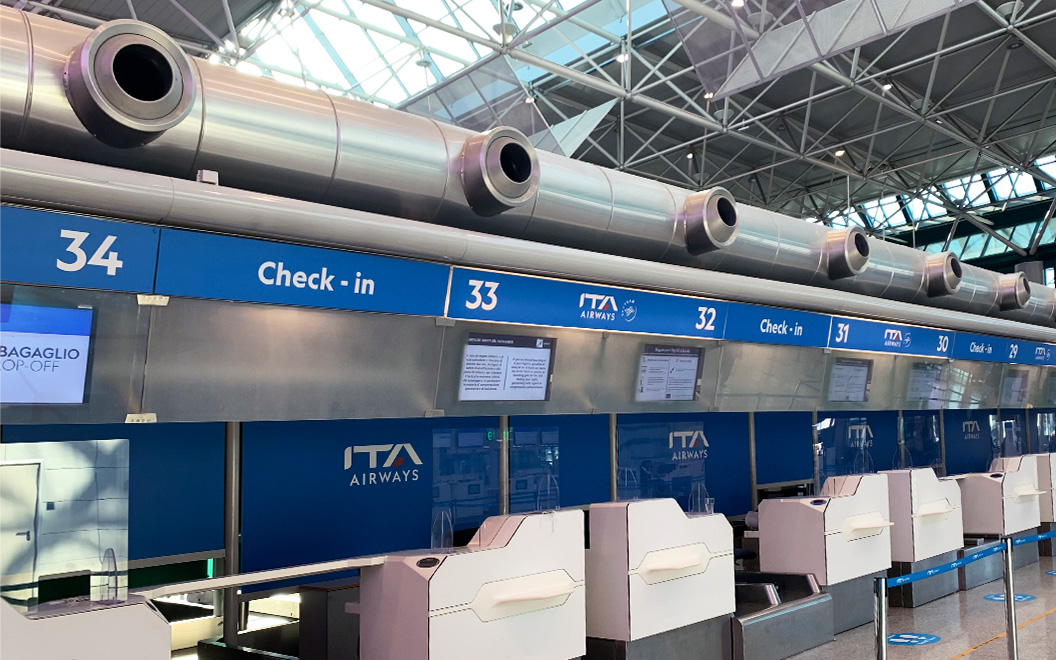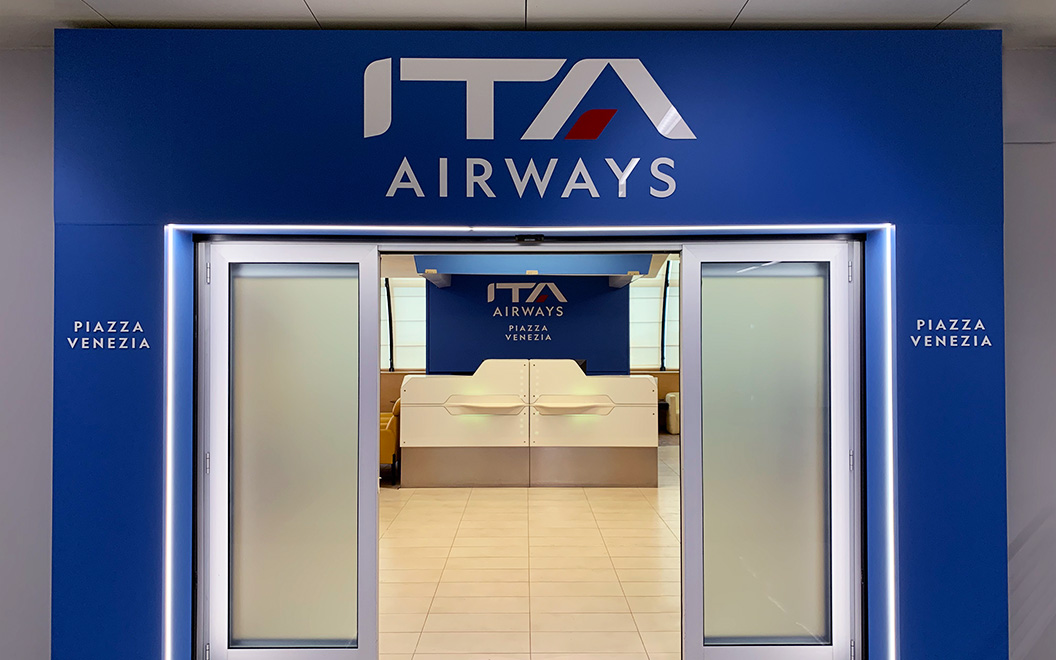 Our Re-branding Journey Encompassed:
Online project platform usage offering client 24/7 project overview
Digital self-survey tool usage (providing GLIMMA with precise information on location-specific touchpoints)
Technical Specifications Analysis
Budget Creation and Development
Production and Delivery across global project locations
Project synopsis and end-of-project audit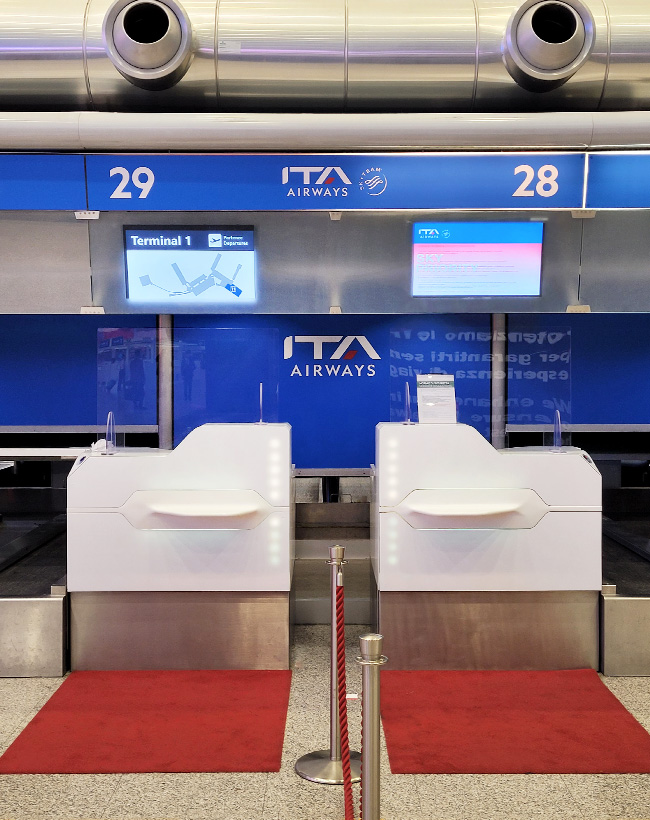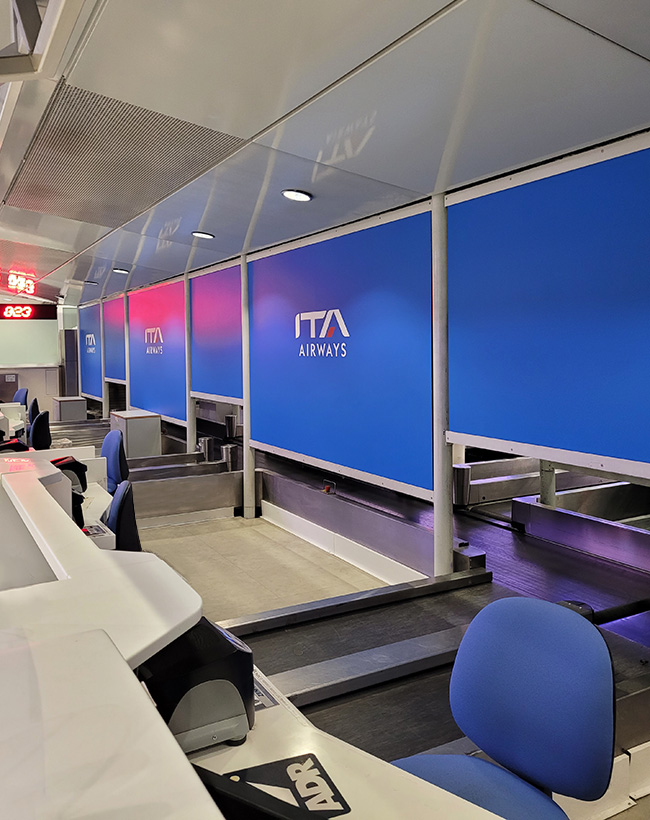 Re-branding locations included:
Algiers (ALG), Amsterdam (AMS), Athens (ATH), Barcelona (BCN), Bruxelles (BRU), Cairo (CAI), Paris (CDG), Dusseldorf (DUS), Frankfurt (FRA), Geneva (GVA), London (LHR), Madrid (MAD), Malta (MLA), Munich (MUC), Nice (NCE), Paris (ORY), Tirana (TIA), Tel Aviv (TLV), Tunisia (TUN), Zurich (ZRH), Brindisi (BDS), Bari (BRI), Catania (CTA), Fiumicino (FCO), Genoa (GOA), Linate (LIN), Napoli (NAP), Palermo (PMO), Pescara (PSR), Reggio Calabria (REG), Lamezia (SUF), Torino (TRN), Trieste (TRS), Venezia (VCE).
Throughout this rebranding project, GLIMMA and DB Ingegneria dell'Immagine executed the project with precision, showcasing our expertise in delivering impeccable brand management solutions.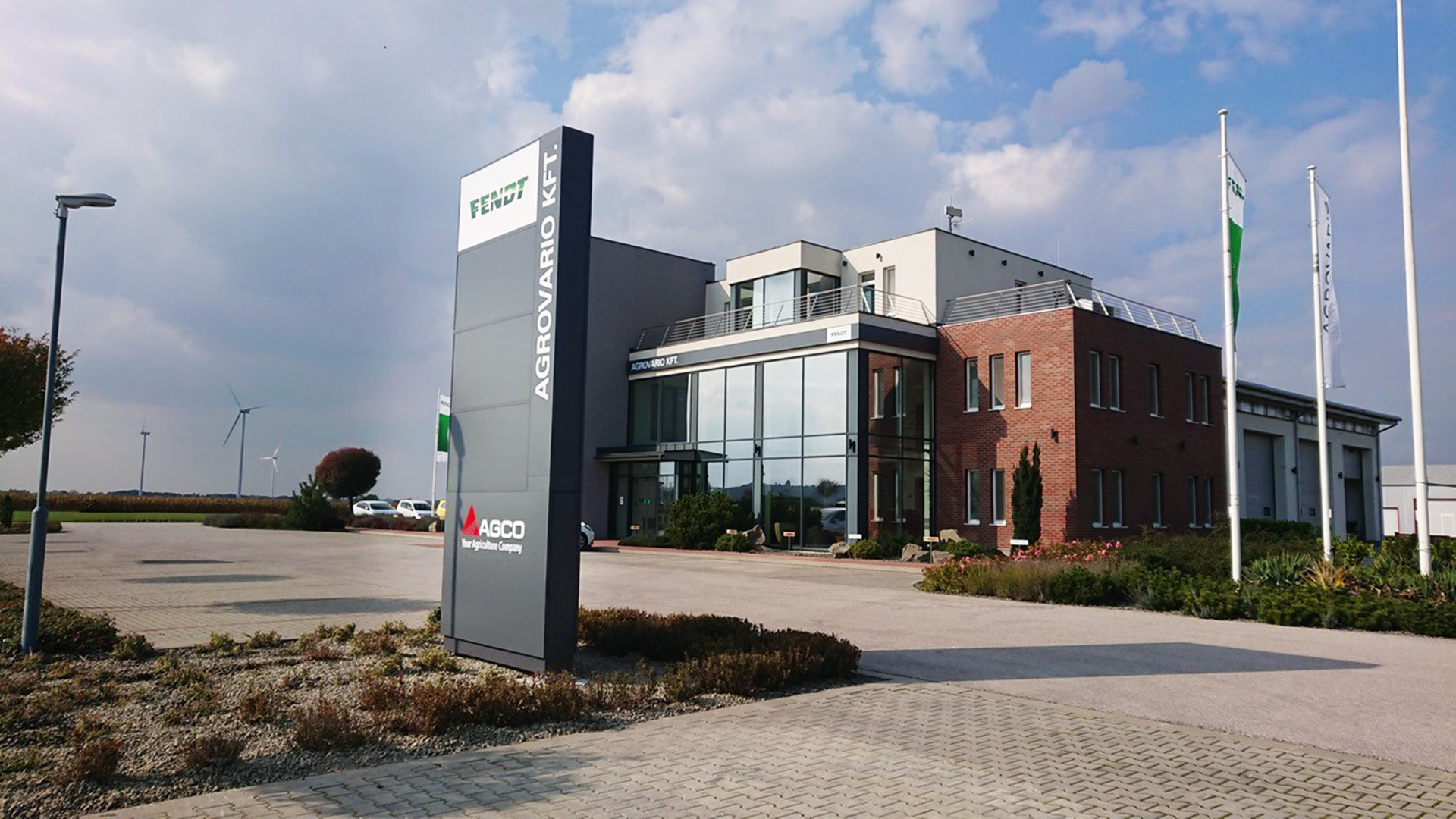 AGCO Corporation, a renowned player in the agricultural industry, empowers farmers worldwide with cutting-edge solutions through their esteemed brand set: Fendt, GSI, Massey Ferguson, Precision Planting and Valtra. Offering an extensive range of tractors, combine harvesters, hay and forage equipment, seeding and tillage implements, grain storage, protein production systems and replacement parts, AGCO has been committed to sustainably feeding global communities for over 30 years.
AGCO made a strategic decision to overhaul its corporate and branding structures, which led to the development of a new visual identity for its dealerships across EMEA. With 868 dealers responsible for 59% of AGCO's global sales, this corporate redevelopment required GLIMMA's Gold Partner Beflex to have meticulous attention to detail and hyper-focused collaboration with AGCO's global brand team (headquartered in Germany), who carried out the project client-side.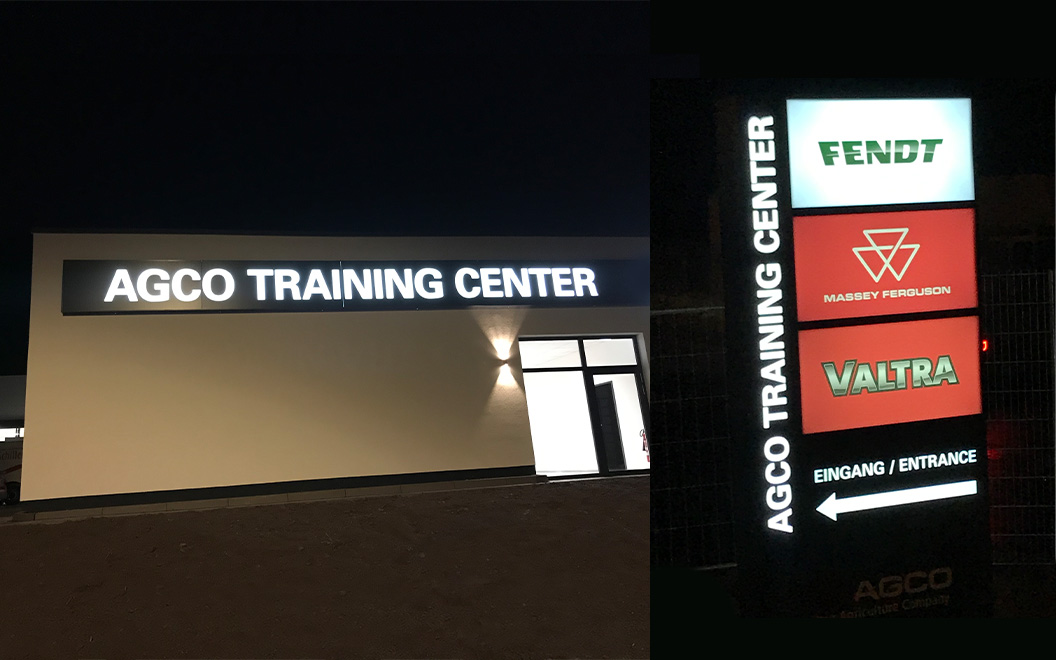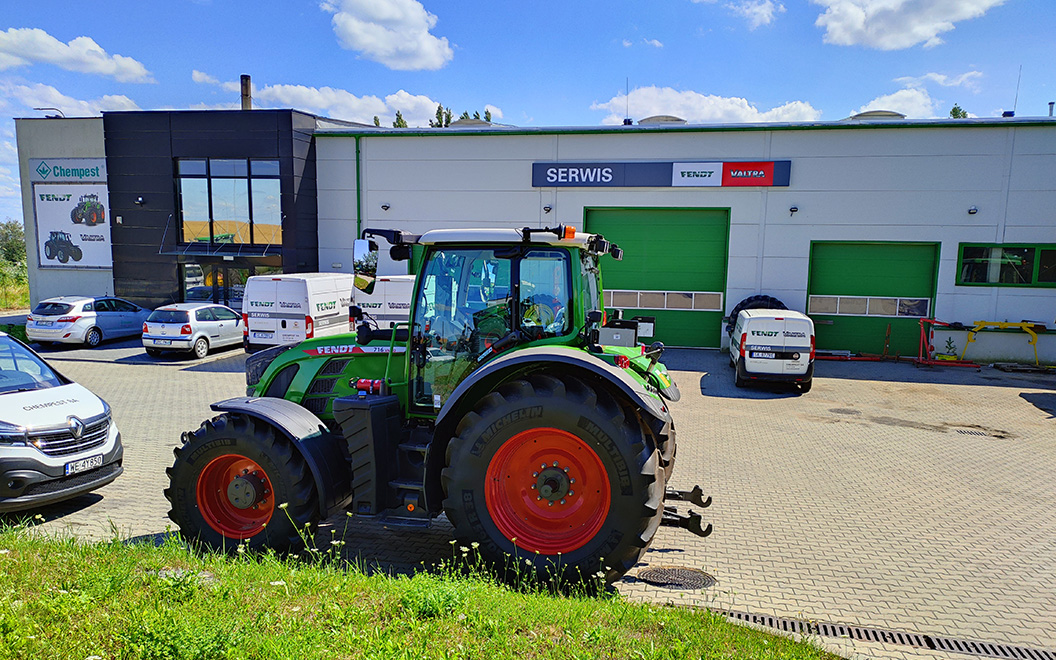 Beflex in collaboration with GLIMMA crafted a holistic end-to-end web-shop solution tailored to AGCO's specific needs.
Our Bespoke Strategy Included:
Applied Design Services
Prototyping
Online Ordering System (Webshop) Development
Production
Signage Deliverable Development
Utilisation of our in-house reporting and brand implementation management tool, BrandEye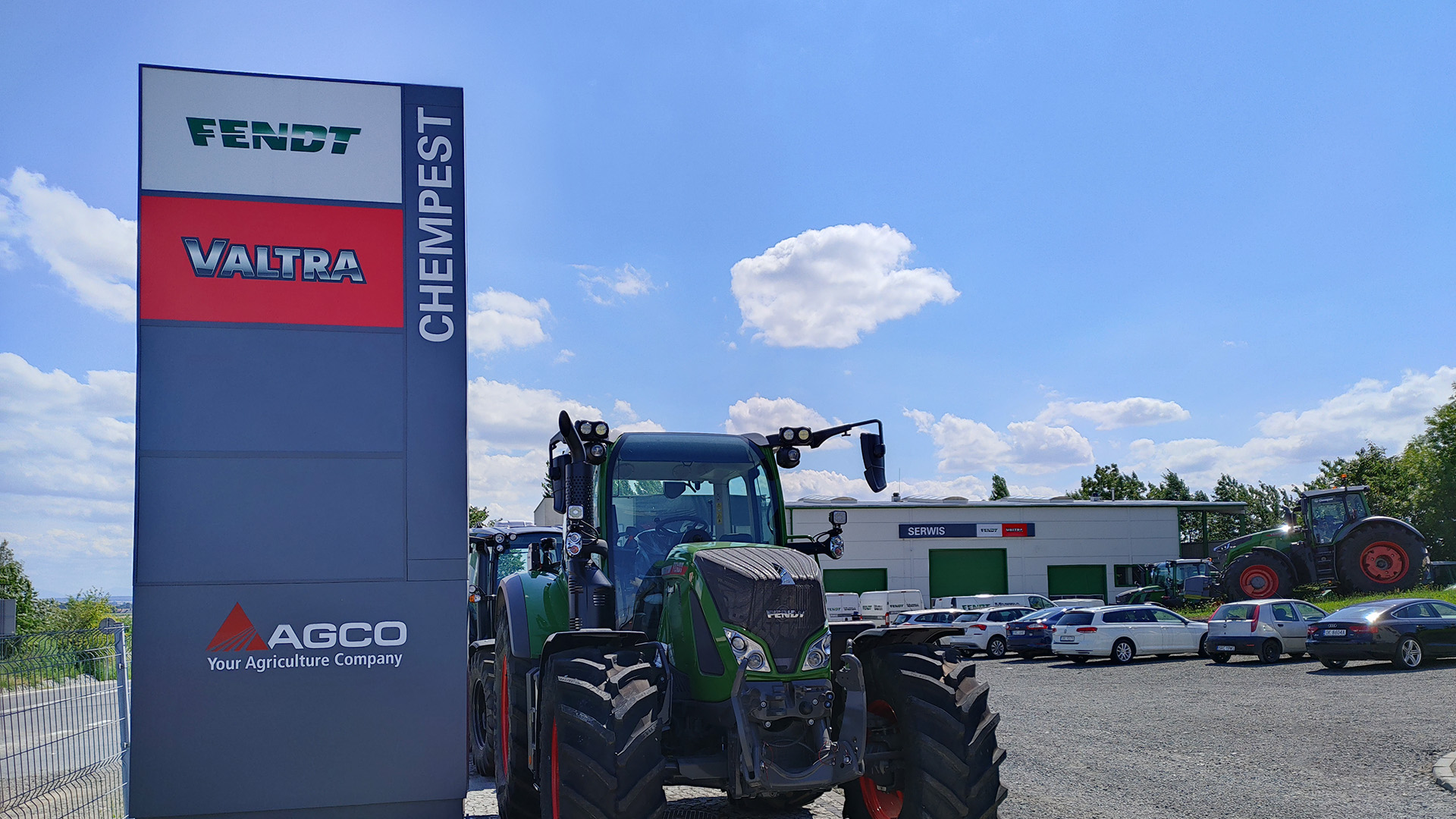 The online ordering system (webshop) we devised for AGCO has allowed total control over the brand's visual identity across Europe. This includes precise color matching high-quality material usage assurance, adherence to warranties project-wide, alongside detailed project costings maintenance. The webshop guarantees dealerships can seamlessly order signage that adheres to AGCO's top-level corporate guidelines. Additionally, our dedicated Beflex/GLIMMA team was readily available to support dealerships with permit acquisition, installation and product integration management throughout the transitionary period.
Our timeline for this global strategic transformation began with detailed concept development and product wireframing in 2020, followed by A/B-tested prototyping in 2021. By 2022, the webshop was successfully launched and implementation across AGCO's dealers had commenced. Today, every AGCO dealer in Europe operates within the implemented webshop – ensuring brand consistency across all of AGCO's European dealerships.
At GLIMMA, we take immense pride in propelling brands like AGCO to new heights, empowering them with effective brand management solutions. Our dedication to quality, consistency, and efficiency aligns seamlessly with our clients' visions. Trust GLIMMA to redefine your brand's journey, transforming it into a powerful force that stands out in the global market.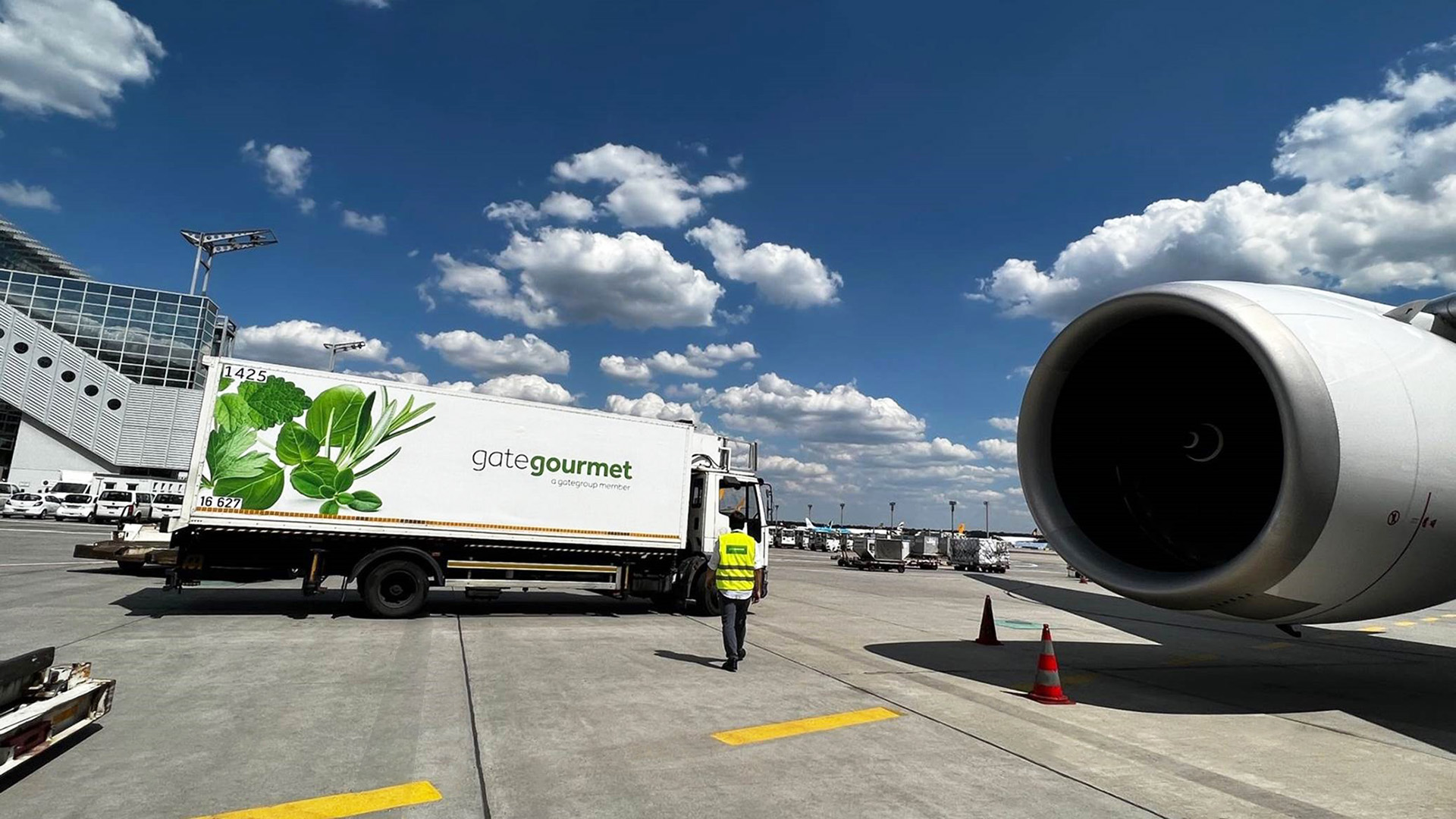 Our partnership with Gategroup (Gate Gourmet) dates back to 2007, and as proud partners with GLIMMA's global network, we have successfully rebranded over 1,500 high-loader trucks across the world since then. Our collaboration with the Swiss onboard catering company has also extended to workplace branding projects in Europe and Latin America, including noteworthy exterior signage installations at London Heathrow and Zürich CH airports (where Gategroup's headquarters are situated). One of our proudest achievements was delivering a large LED screen (670x1000cm) with a cloud-controlled media player platform, enabling Gate Gourmet HQ to have full, 24/7 access to updating the display.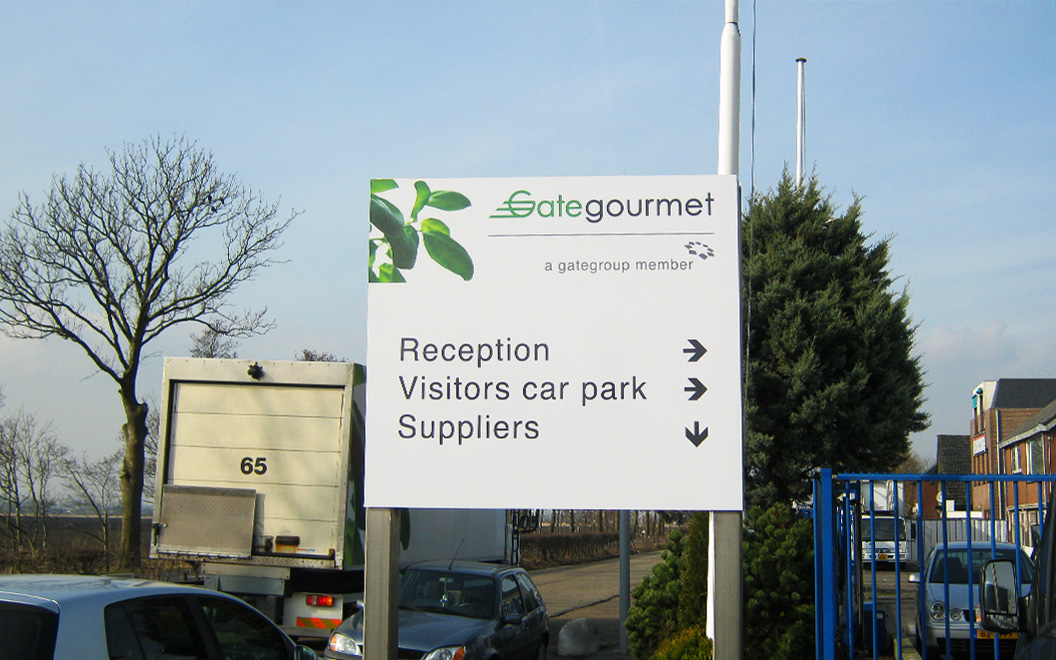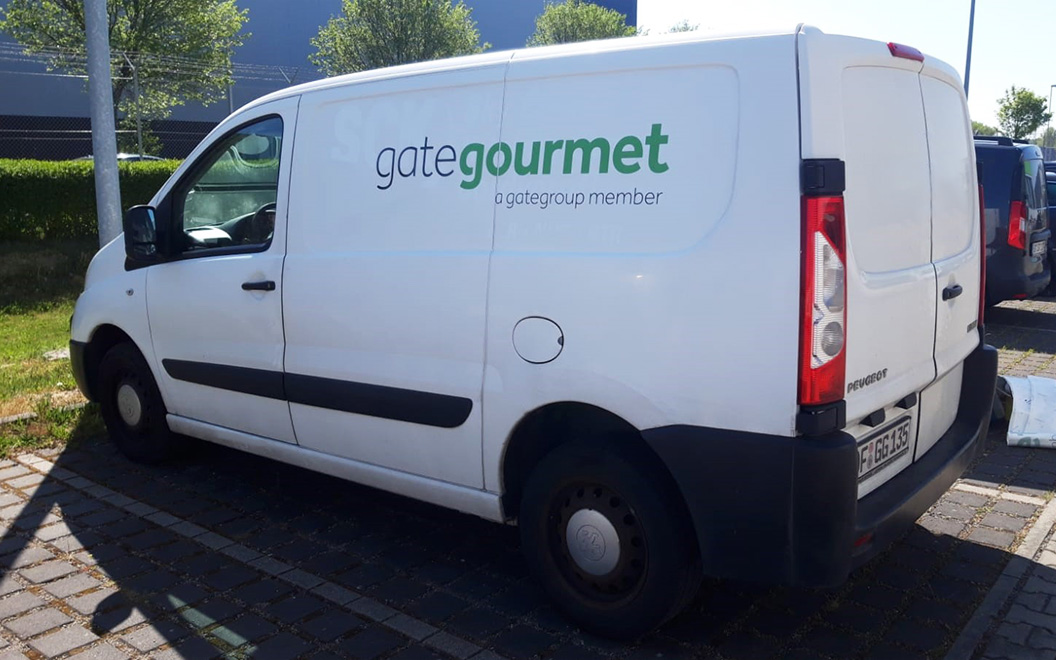 Not only has GLIMMA worked with Gate Gourmet on their signage rebrands, but we have also assisted in rebranding hundreds of vehicles when the company acquired Lufthansa's aviation catering operation in Europe. In a remarkable feat, GLIMMA managed the rebranding of over 500 high-loader trucks, vans, and cars across Germany, Switzerland, the Netherlands, Belgium, and Spain – a mammoth task accomplished in under 10 months, starting in October 2021. The project involved close collaboration with the global company and its management at numerous Gate Gourmet kitchen units throughout Europe. GLIMMA centralized and oversaw prototyping, production, removal of old LSG Sky Chefs branding, new Gate Gourmet branding installation, vehicle transportation, and a variety of additional services (i.e., spot repair on lightly damaged truck bodies) – with the help of our expert European gold partner network.
300
Airlines served by Gate Gourmet
700m
Passengers (meals) per year
200
Kitchen units across the world
43,000
Employees worldwide
3,000
Trucks across the world