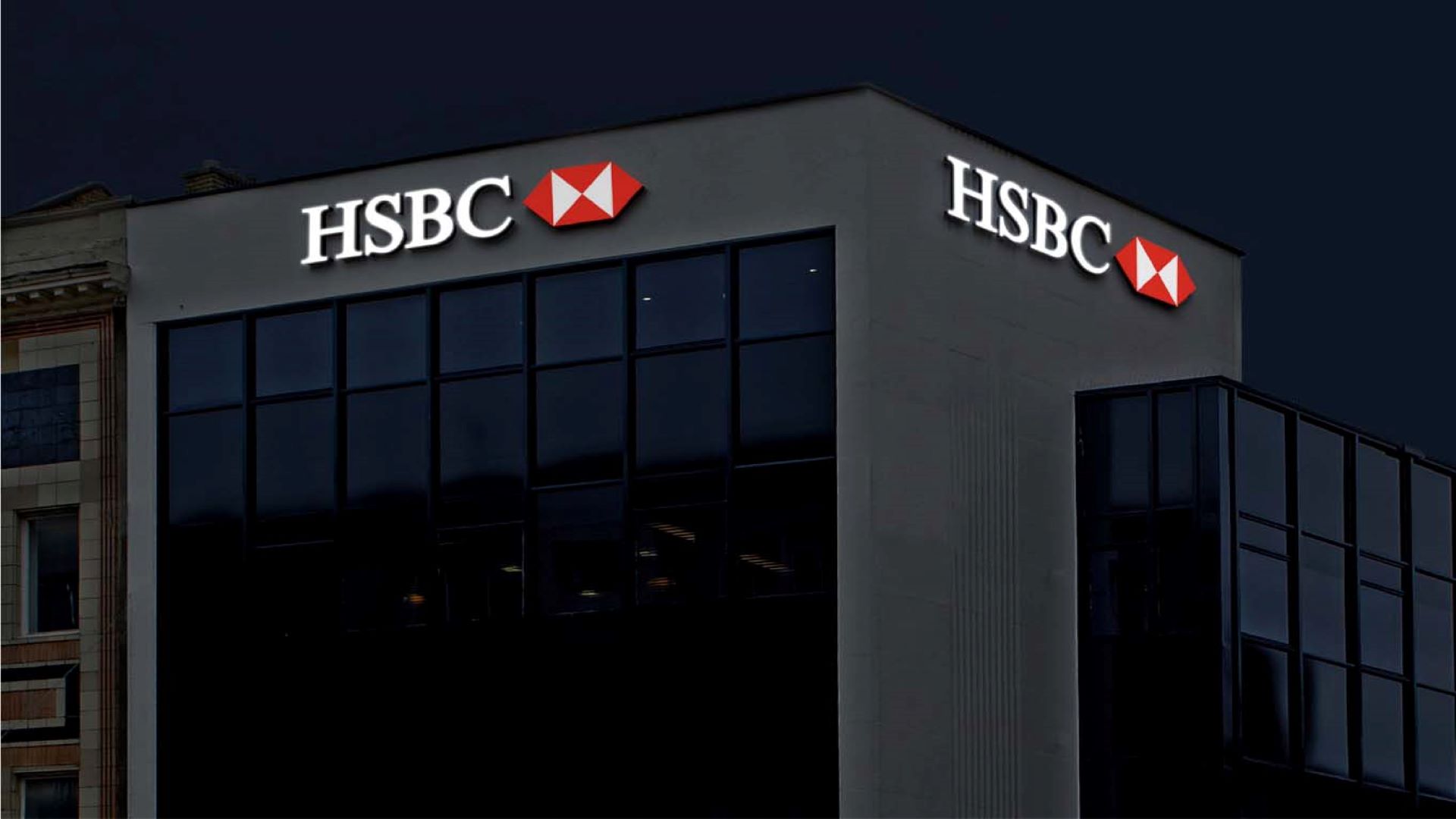 The Brief
To develop and deliver a global branding programme across 85 countries, including workplace branding, wayfinding and external signage.
HSBC Group Design sought to create individual designs for their workplaces around the world, to reinforce the Employer Brand and to enrich the workspace.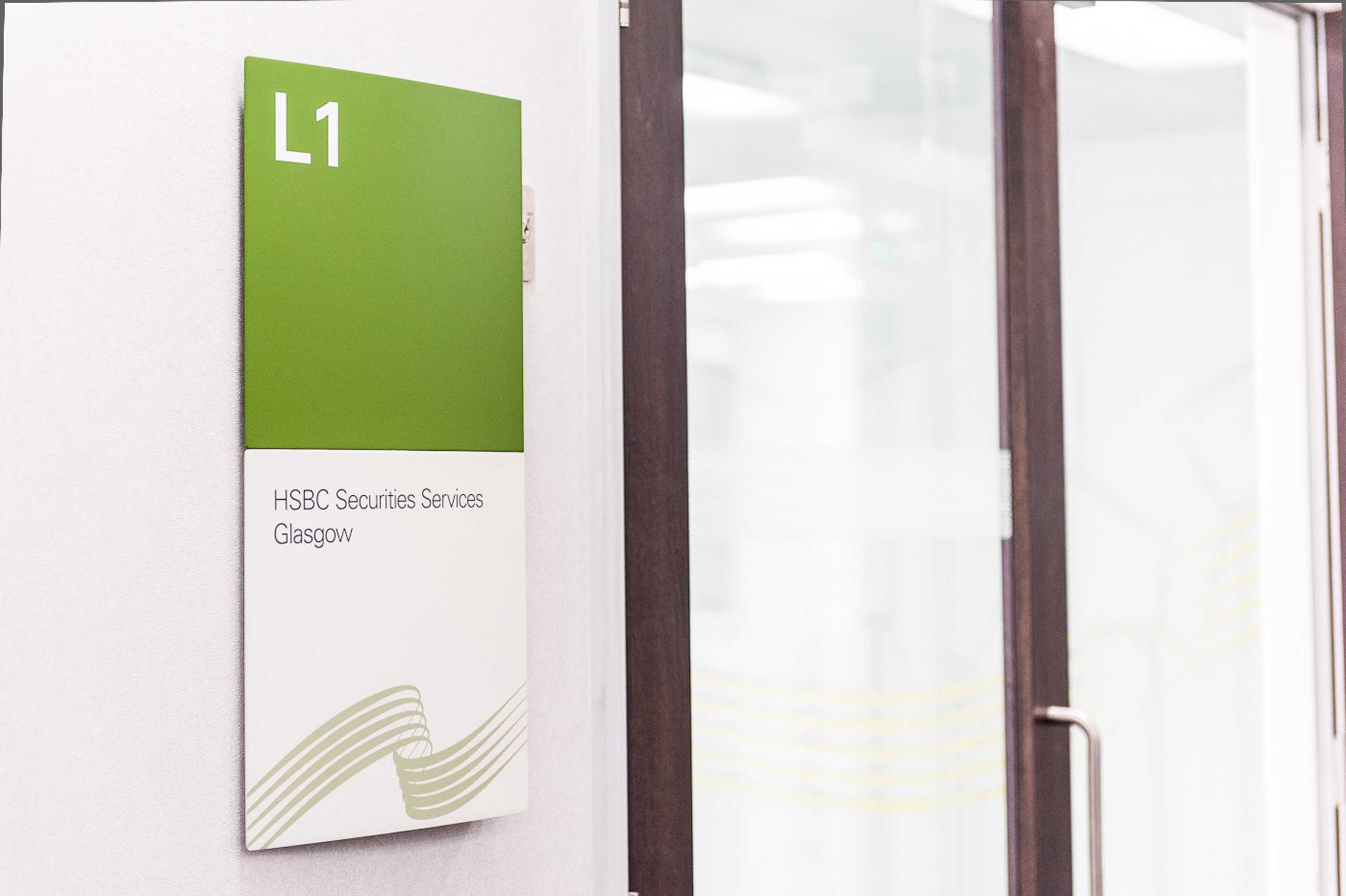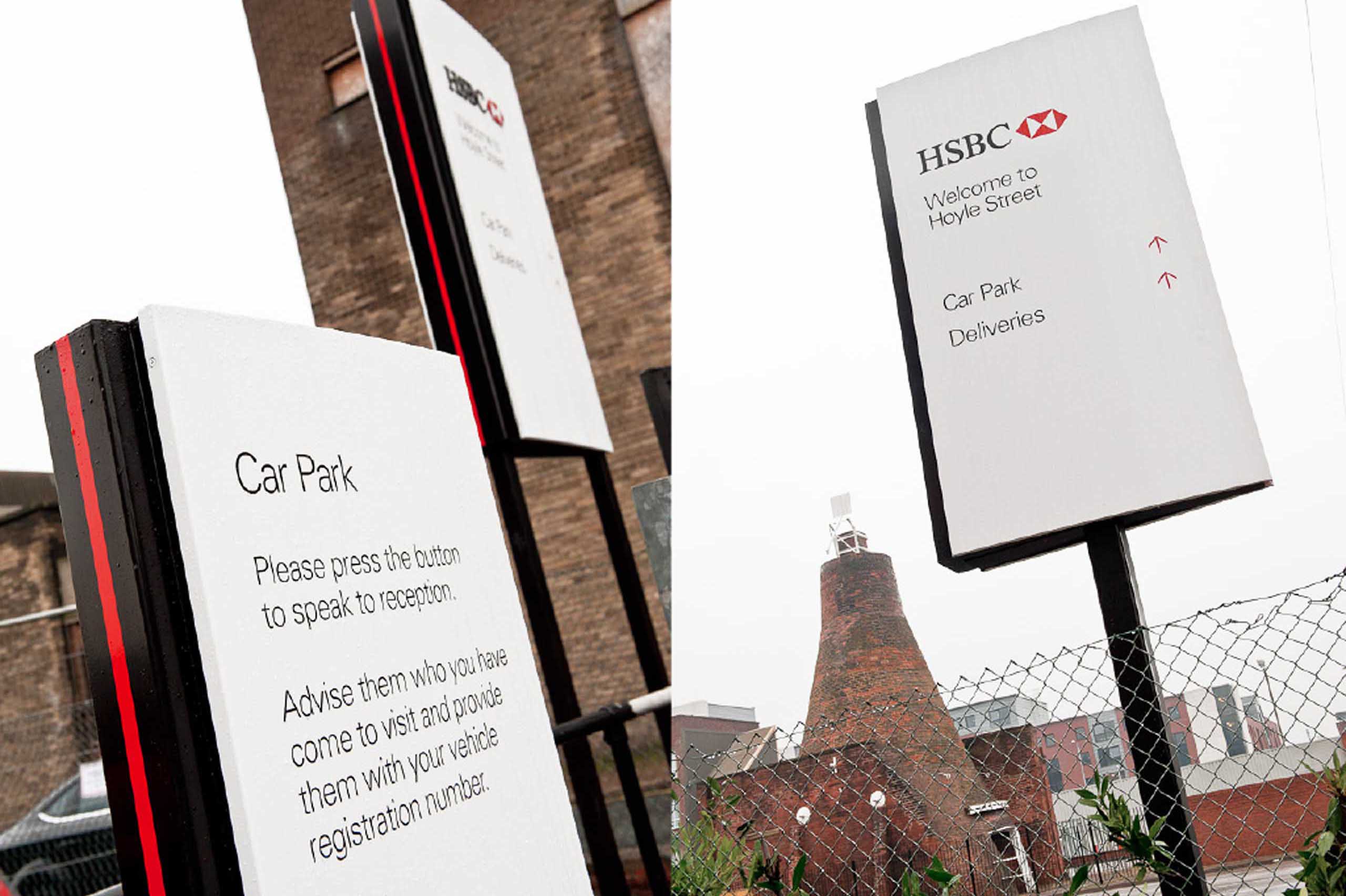 Developing and delivering the HSBC Employer Brand
We worked with HSBC to develop, design and implement a global branding programme that brought brand consistency to their work spaces but at the same time, allowed for local customisation.
At the hub of this large-scale and award-winning programme, we provided central control and input in terms of design, rollout, material specification and installation.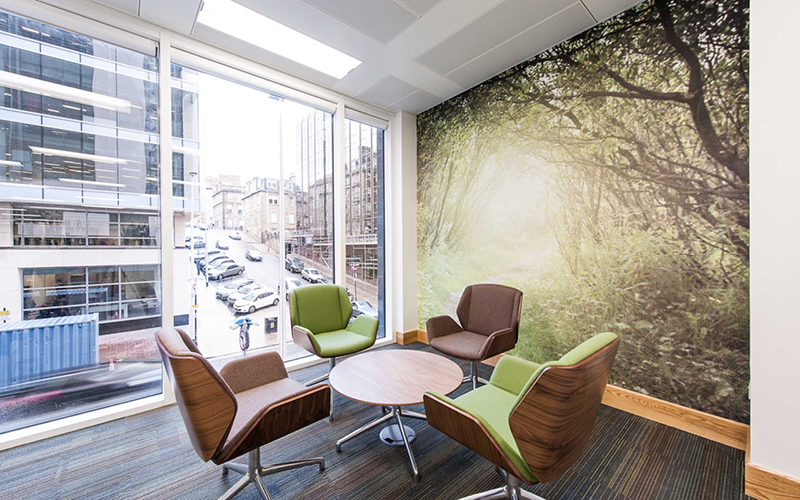 The implementation strategy was based on central control but delivered by our local project managers and our local network.
This provided HSBC with the scope to deliver consistent but customised designs internationally, resulting in better engagement, lower costs and quicker delivery times.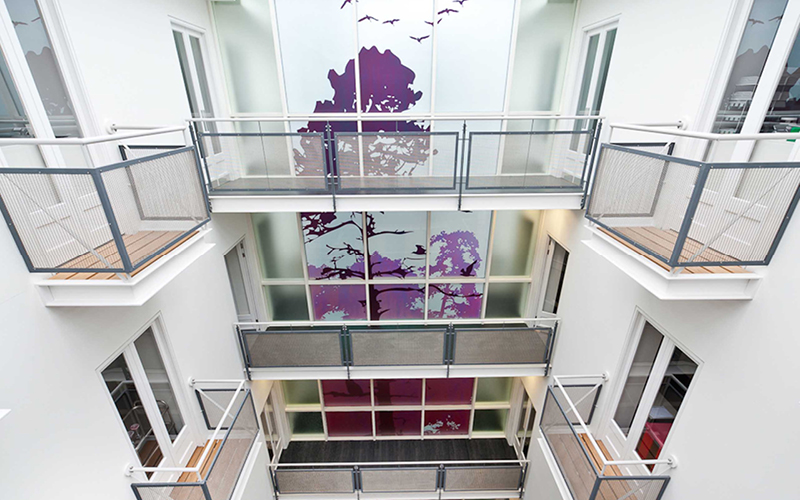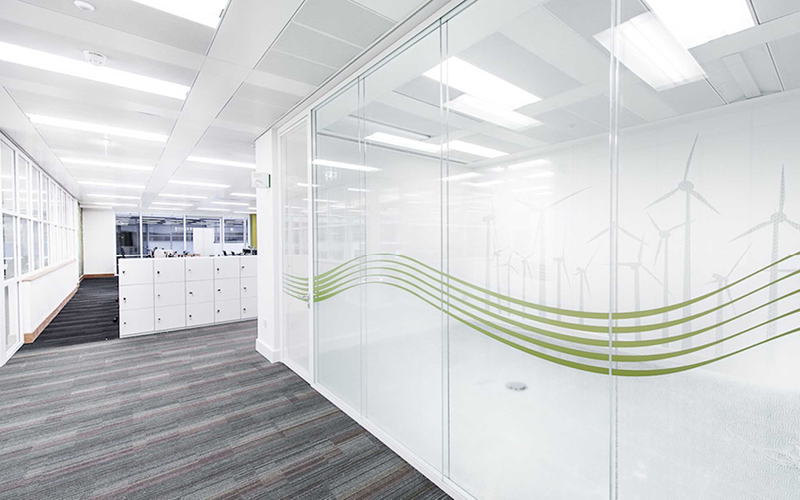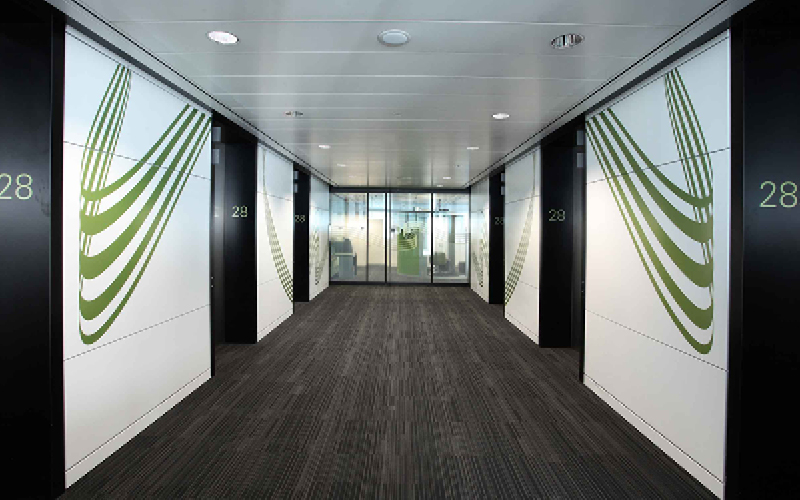 The environment's important
An environmental approach to signage was adopted. To minimise costs and carbon footprint, all the specified materials were sourced locally, environmentally friendly and recyclable.
Through careful choice of innovative mechanical sign designs,  we helped to reduce the on-going cost of ownership by allowing maintenance staff to easily carry out day-to-day additions, moves and changes.
We're proud to have won three international awards for our global branding programme for HSBC.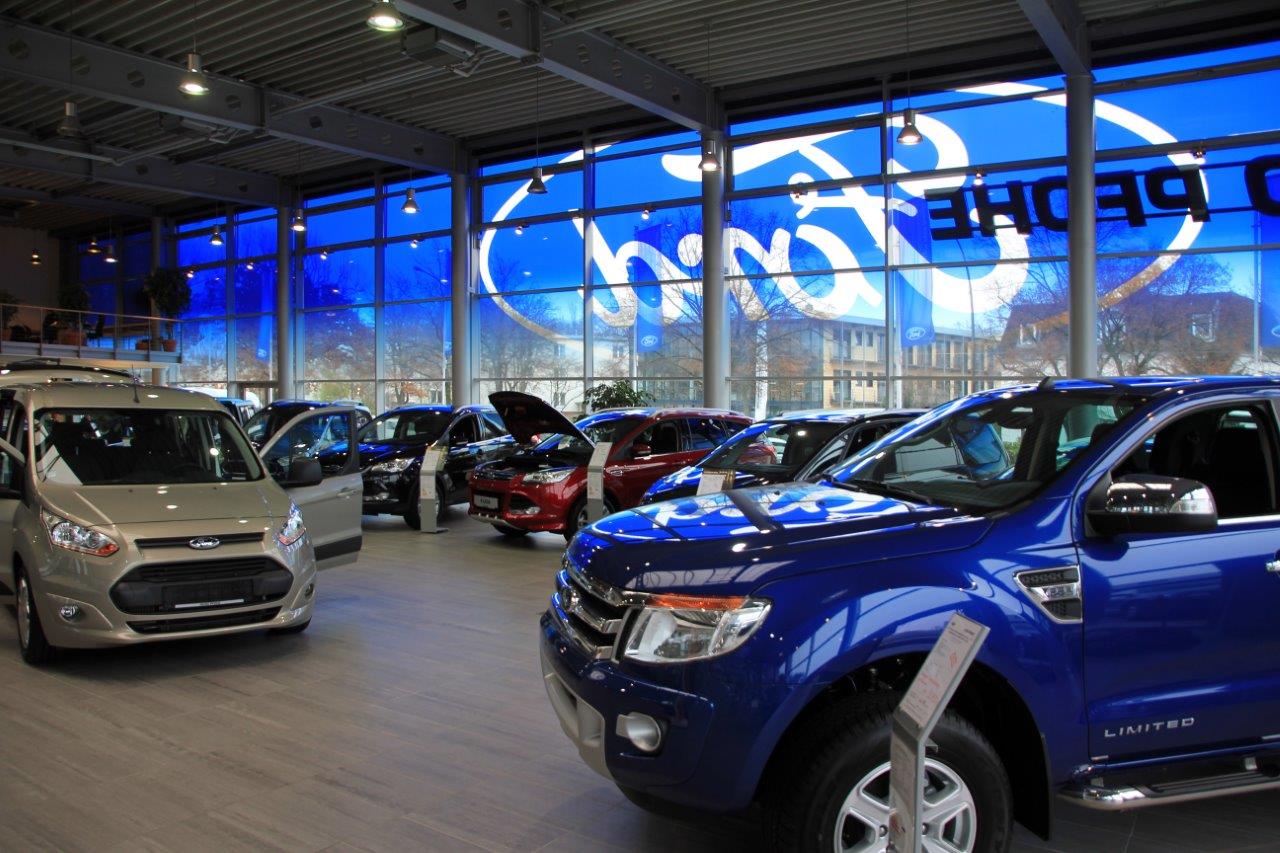 The Brief
As part of Ford's European Network Showroom Upgrade Programme (ENSU), we provided strategic input and managed the rollout of Ford Europe's new branding at more than 350 Ford showrooms across 20+ European countries.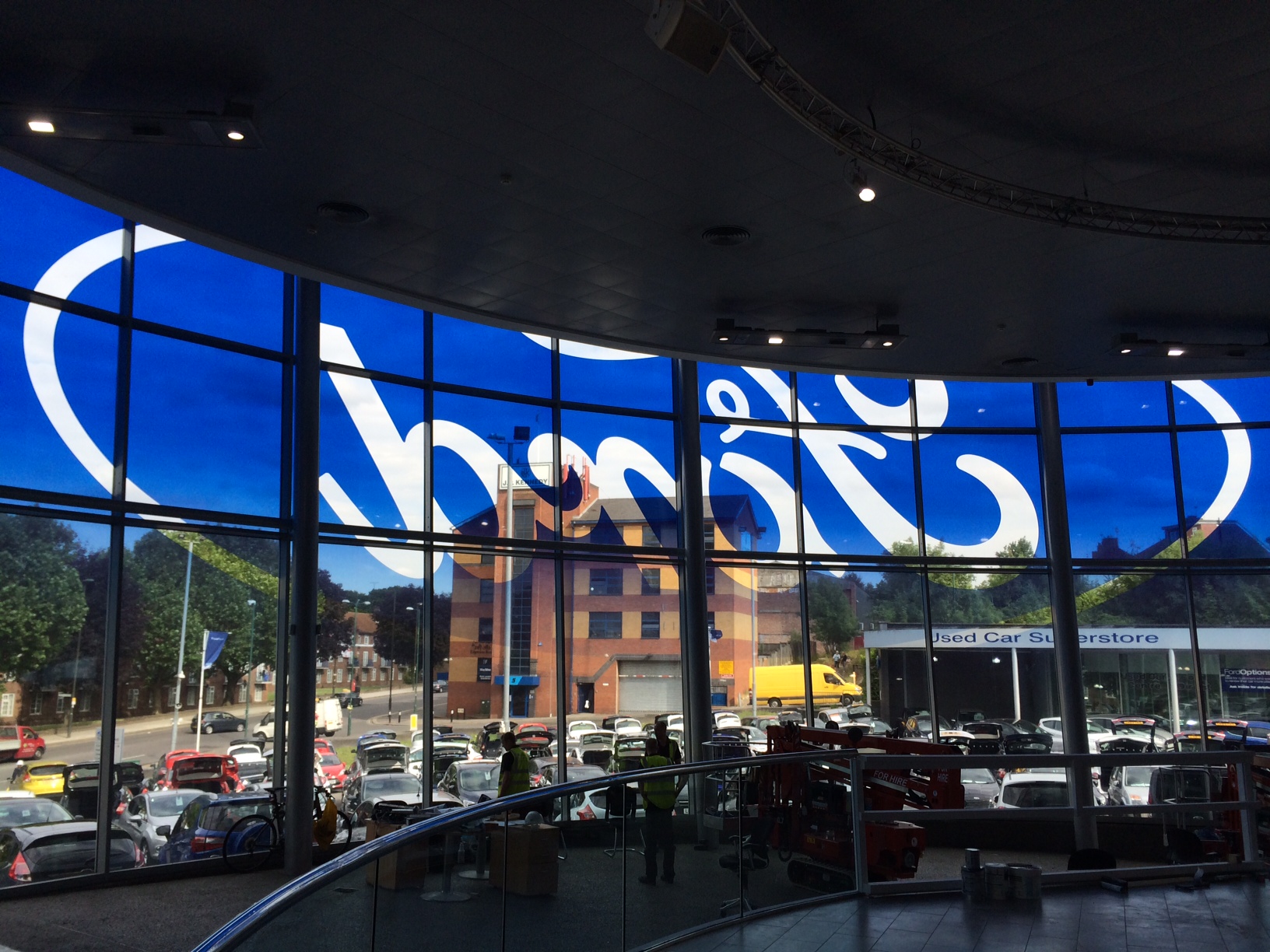 From design through to implementation
We worked hand in hand with Ford of Europe, their design agency, Imagination, and 3M to develop the optimum branding solution for their large-scale graphics.
Drawing on many years of expeience and technical knowledge, we recommended a 3M Clearview solution, one that could be delivered at a local level right across Europe.
It provides durability and high visual impact and also offers economic and environmental savings in the short to long term.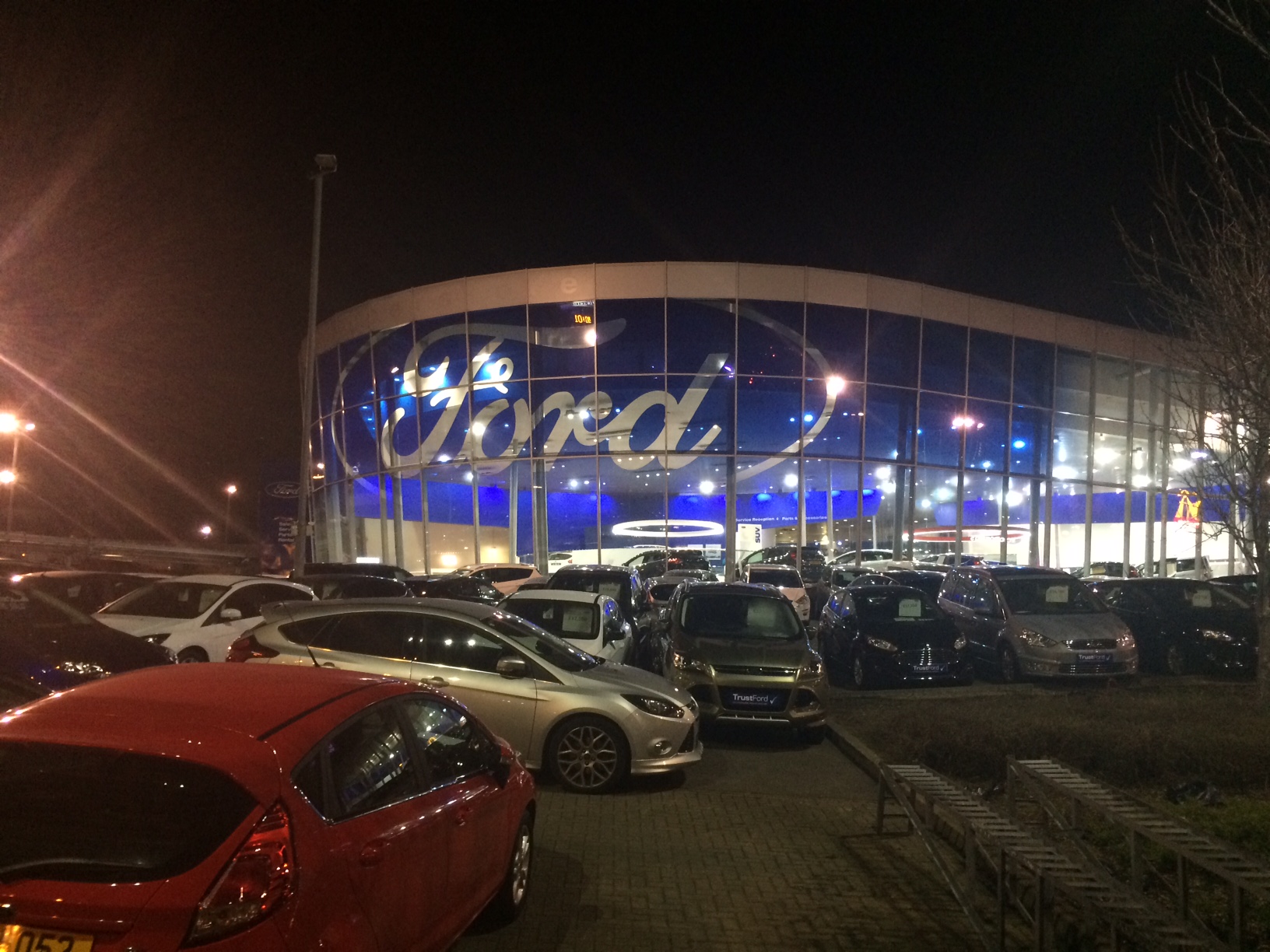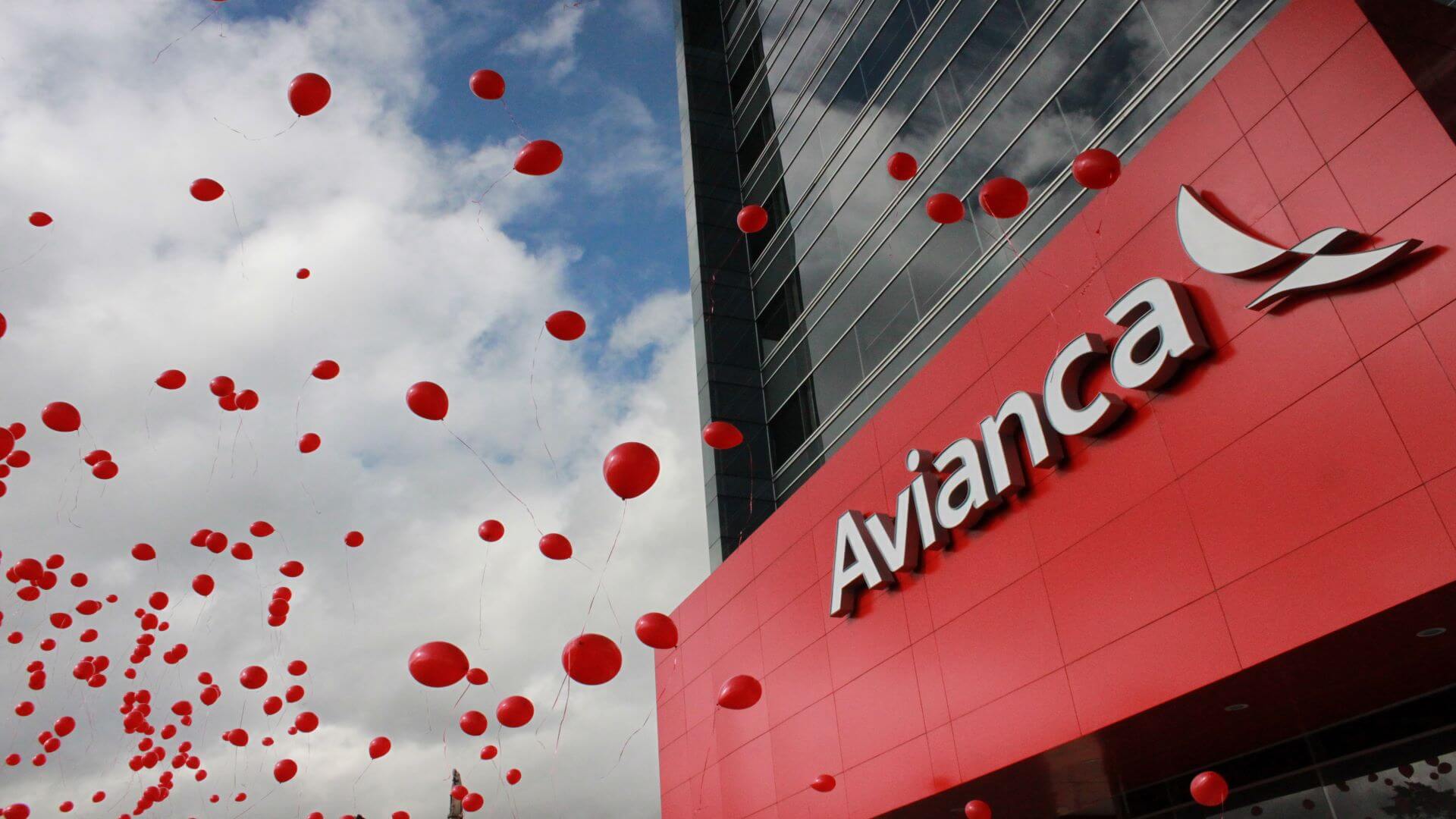 THE BRIEF
To implement Avianca's new brand identity across airports and ticket offices globally.
When Colombia's national airline took over TACA airlines and expanded their coverage in Latin Ameria, they decided to rebrand.
'Speed was essential and GLIMMA really rose to the challenge. They succeeded in delivering our new branding in 29 countries across four continents, rebranding more than 80 airports and 220 ticket offices within just 180 days.'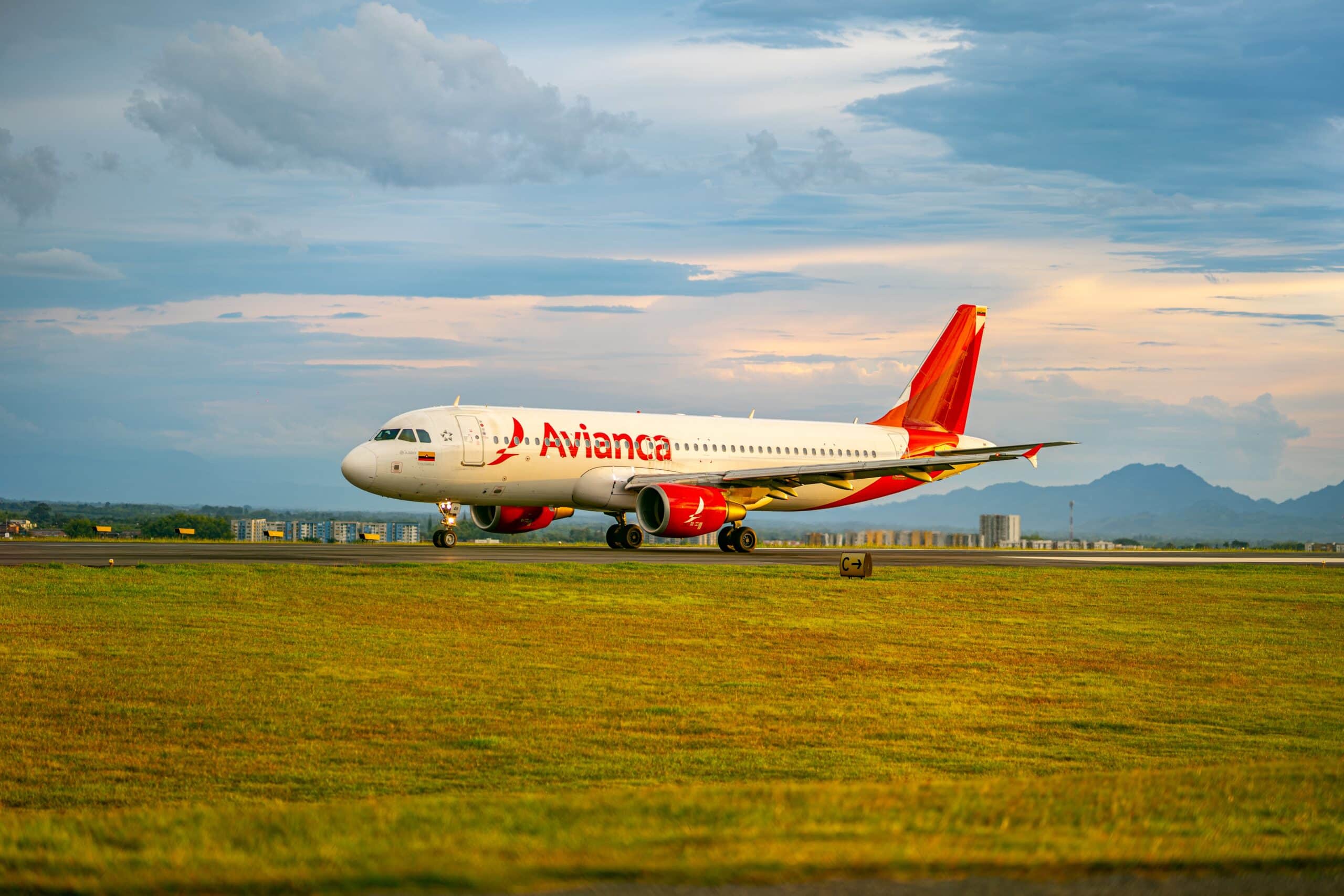 HOW DO YOU DELIVER A REBRAND IN 84 AIRPORTS IN JUST 180 DAYS?
Their new brand identity was created by Lippincott. Our role was to fully rebrand over 300 locations in the new brand identity, whilst keeping the design under wraps until launch day.
Working closely with their designated Rebrand team – HR, Marketing and Corporate Affairs – we started by undertaking a full audit of all their branded assets. This included real estate, fleet air, ground fleet and every brand touch point (including digital).
The rebrand covered every possible element – paint, digital screens, graphics, signage, point of sales materials, office branding and their entire ground fleet.
LOCAL KNOWLEDGE
We project managed the implementation of the rebrand from our offices in Mexico and Colombia.
The local knowledge of our network was critical in understanding cross-border restrictions, particulary given the senstive nature of airport environments. It also helped in providing multi-lingual signage solutions.
Avianca's award winning rebrand and our role was featured in the UK's top branding publication 'Communicate'.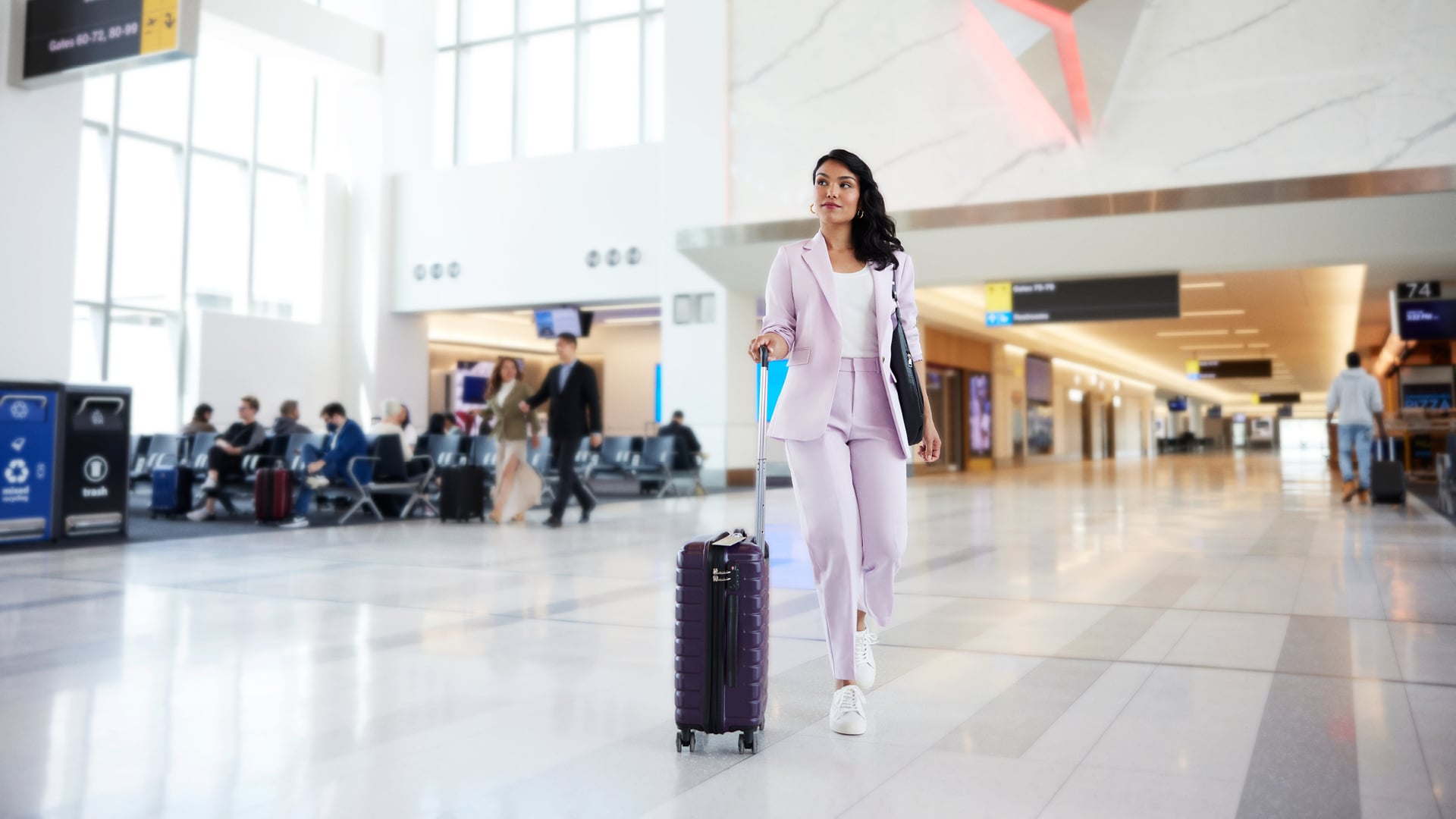 We created brand experience that is rich in quality, impact and emotion across the entire customer journey on behalf of Delta Air Lines in over 275 airports worldwide.
More than 4,000 Delta Air Lines flights take off every day, connecting people across more than 275 destinations on six continents. Delta's 80,000 employees serve over 200 million customers annually.
'We worked collaboratively to design, produce and install visual brand assets in all 275 airport destinations around the world.'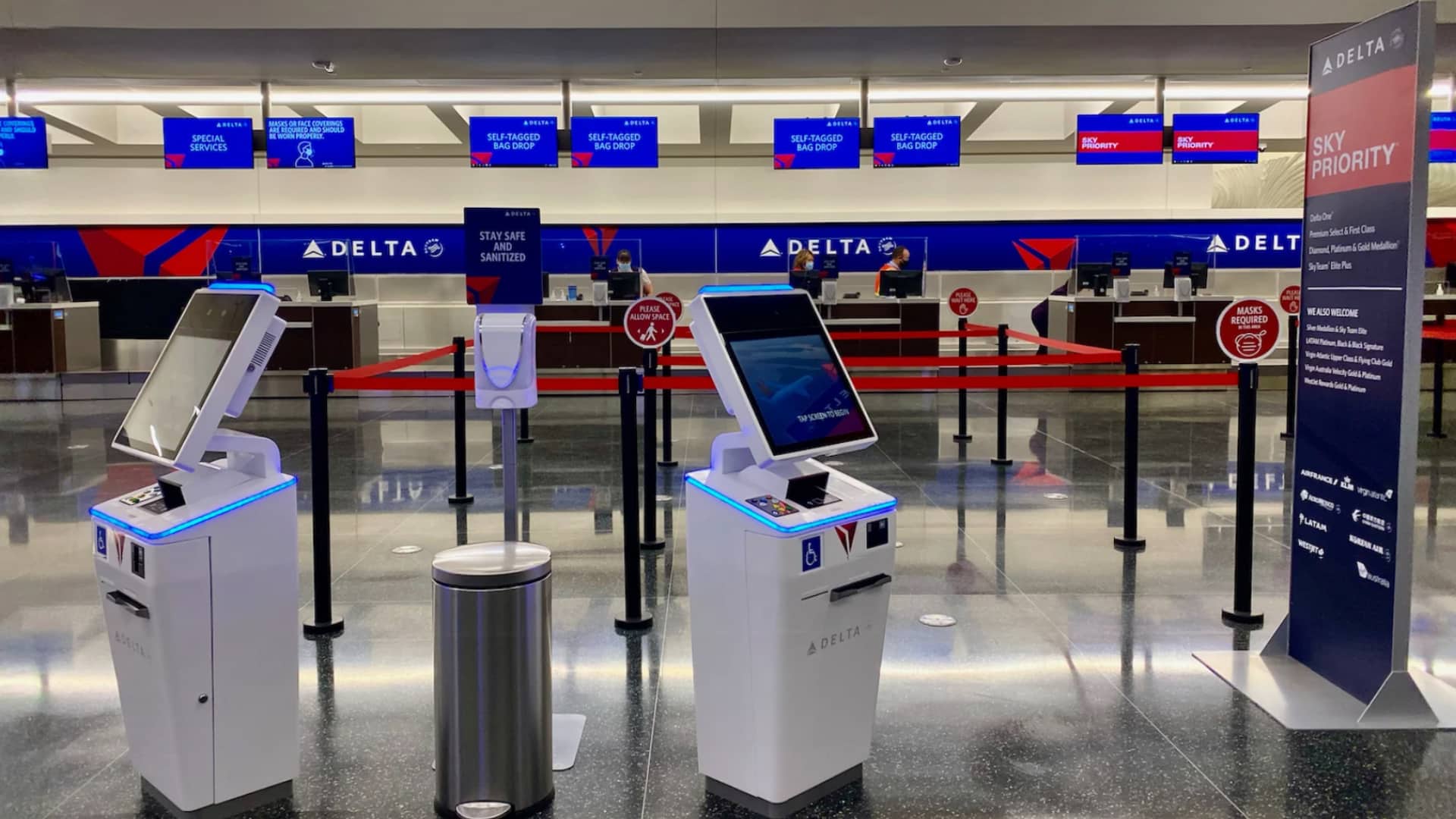 Delta Check-in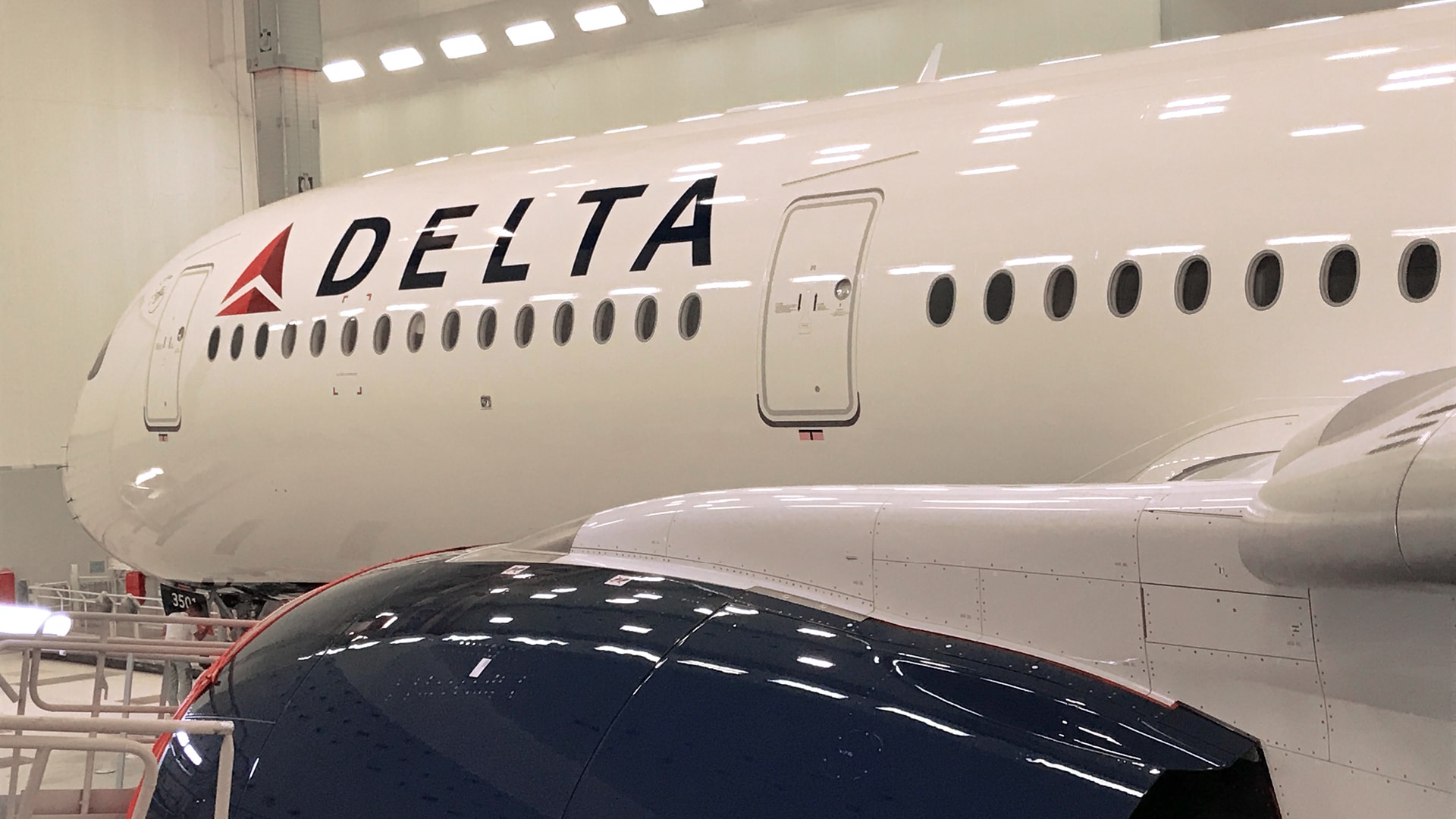 We manage an extensive range of brand assets for Delta globally and frequently complete on-site surveys, track completed projects and gather specific brand data to feed it into our brand asset database to help track Delta's branding and in-market messaging for their teams.
Our design team interpret Delta brand guidelines to create consistently effective visual signage, wayfinding, and marketing communication assets across the entire customer travel journey and we are constantly innovating with the Delta teams adding new services to the solution portfolio, including vendor network management, technology services, fleet services and product specification,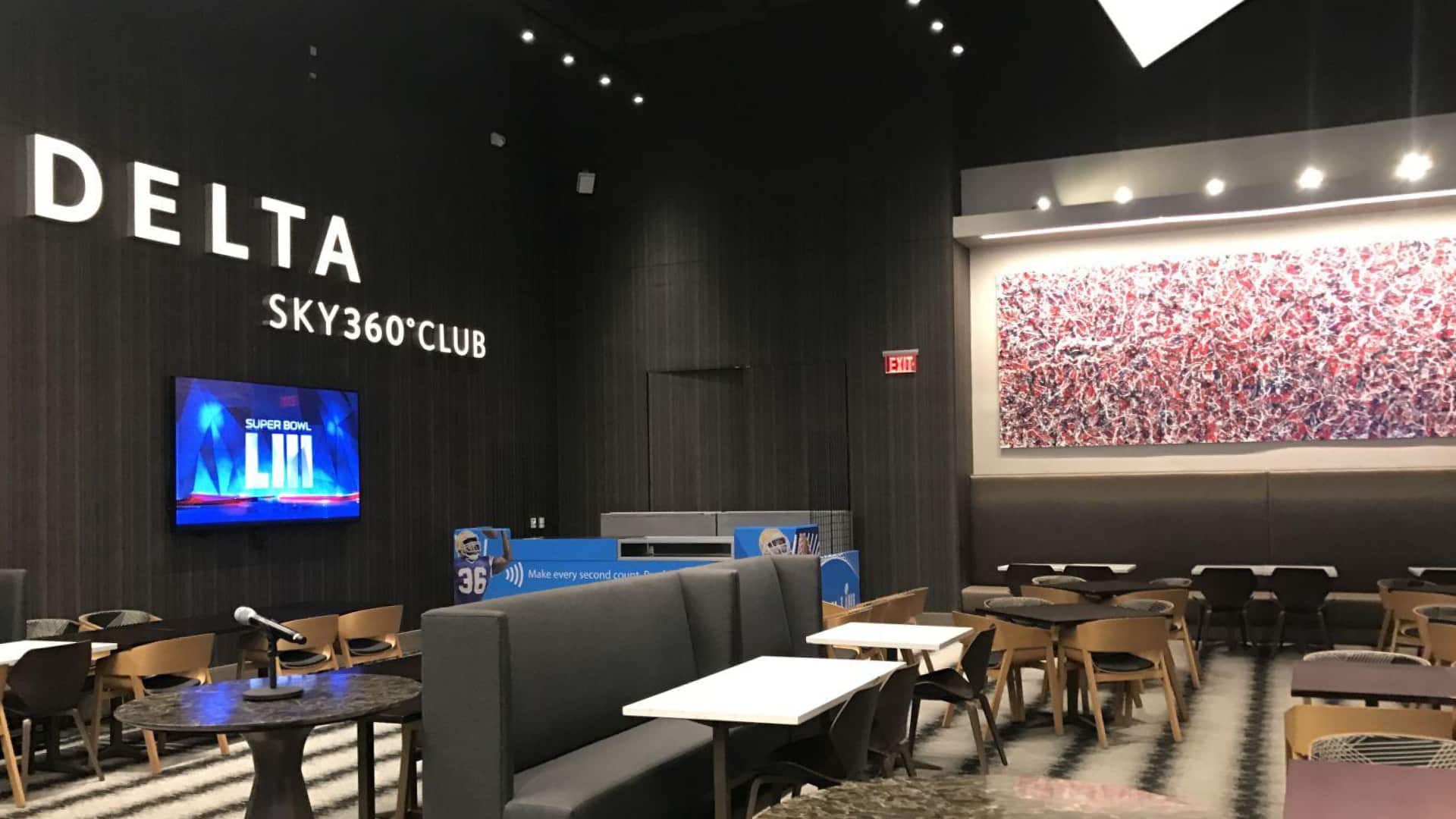 Delta Sky Lounge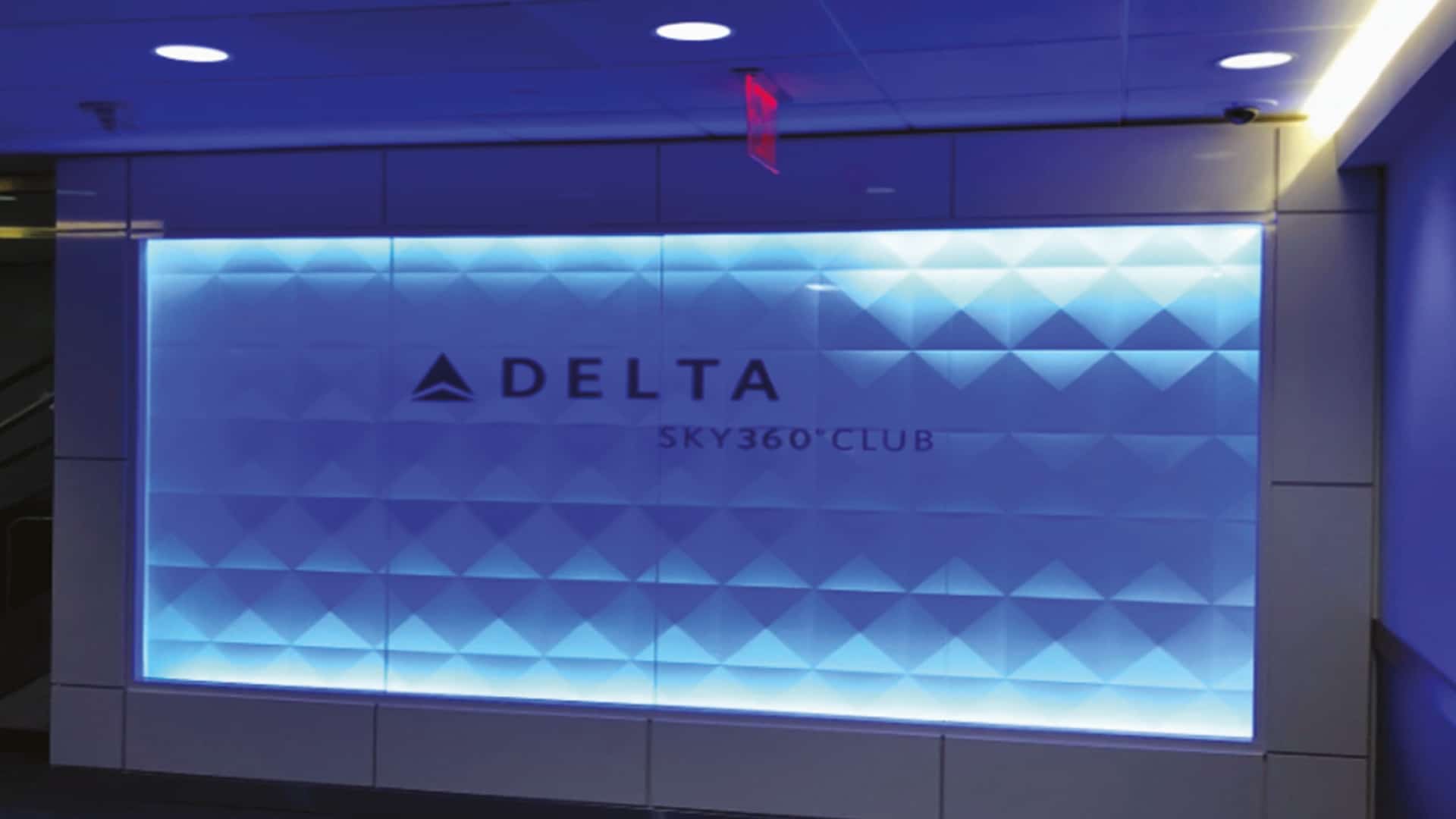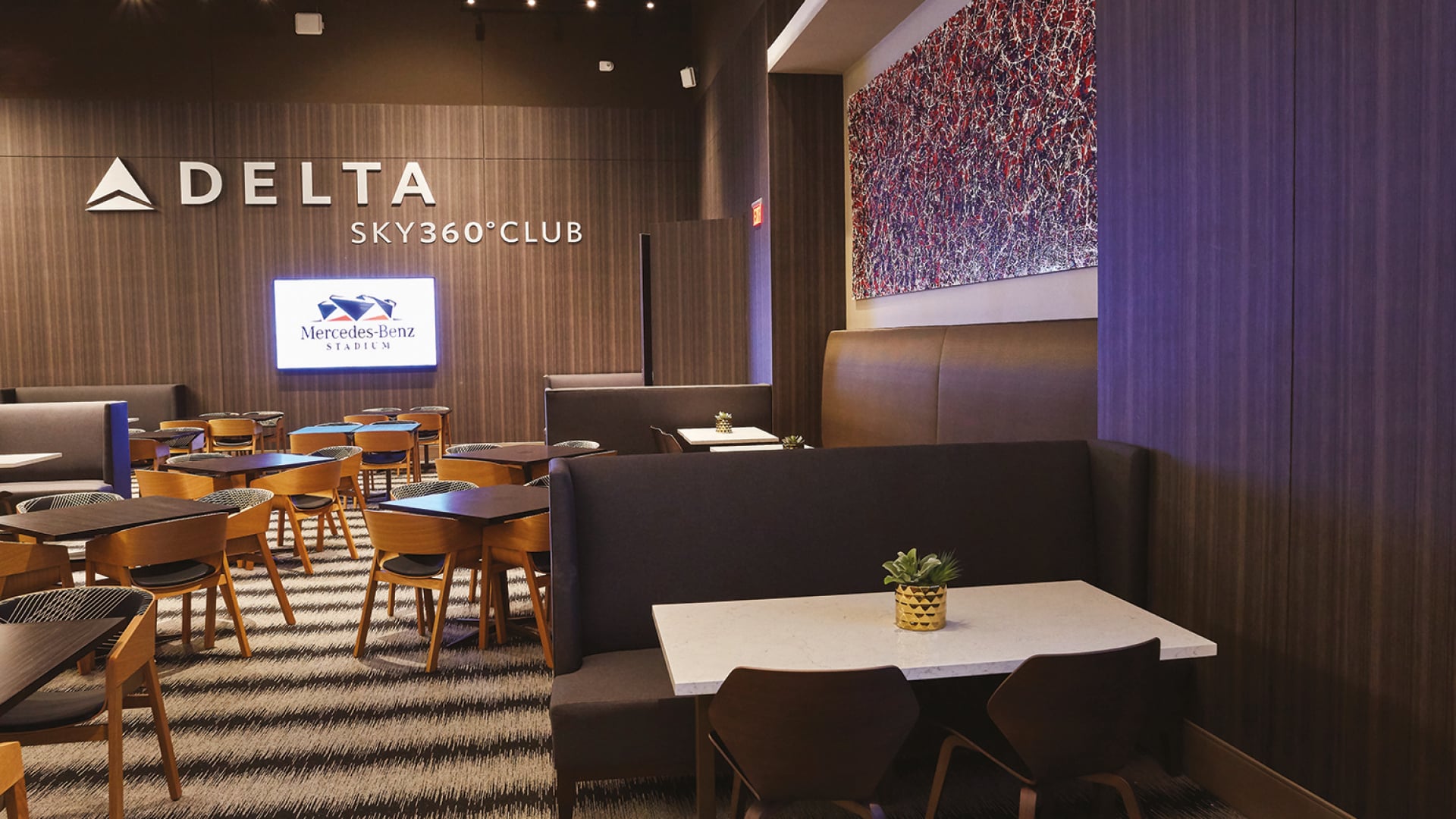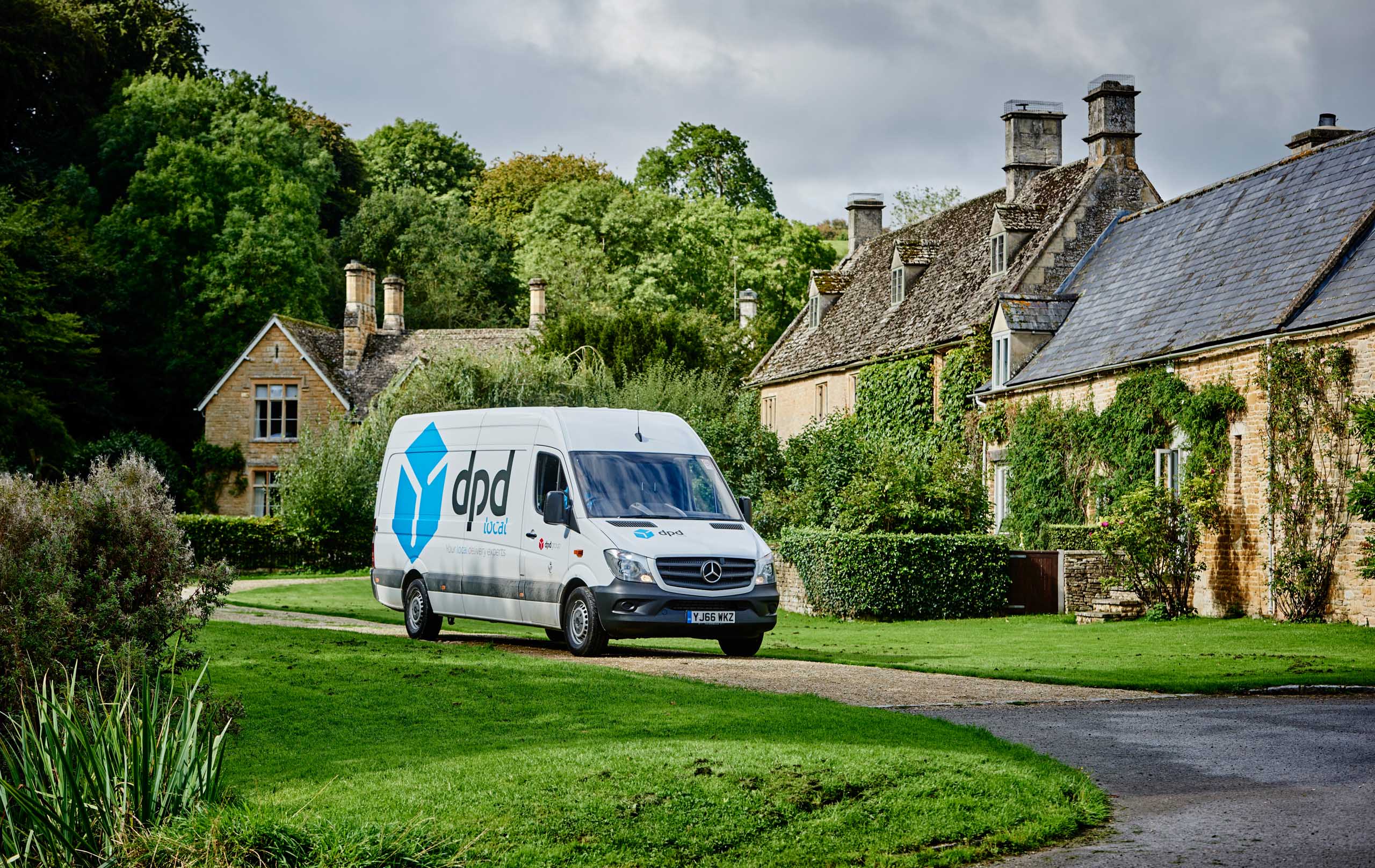 Aura Brand Solutions represents our operation in the UK. Commissioned by DPD to rebrand their entire fleet in the United Kingdom, our team also drew upon its international expertise, as part of the GLIMMA network, to develop a specification for the rollout of the rebrand across the rest of the European fleet.
The rebrand was prompted by the need to consolidate the branding of 4,500 vehicles across multiple markets.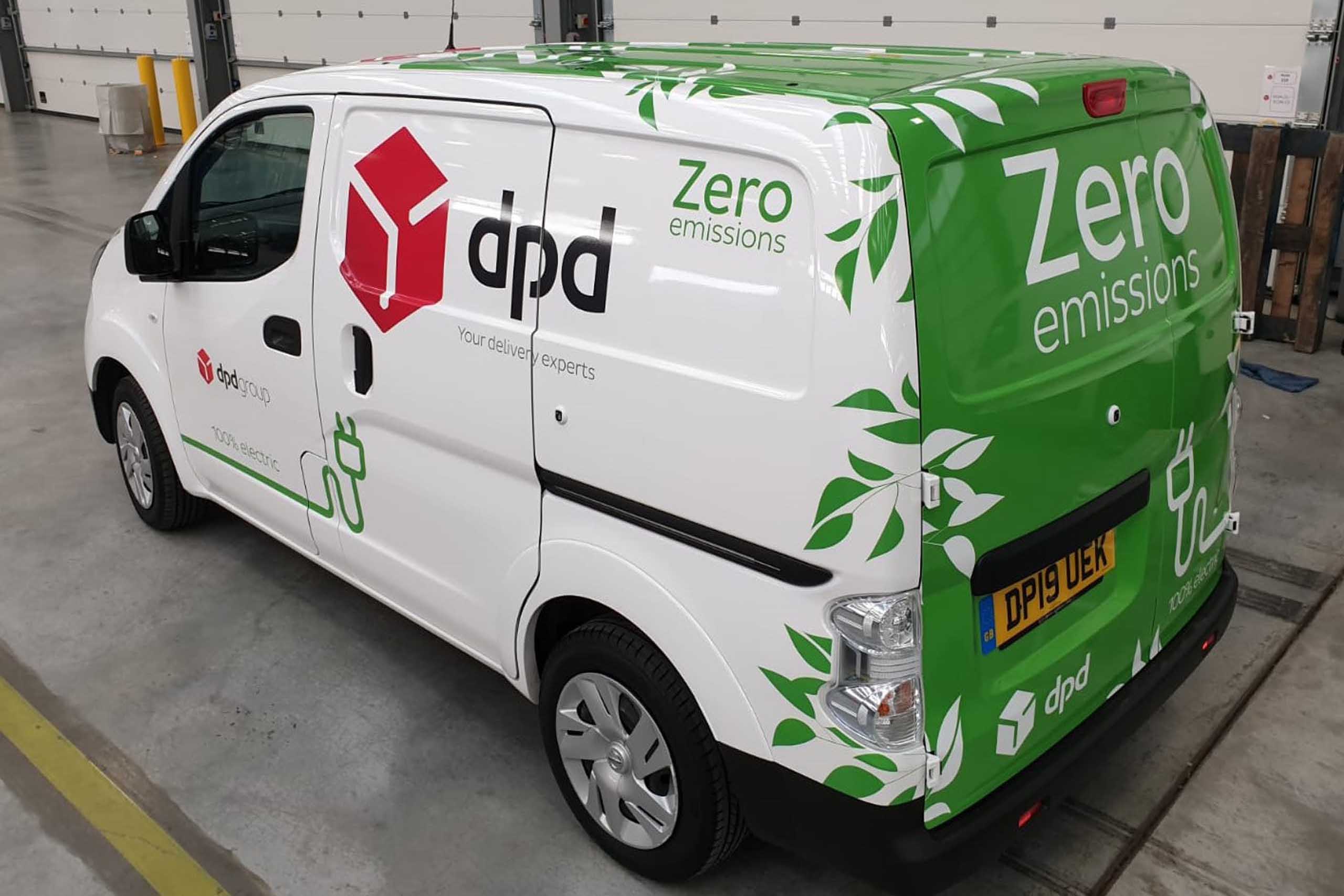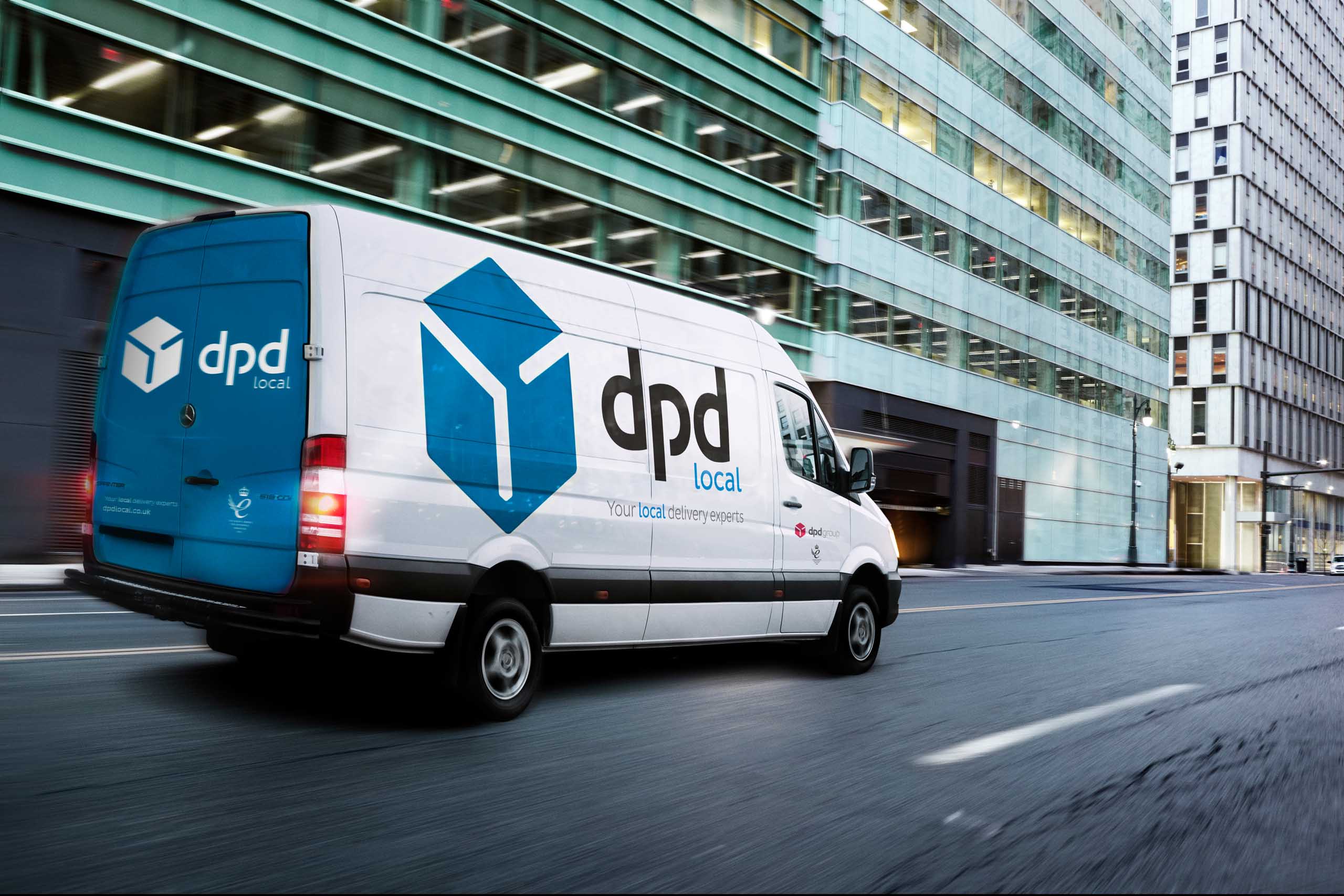 Given the international nature of the project, we started by examining the product options available in all markets.
Working closely with DPD's creative design team and our global partners, our technical team helped to develop the optimum product solution – one that would guarantee consistency in all markets.
Once agreed, we advised on the different implementation options for the most efficient pan-European rollout in terms of quality, time and cost.
'Working closely with DPD's creative design team and our global partners, our technical team helped to develop the optimum product solution – one that would guarantee consistency in all markets.'
UK Fleet Rebrand
For the UK fleet rebrand, our team was responsible for managing the design, manufacture and installation of the new livery designs nationwide, across a spectrum of different vehicles.
A full audit of the UK fleet was undertaken and prototypes were developed to ensure the most appropriate technical design.  Significant prototyping and colour profiling was carried out to reach a final graphics specification.
This provided full warranty cover, achievable only thanks to Aura's status as a manufacturer approved converter and installer.
The variety of vehicle types was matched by the variety of vehicle owners, adding a layer of complexity to the project. A large part of the project management role being liasion with the company-owned fleet managers, the franchise-owners and the individual owner drivers, to ensure brand consistency across the entire fleet.
To minimise the time that vehicles were off the road during the rebrand, we also undertook any existing accident damage repairs at the same time.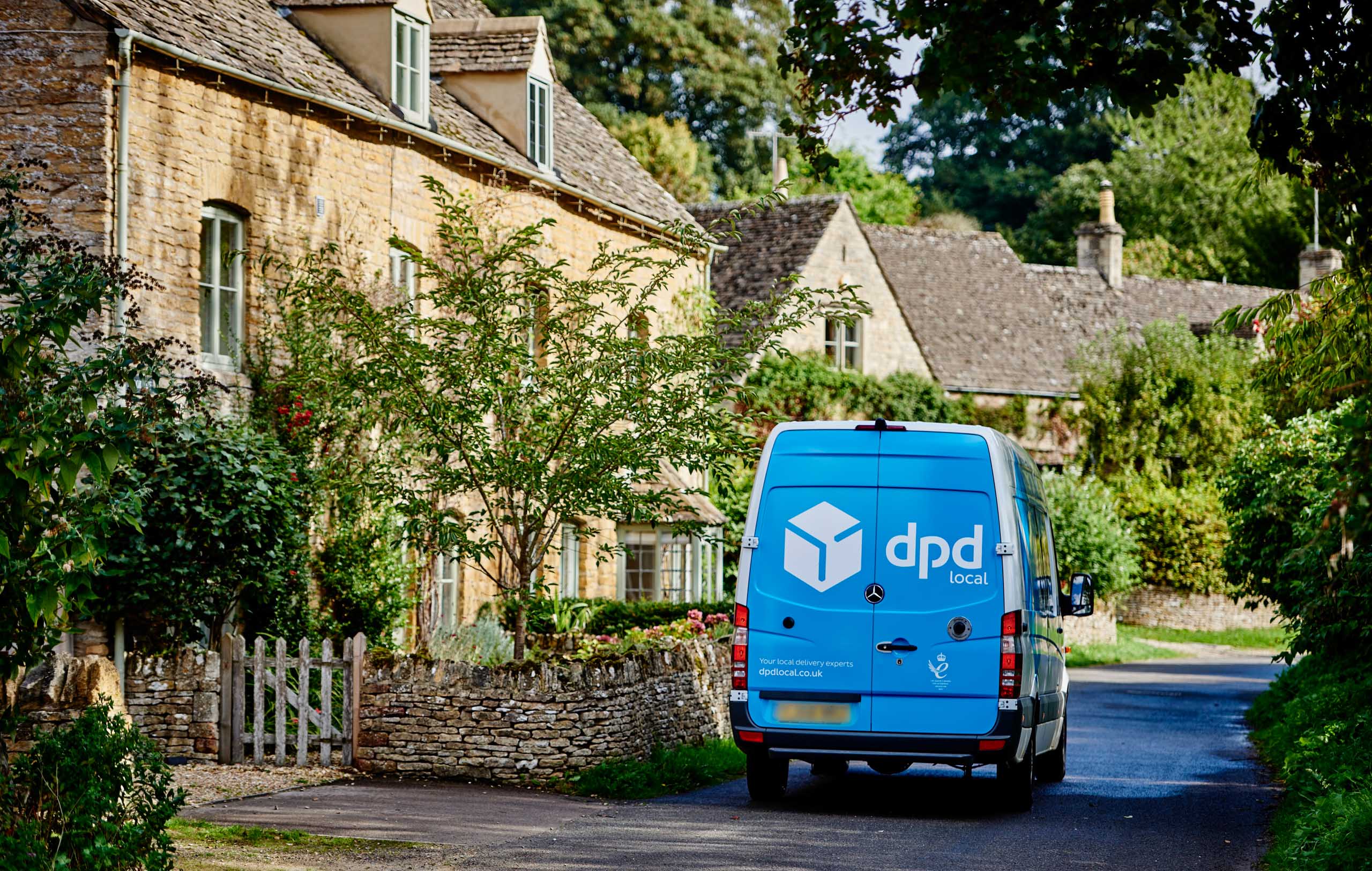 'This is a testament to the collaborative relationship we enjoy with both the DPD team and our Partners in Europe. We worked closely with their creative agency and various fleet owners to create tried and tested product solutions that were centrally managed but implemented locally and available across multiple markets.'
Maintaining the UK fleet
The ongoing management and maintenance of the DPD fleet also falls to our team.
With a continuous churn of new and old vehicles, an online ordering system and a bespoke accident management service has been developed, ensuring that vehicles remain in tiptop condition and remain on the road.
Extending the DPD brand
Interlink Express also operates in the UK but focuses on providing a more local service for shippers with smaller volumes.
Our team has also rebranded their fleet of 1,500 vehicles to DPD Local, using a blue variant of the now familiar DPD box design.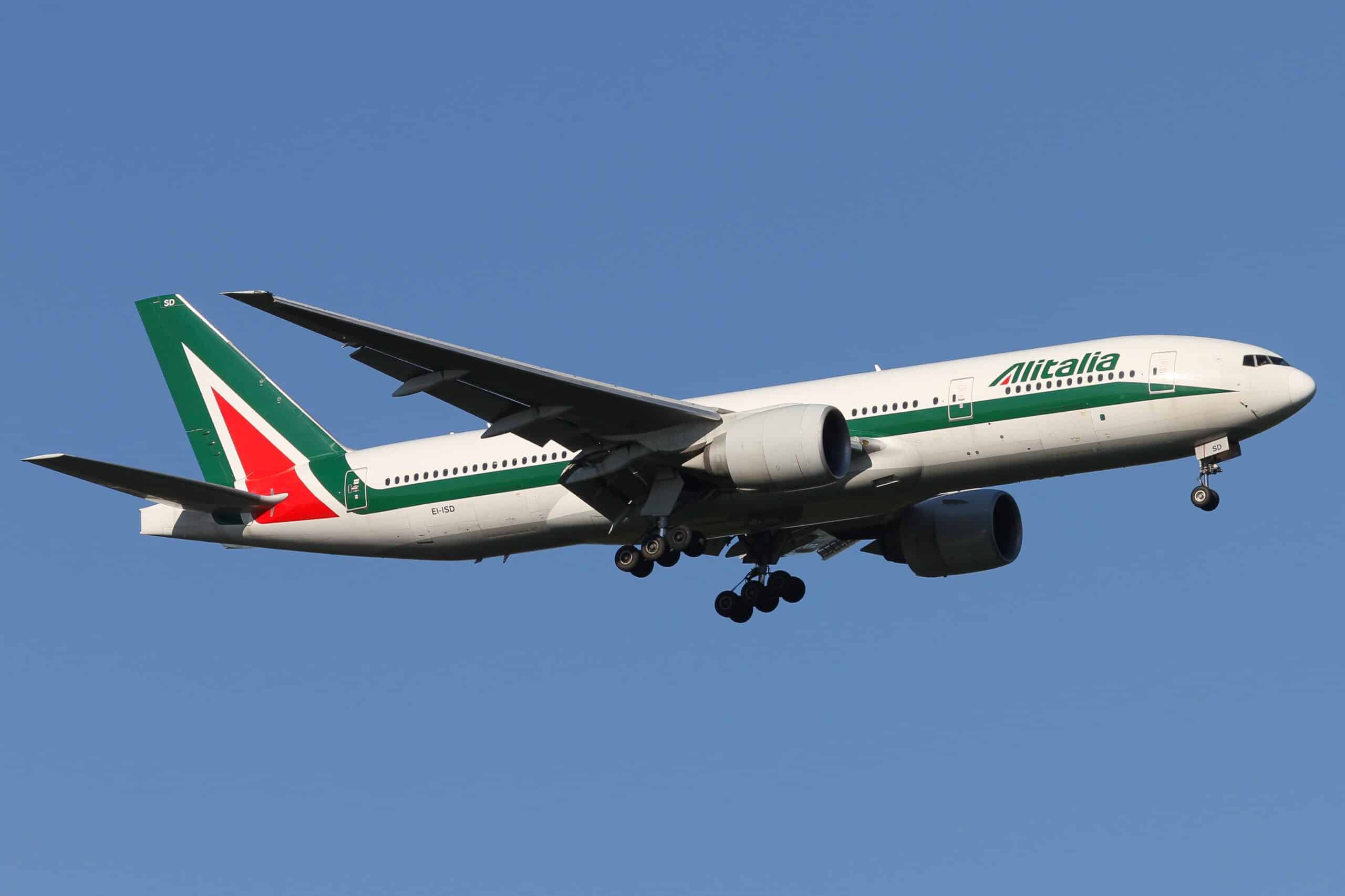 We were asked to help with the global implementation of Alitalia's new brand identity across 22 international locations. A wide variety of brand touchpoints were identified and replaced across different locations such as ticket offices and airports, helping to create a consistent customer journey.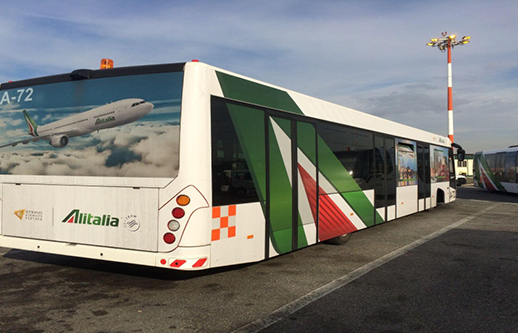 Rebranding on airport busses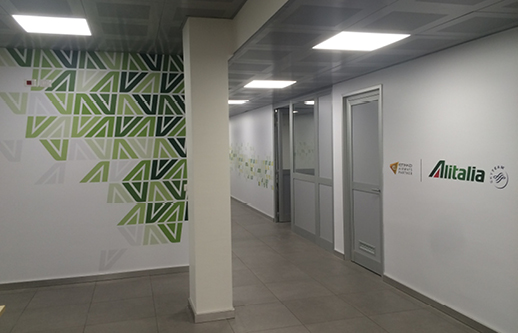 Rebranding in offices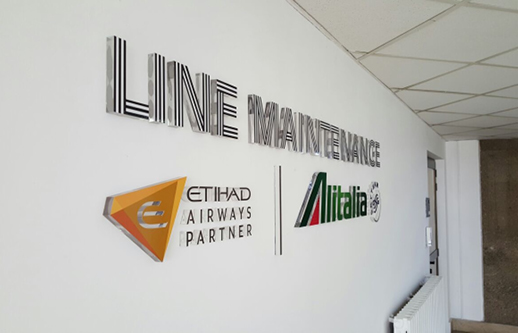 THE BRAND TEAM
We assigned a global team to Alitalia to support their daily needs, offering technical advice, in addition to project managing the implementation programme. Our team very quickly became brand gurus!
Our role also included detailed site surveys which ensured that every element was designed and specified correctly and subsequently, produced and installed to the required standard.
TRANSPARENCY AND CONTROL
With 24/7 access to our project management tool, real-time updates were available throughout the rebrand, helping the Alitalia brand team to track and monitor progress at all times.
By setting up standard procedures and adhering to a structured approvals process, we ensured that all sites and brand touch points were delivered on time and to the right specification.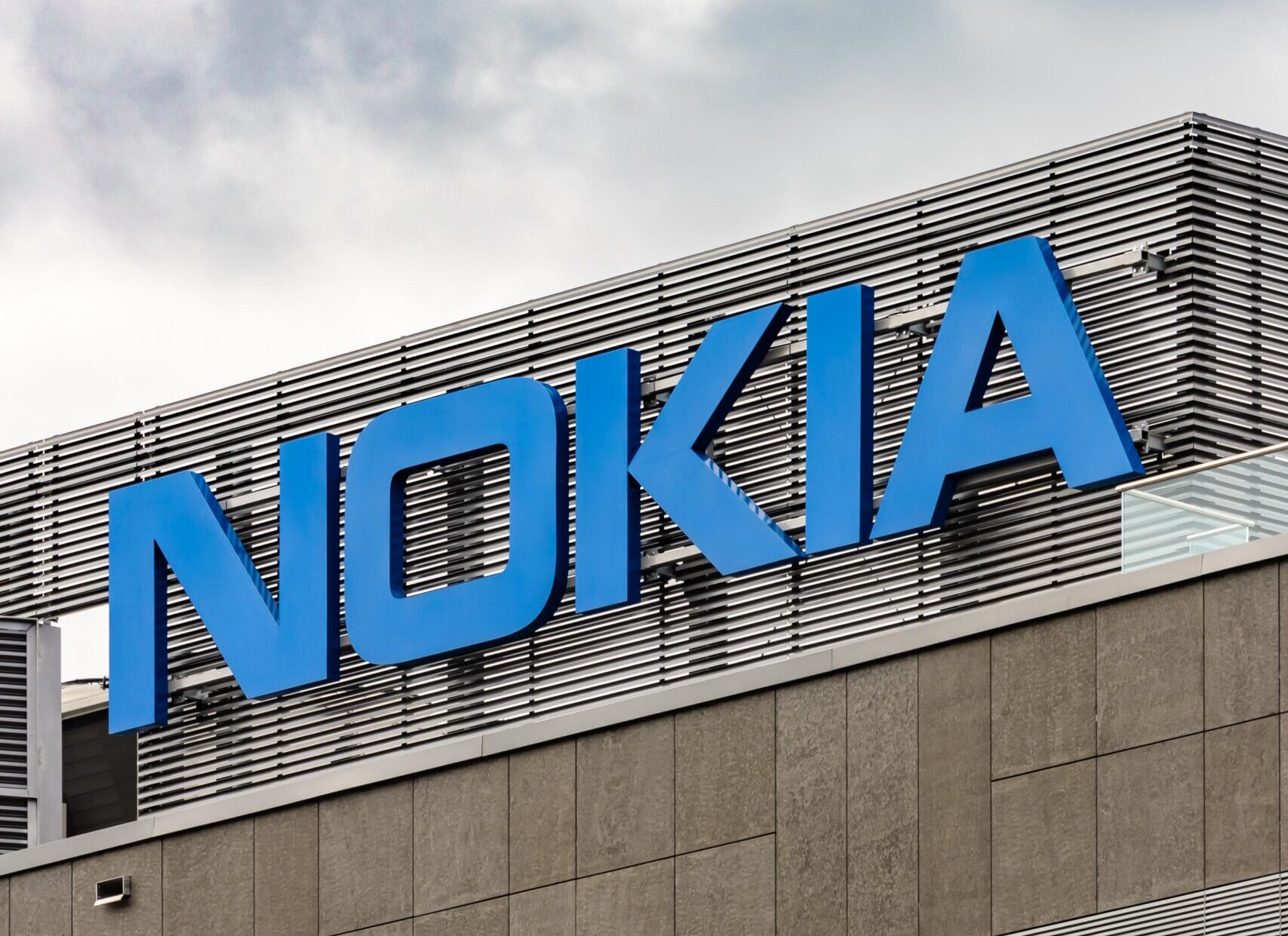 THE BRIEF
To manage several global rebrands that resulted from mergers or acquisitions.
Nokia is one of our longest-standing clients. We have managed the rebrand of several companies to the Nokia brand, including Siemens, Alcatel-Lucent, Comtel and HERE.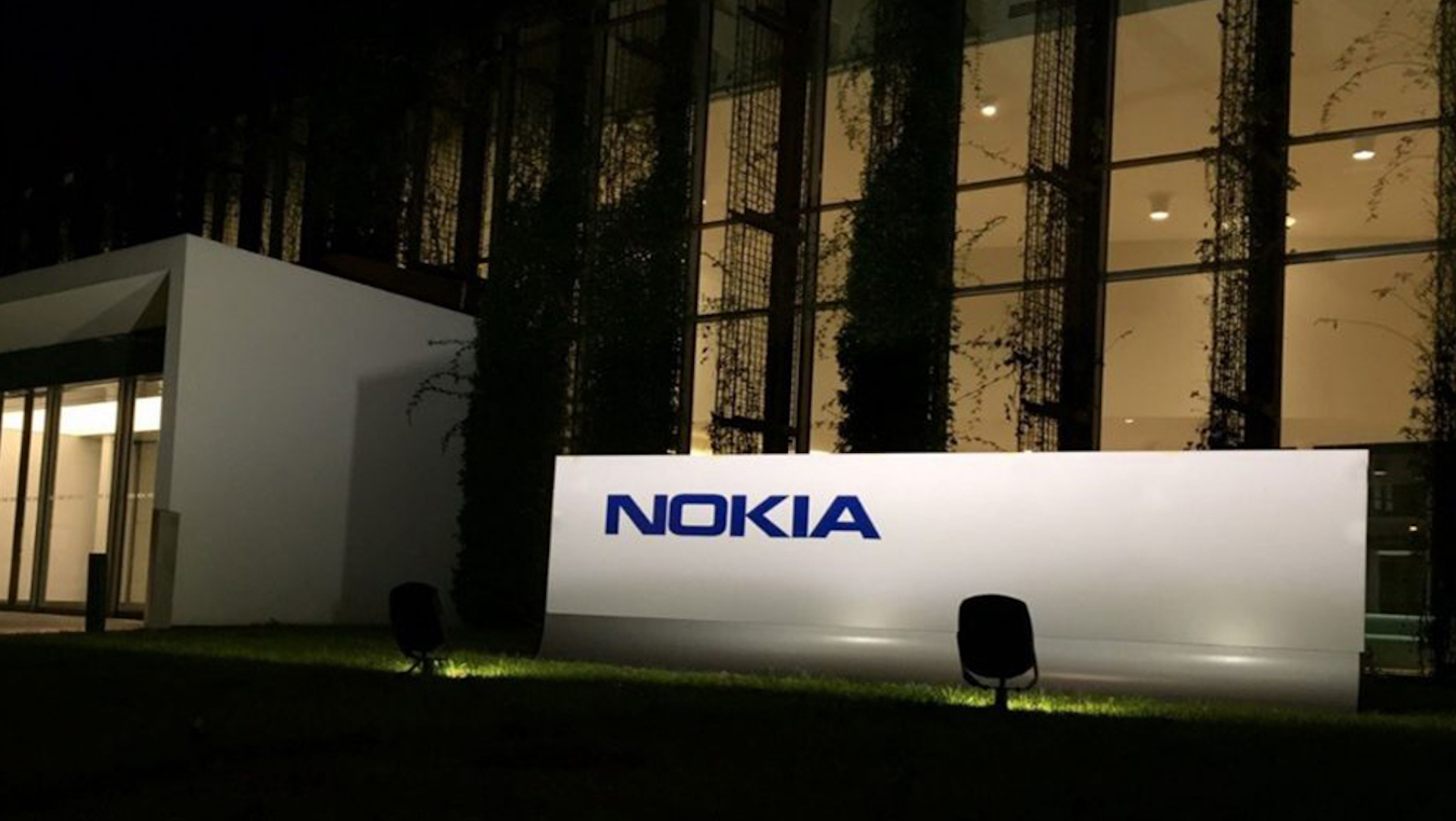 ALCATEL-LUCENT REBRAND
In what was one of the largest M&A deals of 2015, we managed the rebrand of over 400 Alcatel–Lucent sites globally.
Working closely with their Operations team, we adopted a phased approach to deliver all exterior and interior signage.  We identified and prioritised 40 flagship sites which we delivered in a record-breaking two days.
For maximum cost and time efficiency, we developed a bespoke on-line self-survey tool.  This empowered local teams to provide site information quickly and also helped to improve engagement in the rebrand process.
'I would like to thank the entire GLIMMA team for their tremendous support in ensuring that our kick-off events were such a success. The signs look fantastic and the feedback has been very positive. The energy created from the Day 1 activities was inspiring and the new signage at our key sites made everyone feel like they were a big part of the new organisation.'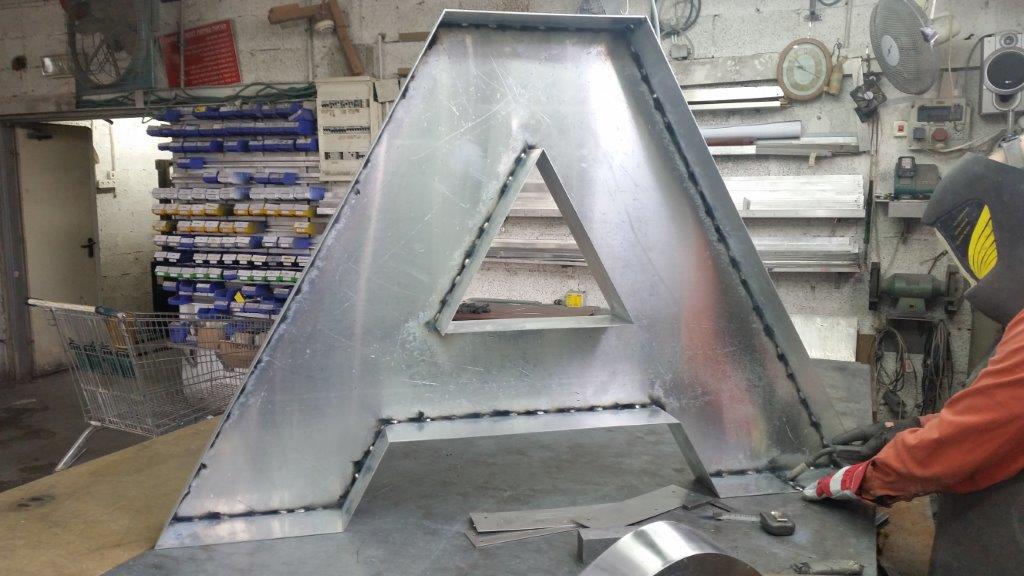 TAKING CARE OF THE ENVIRONMENT
To address Nokia's sustainability agenda, we use our technical and materials expertise and local knowledge to ensure that all brand solutions are planet-friendly: reusing and refurbishing instead of replacing signage. Local production also helps to reduce carbon footprint, time and manufacturing costs.
'Thanks to their on-the-ground presence in key markets, GLIMMA was able to superbly handle the practical challenges such as time zone differences and local market requirements. With their support, we achieved a smooth brand rollout at 400 sites in more than 20 countries.'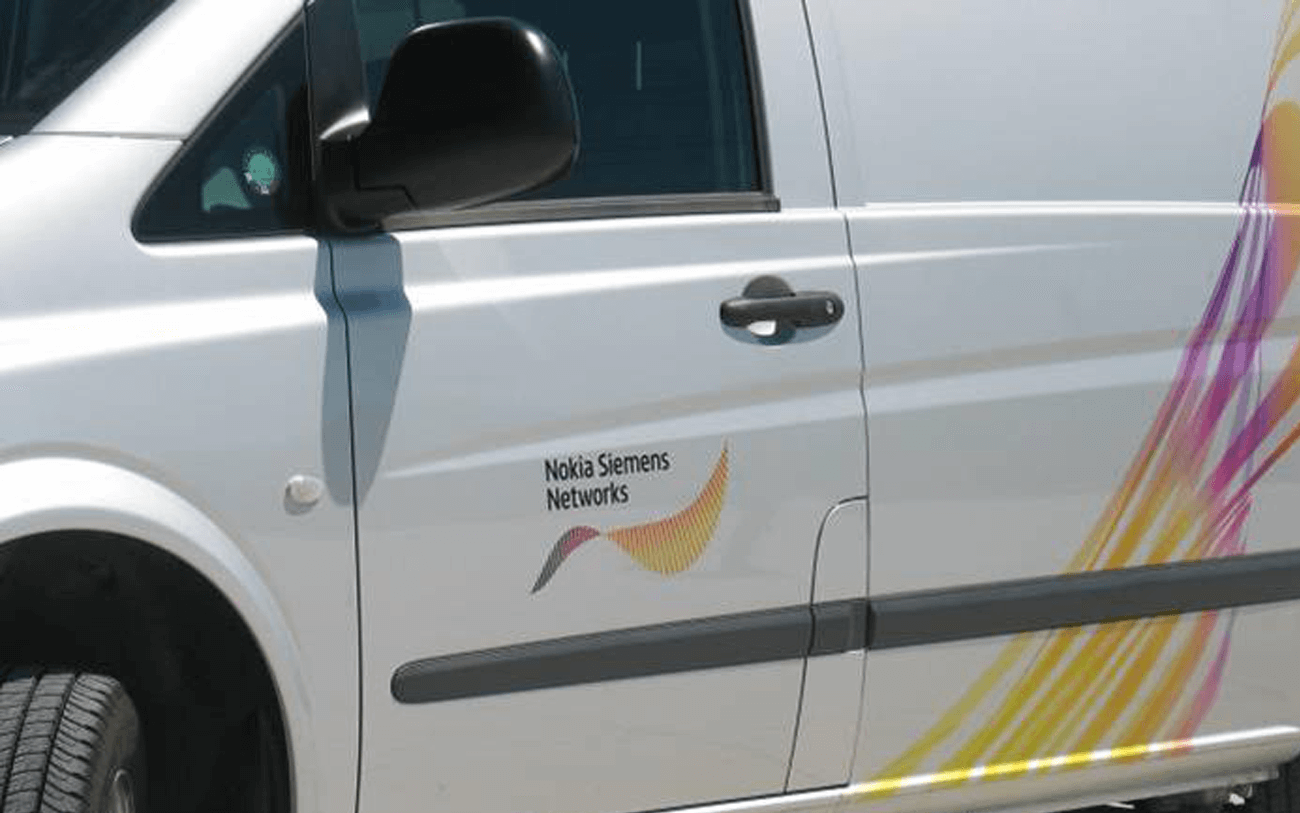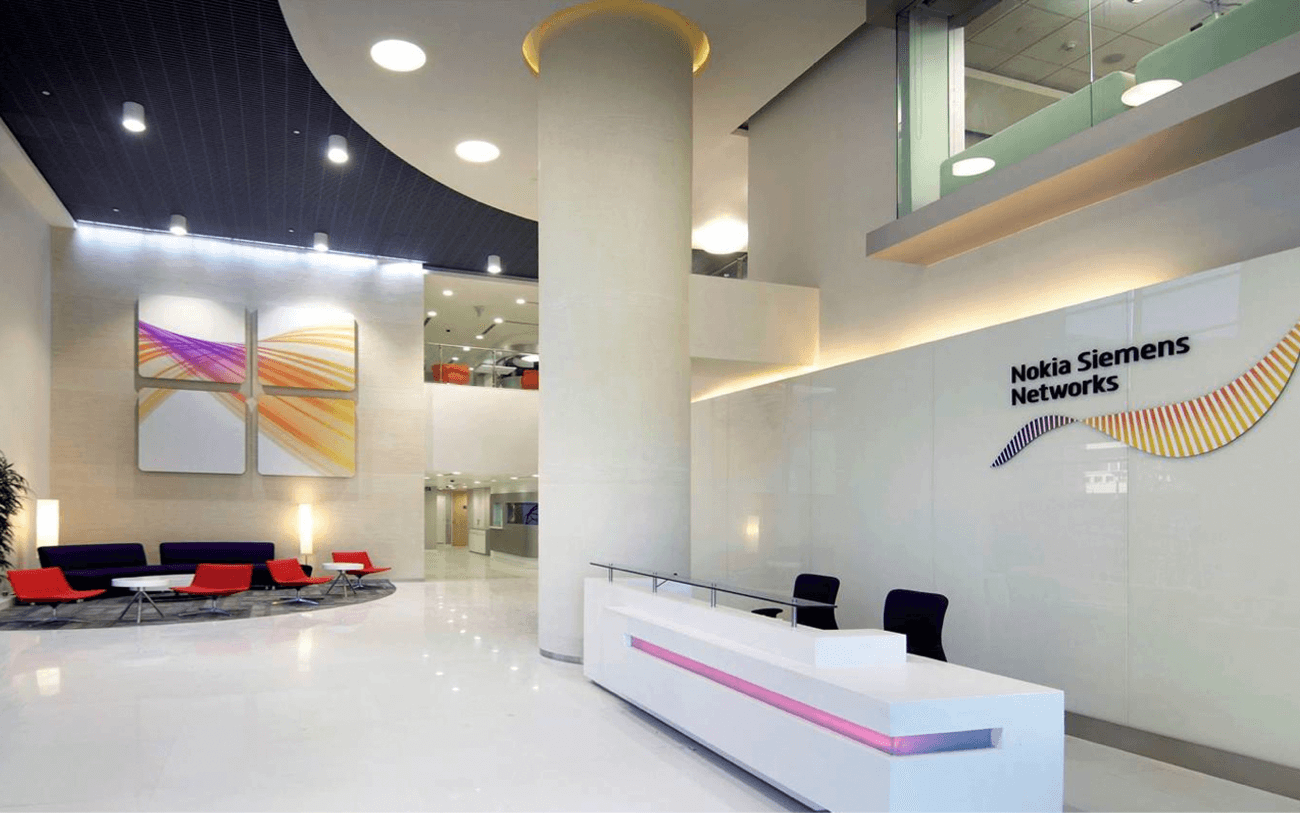 NOKIA SIEMENS NETWORKS
We handled the rebranding of the European fleet of vehicles when Nokia and Siemens merged their telecommunications infrastructure units to create Nokia Siemens Networks.
NOKIA HERE
In 2012 Nokia acquired Navteq, a global leader in mapping and location intelligence services. We managed the global rebrand of their specialist fleet of 100+ data capture vehicles from Navteq to HERE.
Working within short time frames, in some cases as little as 3 weeks from concept to installation, our aim was to ensure the new branding was visible as quickly as possible. This included specialist airplane applications that required aviation regulatory approvals.
Subsequently we became their long term partner, drawing on our in-depth brand knowledge to control brand design and to project manage the rollout of wider fleet branding programmes globally.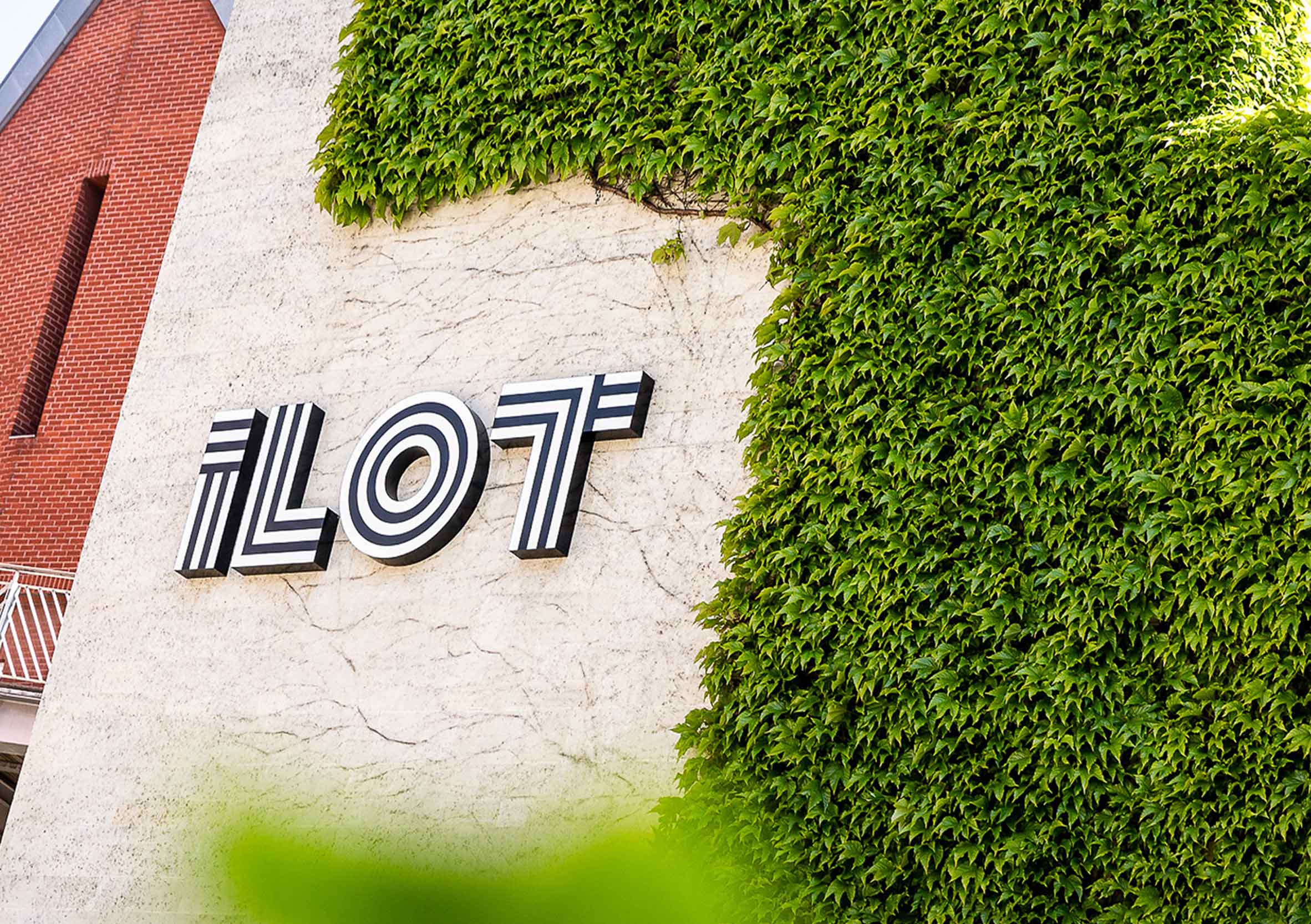 Brand Implementation in Liege
We were commissioned to revitalise this 1990s mixed-use city centre destination in Liège, Belgium. The refurbishment programme was driven by a strategic repositioning exercise that aims to attract a new tenant mix, increase footfall and time and spend per visitor.
Creating a sense of place
The name 'Ilot' (Little Island) reflects its location in the middle of the city centre. Comprising four separate buildings across three busy pedestrian streets, there was little to unify the space and create a sense of community and belonging. A strategic review by the mall owners identified the need for a full repositioning exercise. This included a strategic review of the indoor and outdoor space to attract the right retail mix.
We helped to develop the new brand proposition, working with the locally created brand identity, to develop a suite of on-brand wayfinding, signage and environmental solutions.
'The GLIMMA team is a valued design and implementation partner for our retail and entertainment centres. They understood the strategic changes needed to revitalise and appeal to a new target audience. Most importantly, they have the knowledge, experience and skills to practically translate these changes into an engaging customer experience. Through the right choice of lighting, street furniture, way finding and brand signage, they have helped transform ILOT into a much more vibrant and safer visitor experience.'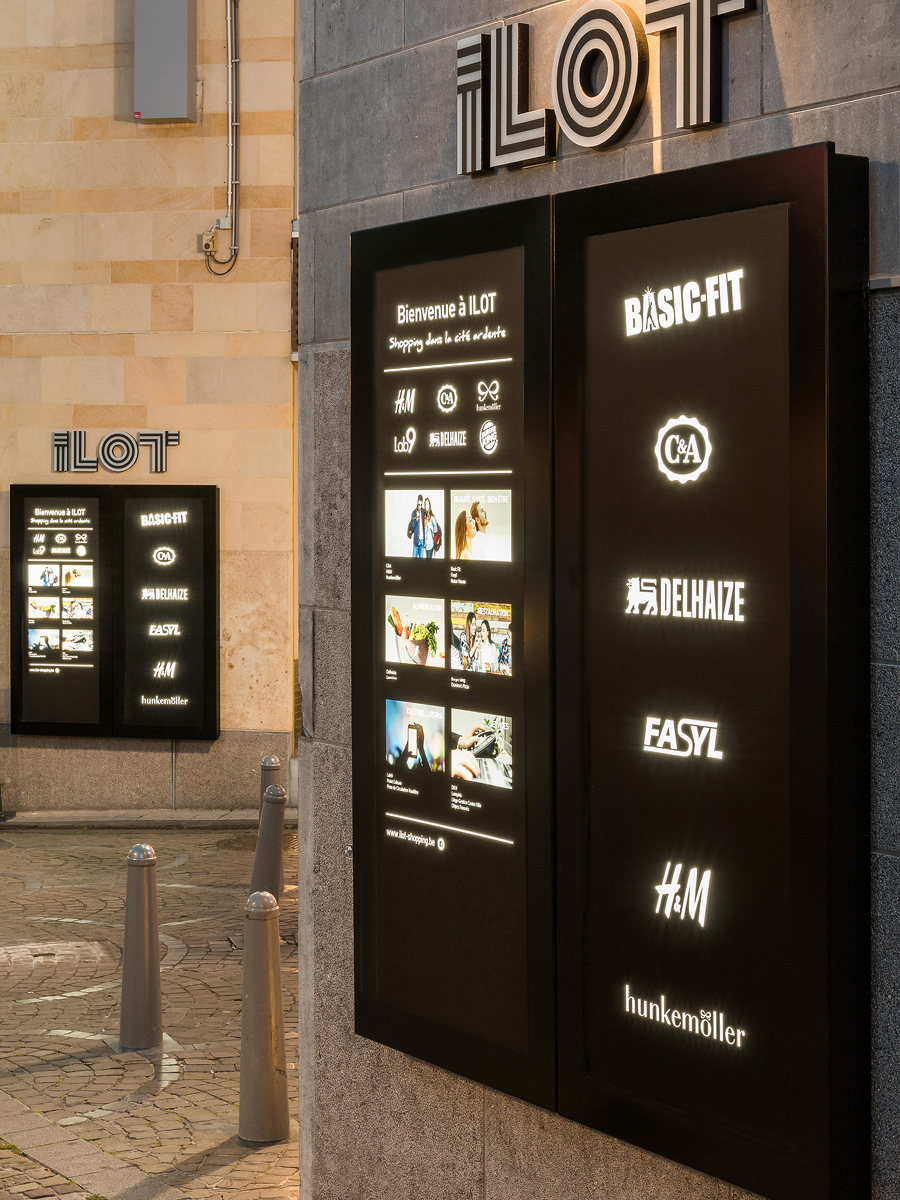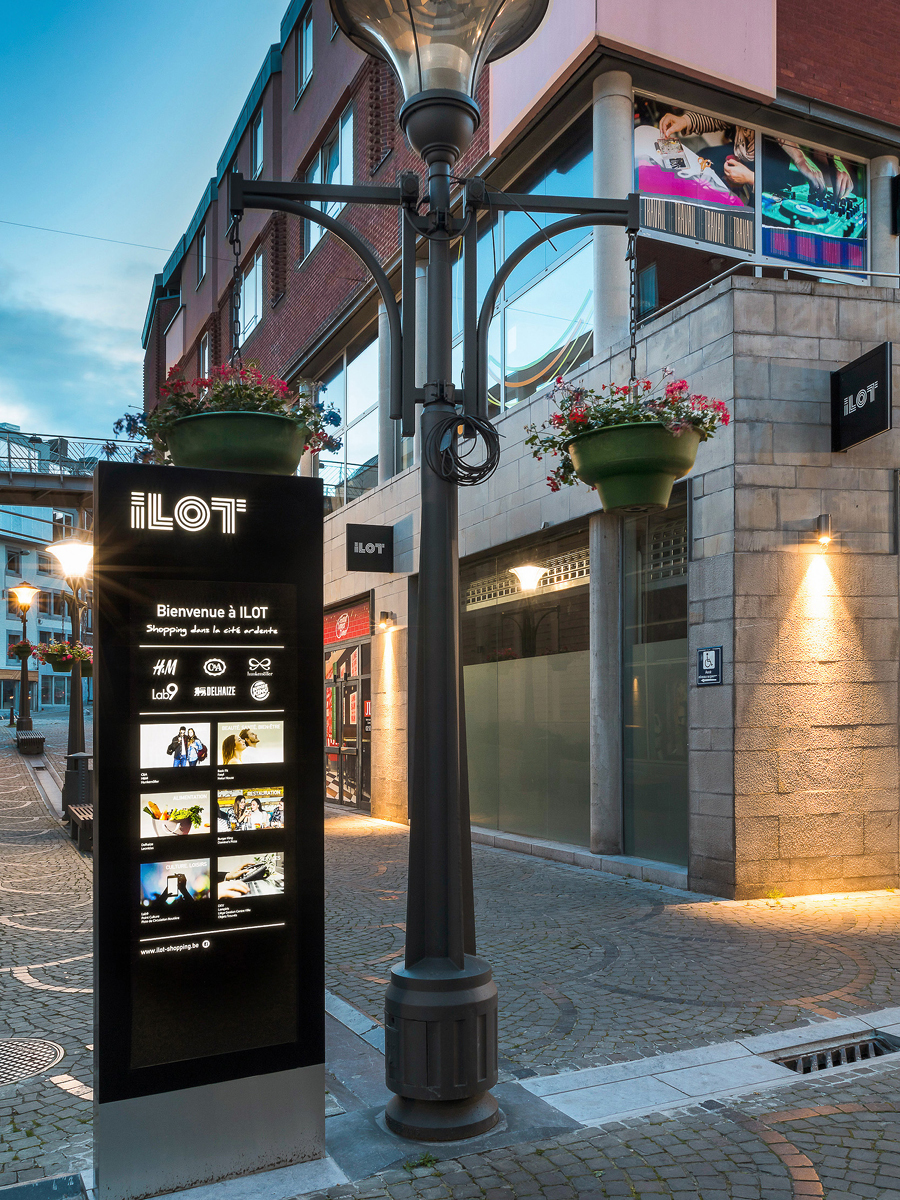 Improving the customer journey
During the initial site appraisal we identified circulation as a key issue and located the hot spots. Our wayfinding solutions have improved circulation from the basement levels and car park and improved general people flow throughout.
The suite of modern and complementary signs have improved the overall customer experience, successfully linking the internal and external spaces and creating a sense of place.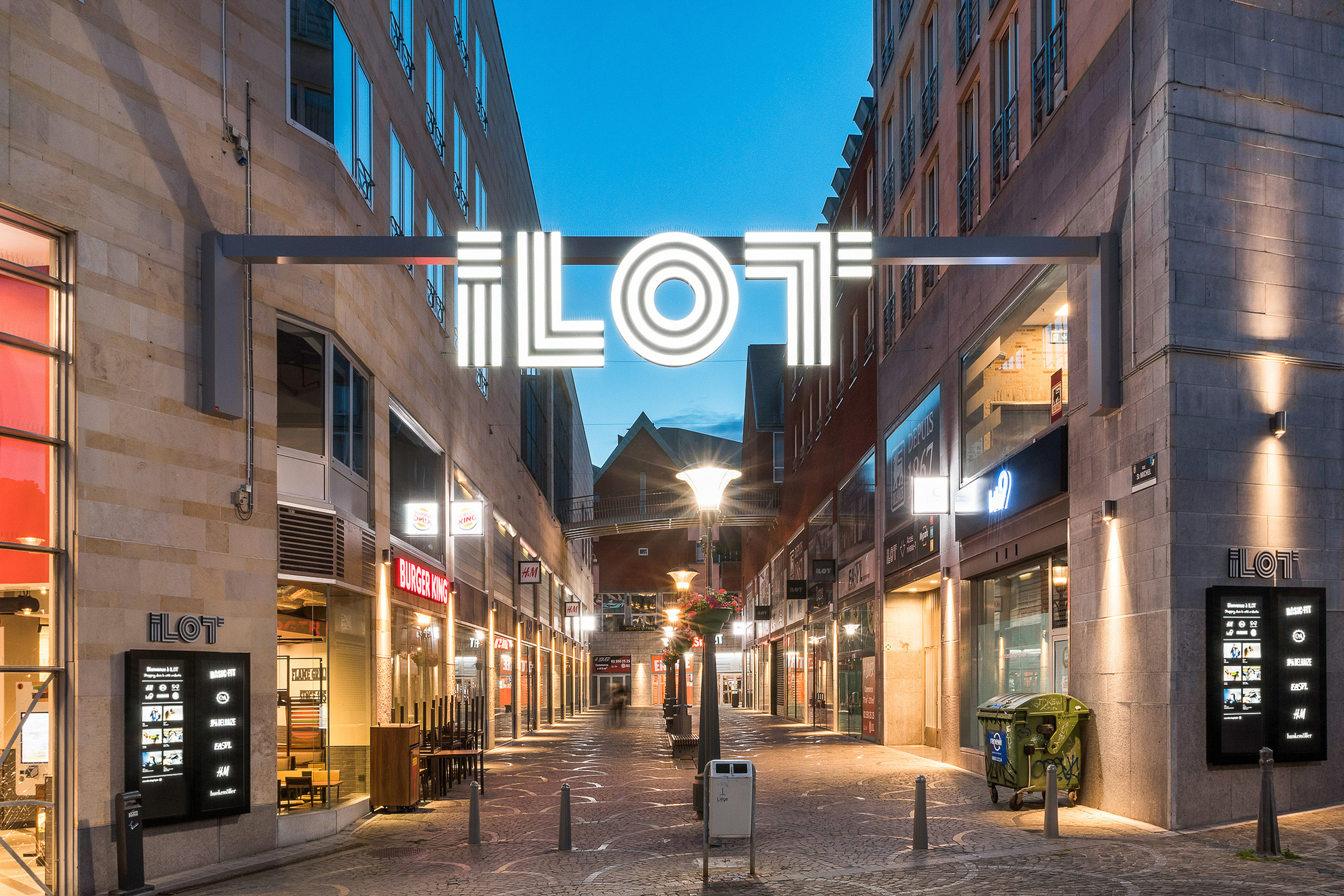 The installation of gantry signs above the walkways and at the two main entrances ensures street presence, creates unity and helps ILOT to stand out from nearby competitor retail outlets
Creating the right ambience
Skilful use of exterior lighting, using up and down lights on the building facades, has significantly improved the ambience. It has also helped to extend the shopping day and tighten security.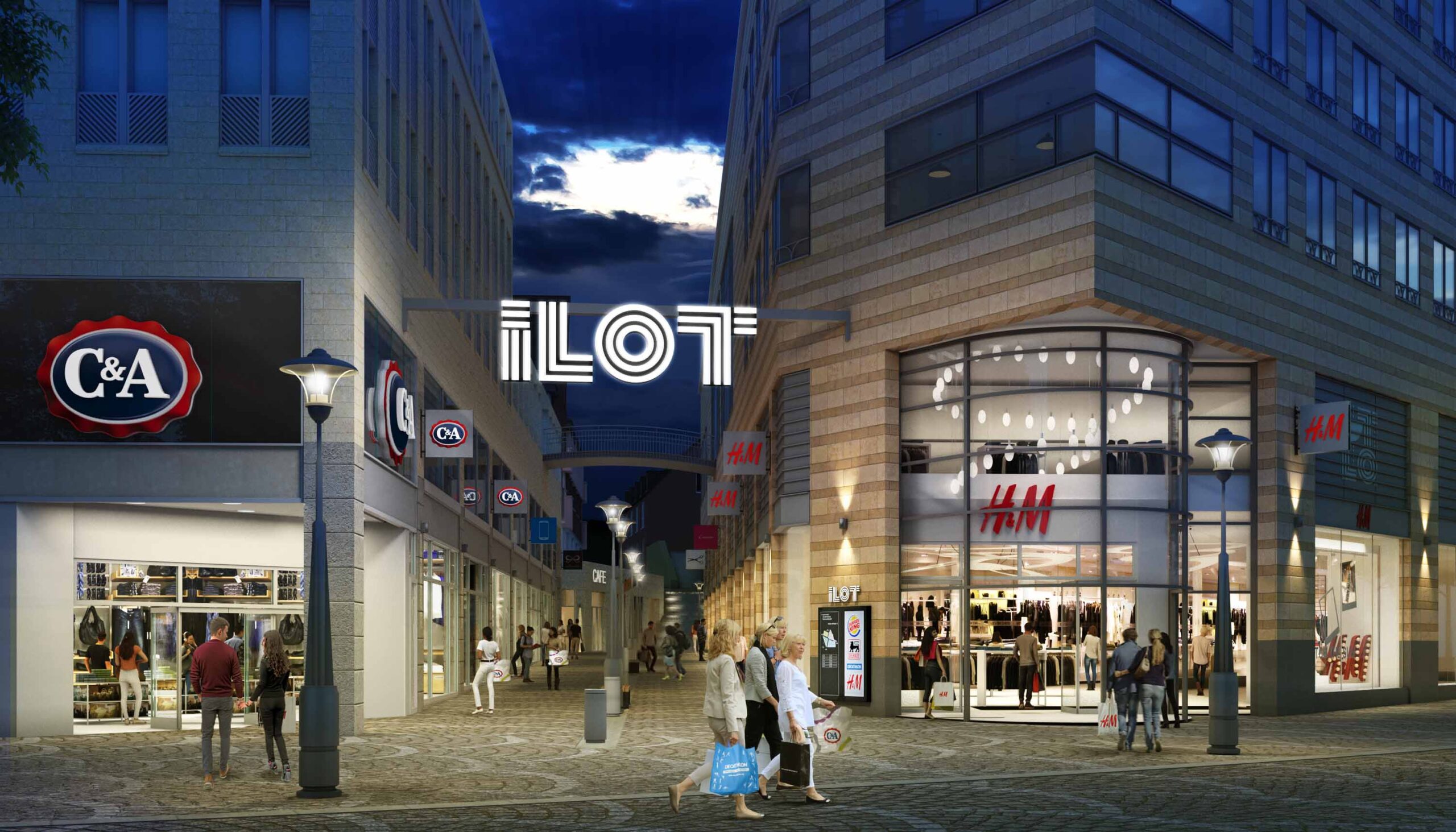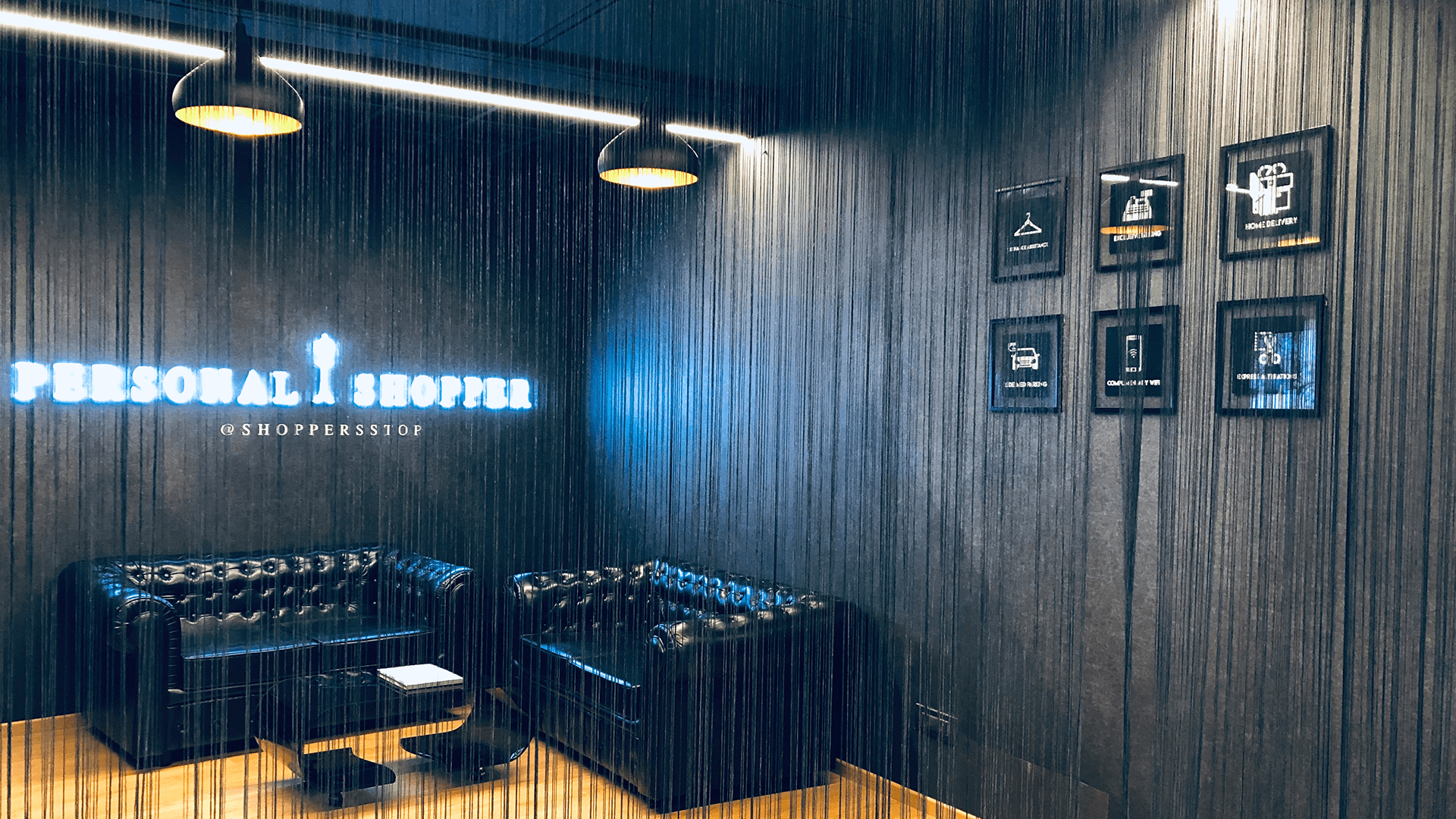 THE BRIEF
To deliver new brand experiences within Shoppers Stop department stores through the design, manufacture and installation of their lounge and promotion display areas in prime stores across India.
These include dedicated and targeted concepts, such as the 'Personal Shopper Lounge', the 'Show Stopper Zone' and the 'Suits & Jackets Zone".
Shoppers Stop is one of the largest department store chains in India, selling international and national brands for clothing & accessories, cosmetics & fragrances, as well as home décor and furnishings.
PERSONAL SHOPPER LOUNGE
In 2019 Shoppers Stop undertook a repositioning exercise to help promote their instore premium offer 'Personal Lounge' to their First Citizen customers.
A key element of the repositioning was to make their premium personal shopper experience more prominent and engaging within stores.
'We helped to redesign and rebrand their existing lounges, creating a more sophisticated 'Personal Shopper Lounge' with new finishes, decorative elements, new furnishings, wallpaper and floor finishing, as well as amenities for guests.'
SHOW STOPPER ZONES – ENCHASING THE CUSTOMER EXPERIENCE
With a clear brief to create an elegant premium retail experience, our aim was to redevelop the existing space in order to attract, engage and convert more customers.
Drawing on their design principles, we developed new layouts and introduced new signage, wall graphics, lighting and furniture.
The signature black and white colour palette of Shoppers Stop was retained, introducing a variety of textures and finishes to create the premium experience:
False ceiling with black mirror finish and a grid of LED lighting
LED video wall
Dark oak flooring to distinguish the zone from the rest of the retail space
Neutral fixtures for merchandising so as to accommodate any genre of clothing as per the theme
Elegant wooden furniture combined with black gloss
Dedicated ramp for the mannequin clusters with high gloss black finish and LED lighting
This concept has been successfully executed across several large stores in four metro cities.
It provides an opportunity for brands to showcase their new lines and promotions at the very entrance of the store, improving their visibility and increasing sales.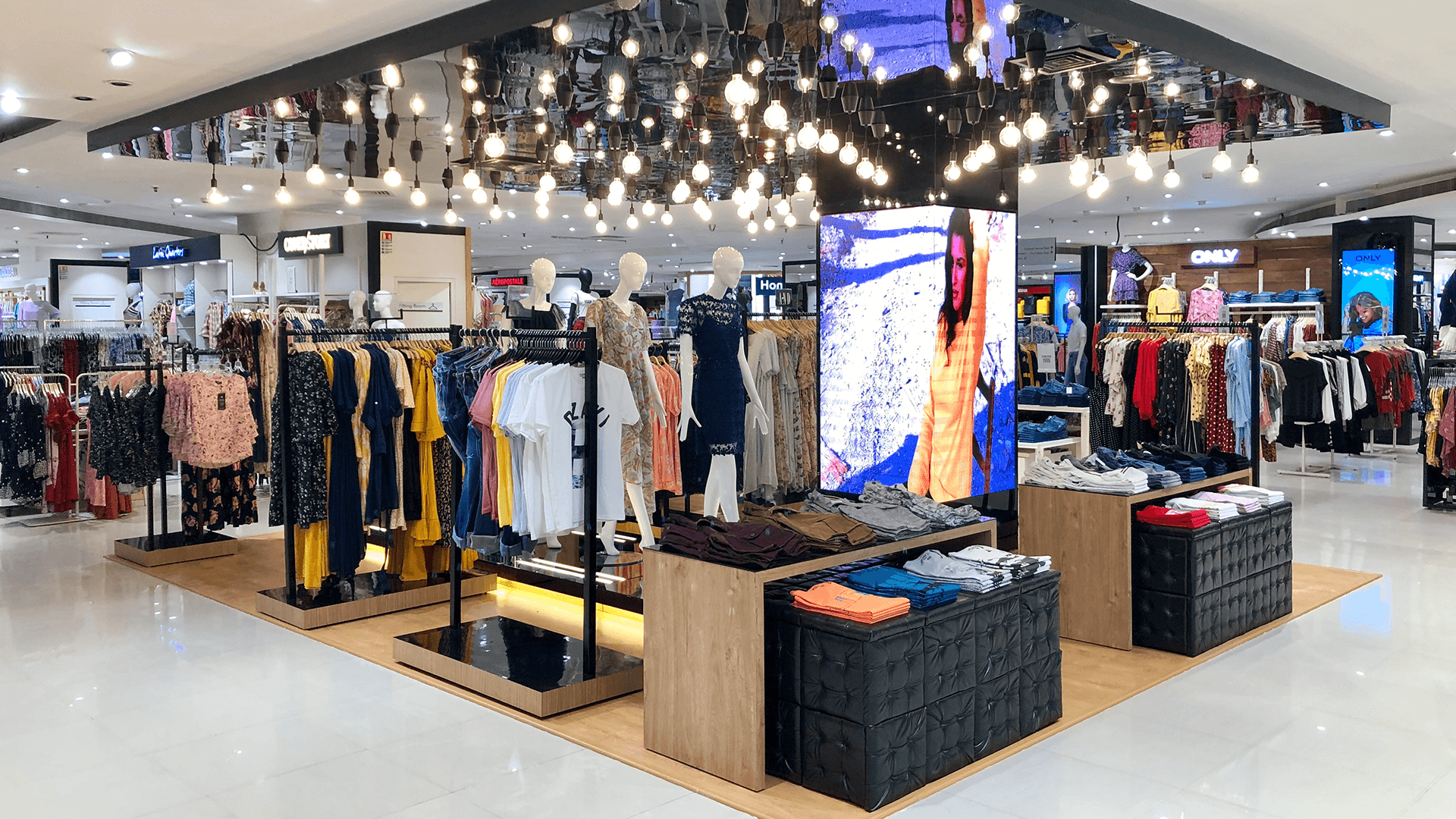 'The promo area has turned out to be a real 'SHOW STOPPER', exactly what we wanted. Our customers and staff are very happy with the work. Good Start team.;
With different size spaces available for the Show Stopper Zone in each of the six stores, we delivered a pilot store first.
This provided us with a blueprint for detailed space planning which allowed for customised solutions within each store.
Once the design had been signed off, we were responsible for both the manufacture and installation.
Detailed project management ensured that the right resources were in place, shopping mall permits were successfully acquired and the installation team could work efficiently.
To keep disruption to a minimum, we cordoned off the zones, using professionally branded boarding that included a teaser about the upcoming changes.
All installation work was carried out over the weekend.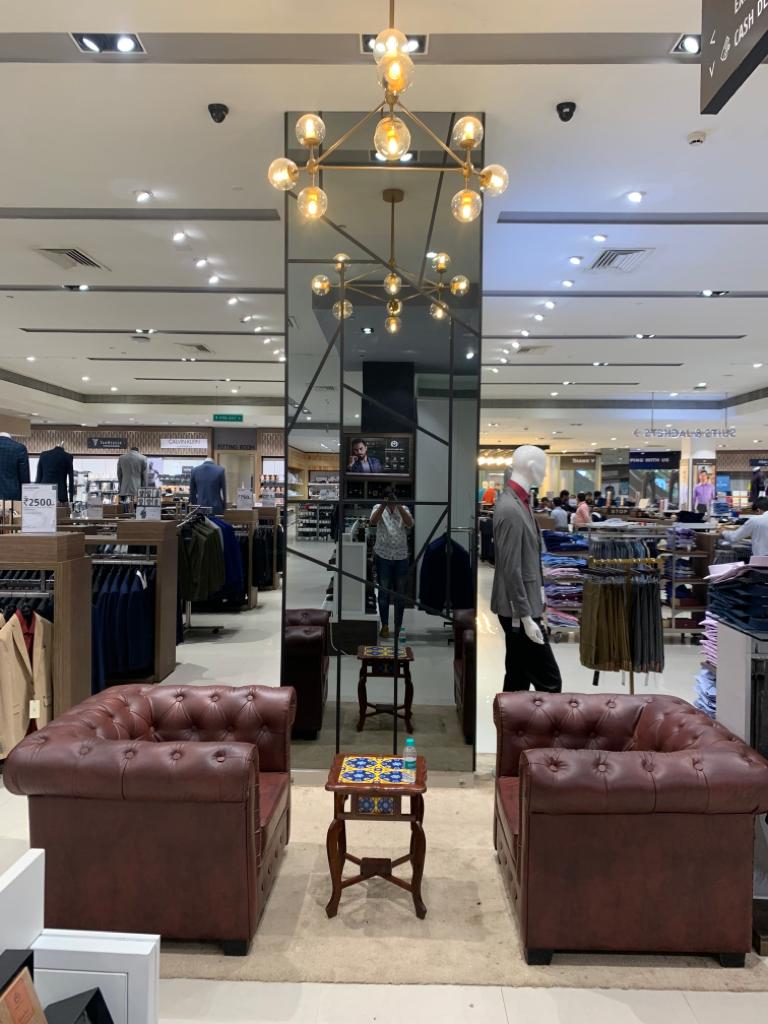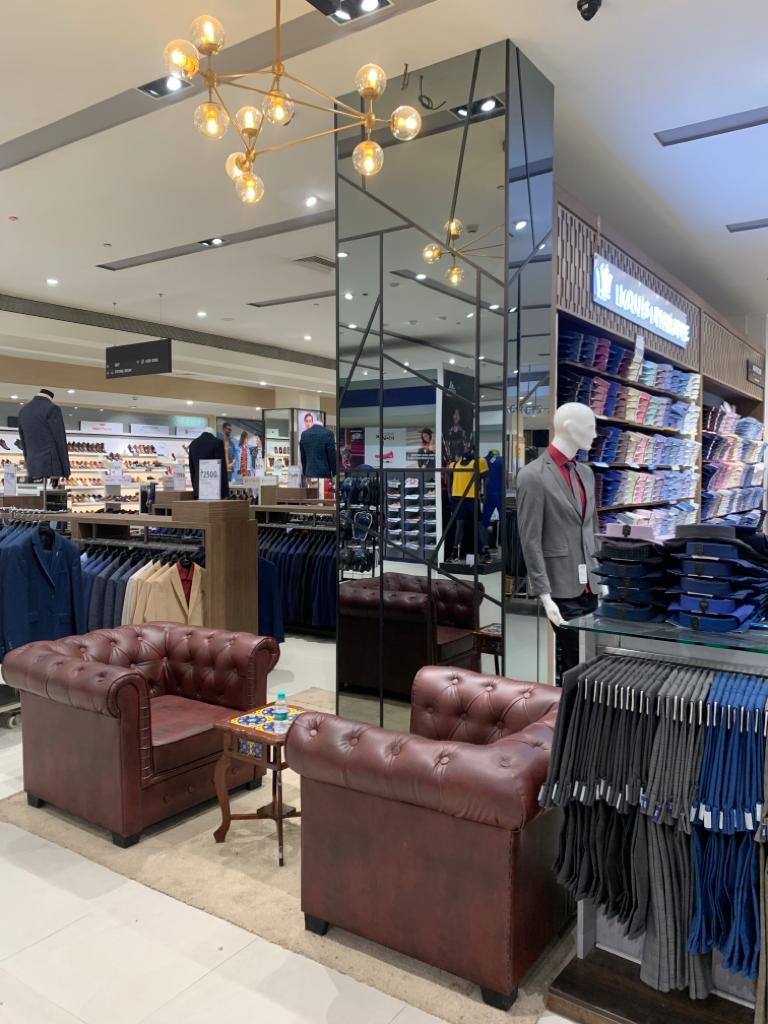 SUITS & JACKETS ZONE
The creation of bespoke lounges at specified points has helped to improve brand experience within stores. Targeting professionals who are purchasing more formal wear, these spaces have provided the opportunity for customers to relax, sit and discuss options with the sales staff before investing in more expensive ticket items.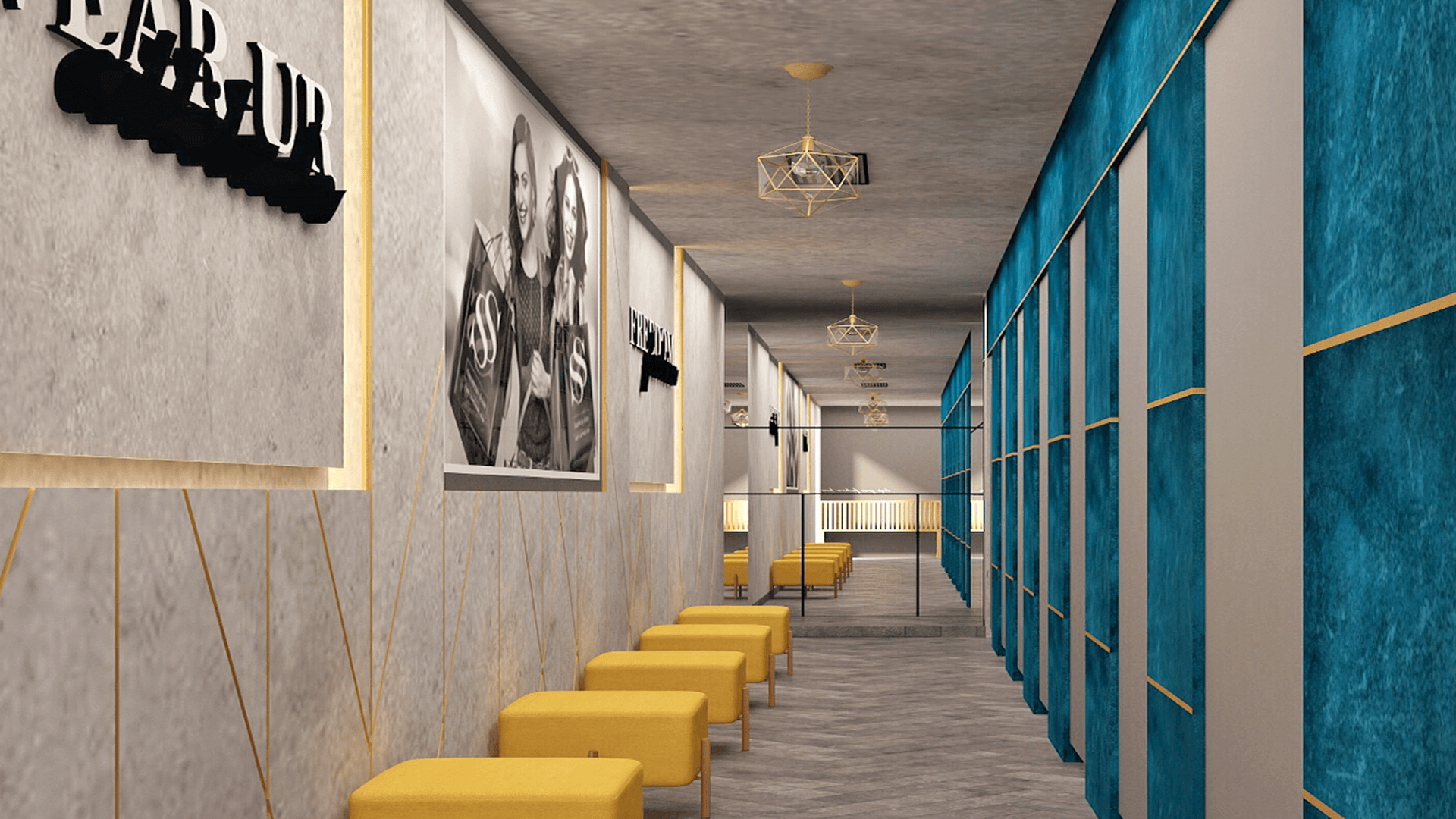 Shoppers Stop Fitting Room Concept
FITTING ROOM CONCEPTS
A revamp of fitting rooms is designed to provide a more pleasant experience for customers. We are enhancing the fitting room experience by adding:
Customisable lighting settings for different categories
Richer textures and materials
Attractive finishes
CUSTOMER SERVICE DESK
In keeping with other instore improvements, we are developing a refreshed look and feel for the customer service area.
Used when returning or exchanging items or for redemption of promotions, this area of the store is important for reminding customers of the level of service they receive at Shoppers Stop, and helping to improve loyalty.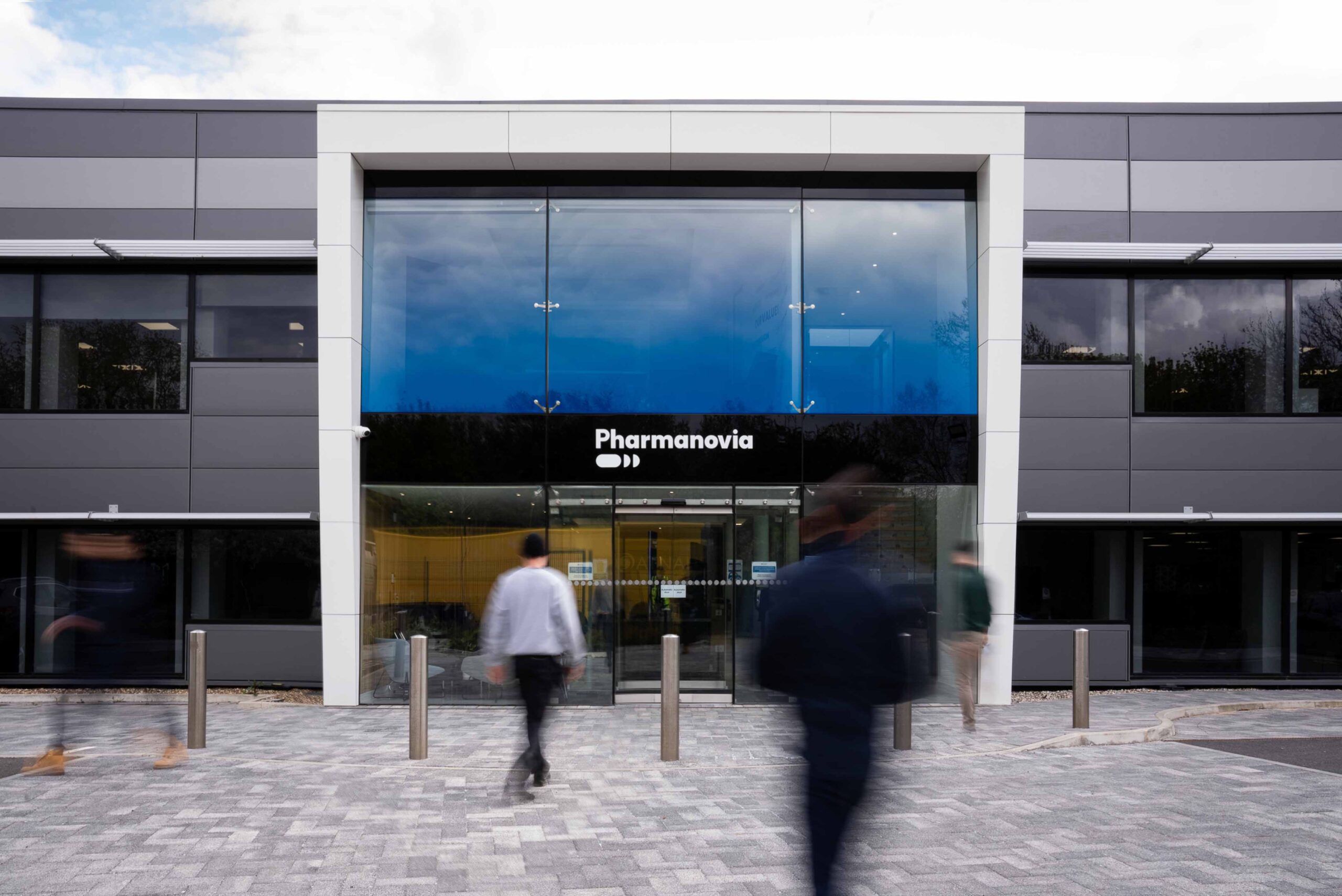 We were asked to implement a new brand identity, including communications and engagement for internal and external stakeholders.
Formerly known as Atnahs, this UK based pharma company undertook a strategic repositioning exercise which resulted in a new name and brand identity to support its strategic vision globally.
STRATEGIC REPOSITIONING
Founded in 2013, the company has grown from a small family business operating solely in the UK to a global specialty pharma business of 200+ employees, marketing 20+ brands across 140+ markets.
Detailed research and benchmarking led to the development of a new name and brand identity which better reflects their position as the original medicines specialist globally and a progressive global specialty pharma business.
The new brand identity was developed by WhyBrand.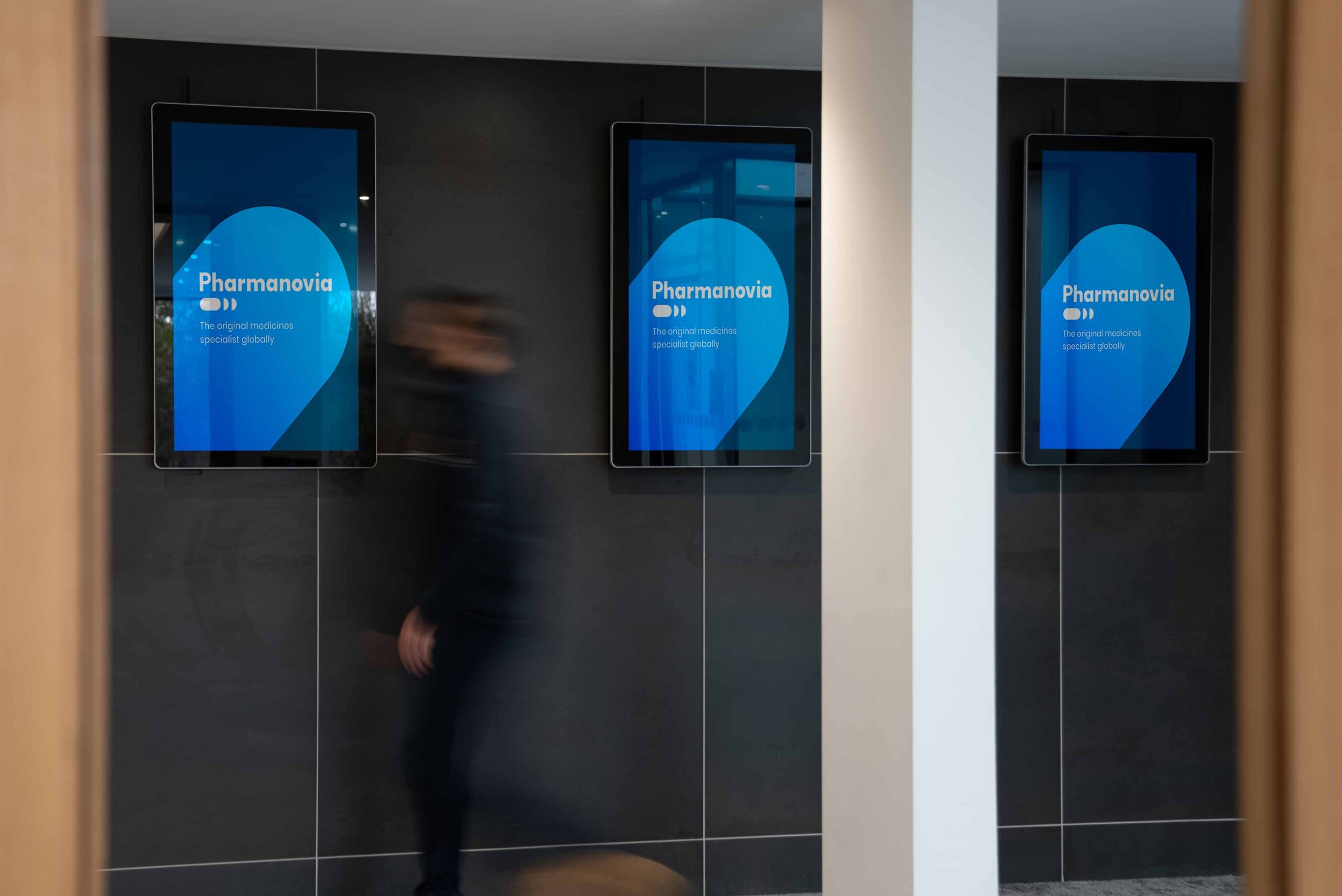 IMPLEMENTATION PLANNING
Following sign-off of the new identity, we worked closely with the Pharmanovia team to set up a full physical audit to identify all their branded assets. Bringing together representatives from IT, HR, Finance, Marketing, Facilities and Legal, we helped to project manage the change of identity within a short timescale of just 12 weeks.
Reporting was co-ordinated through our online project management portal, accessible 24/7 and updated in real time.
'GLIMMA provided both central project management and strategic communications support for our rebrand. The team quickly put in place the right framework to identify and replace all our branded assets. At the same time they worked intuitively with all stakeholders to ensure that everyone, from staff to suppliers, understood our strategic repositioning.'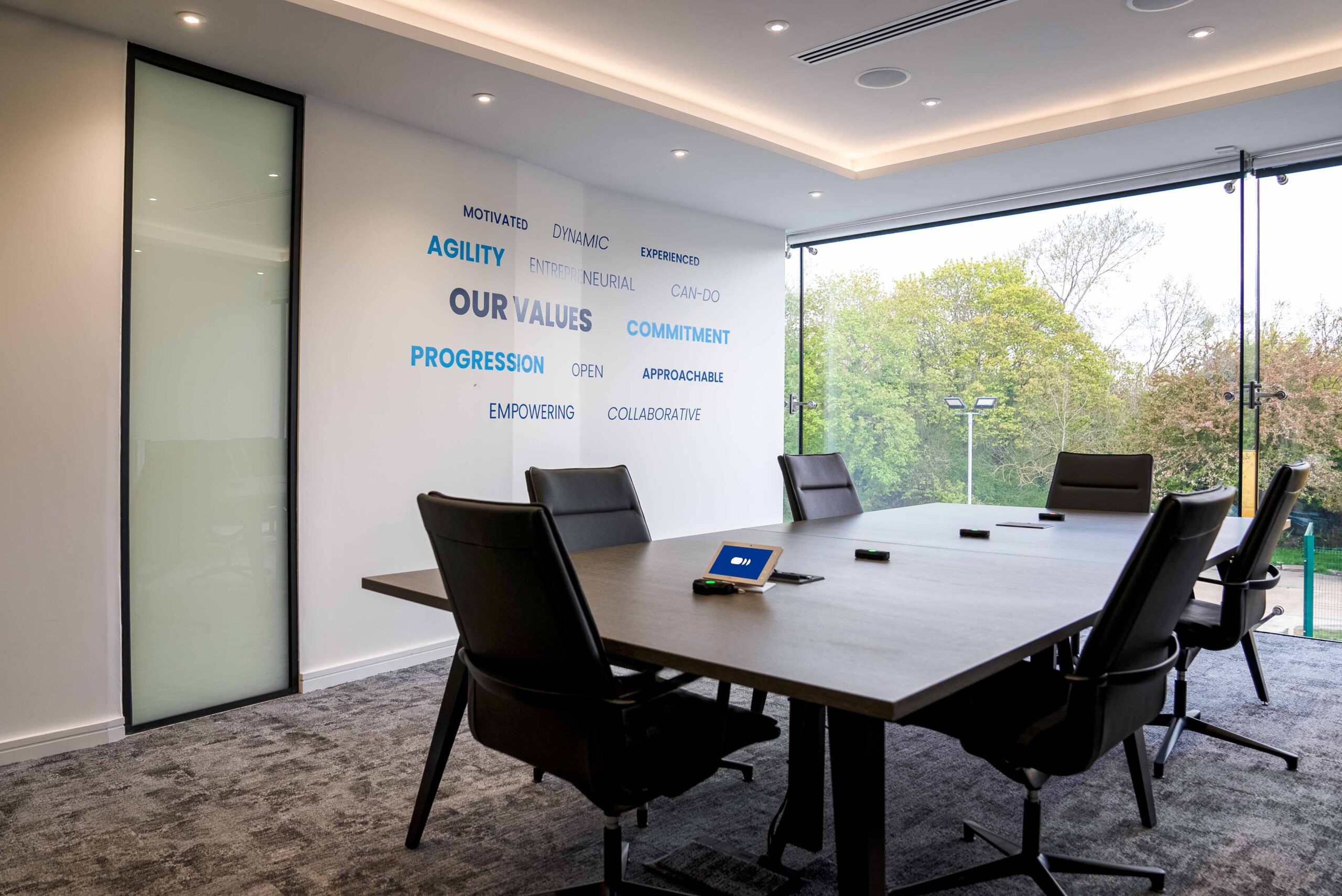 Meeting room rebranding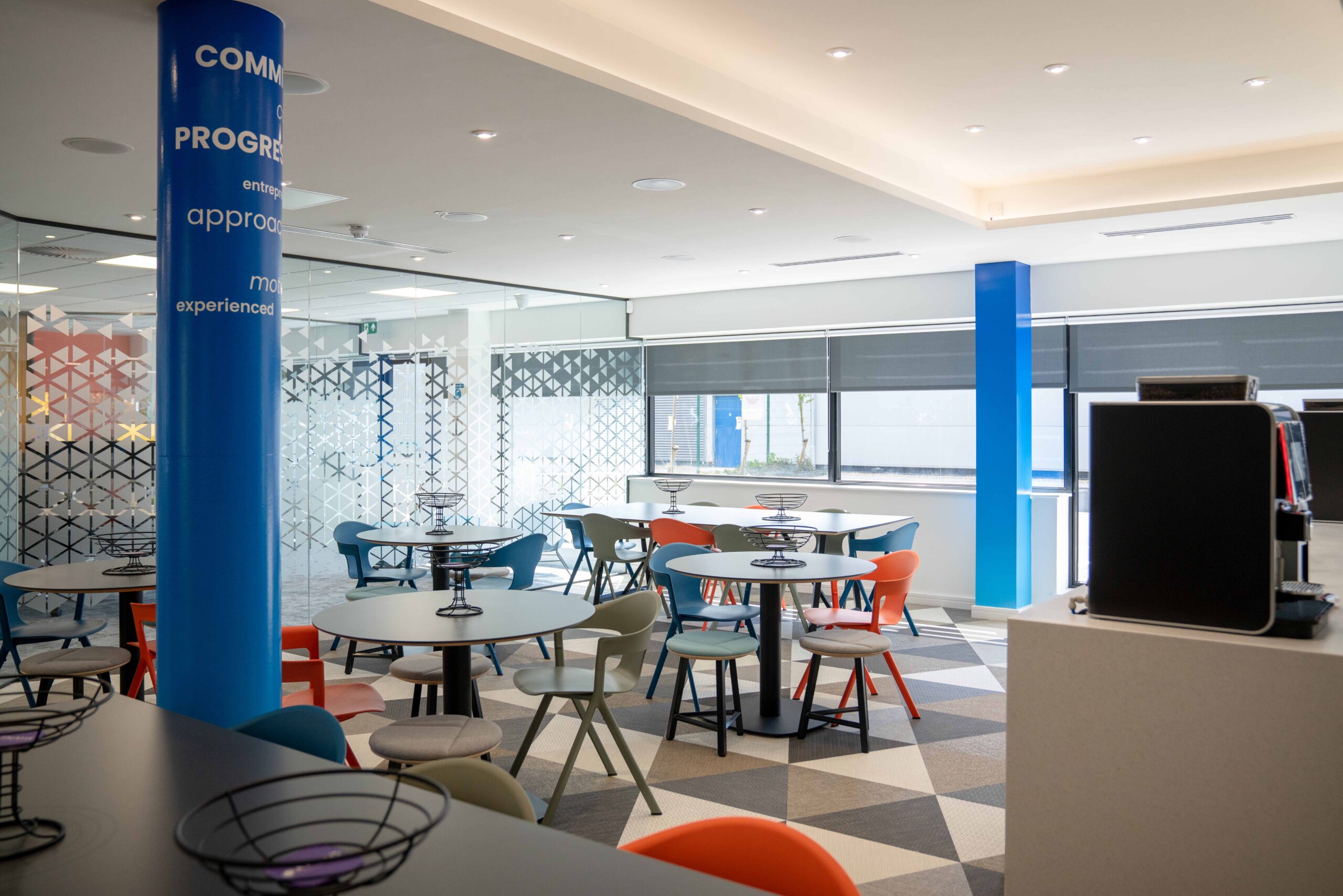 Canteen rebranding
SIGNAGE
Our UK team installed new signage at their head office in Basildon, including the painting of bollards, fascia branding and a brand new lit totem.
Three new digital screens, with remote Content Management System, welcome visitors and help the company to communicate more efficiently and in real-time with employees.

WORKPLACE BRANDING
To make the new brand come to life in the workspace, we used their company values and an update-able world map to convey their new global positioning.
Given that employees have been working from home for 12 months+ due to Covid, the branding of the workplace is a key motivator as employees return to the workplace and start to feel emotionally connected to the new brand.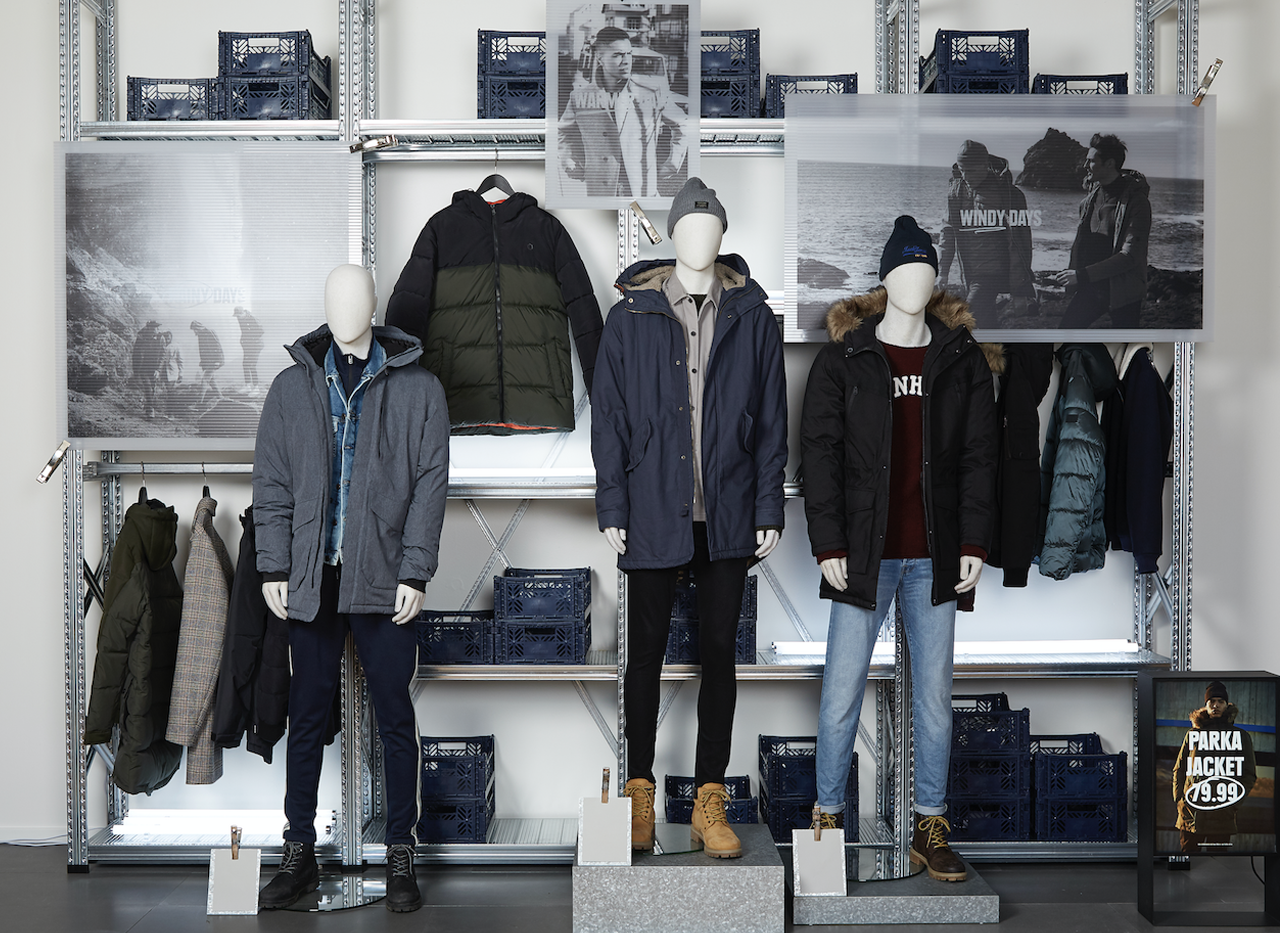 We were asked to manage the rollout of JACK & JONES' latest window displays in over 450 stores and to create a compelling and consistent retail experience across Europe, the Middle East and Canada.
With more than 1,000 stores across 38 countries, they are one of Europe's leading men's fashion retailers.

DRIVING SALES THROUGH RETAIL DESIGN
Visual merchandising is key to high street sales success.  The Interior Store Design team commissioned a bespoke racking system that can be used in a versatile way to display both their Spring and Summer collections in a variety of ways.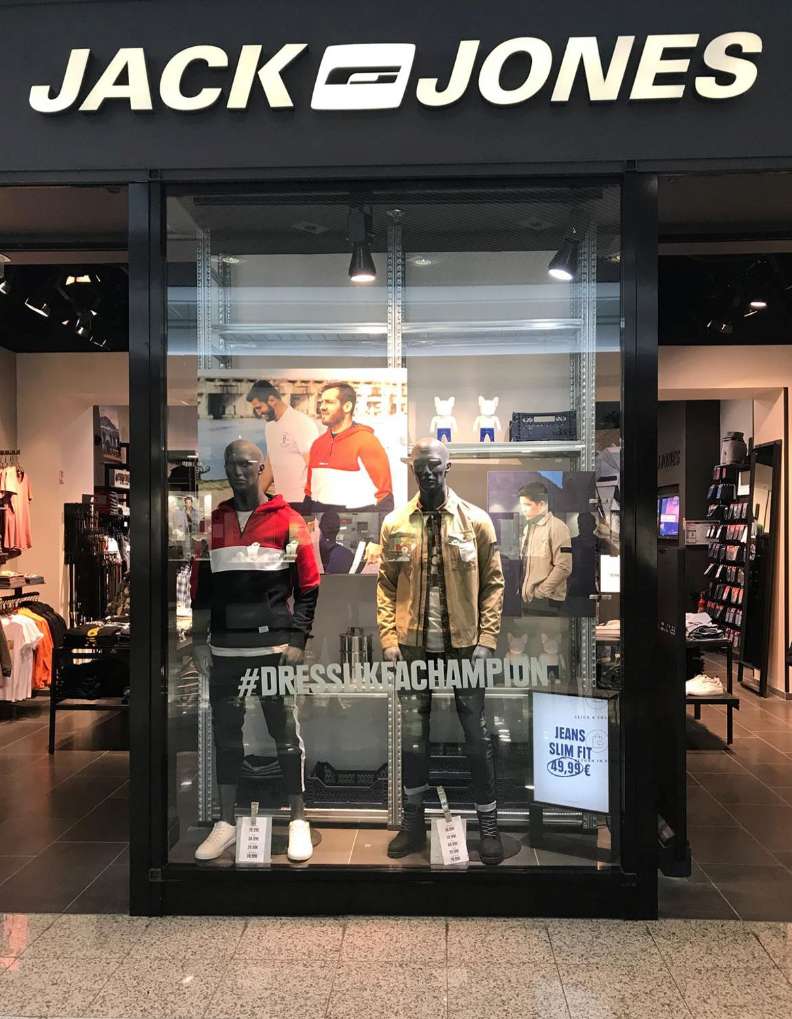 'The team at GLIMMA co-ordinated and installed the new racking system in 450+ retail stores globally. They successfully overcame the challenges associated with global supply chain, variances in store layouts and different cultures, delivering the entire program on time. The result is magnificent – with the support of GLIMMA we now have the perfect communications platform to attract and excite our customers.'
THE NEED FOR SPEED
Having secured the design and manufacture, JACK & JONES commissioned our team to manage the installations globally. Within two weeks of receiving the brief, our implementation team, working together with the manufacturer and in close liaison with each local store, completed the entire project in just 17 weeks.

ADAPTING THE LOCAL ENVIRONMENT TO ACHEVE GLOBAL CONSISTENCY
No store is the same – dimensions, architectural considerations, materials, local working restrictions – they all differ from store to store.
Our central project management team co-ordinated the rollout to achieve maximum cost efficiencies, using site surveys from the stores, to plan and implement the refurbishment.
This included the removal and disposal of old systems, posters and mannequins, as well as the construction and installation of the new racking system. Faced with a wide variety of window layouts and dimensions, our team often had to think on their feet to adapt the new system and make it fit-for-purpose.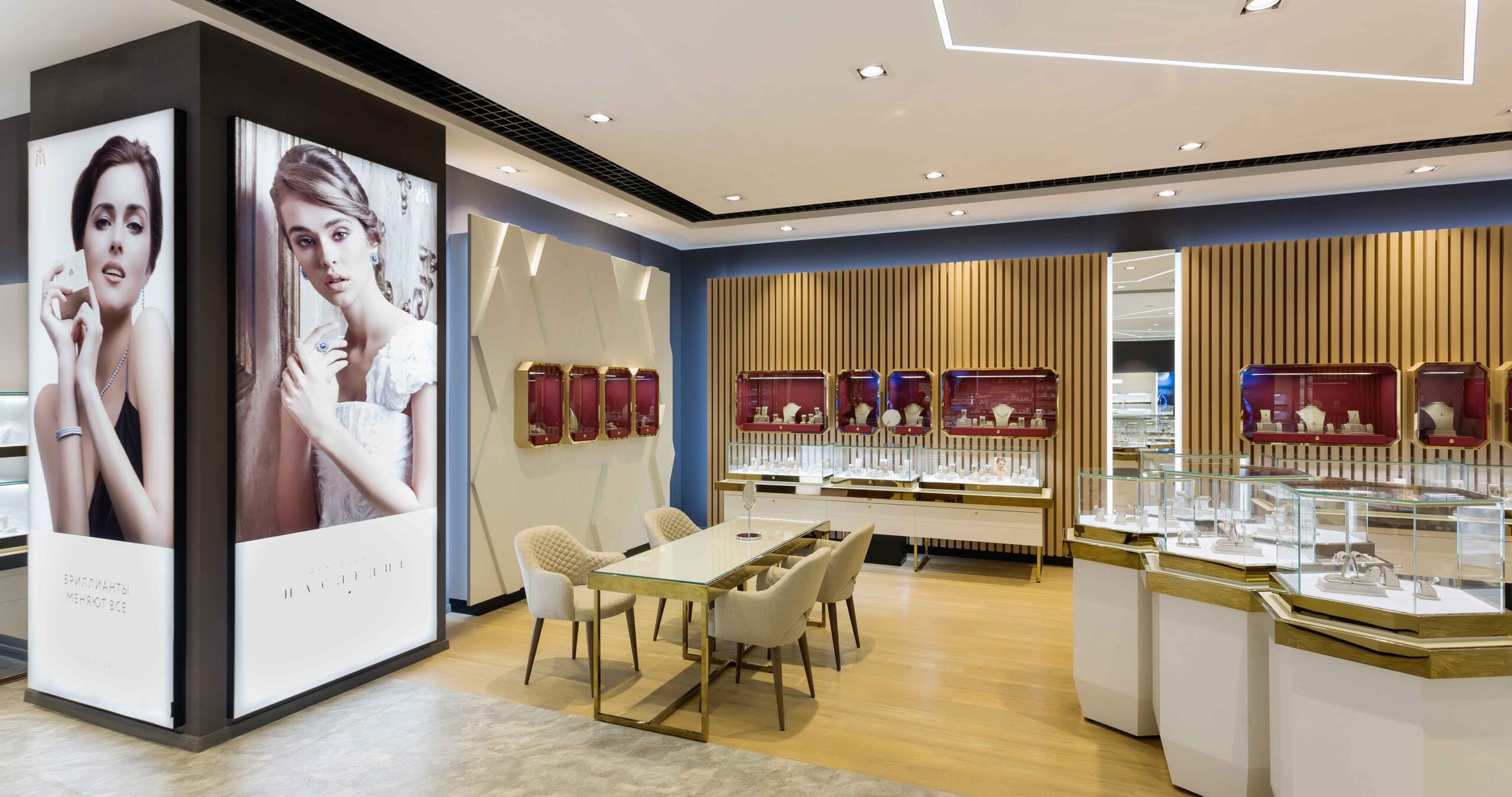 The Brief
To develop a new modular retail design concept which can be scaled to fit any size store. This concept is to design and implement the retail space in Moscow Jewelry's flagship stores in Moscow.
With over 300 stores across 104 cities, Moscow Jewelry is one of Russia's leading jewellers. Selling more than one million items in-store every year, their retail network is critical to their success.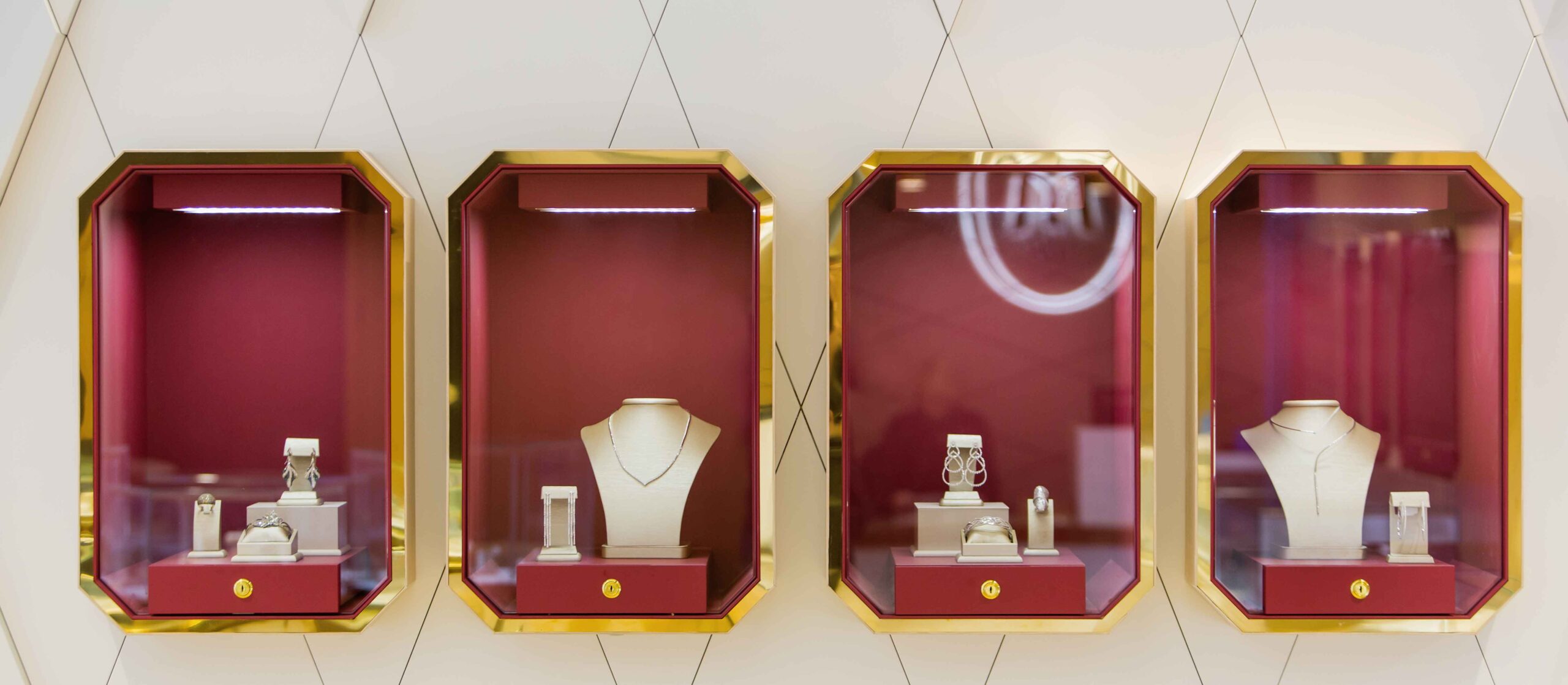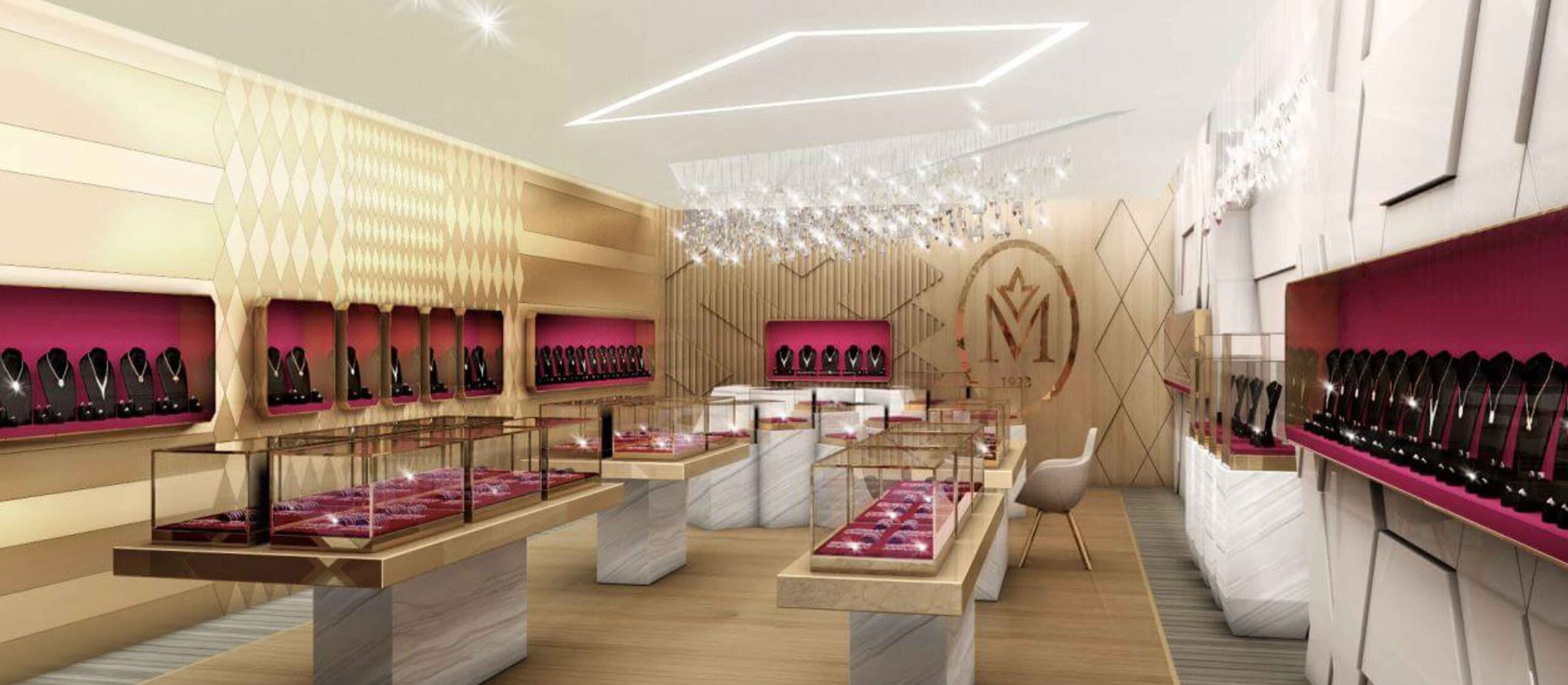 Central to success was an in-depth knowledge of their brand proposition and how this is reflected across their different product ranges.
The 1000m2 store in Moscow's AFIMALL is laid out in zones, one for each product range.
Every zone is designed with specific customer profiles in mind.
The design concept considers every aspect, from lighting, fittings and finishes to carefully planned seating areas with handpicked furniture.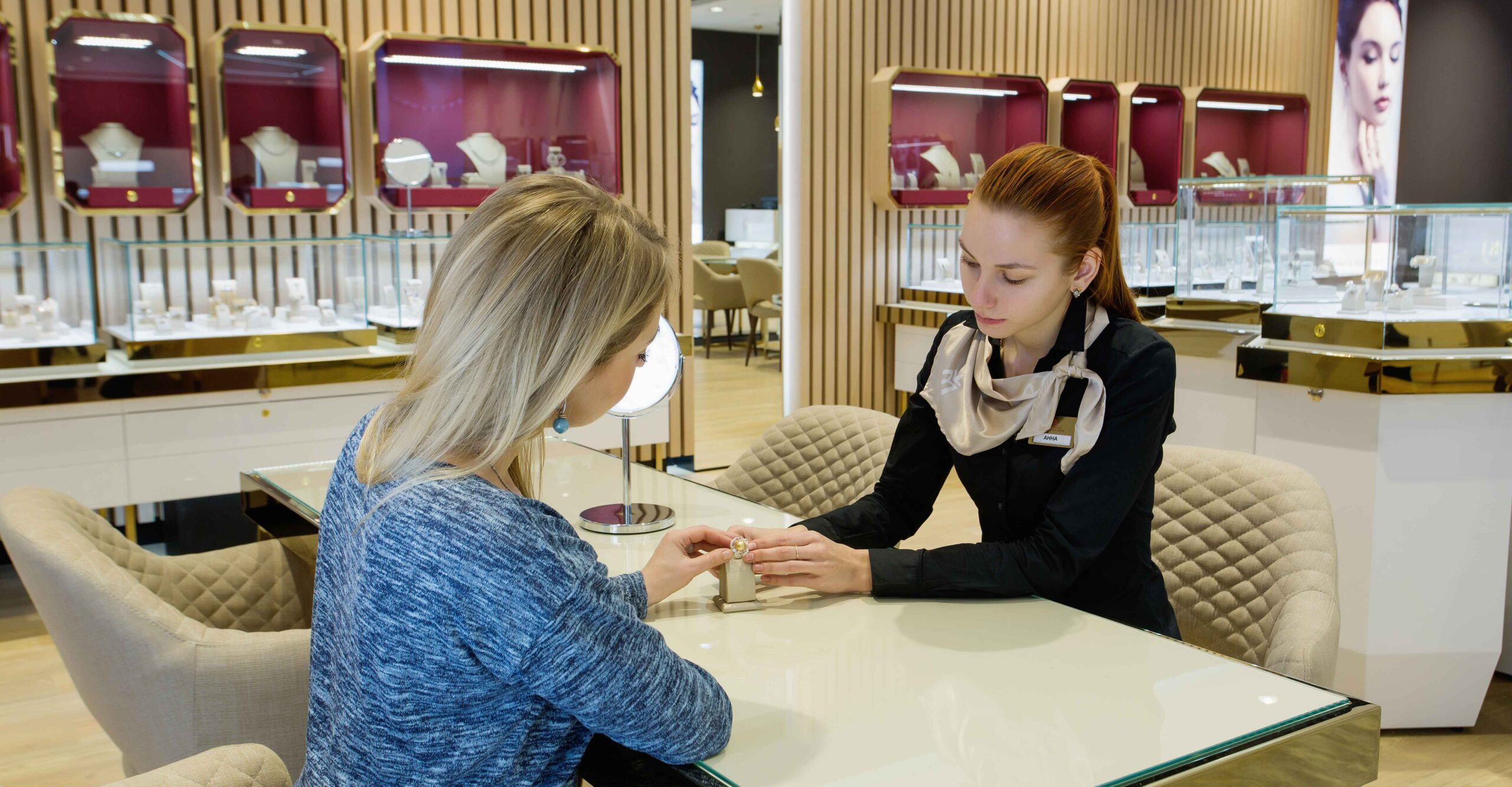 THE INVESTMENT PAYS OFF
We implemented the new design concept in two of Moscow's top shopping malls – Metropolis and AFIMALL. Since then, sales at their stores have grown by 30-35%, bucking the retail trend for luxury items in this market.
The design concept is now being rolled out at future stores.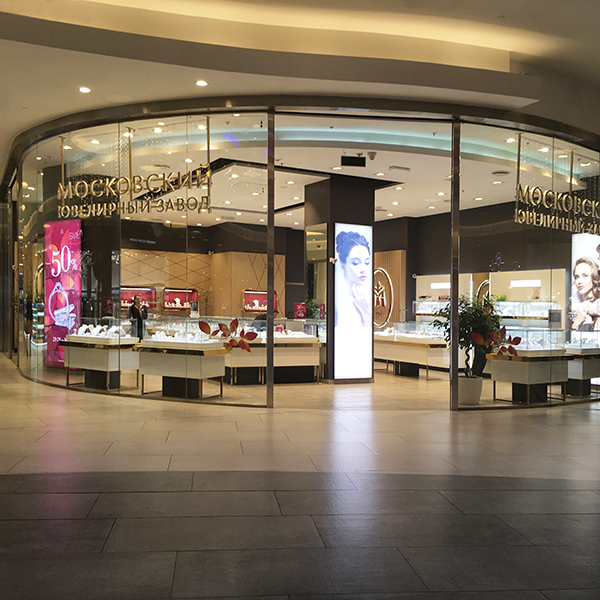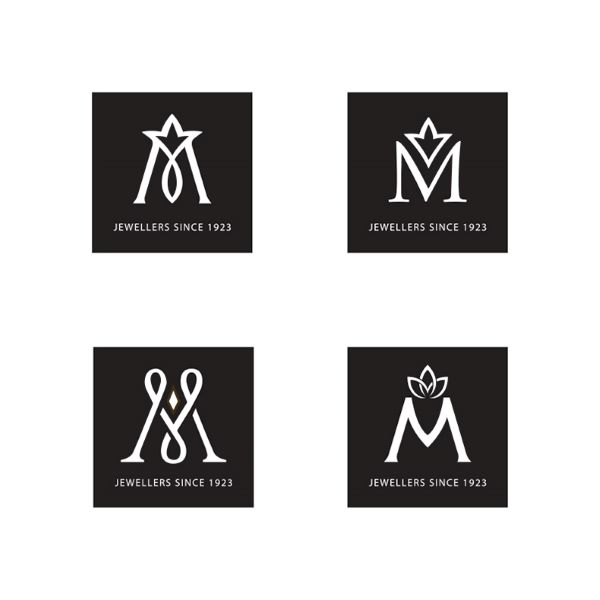 BRAND INSIGHT IS KEY TO SUCCESS
Our aim was to successfully translate their brand proposition into the retail environment, ensuring that the interior design and architecture engage every customer in the right way. The design incorporates a high level of digital interaction, with high quality video used to actively engage visitors.
The result is a welcoming branded space where every customer feels comfortable browsing and is motivated to purchase.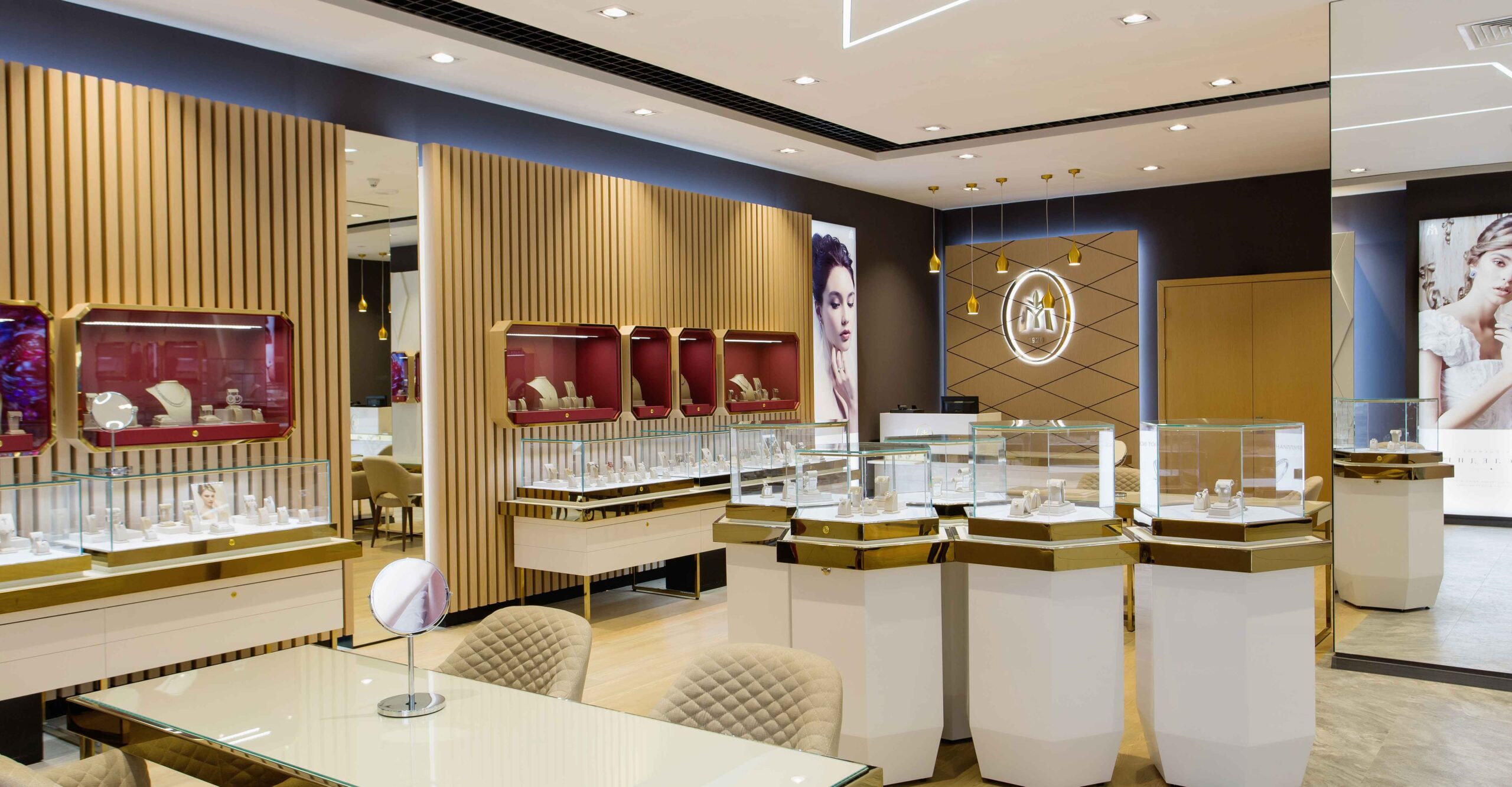 'The new retail concept has provided an incredible boost to our brand's image. Our customers and staff have truly welcomed the flagship concept and this has been reflected in our sales, which have grown by 30-35%. The combination of planning, product display and digital presence has helped us move our offer beyond what we had anticipated.'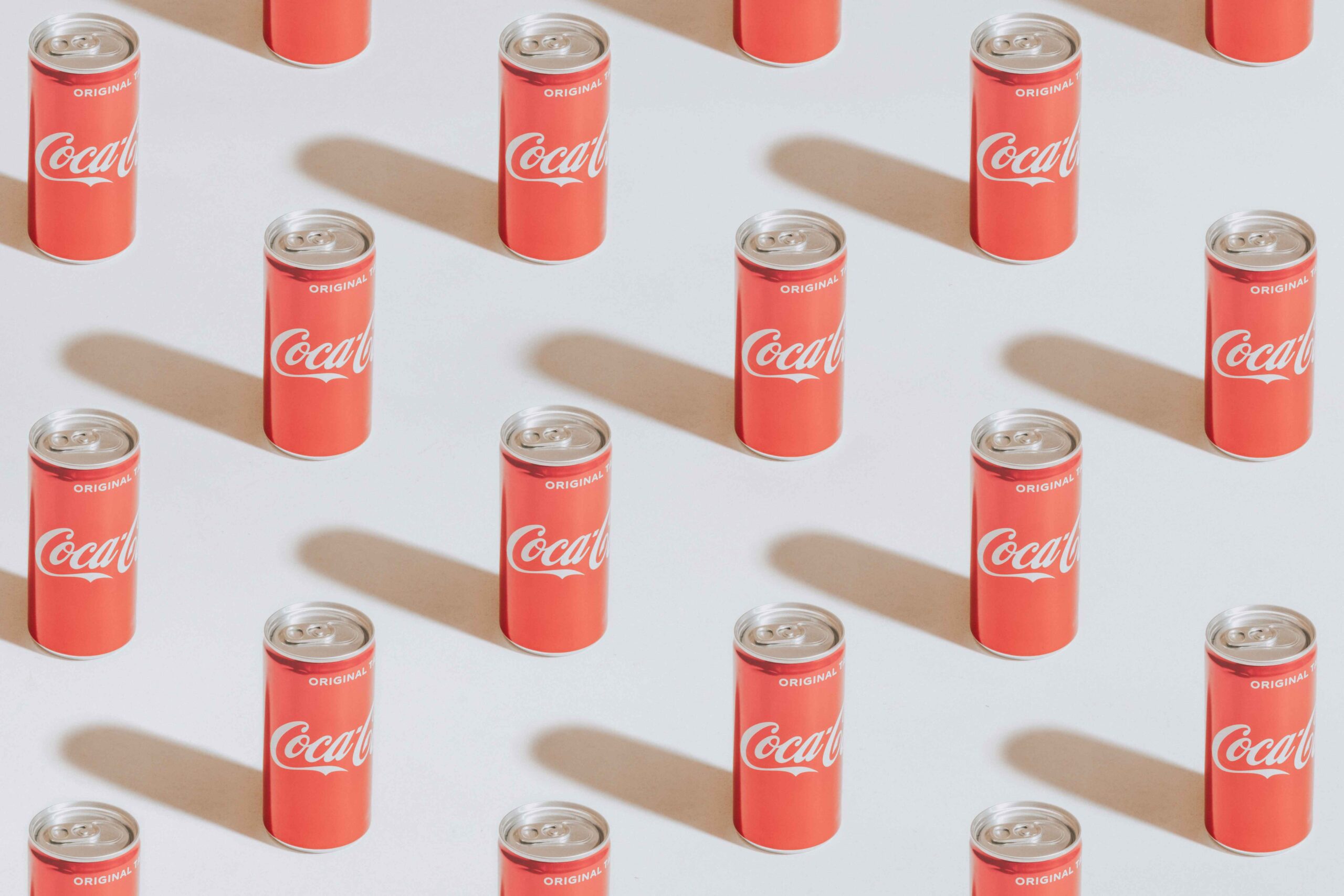 THE BRIEF
Glimma was asked to rebrand and refurbish the reception area at the head office of Coca-Cola HBC.
As the largest Coca-Cola bottling company in Europe, they operate two plants in Hungary, employing in excess of 1,000 people.
'The GLIMMA team came up with comprehensive branding solutions for our office refurbishment, creating a vibrant and cohesive welcome space. From large scale graphics to finer details such as choice of furniture, the thought that has gone into the design and execution has been impressive at every stage.'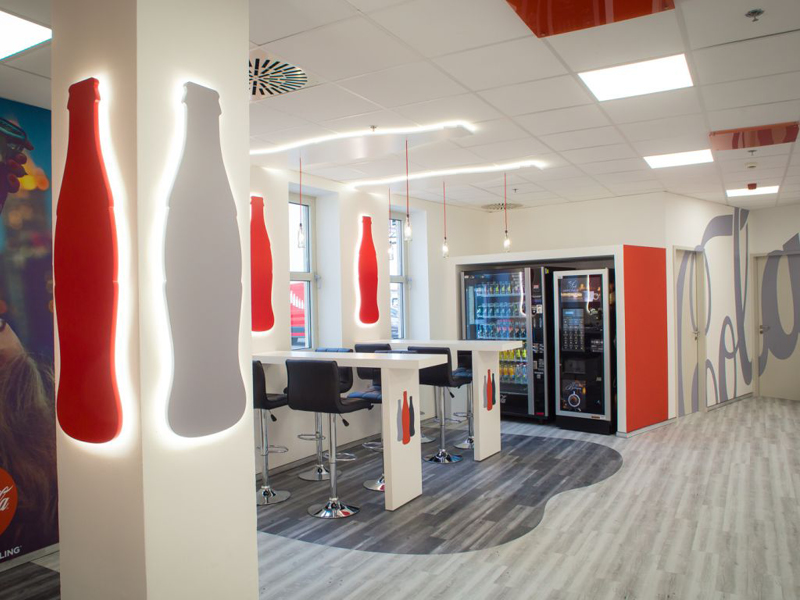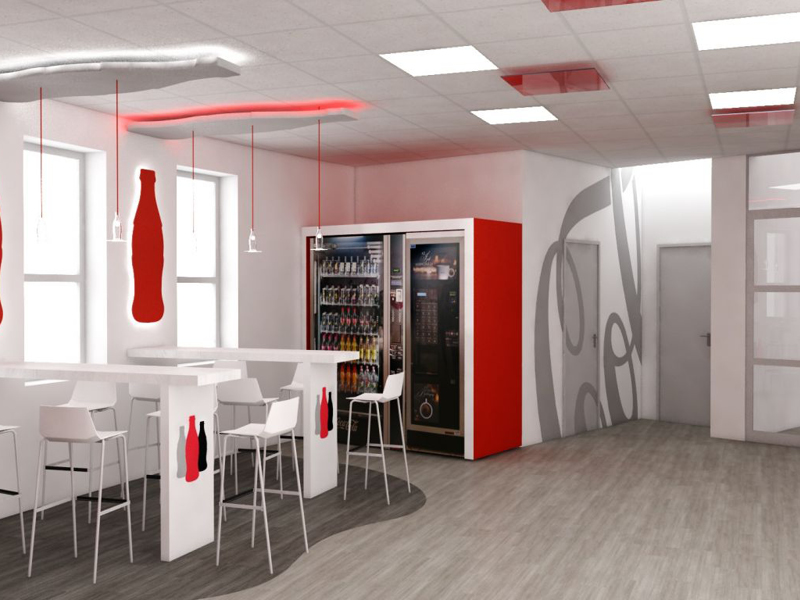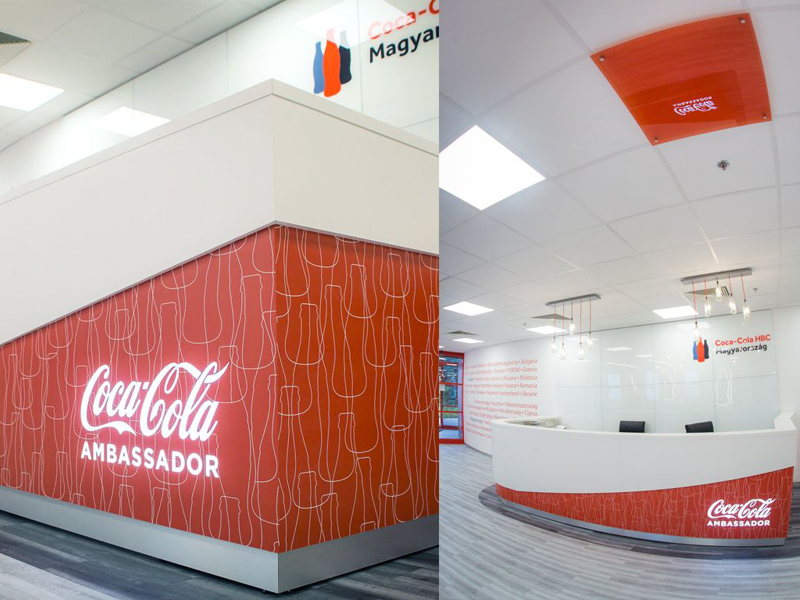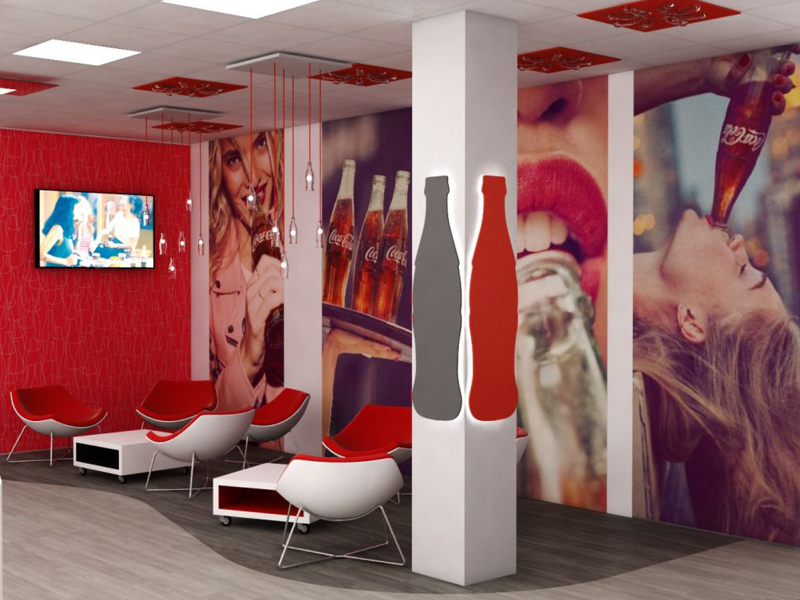 WORKPLACE BRANDING — DELIVERING THE EMPLOYER BRANDING
This workplace rebrand was part of a renovation programme which also included the factory.
The design centres around the classic Coca-Cola bottle shape. With this central theme, we adopted a holistic approach to create an immersive environment for employees. We helped to design, specify, source and install on-brand items to create a positive employee experience :
— Seating
— Reception furniture
— Flooring
— Lighting
— Vinyl wall decoration
— A custom-made bar
— Digital Signage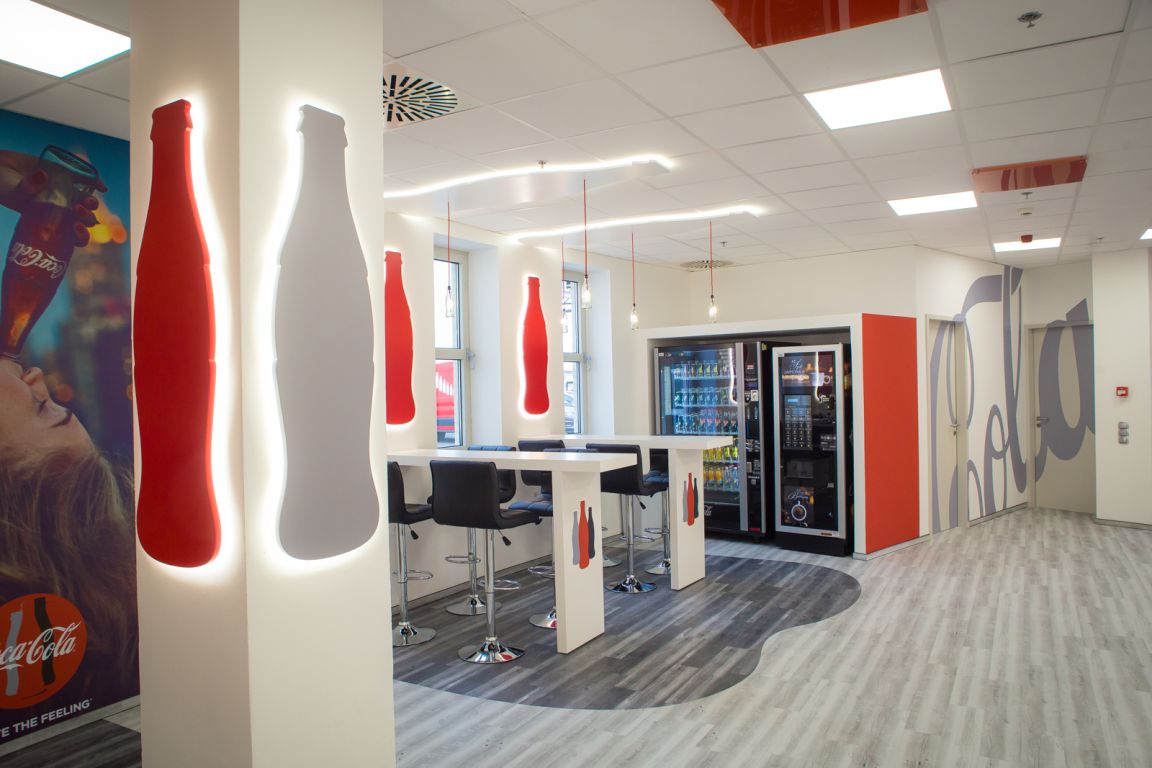 The 80m2 reception is the welcome and transit area for more than 500 employees and visitors daily.
From brief to installation, the refurbishment was delivered within 4 weeks. To minimise disruption we completed the installation within two days.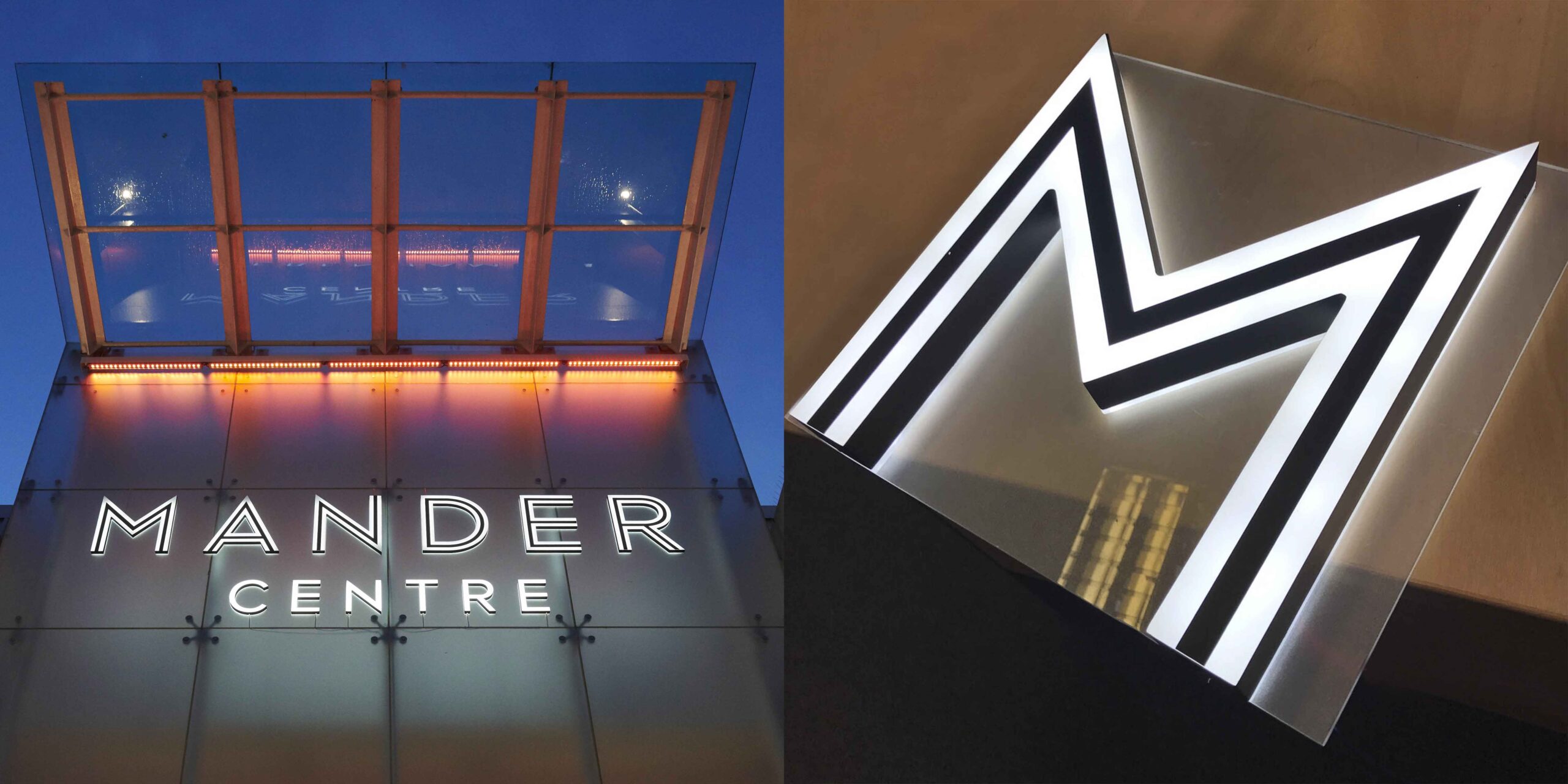 THE BRIEF
To breathe new life into the Mander Centre, a 1960s retail destination in Wolverhampton, UK. To create a new tenant mix that will attract a different profile of shopper and encourage them to stay longer.
At 52,500 m2 gross leasable area, the Mander Centre is the largest shopping centre in Wolverhampton, a lively city with a catchment of over 584,000 residents and attracting over 17 million visitors a year.
The centre was purchased by Benson Elliot in 2014. They commissioned the most significant redevelopment programme to date. The £35 million investment includes a new flagship Debenhams department store of 9,400m2, along with 10 other retail stores.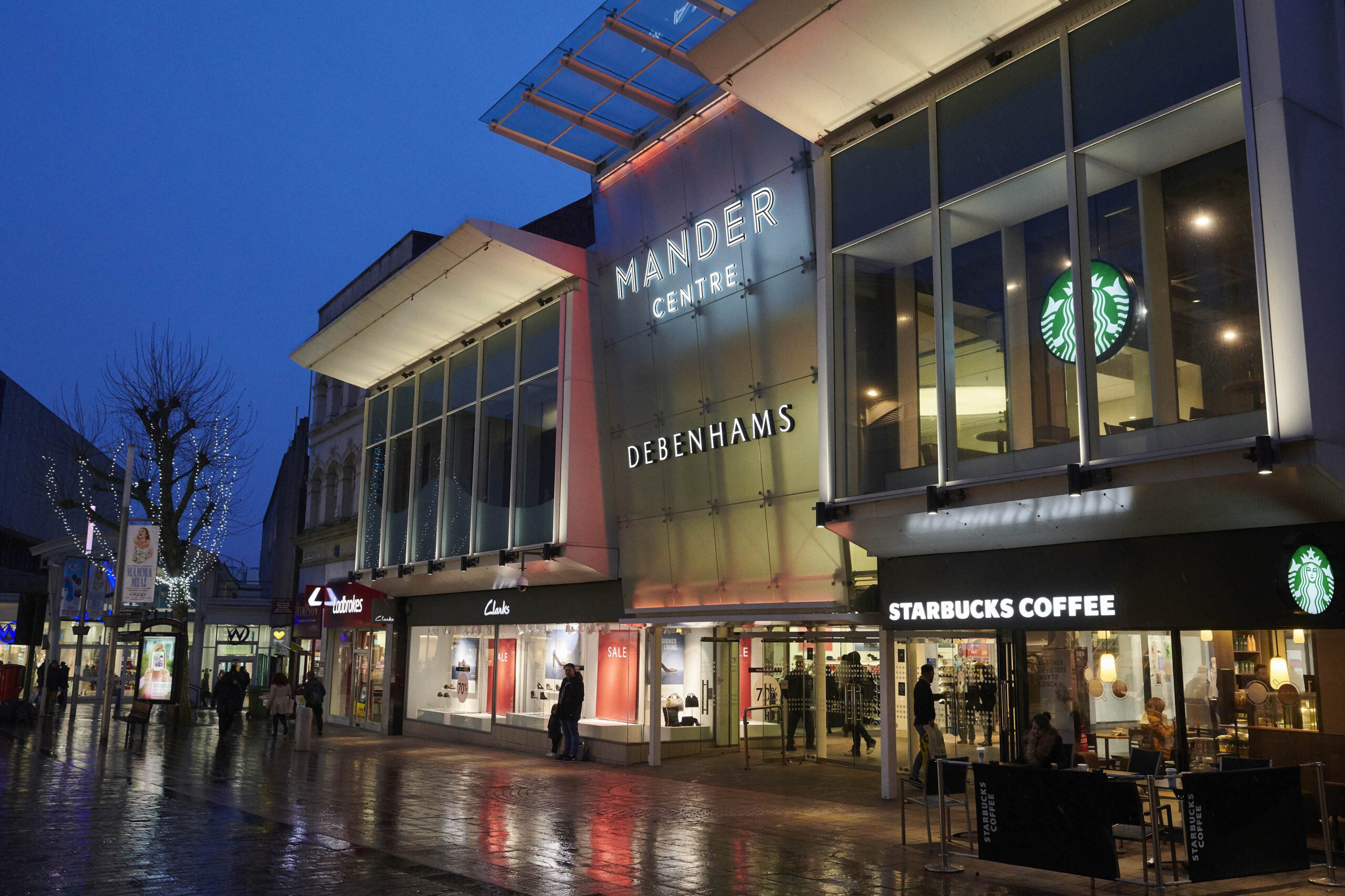 Mander Centre entrance vibrant lighting scheme
The key design features are the main entrances. The introduction of new signage and a vibrant lighting scheme ensures that the centre stands out and is welcoming, attracting visitors both day and night.
The dramatic transformation continues inside with contemporary and intuitive wayfinding signage to enhance the visitor experience, strategically located by newly installed lifts and escalators.
'The design team at GLIMMA immediately understood the brief and ran with it, producing design concepts that hit the mark with all stakeholders, from architects to the individual retailers. Their innovative ideas were readily translated into signage and lighting solutions that have dramatically transformed the Mander Centre, making it the retail destination of choice for the people of Wolverhampton.'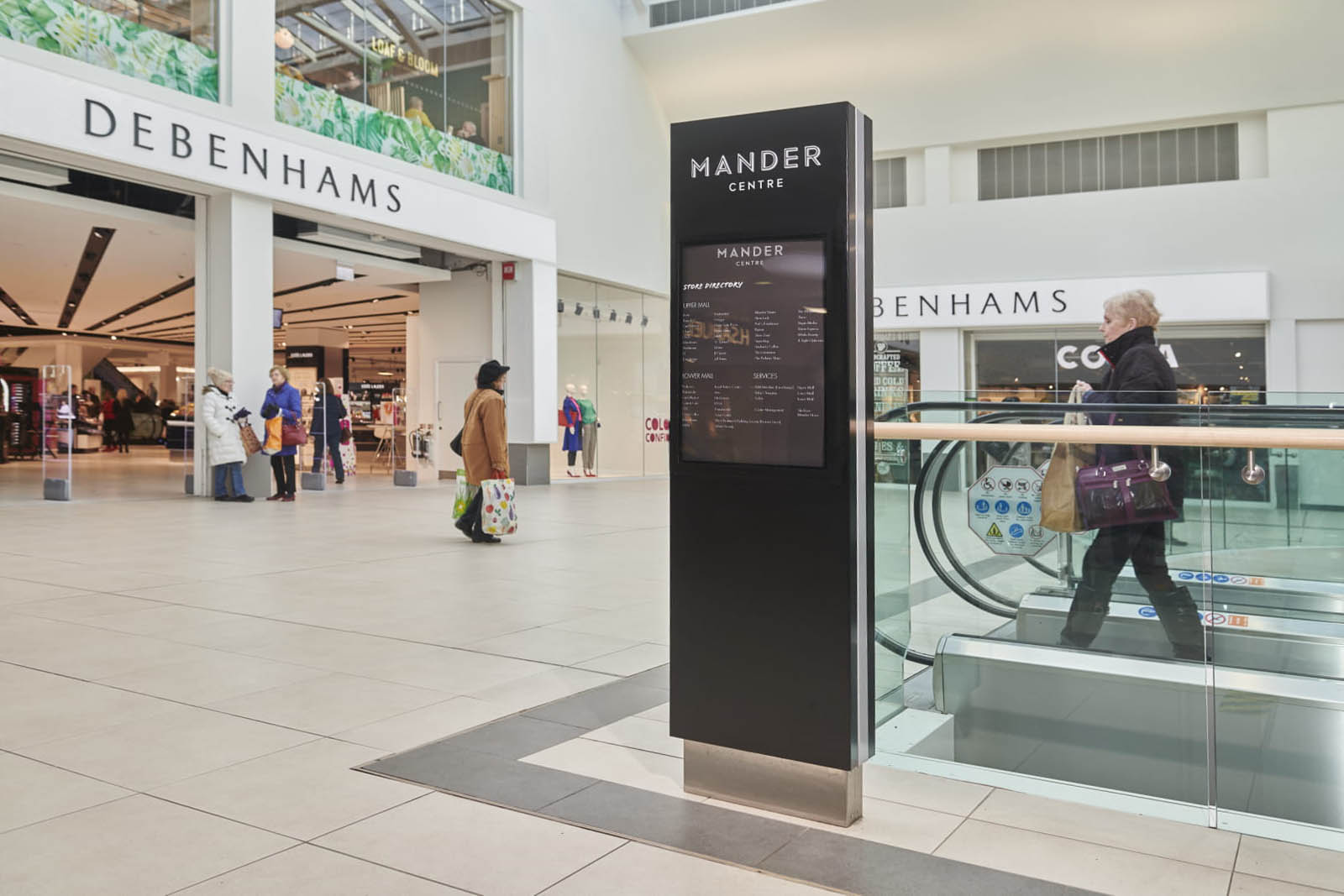 Contemporary and intuitive wayfinding signage to enhance the visitor experience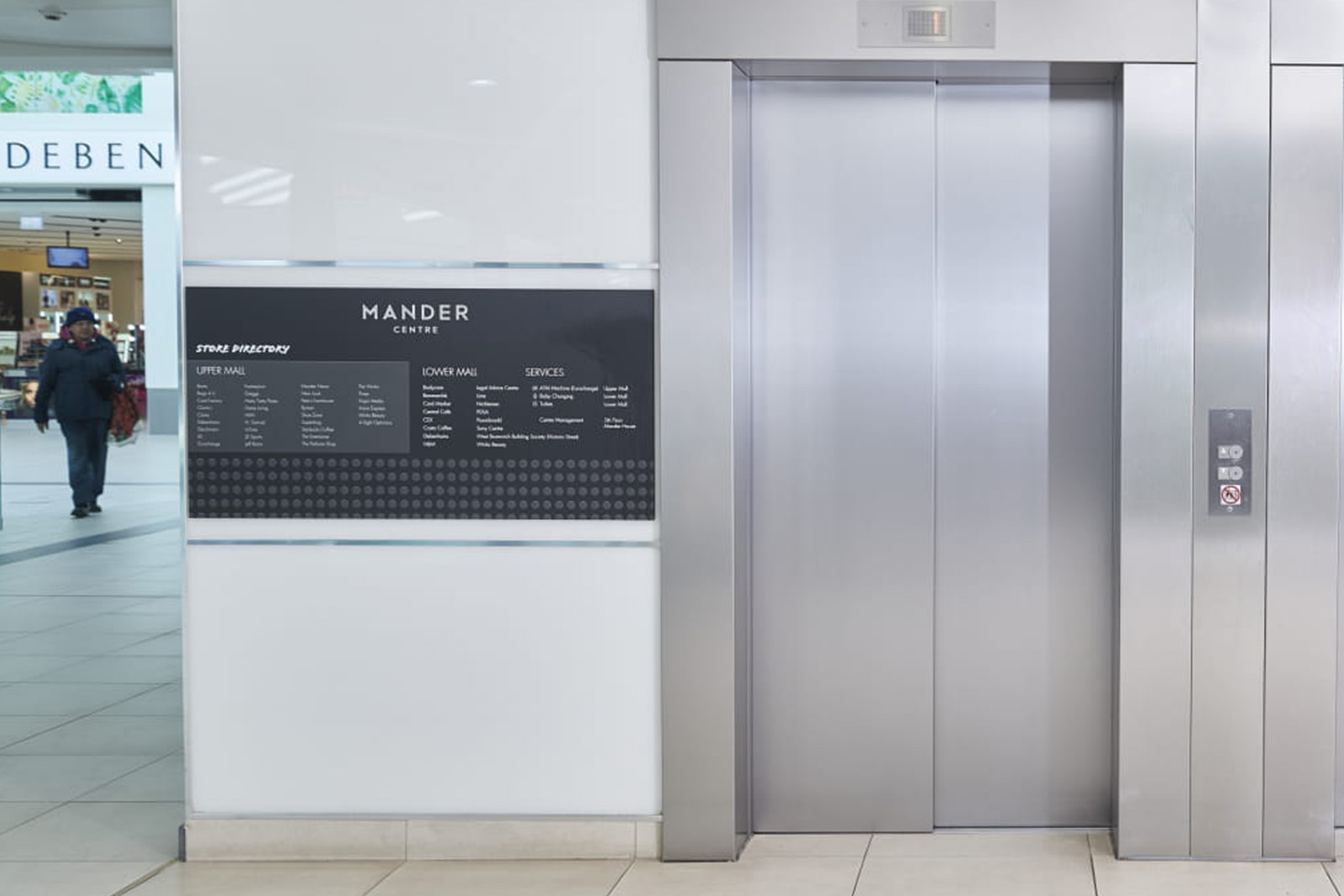 A customer journey with impact
These environmental enhancements have not only transformed the appearance of the centre but also helped to change shopper behaviour. The customer journey is carefully managed, encouraging visitors to stay longer and enjoy the wider food and entertainment experience that the Mander Centre now has to offer.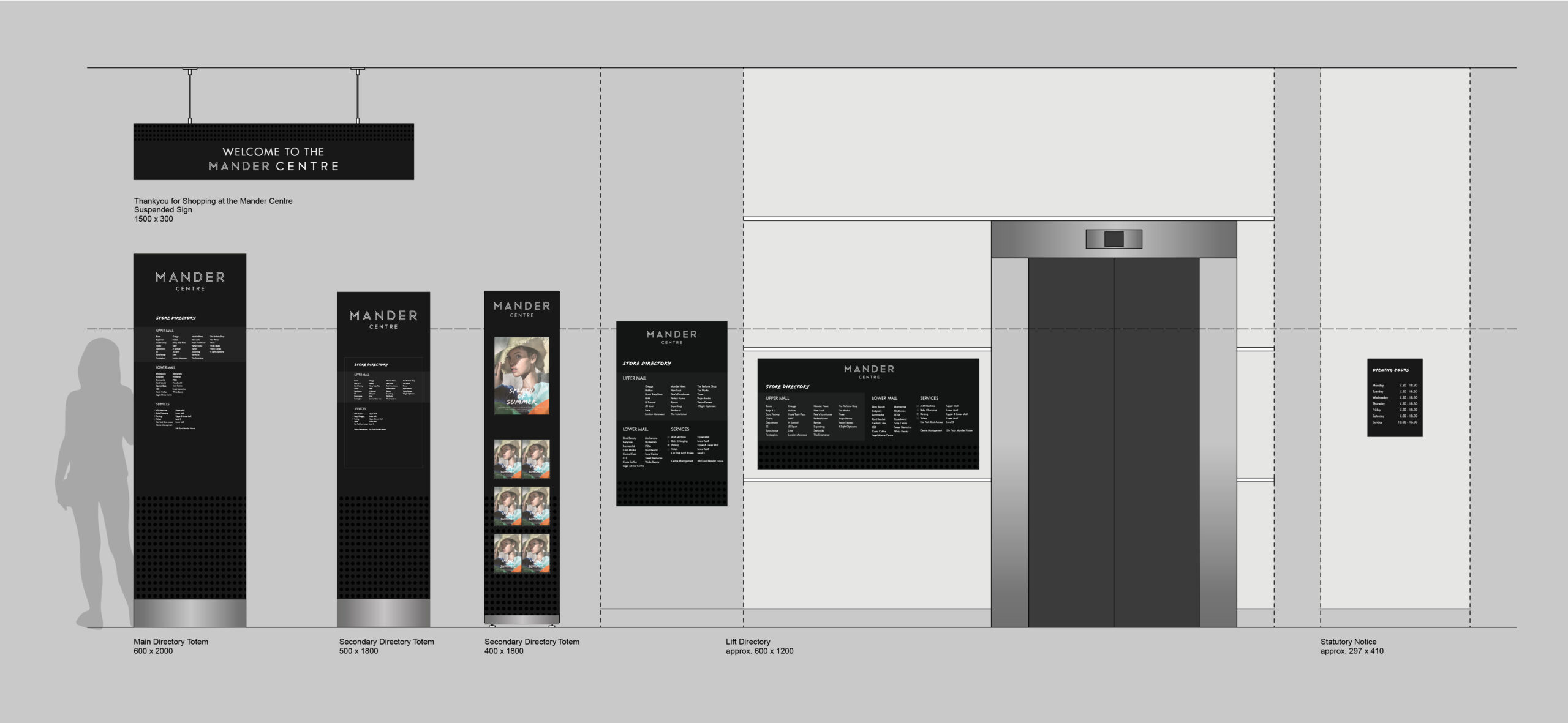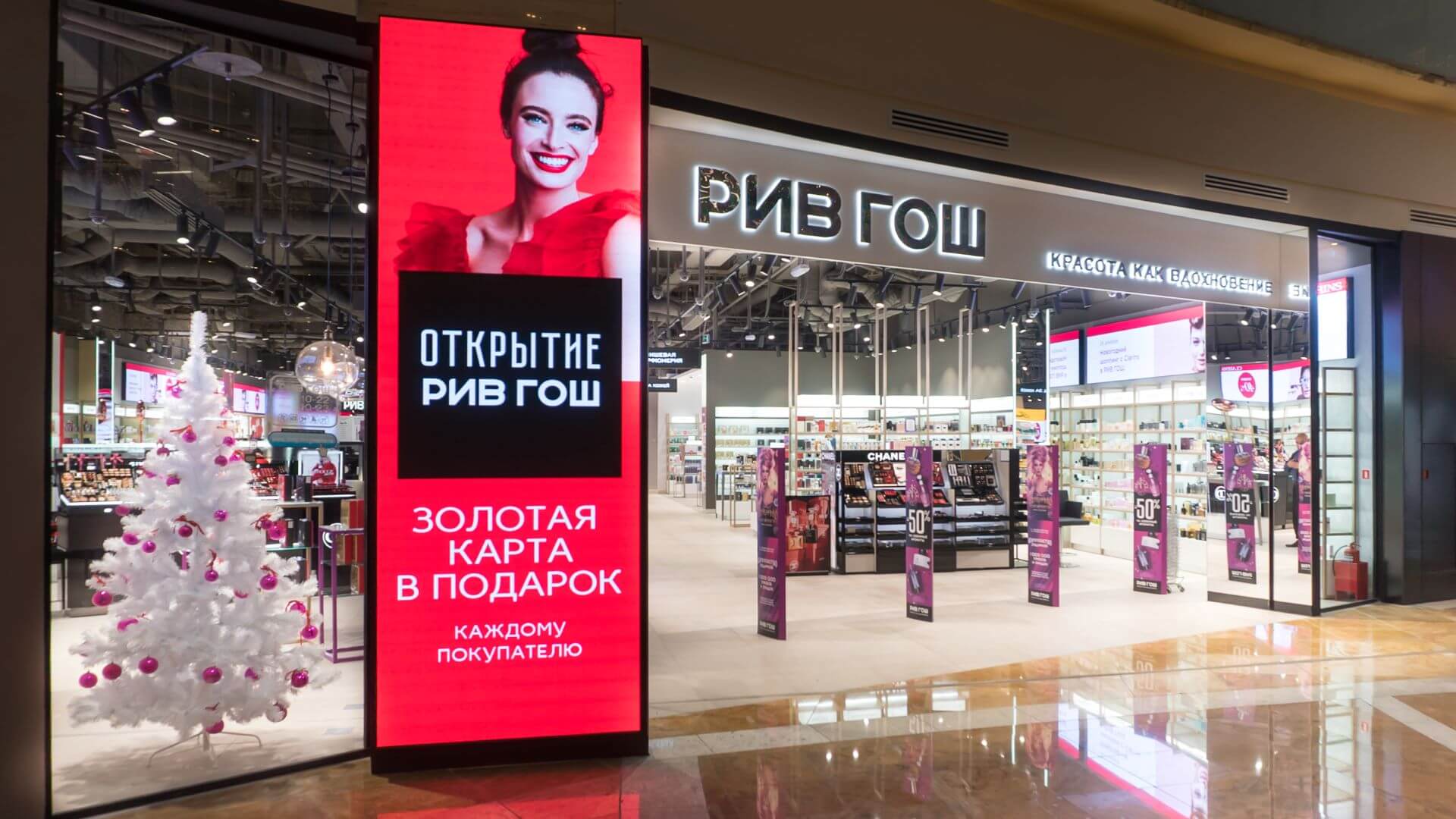 THE BRIEF
To create and deliver a new brand identity and store concept for Rive Gauche, a leading cosmetics retailer.
With 250+ stores across Russia, Rive Gauche is one of Russia's largest beauty retailers, selling brands such as Chanel, Givenchy and Dior, in addition to their own brand make-up.
BRAND STRATEGY AND DESIGN
Working with Rive Gauche's brand and marketing leaders, our G CREATIVE team in London helped to define a new brand hierarchy. Following indepth analysis – market and brand position, target audiences, tone of voice and extensive retail benchmarking – we developed a new brand identity and retail concept.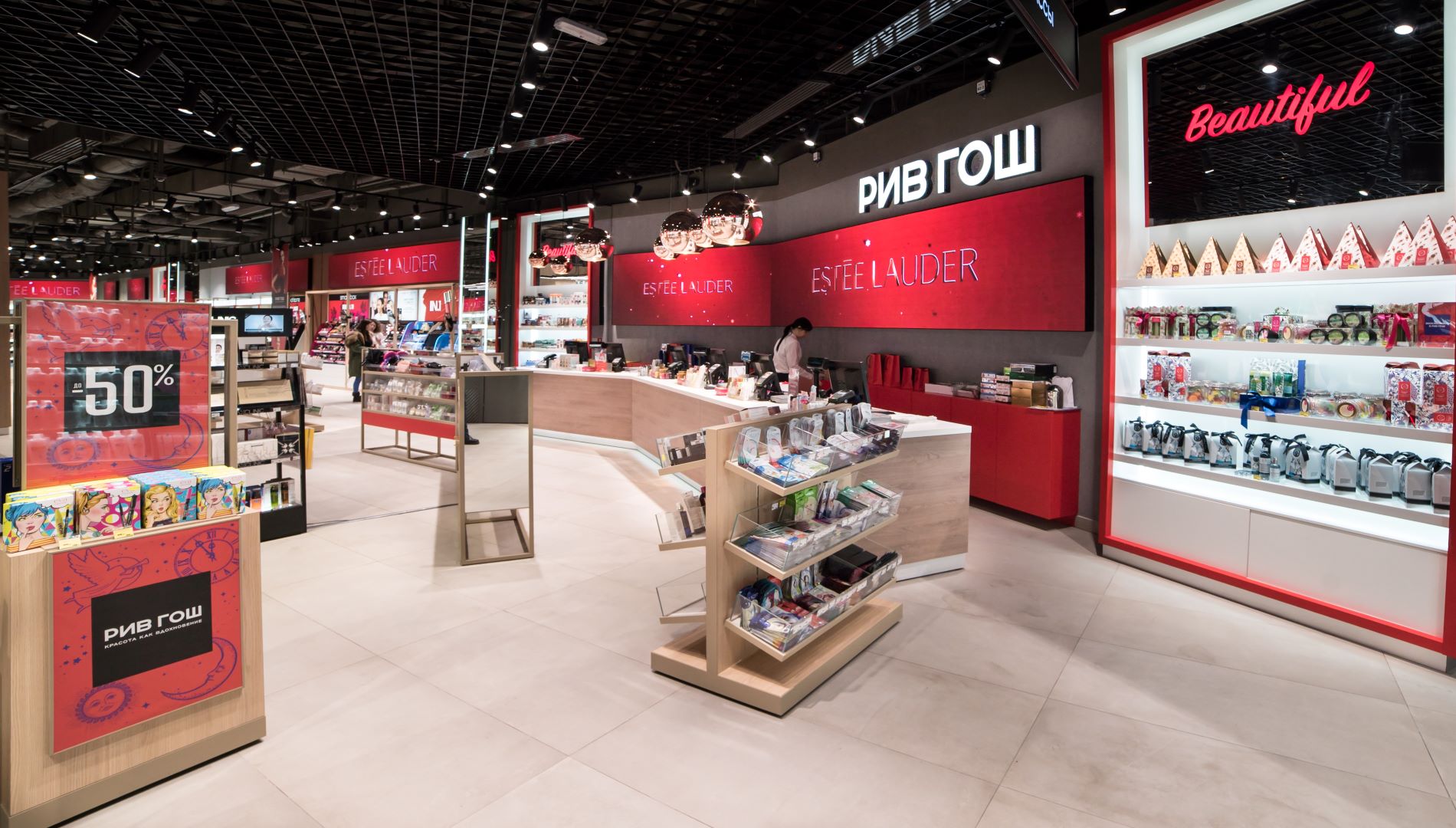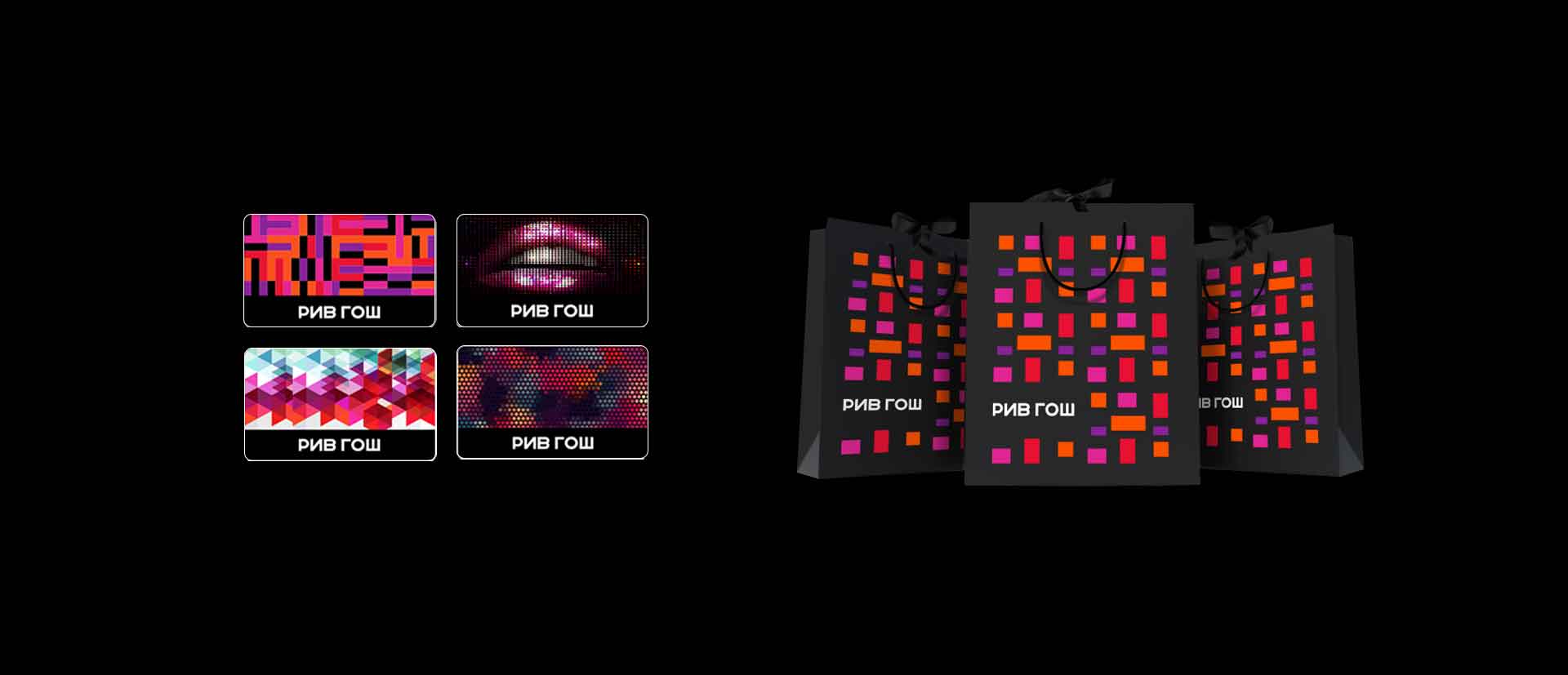 EVERY BRANDED ITEM IS DESIGNED TO MAKE A STATEMENT
The new identity has been applied across all product ranges, merchandise and instore.
Bags are important merchandise – we designed them with everyday luxury in mind. This was incorporated into the shopping bag design, strongly implying the quality of both the products and the customer experience.
The Customer Loyalty cards are clearly distinguished through choice of colour. A variety of card holders help to personalise the experience, allowing individual customers to choose the design that best suits their personality.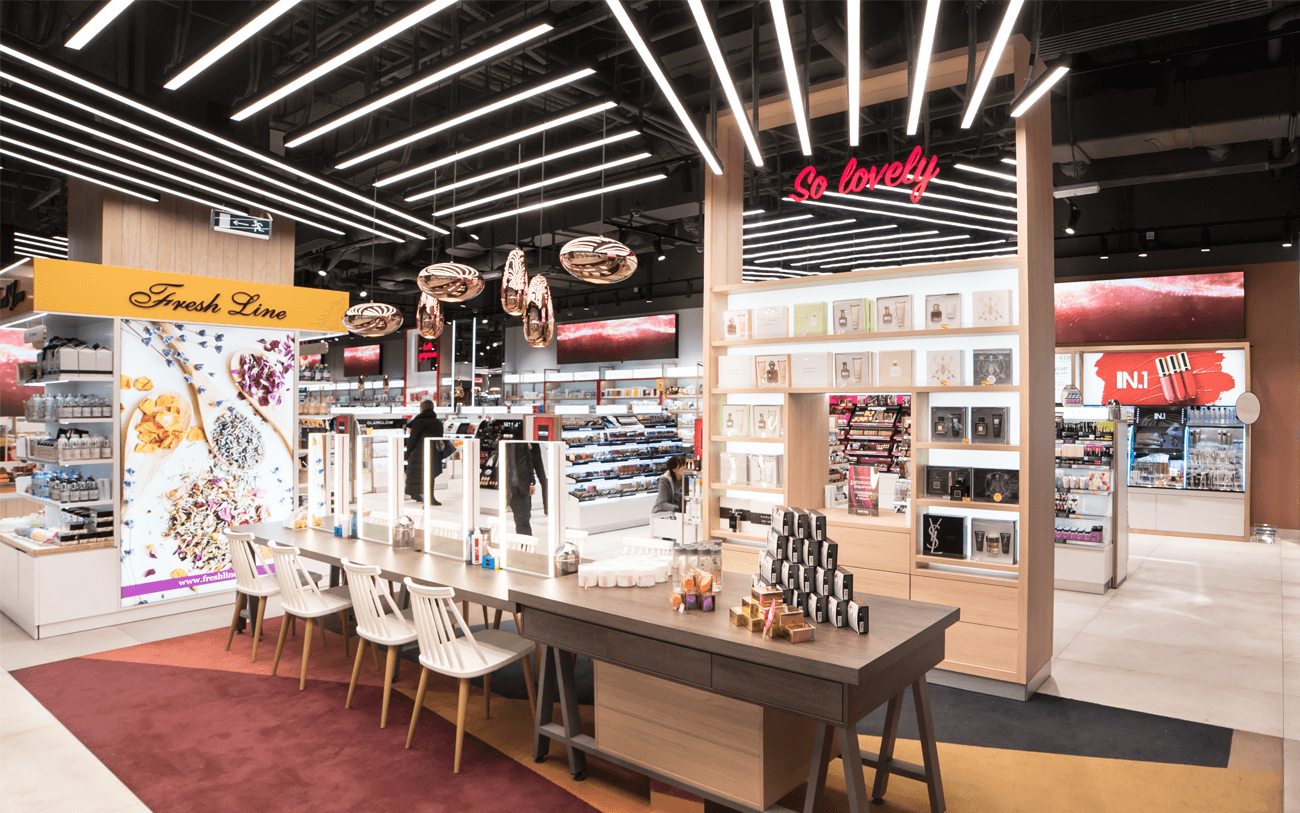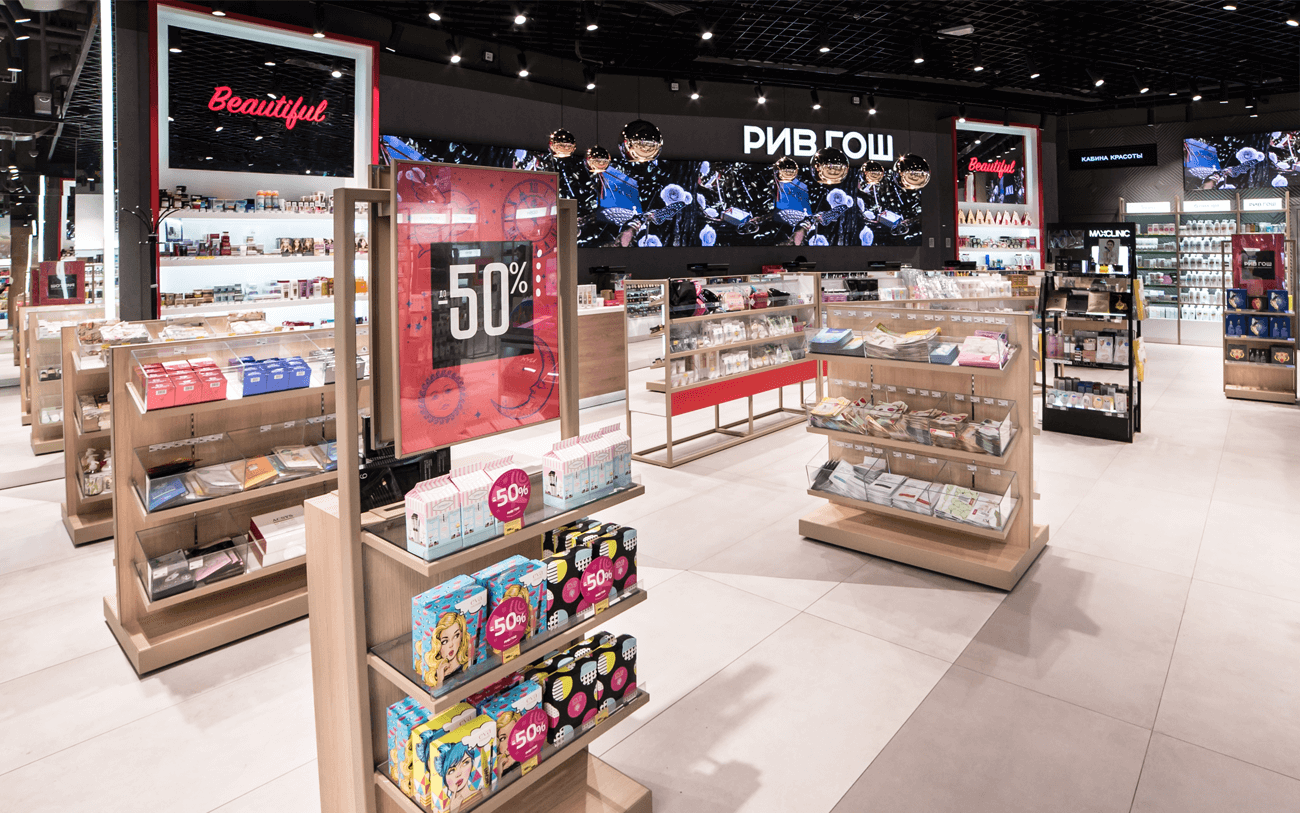 TRANSLATING THE BRAND DESIGN INTO THE PHYSICAL RETAIL SPACE
The brand vision was encapsulated into our store designs: clear and spacious floor plans, differentiated brand zones, focused promotional areas, unified graphics and formats and consistent clear signage to create a pleasant and easy customer journey that is appealing to the eye. Brand colours were implemented throughout.
Digital was a key element, creating energy and movement to catch the eye of customers and draw them into the store, into particular zones or to specific products.
We implemented the new retail concept at their 600m2 flagship store in the AFIMALL shopping centre in Moscow.
'Our new brand positioning represents a big step towards achieving our marketing goal of strengthening our leadership position. The G Creative team were able to quickly and precisely understand our objectives, translating them into a vibrant and relevant design. But perhaps more importantly, they have succeeded in making the new brand become alive instore, to create a unique customer experience.'
The end result is a warm welcoming environment. The openness encourages visitors to linger and browse.
The use of natural finishes and clean lines, the careful choice of lighting and illumination… all these elements help to create a ambience and look that ensures Rive Gauche stores will stand out from its competitors.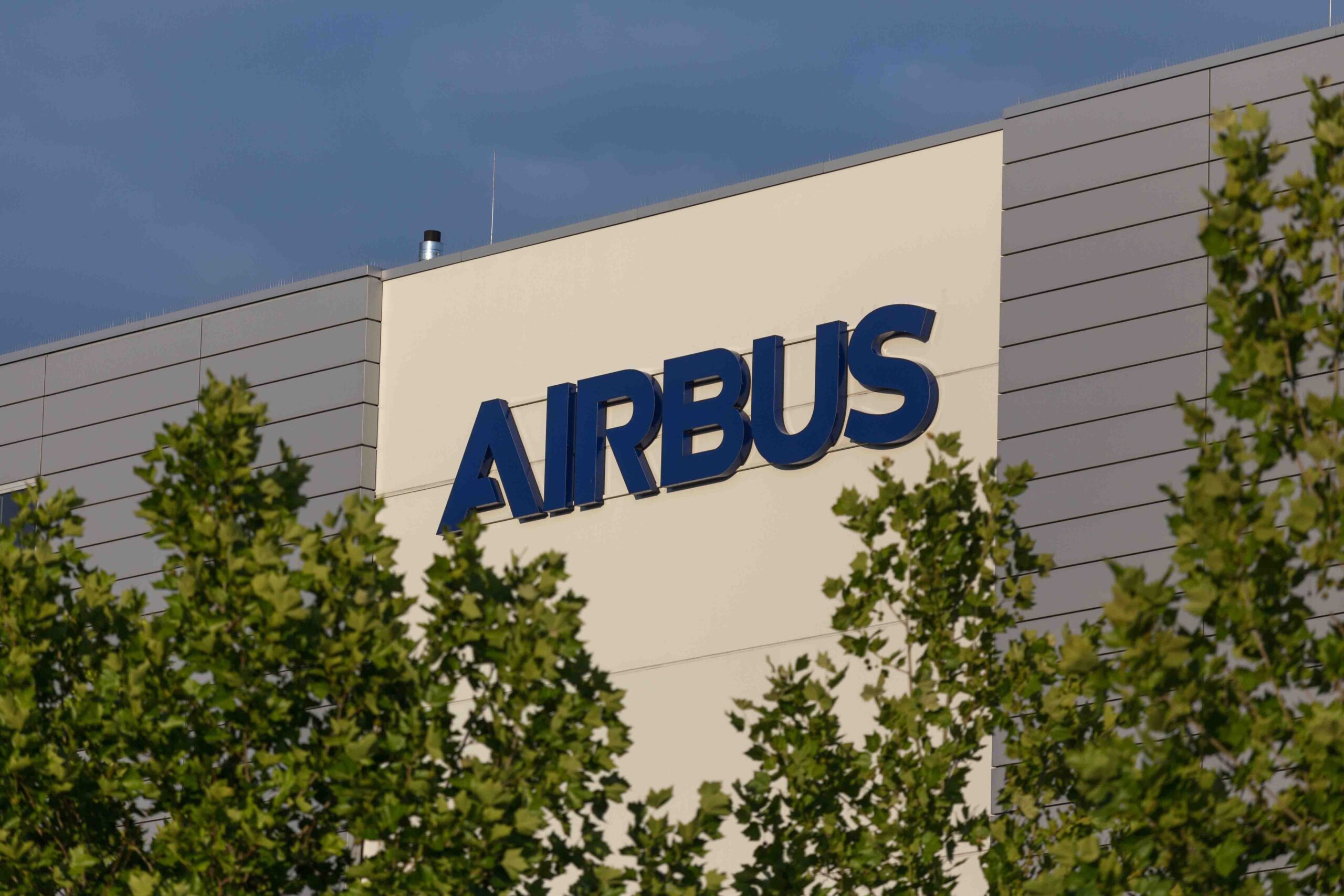 THE BRIEF
To roll out the strategic rebrand for Airbus, with a focus on signage and wayfinding, at 118 sites, across 26 countries in five continents.
THE AIRBUS GROUP
Airbus is a global leader in aeronautics, space and related services, offering the most comprehensive range of passenger airliners. It is also a European leader in tanker, combat, transport and mission aircraft, as well as one of the world's leading space companies. In helicopters, they provide civil and military rotorcraft solutions worldwide.
'When facing a rebrand of this scale, it is often difficult to bring together the right team internally to make it happen within the timescale required. By working with GLIMMA, we were able to efficiently rollout the new signage and wayfinding branding globally. The central team brought technical knowledge and expertise. By using their extensive global network we were able to ensure that the work was completed on time and within or below budget, leaving us to get on with our day jobs.'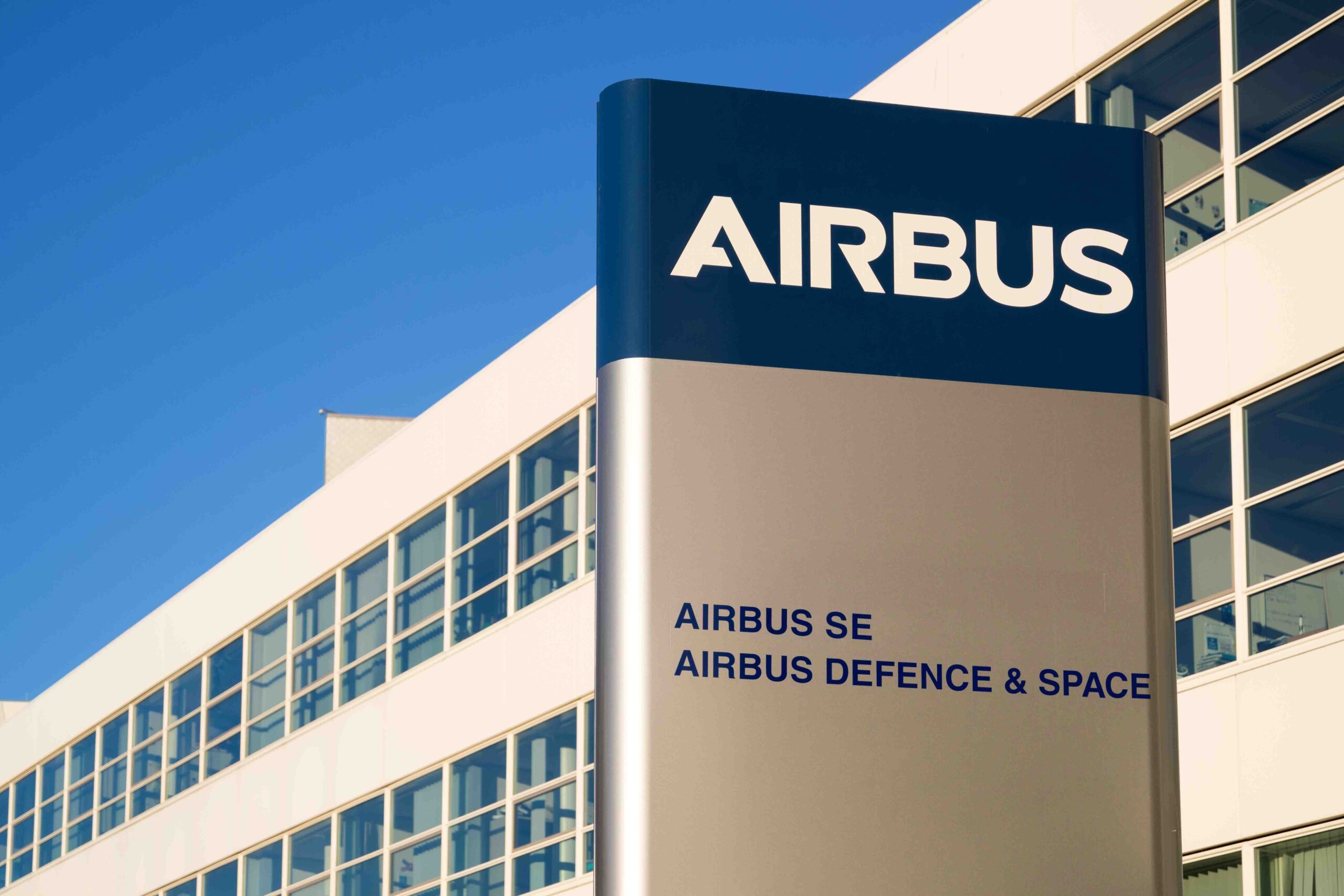 UTILISING LOCAL POWER 
With carbon footprint front of mind in this rebrand, we adopted a sustainable approach, opting for local production to minimise transportation costs and environmental impact.
We started by technically translating their brand guidelines, to ensure the designs and renders could be used for local tender – reducing time, manufacturing and shipping costs.
Following the success of the rebrand, we continued to work with Airbus on the rebrand of 60+ Helicopter service centres across 17 countries, this time focussing on illuminated signage solutions too.
FLEXIBLE PROJECT MANAGEMENT
Using a flexible timeline, we adopted a phased approach, working with the Airbus branding and facility management teams to identify priority sites and ensure minimum disruption to day to day operations.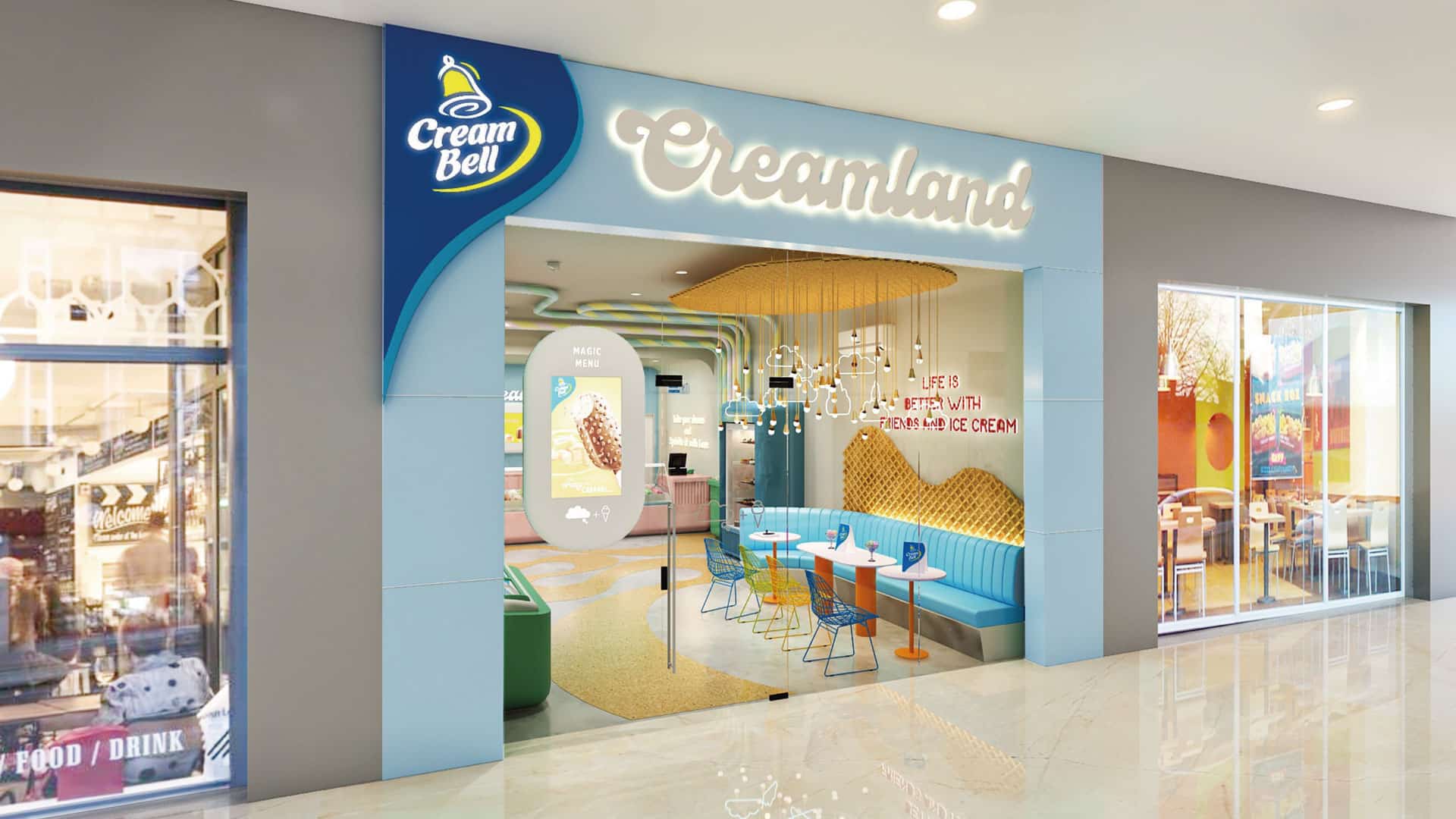 MAGNIFYING THE ICE CREAM EXPERIENCE
Creambell Ice Creams has a national presence with a disproportionate awareness and equity in North India. GLIMMA'S objective was to celebrate and magnify the ice cream experience thru their parlours by creating fun & excitement that is driven thru design and to design a unique visual identity for Cream Bell Parlors that will not only draw the consumers in but also set the brand distinctly apart from its competitors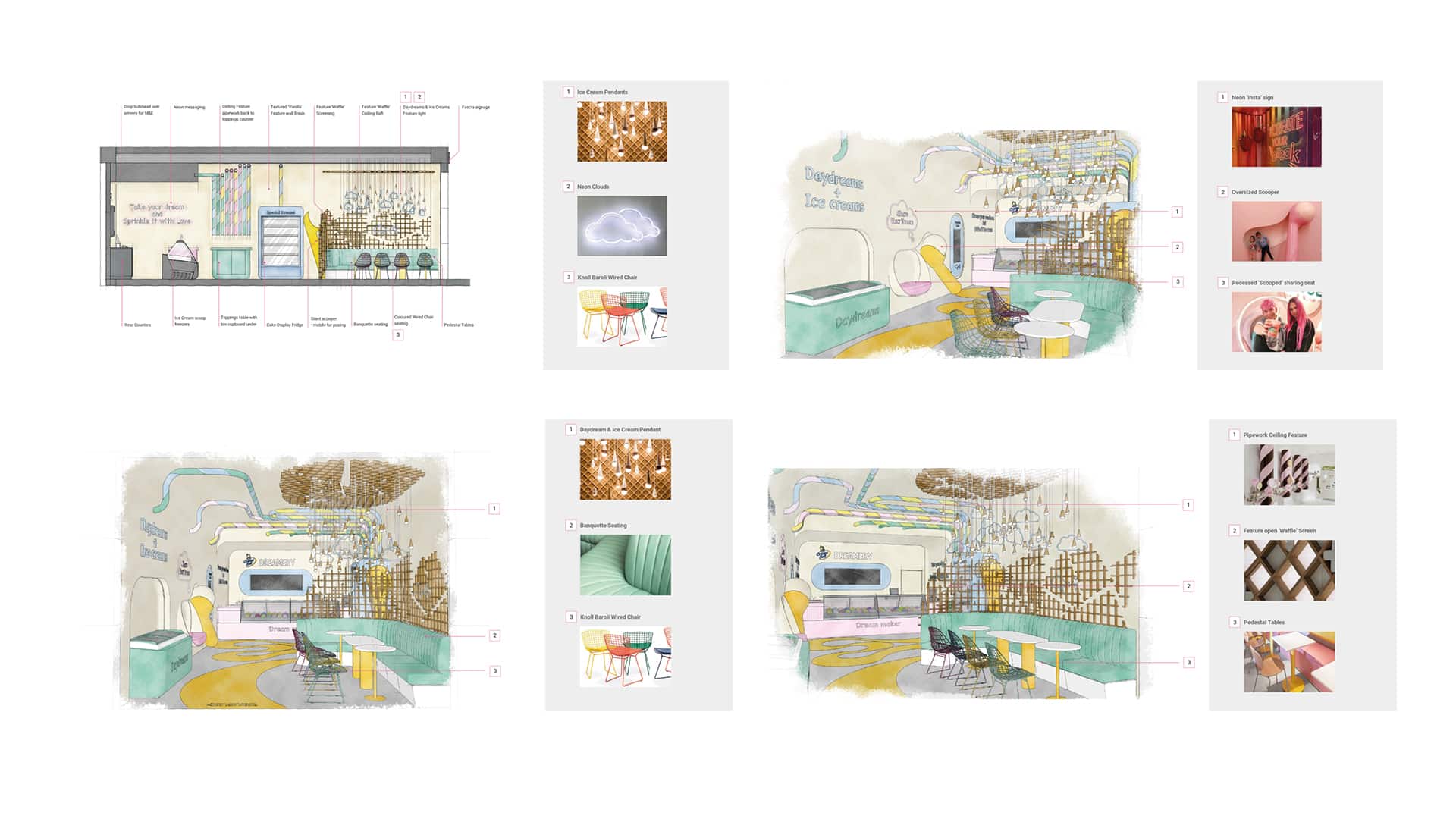 Interior architecture & design sketches
STORE CONCEPT– "Life is Better with Friends and Ice Cream"
With a concept routed in the simple enjoyment we experience when eating an ice cream, instilled with memories of childhood, and the excitement and joy of the discovery of something new, Cream Bell "CreamLand" provides a space where you can re-engage with that childlike wonder and discover the many flavours of Cream Bell.
Taking cues from the wave of experiential venues and the rise of gamification in the retail playground along with the 'on trend' design styling from the latest contemporary sweet treat retailers, the interior offers a sense of fun and curiosity with a bright internal palette, coupled with simple 'soft' and oversized forms to create a moment of childlike escapism balanced with a contemporary edge.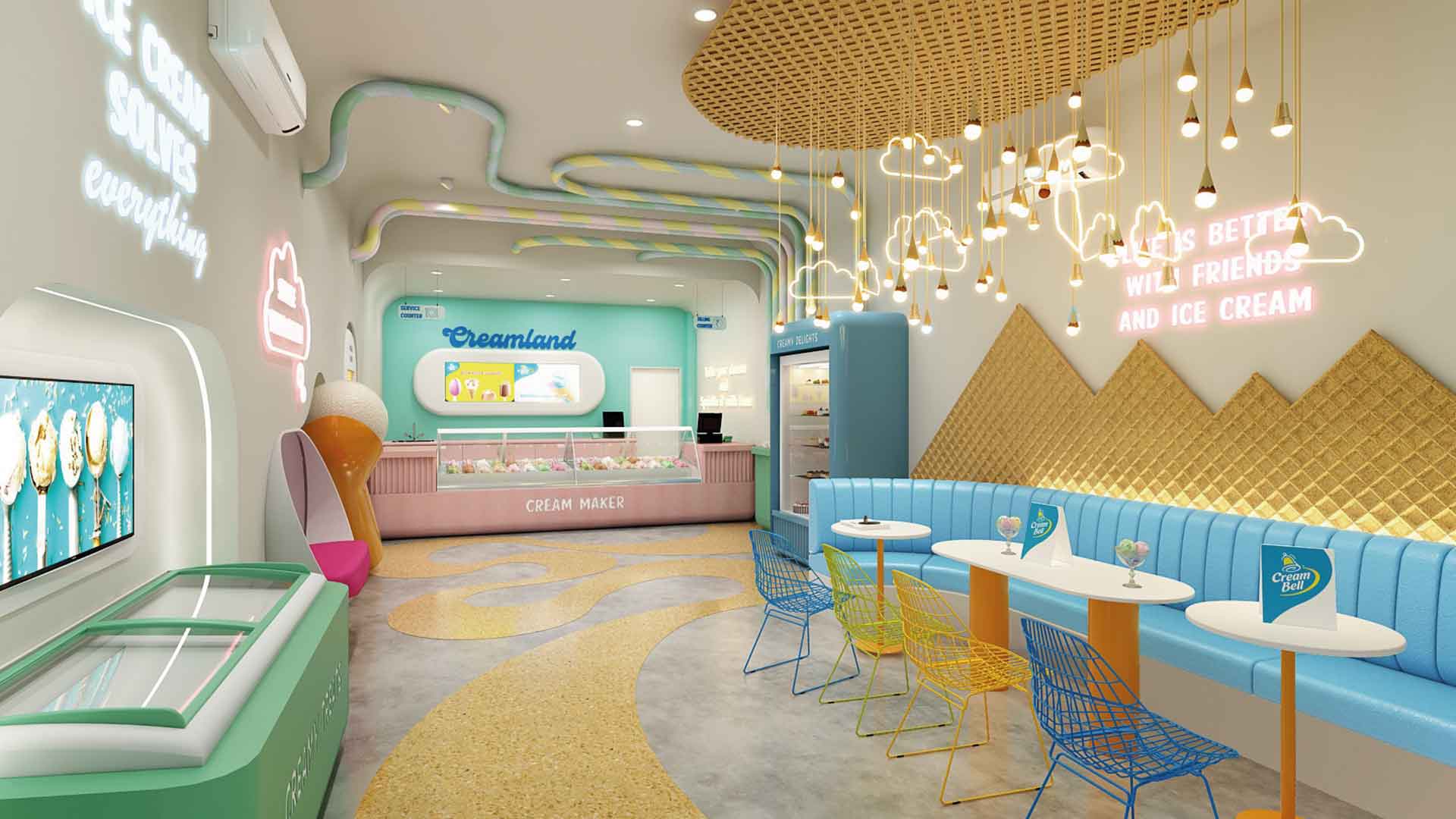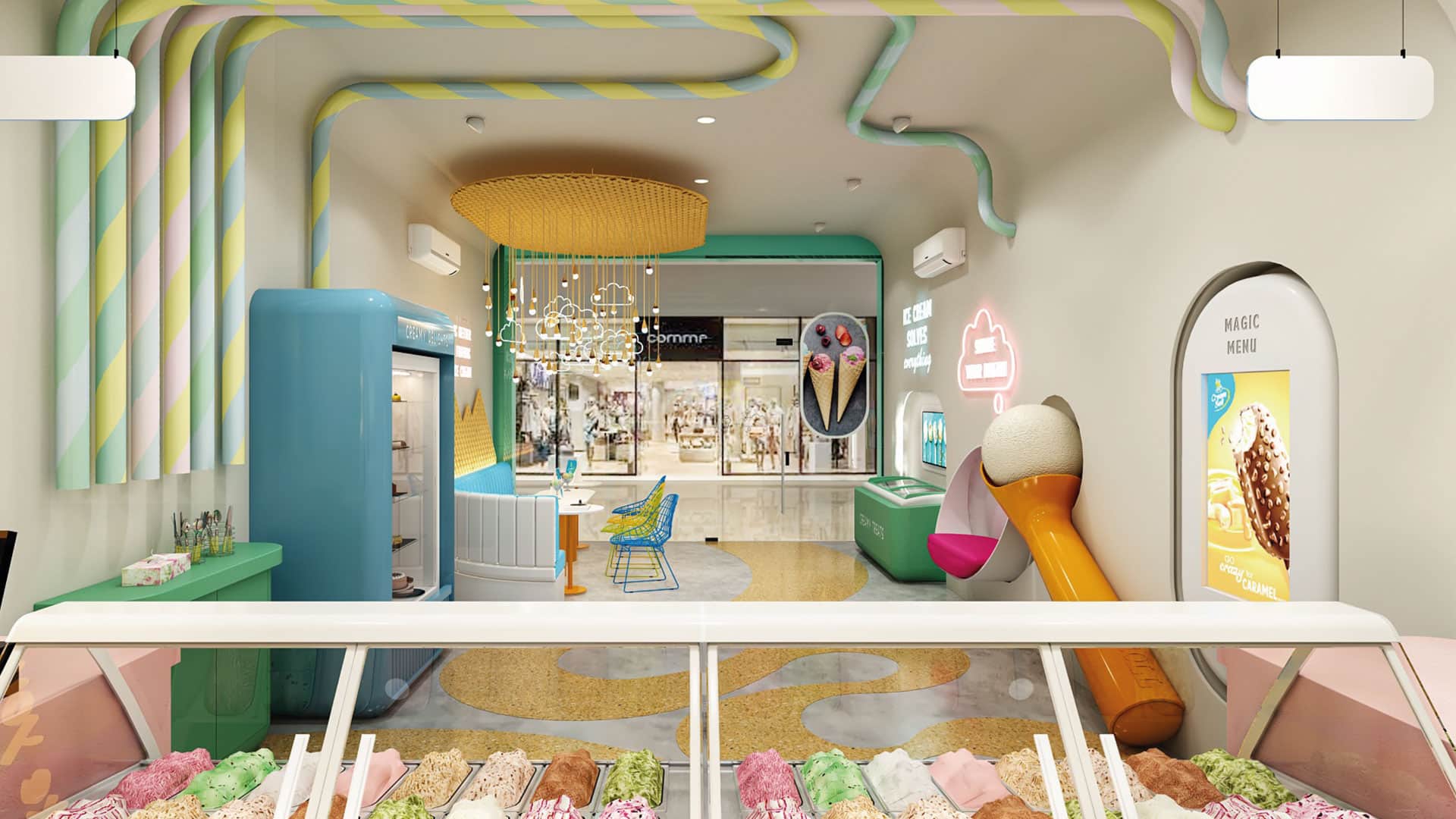 The interior palette was inspired by the colours and textures of the desserts themselves, the softer forms, the vibrant tones tempered by hues of vanilla and creams, with warm tones of the waffle, its regimented pattern rolled or fractured in to shards.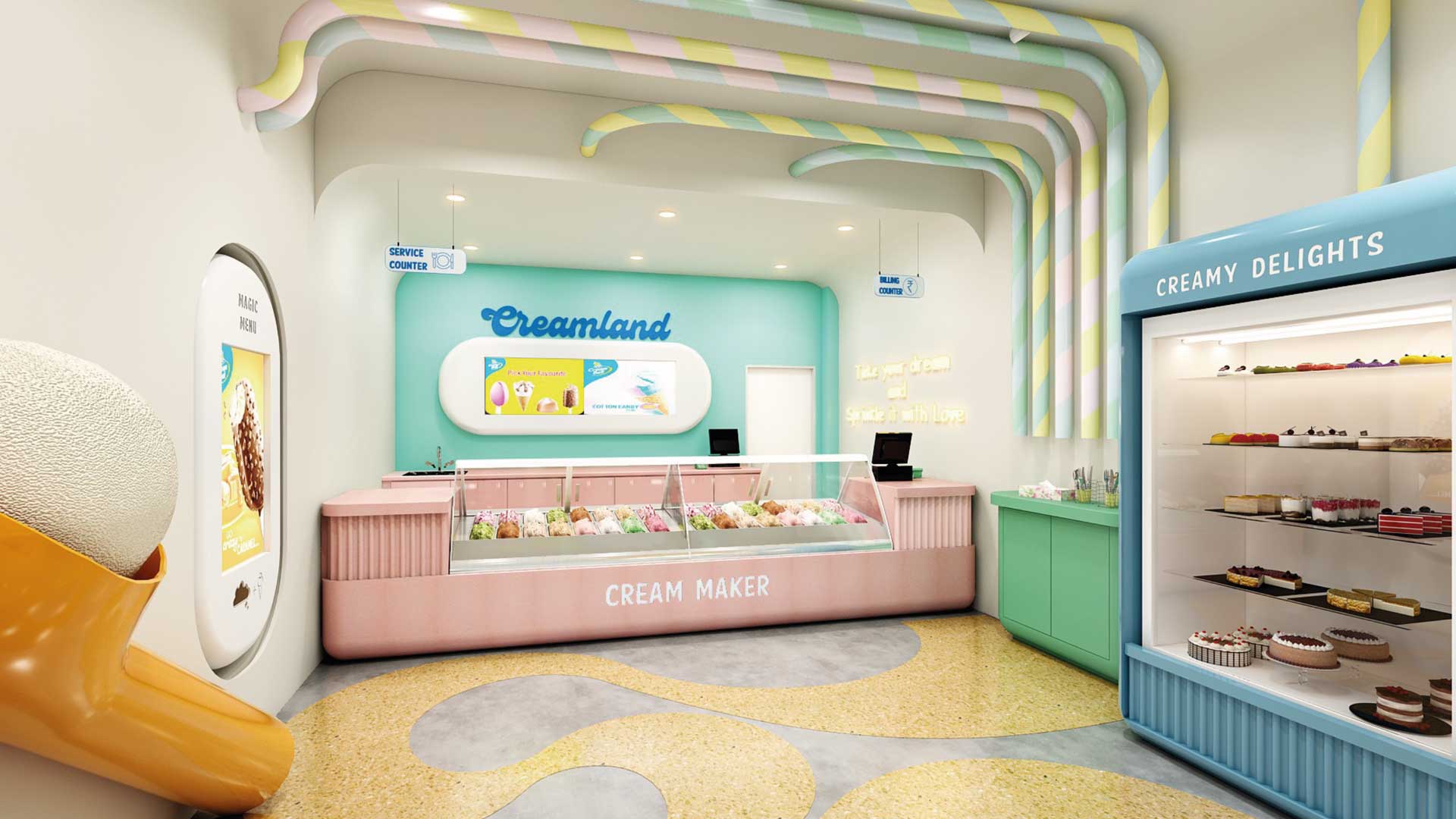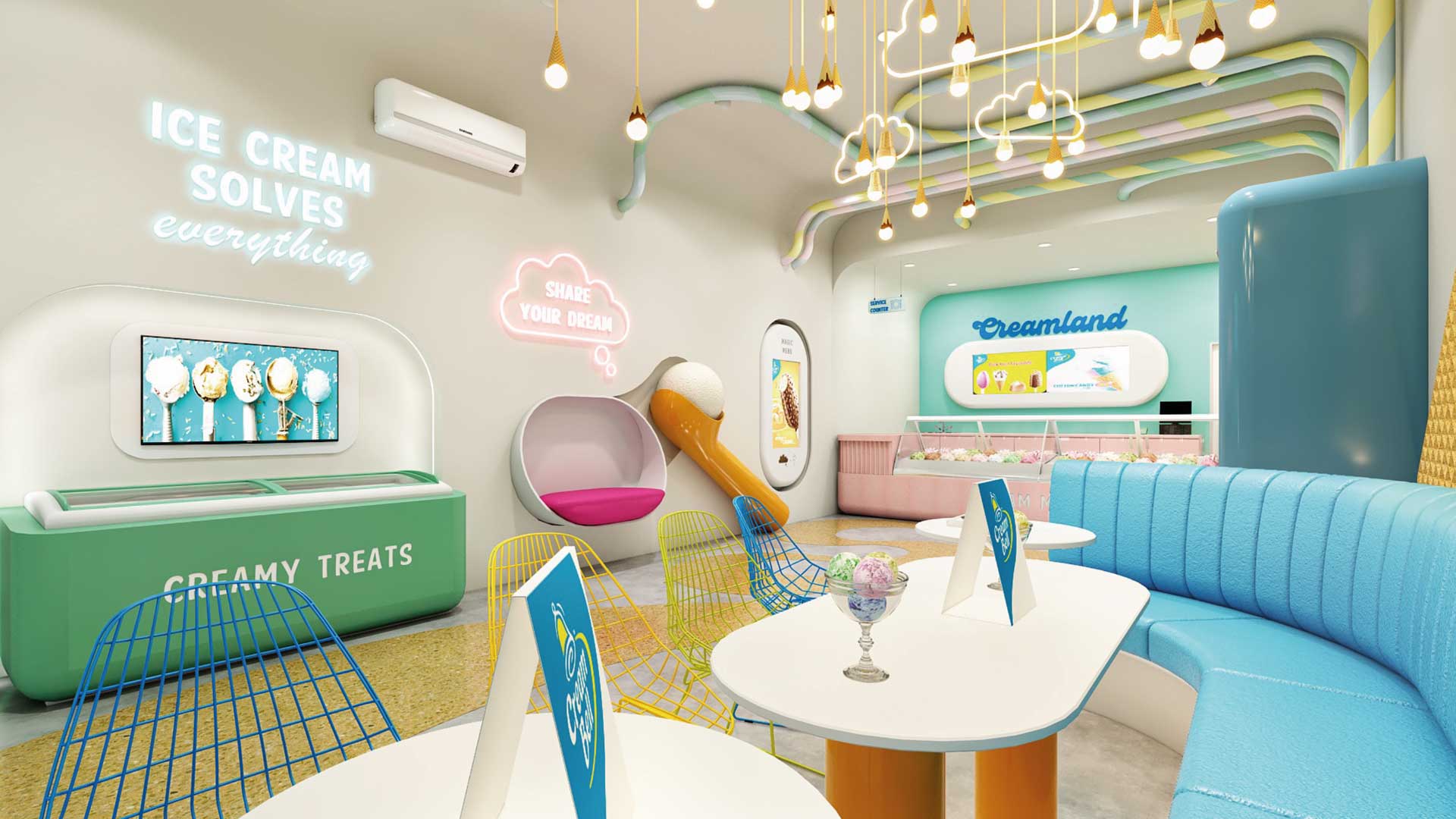 GLIMMA DELIVERED THE FOLLOWING:
1. Brand name & identity. 2. Outlet Space Design – Interiors, graphics, colors etc. 3. Signage 4. Uniforms design for crew members 5. Menu Board 6. Freezer Branding 7. Scoopers & Accessories 8. Franchisee Guide Book 9. Leaflet/Insert design 10. Offer design 11. Special event collaterals design 12. Menu Card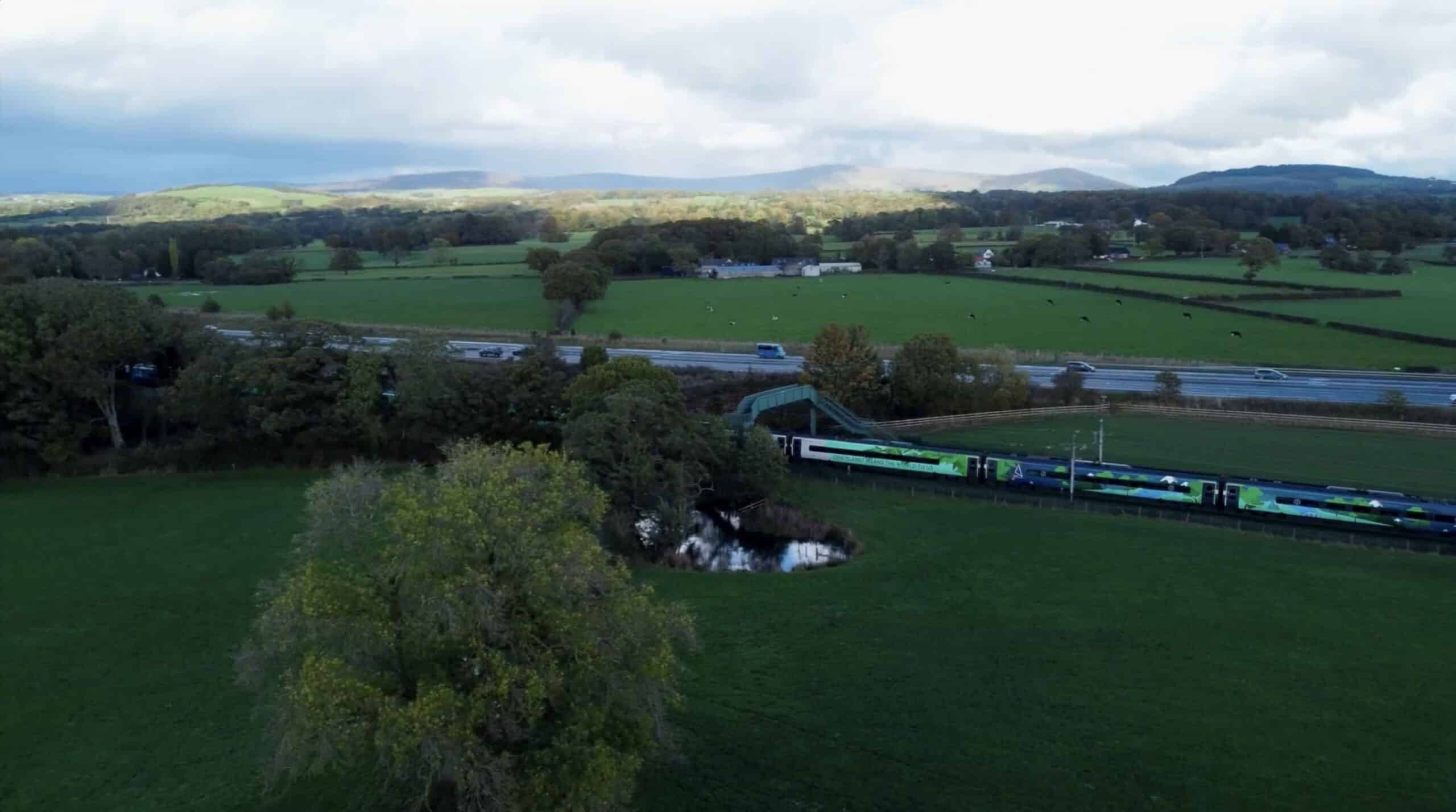 Avanti West Coast provide the principal long-distance passenger services on the West Coast Main Line between London, the West Midlands, North West England, North Wales and Scotland. Its services connect six of the largest cities in the UK: London, Birmingham, Liverpool, Manchester, Glasgow and Edinburgh, which have a combined metropolitan population of over 18 million.
Watch how our brand partner delivered a comprehensive rebrand across the trains.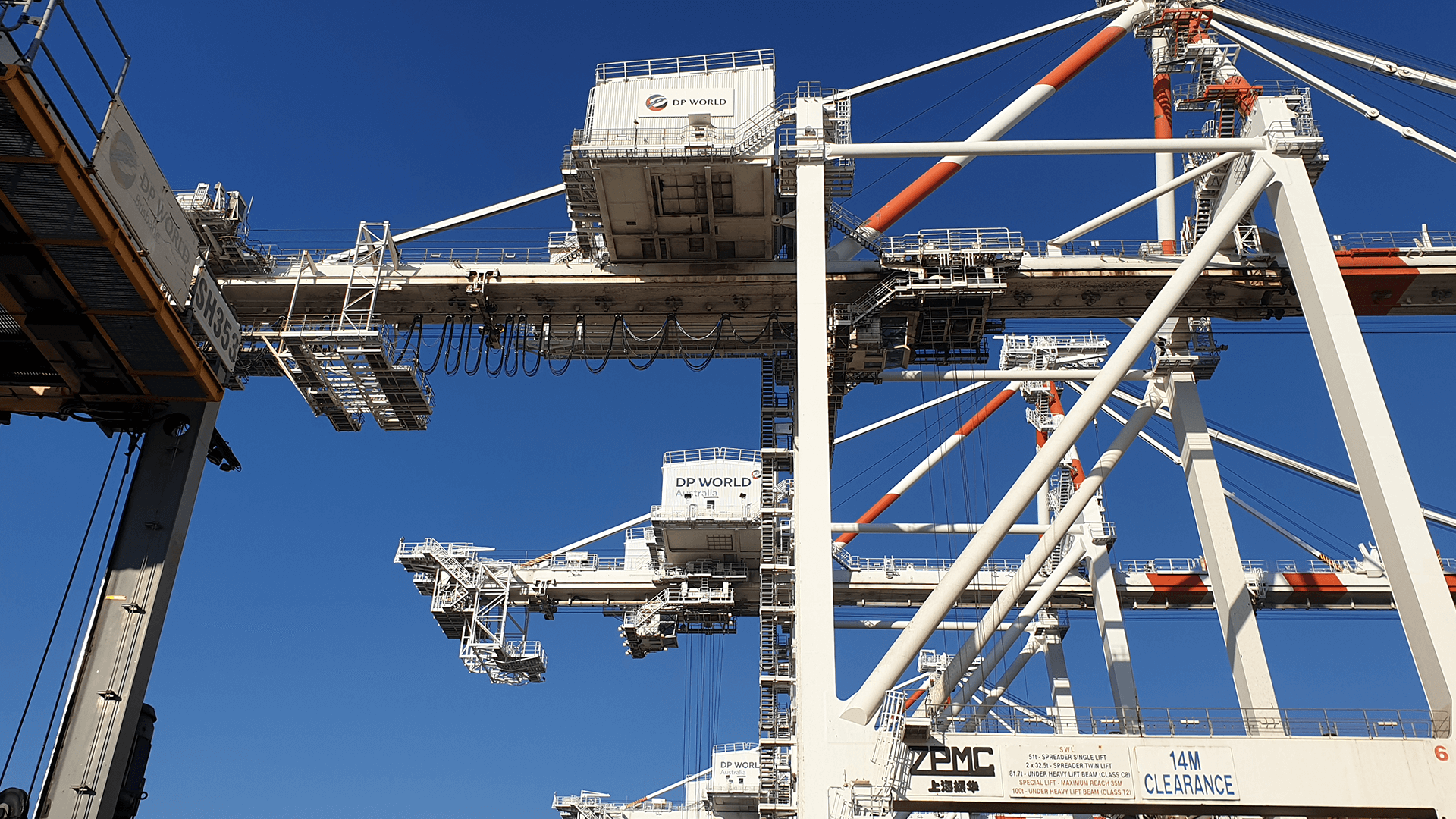 We reviewed the DP World brand and provided recommendations with regard to it's identity and positioning to ensure it remains relevant in today's market.
This international port operator was formed in 2005 after the merger of Dubai Ports Authority and Dubai Ports International.
BRAND REPOSITIONING
Since its foundation as an international ports operator, DP World has developed significantly both in terms of its geographic sphere and the services it offers.
The provenance of the name DP (Dubai Ports) is no longer as relevant, having extended it's reach to more than 40 countries.  From port operator to an end to end global data-driven supply chain solutions provider, a more cohesive brand identity was required to better reflect the DP World of today and take it into the future.

FROM LOCAL TO REGIONAL TO GLOBAL 
Major acquisitions and organic growth had led to a diverse and sometimes disjointed brand landscape, with a decentralised approach.
A more unified approach and a new framework were required to bring consistency and clarity to the management of their brand.

RESEARCH-DRIVEN APPROACH
We conducted three way research to establish the widest possible perspective:
Purpose and vision
Values and mission
Proposition and position
Personality and audience
SWOT
Brand identity and applications
Starting with a comprehensive survey of key stakeholders, this primary research was undertaken by way of questionnaires, telephone and face to face interviews.
Secondly, we reviewed their online presence and finally we audited their physical brand touchpoints.
The results of this research programme provided us with a platform from which to make detailed strategic recommendations.
As a result of this strategic review, we delivered a roadmap for the future development of their: Brand positioning / Brand Identity /Brand Communications / Brand Applications / Brand Governance.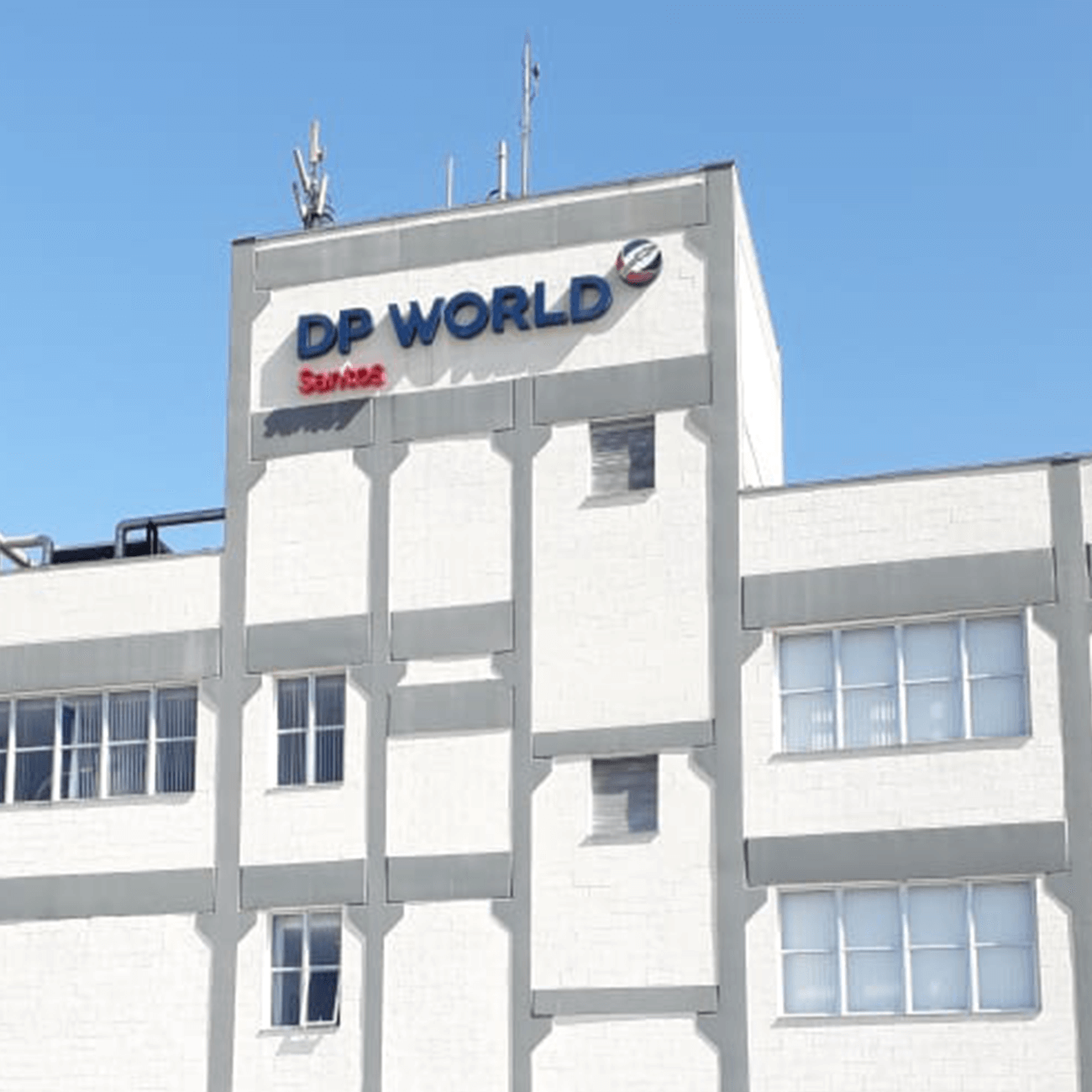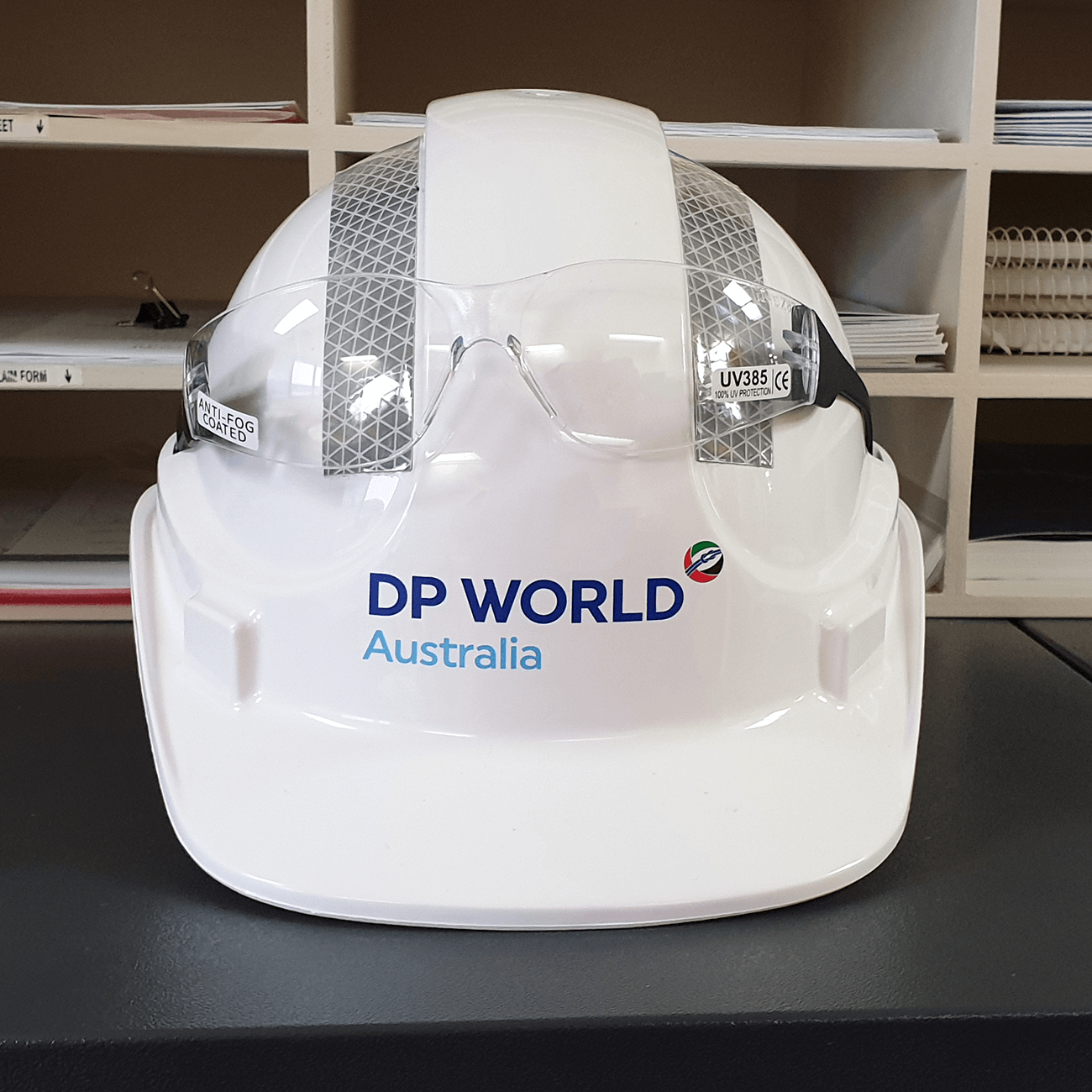 BRAND MANAGEMENT FRAMEWORK
The DP World brand is supported by Brandspace, their online brand management system or DAM (digital asset management) which sits at the heart of their approach to brand governance.
Home to all their brand assets –  guidelines, documents, templates – we reviewed the entire system and made recommendations with regard to access, clearer definition of roles and responsibilities, a revised marcomms strategy and improved demarcation between principles and application.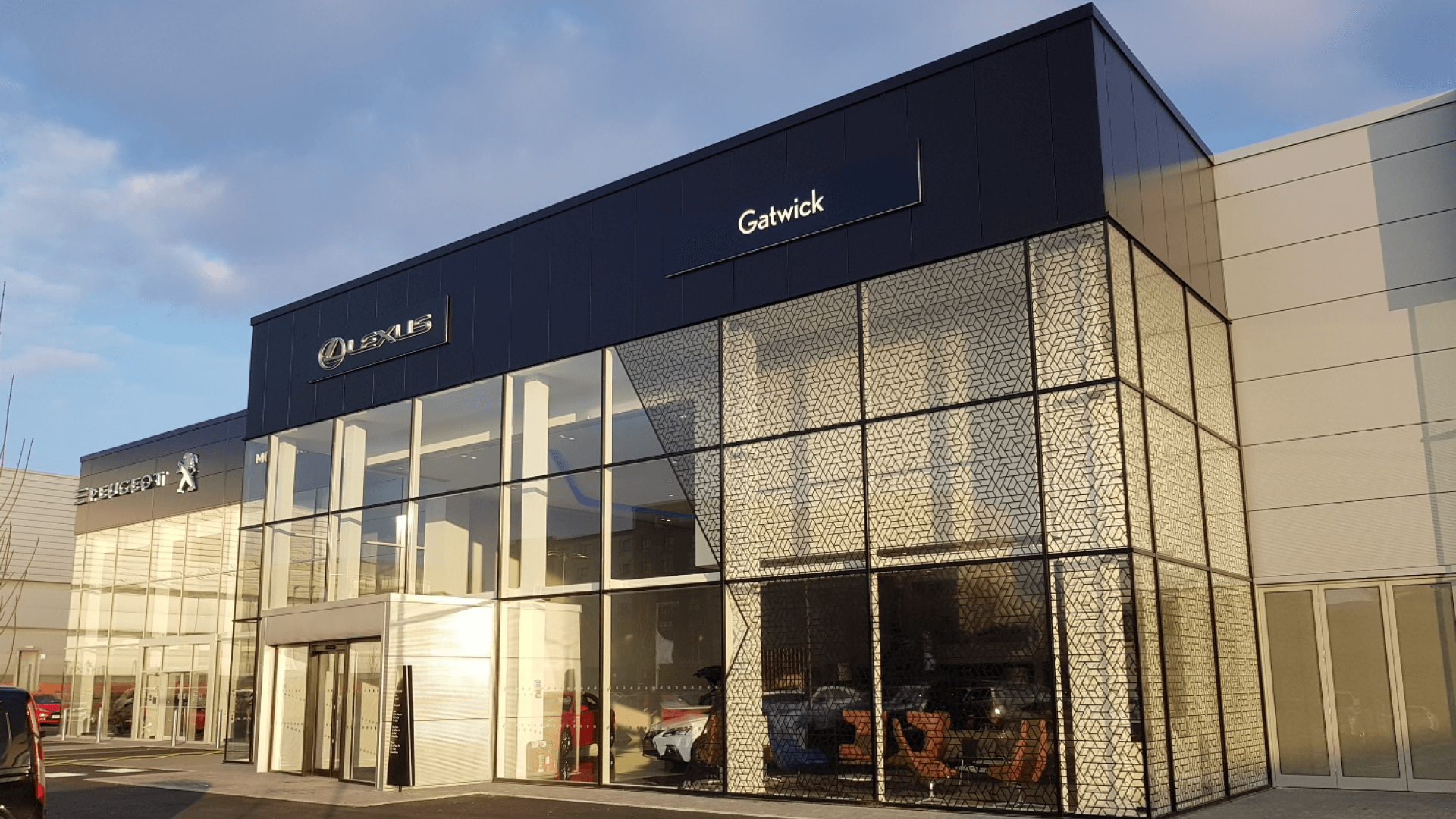 Lexus has consistently pursued its goal to build the world's best cars, reflecting their brand values of design excellence and luxury.
This is achieved through the careful design and engineering of both their vehicles themselves, and through the creation of exceptional customer experiences with their dealership network.
One of our aims was to make the branded environments more resilient and robust.
By reviewing many of the materials that were originally specified, we achieved this.  Thanks to our buying power, we also delivered considerable cost savings.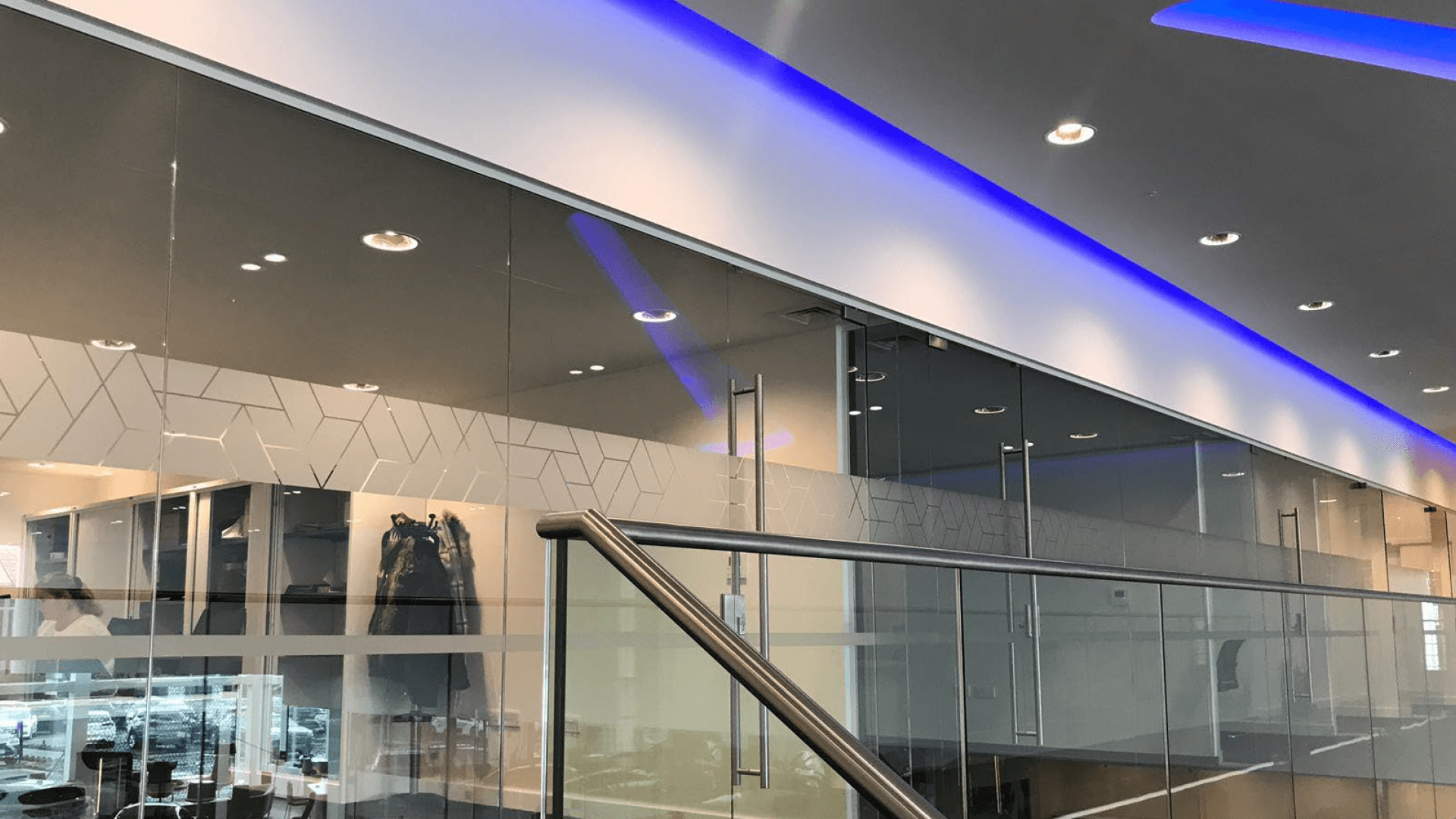 Flagship sites in Cardiff, Exeter and Gatwick were more heavily branded and included both internal and external glazing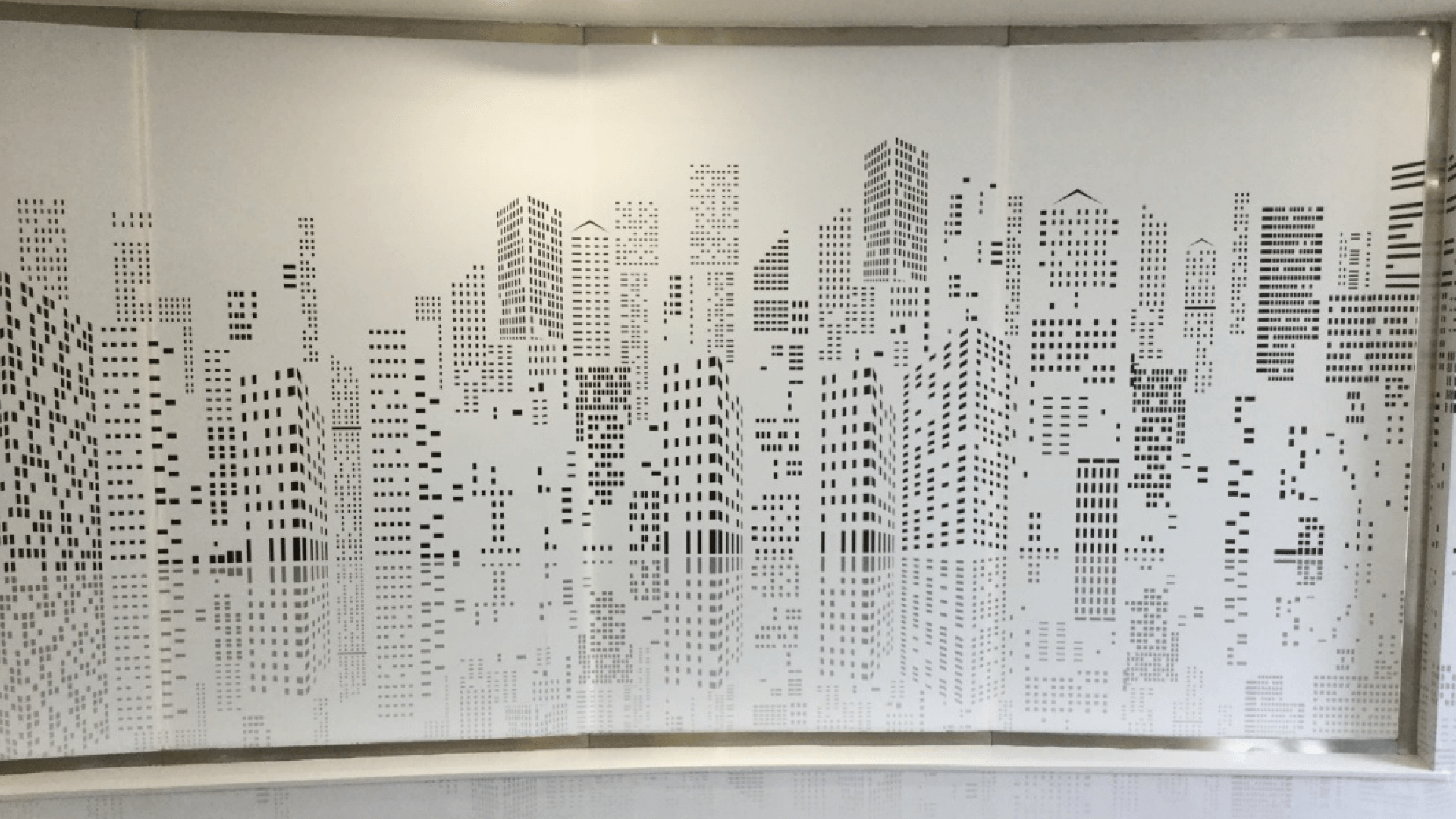 The cityscape graphics helped to reinforce Lexus's brand values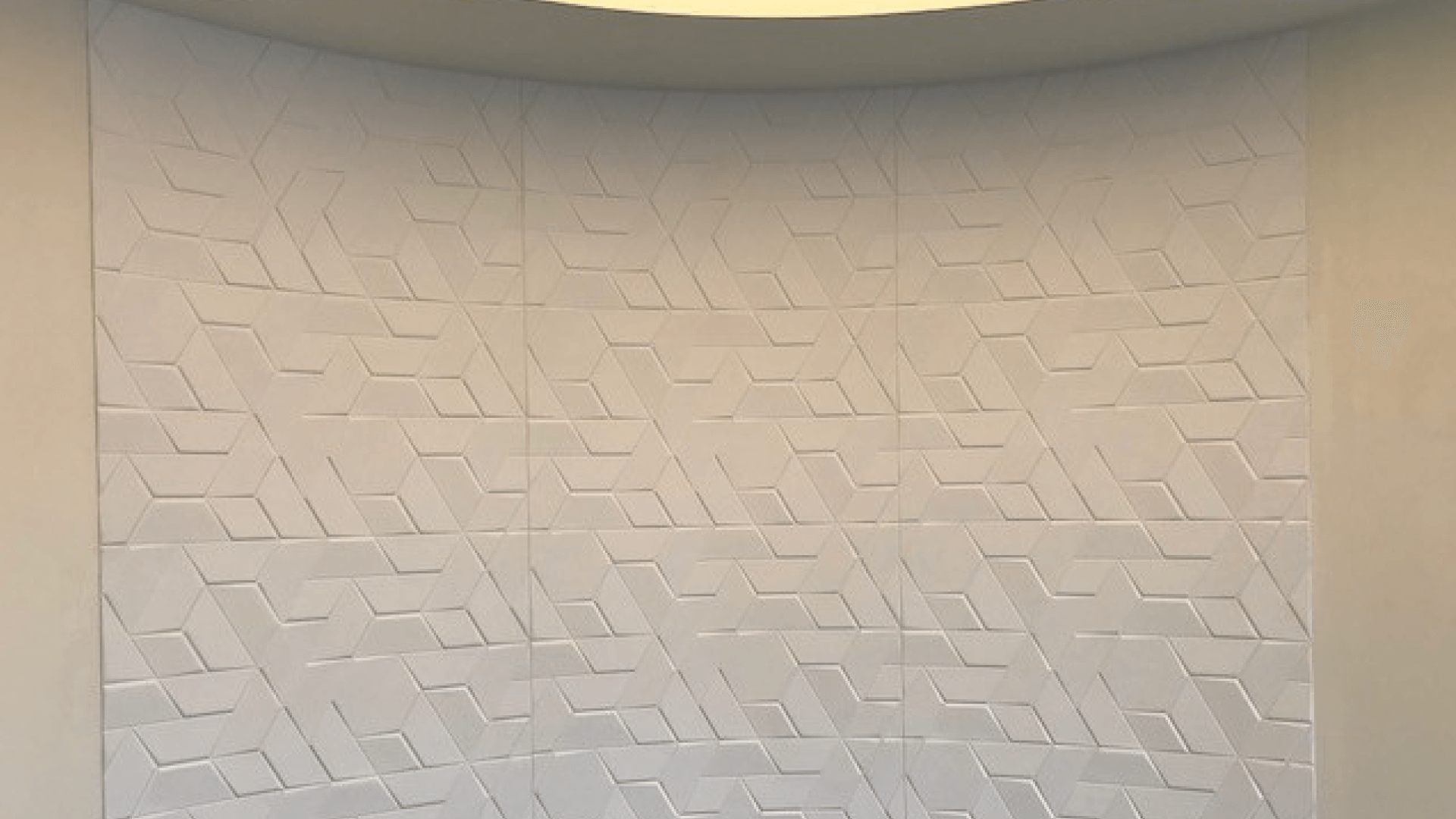 3D wallpaper creates texture and depth
We designed, manufactured and installed the highest quality graphics to reflect their premium market position.
This included:
Design and materials specification
Manufacture and application
Site surveys and installation
Interior branding, including 3D wallpaper, solar film, graphic prints, workshop banners, frosted vinyl and health and safety manifestations
The branding programme was intially rolled out across ten dealerships in the UK, Norway and Spain. Following successful implementation, it was extended to a nationwide programme across the UK, including 20 new sites and 20 refurbished sites.
The customer-centric approach to dealership design is evident, with graphics used to designate different customer zones to meet the needs of a variety of customer groups. We also installed and laid out furniture to facilitate the designated customer journey.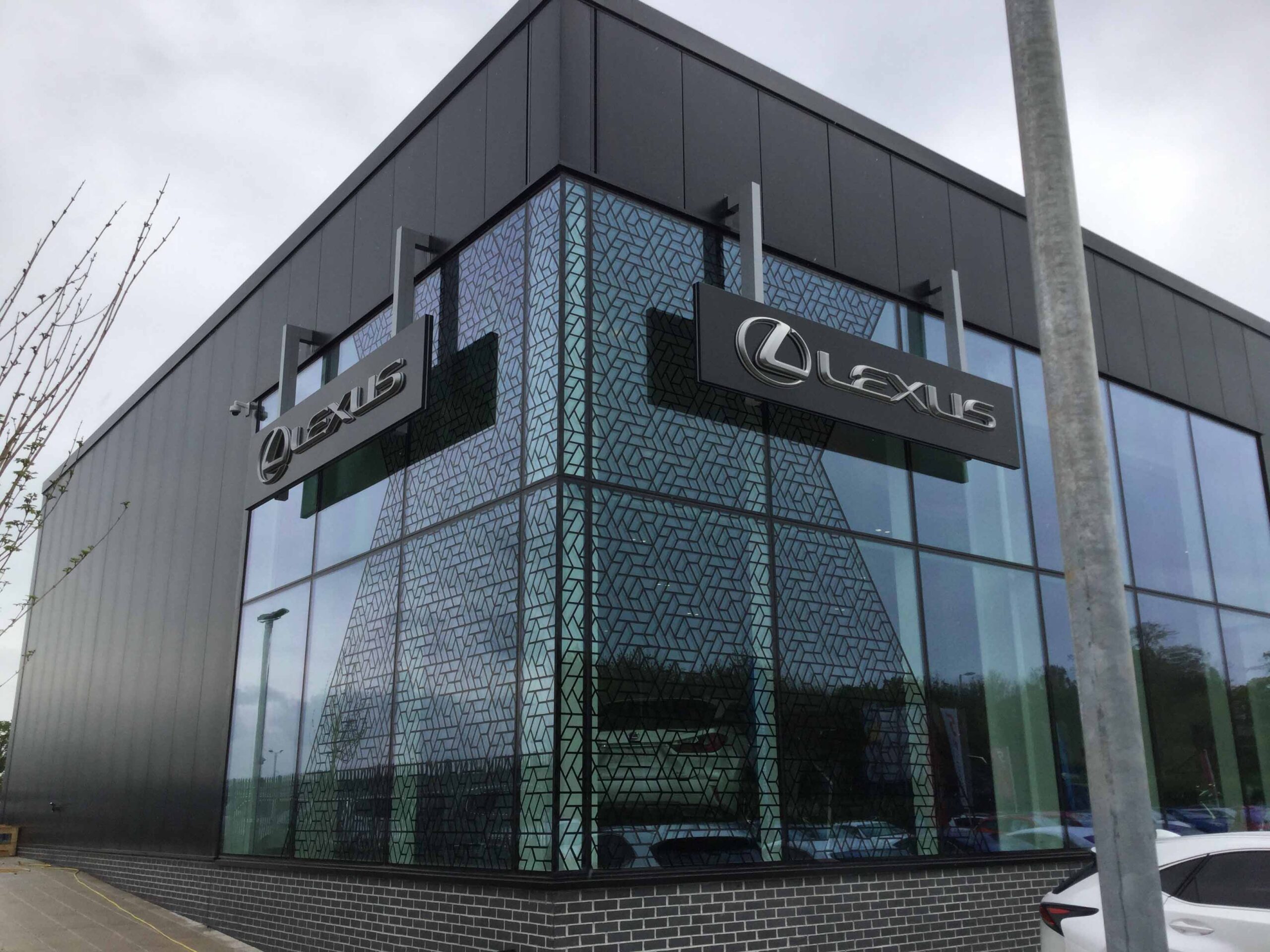 'Client feedback cited our personal touch as one of the biggest success factors in this brand rollout. Attention to detail was our mantra throughout - we provided the most detailed instructions to installers and were on site for every installation to ensure the highest quality control. It's an absolute pleasure to work with Lexus.'