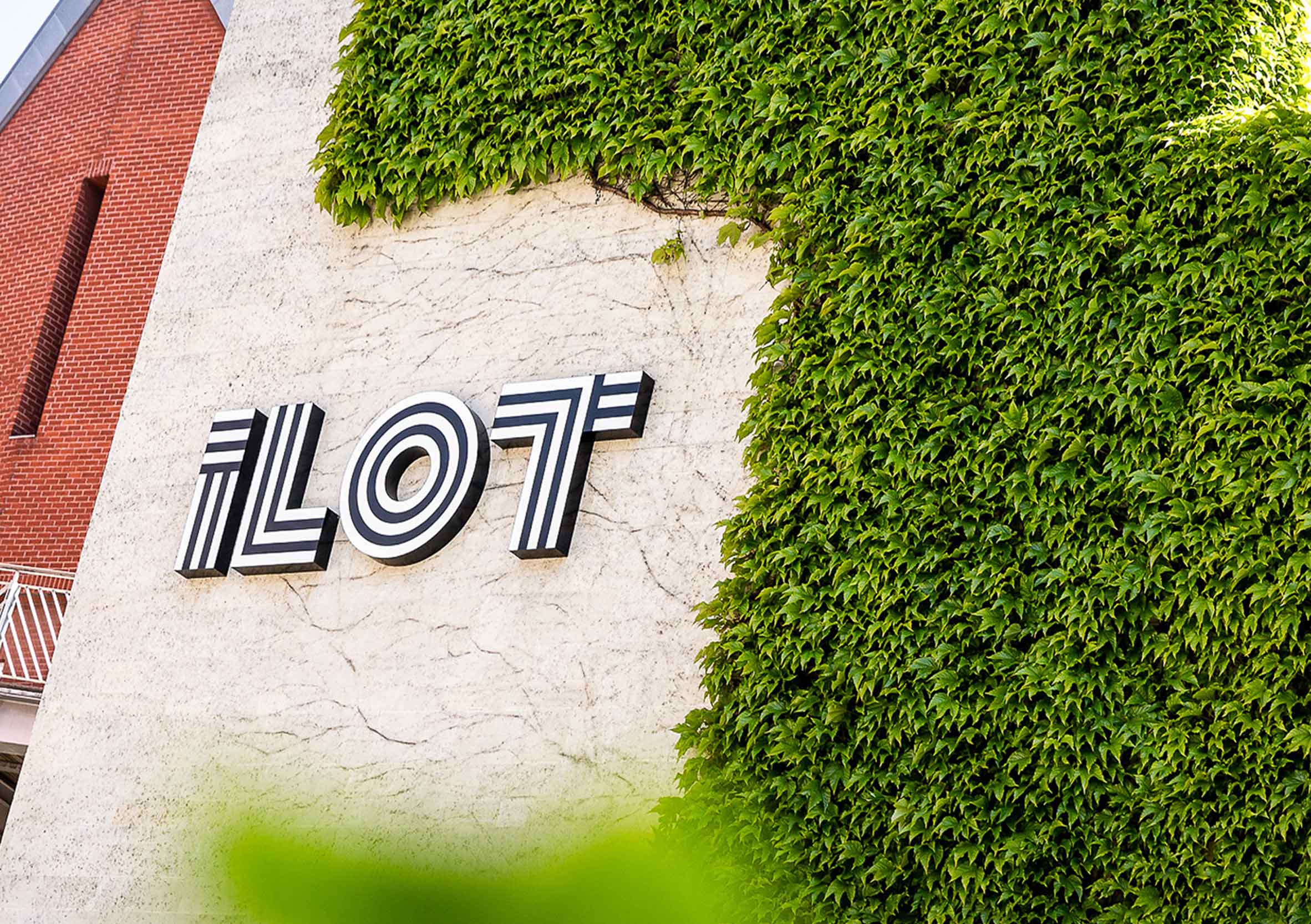 Brand Implementation in Liege
We were commissioned to revitalise this 1990s mixed-use city centre destination in Liège, Belgium. The refurbishment programme was driven by a strategic repositioning exercise that aims to attract a new tenant mix, increase footfall and time and spend per visitor.
Creating a sense of place
The name 'Ilot' (Little Island) reflects its location in the middle of the city centre. Comprising four separate buildings across three busy pedestrian streets, there was little to unify the space and create a sense of community and belonging. A strategic review by the mall owners identified the need for a full repositioning exercise. This included a strategic review of the indoor and outdoor space to attract the right retail mix.
We helped to develop the new brand proposition, working with the locally created brand identity, to develop a suite of on-brand wayfinding, signage and environmental solutions.
'The GLIMMA team is a valued design and implementation partner for our retail and entertainment centres. They understood the strategic changes needed to revitalise and appeal to a new target audience. Most importantly, they have the knowledge, experience and skills to practically translate these changes into an engaging customer experience. Through the right choice of lighting, street furniture, way finding and brand signage, they have helped transform ILOT into a much more vibrant and safer visitor experience.'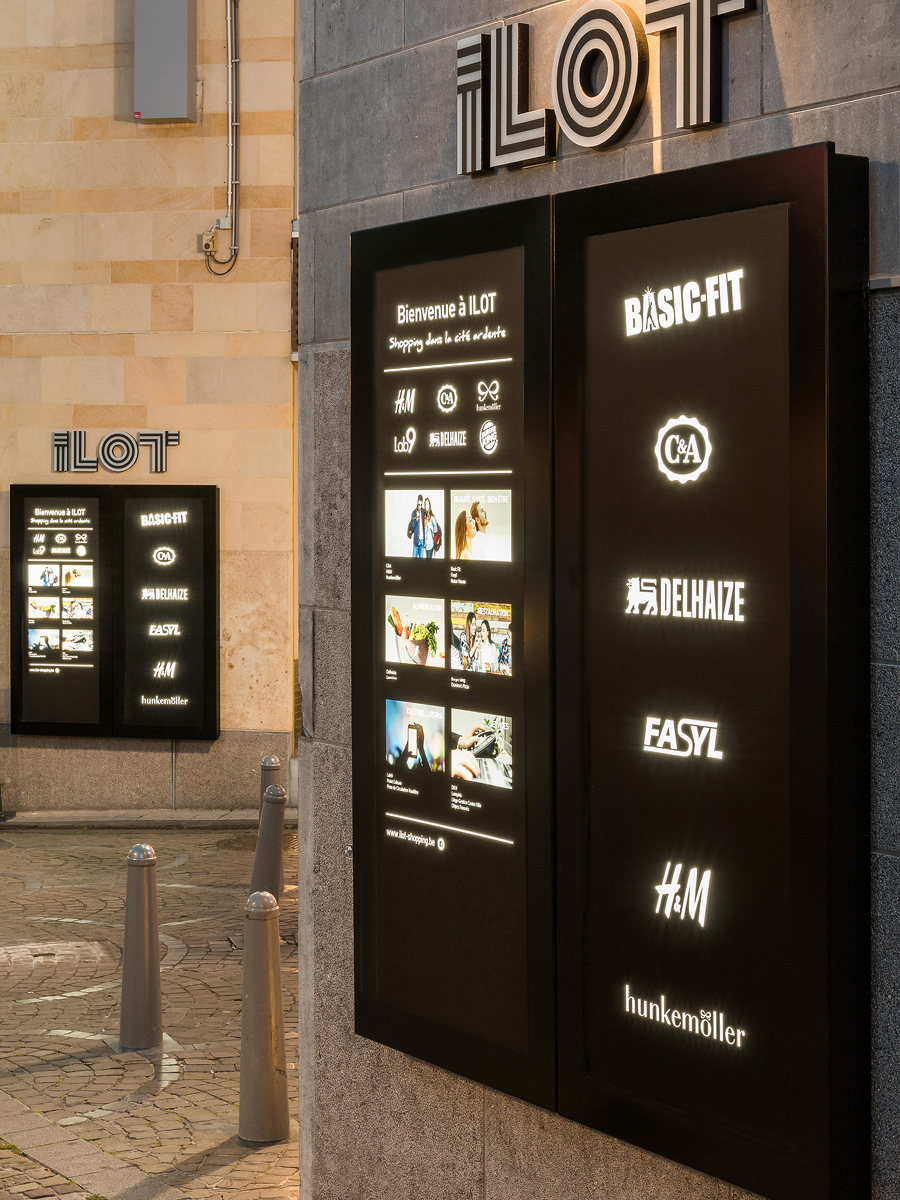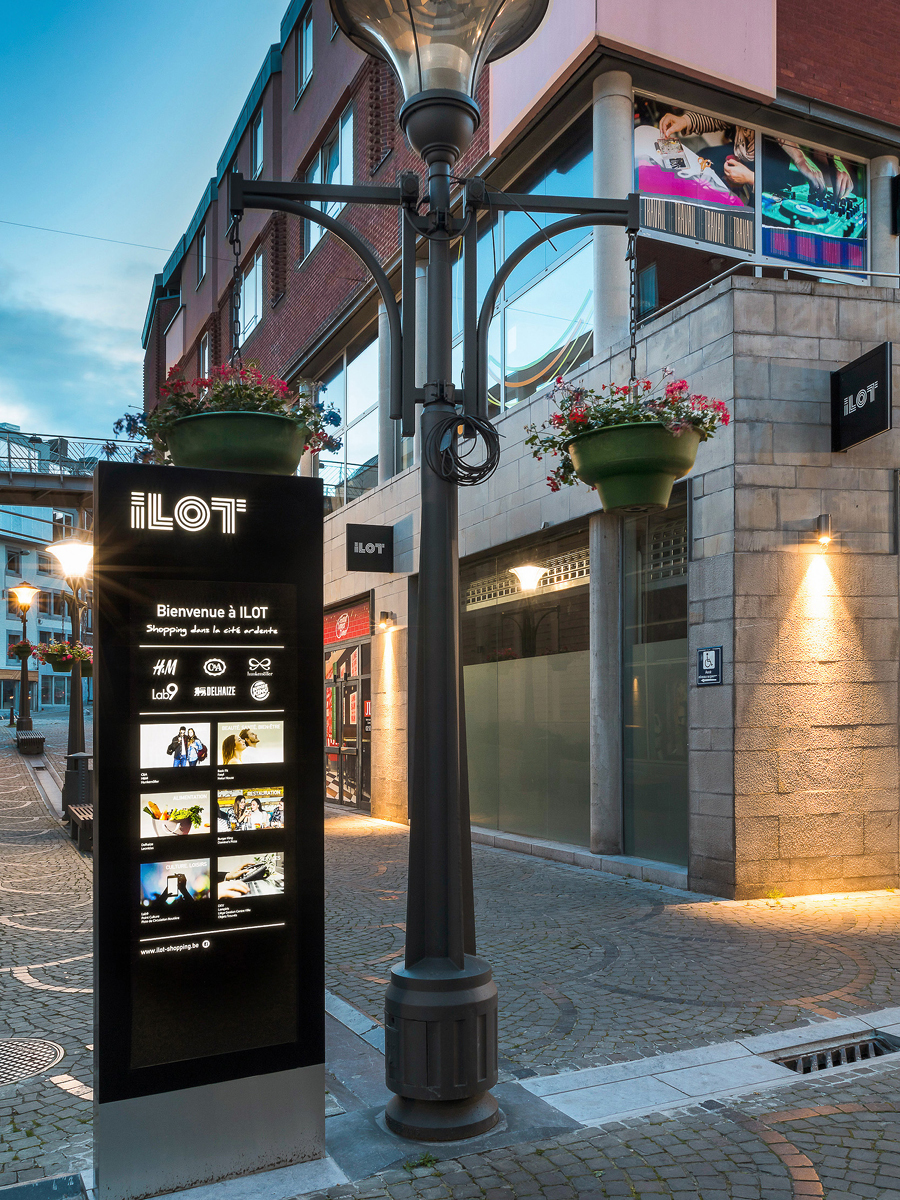 Improving the customer journey
During the initial site appraisal we identified circulation as a key issue and located the hot spots. Our wayfinding solutions have improved circulation from the basement levels and car park and improved general people flow throughout.
The suite of modern and complementary signs have improved the overall customer experience, successfully linking the internal and external spaces and creating a sense of place.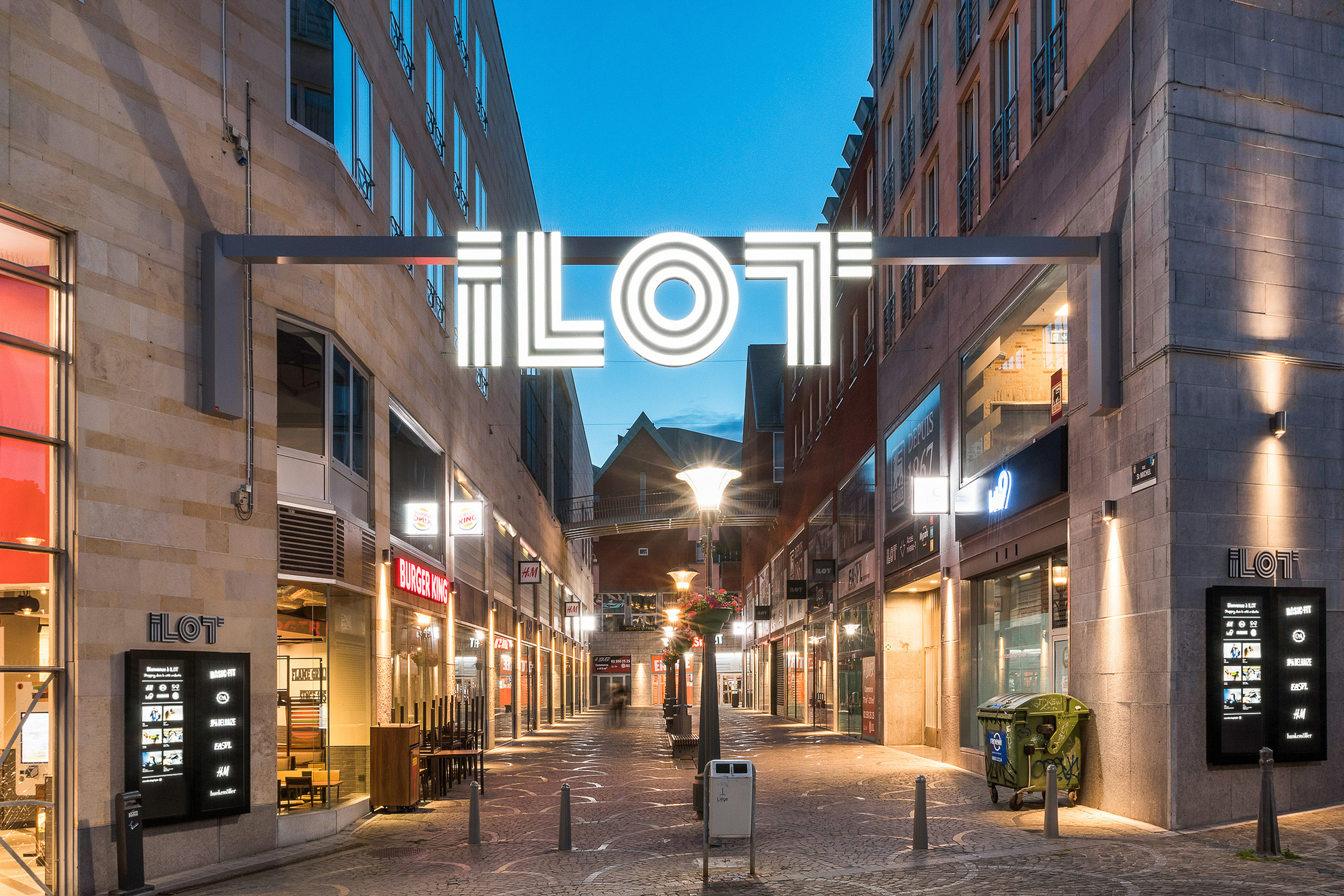 The installation of gantry signs above the walkways and at the two main entrances ensures street presence, creates unity and helps ILOT to stand out from nearby competitor retail outlets
Creating the right ambience
Skilful use of exterior lighting, using up and down lights on the building facades, has significantly improved the ambience. It has also helped to extend the shopping day and tighten security.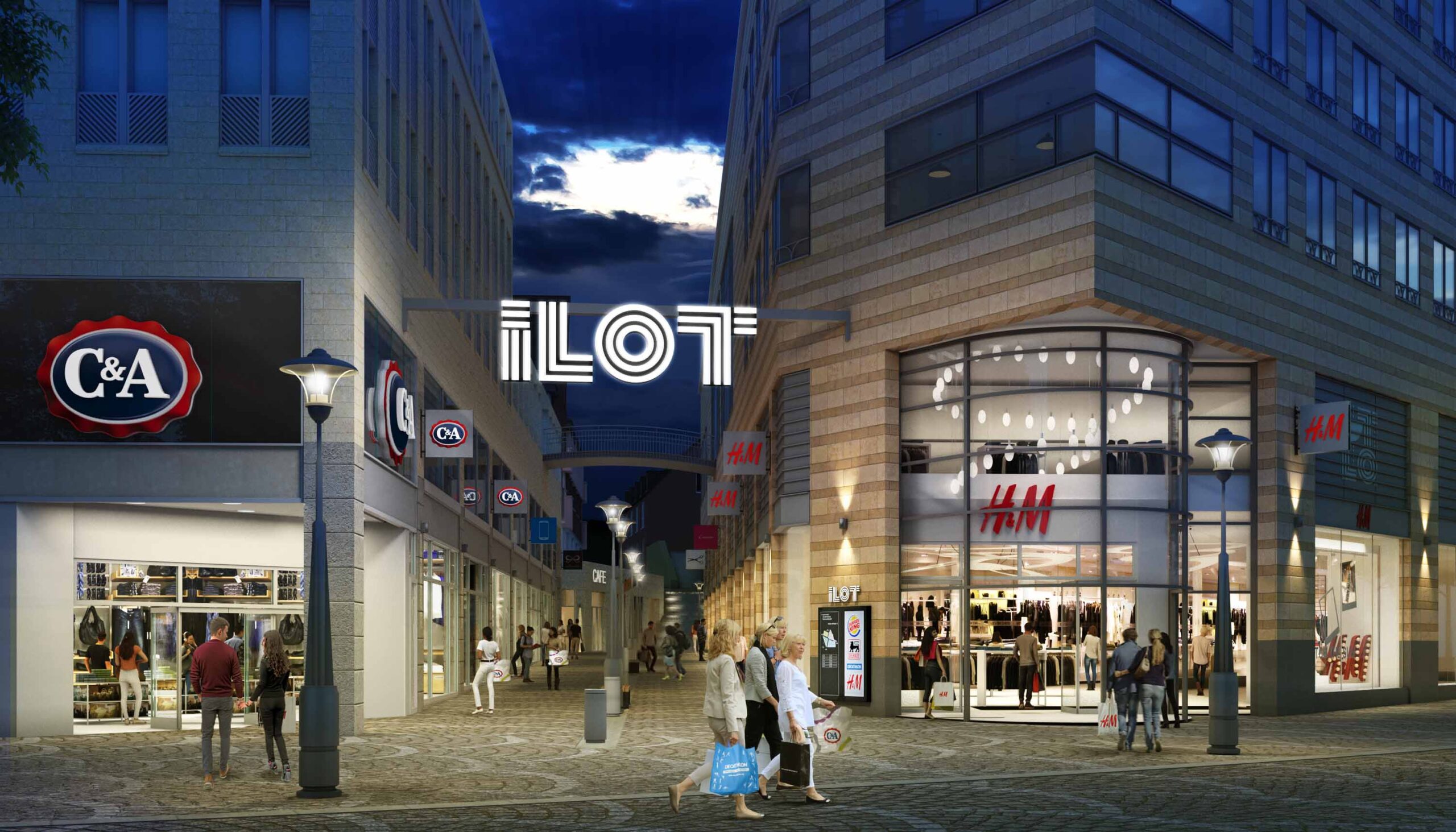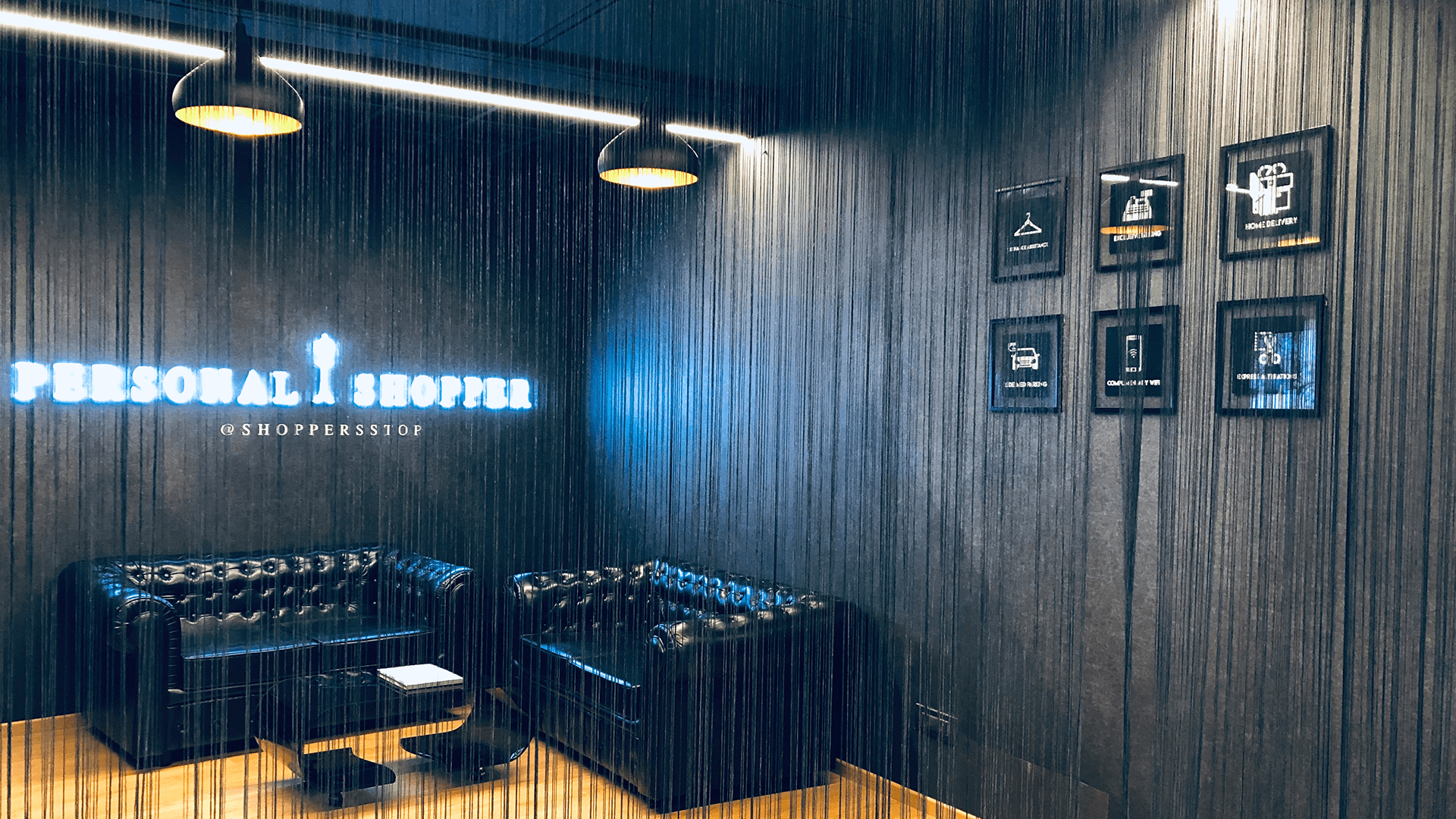 THE BRIEF
To deliver new brand experiences within Shoppers Stop department stores through the design, manufacture and installation of their lounge and promotion display areas in prime stores across India.
These include dedicated and targeted concepts, such as the 'Personal Shopper Lounge', the 'Show Stopper Zone' and the 'Suits & Jackets Zone".
Shoppers Stop is one of the largest department store chains in India, selling international and national brands for clothing & accessories, cosmetics & fragrances, as well as home décor and furnishings.
PERSONAL SHOPPER LOUNGE
In 2019 Shoppers Stop undertook a repositioning exercise to help promote their instore premium offer 'Personal Lounge' to their First Citizen customers.
A key element of the repositioning was to make their premium personal shopper experience more prominent and engaging within stores.
'We helped to redesign and rebrand their existing lounges, creating a more sophisticated 'Personal Shopper Lounge' with new finishes, decorative elements, new furnishings, wallpaper and floor finishing, as well as amenities for guests.'
SHOW STOPPER ZONES – ENCHASING THE CUSTOMER EXPERIENCE
With a clear brief to create an elegant premium retail experience, our aim was to redevelop the existing space in order to attract, engage and convert more customers.
Drawing on their design principles, we developed new layouts and introduced new signage, wall graphics, lighting and furniture.
The signature black and white colour palette of Shoppers Stop was retained, introducing a variety of textures and finishes to create the premium experience:
False ceiling with black mirror finish and a grid of LED lighting
LED video wall
Dark oak flooring to distinguish the zone from the rest of the retail space
Neutral fixtures for merchandising so as to accommodate any genre of clothing as per the theme
Elegant wooden furniture combined with black gloss
Dedicated ramp for the mannequin clusters with high gloss black finish and LED lighting
This concept has been successfully executed across several large stores in four metro cities.
It provides an opportunity for brands to showcase their new lines and promotions at the very entrance of the store, improving their visibility and increasing sales.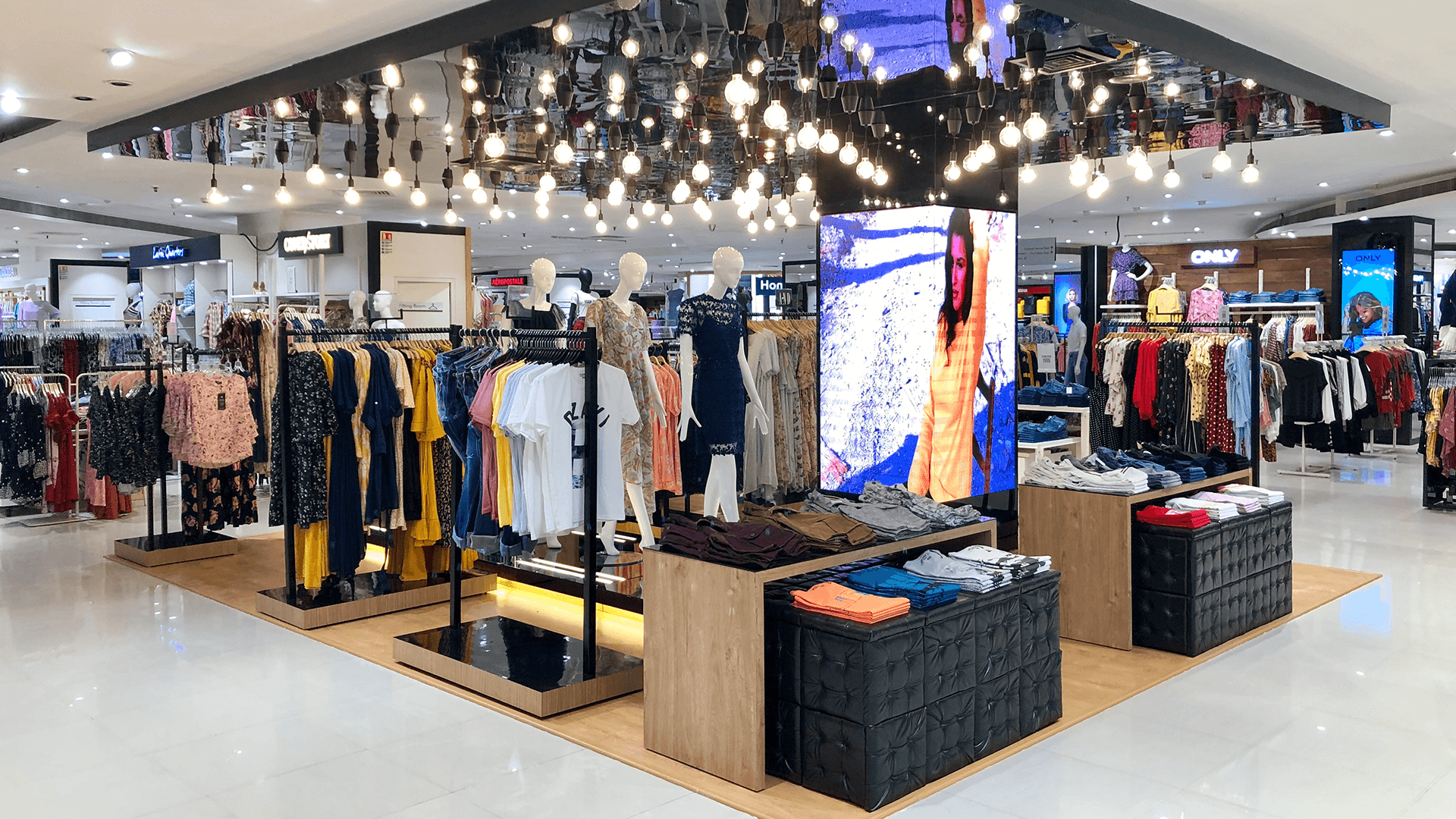 'The promo area has turned out to be a real 'SHOW STOPPER', exactly what we wanted. Our customers and staff are very happy with the work. Good Start team.;
With different size spaces available for the Show Stopper Zone in each of the six stores, we delivered a pilot store first.
This provided us with a blueprint for detailed space planning which allowed for customised solutions within each store.
Once the design had been signed off, we were responsible for both the manufacture and installation.
Detailed project management ensured that the right resources were in place, shopping mall permits were successfully acquired and the installation team could work efficiently.
To keep disruption to a minimum, we cordoned off the zones, using professionally branded boarding that included a teaser about the upcoming changes.
All installation work was carried out over the weekend.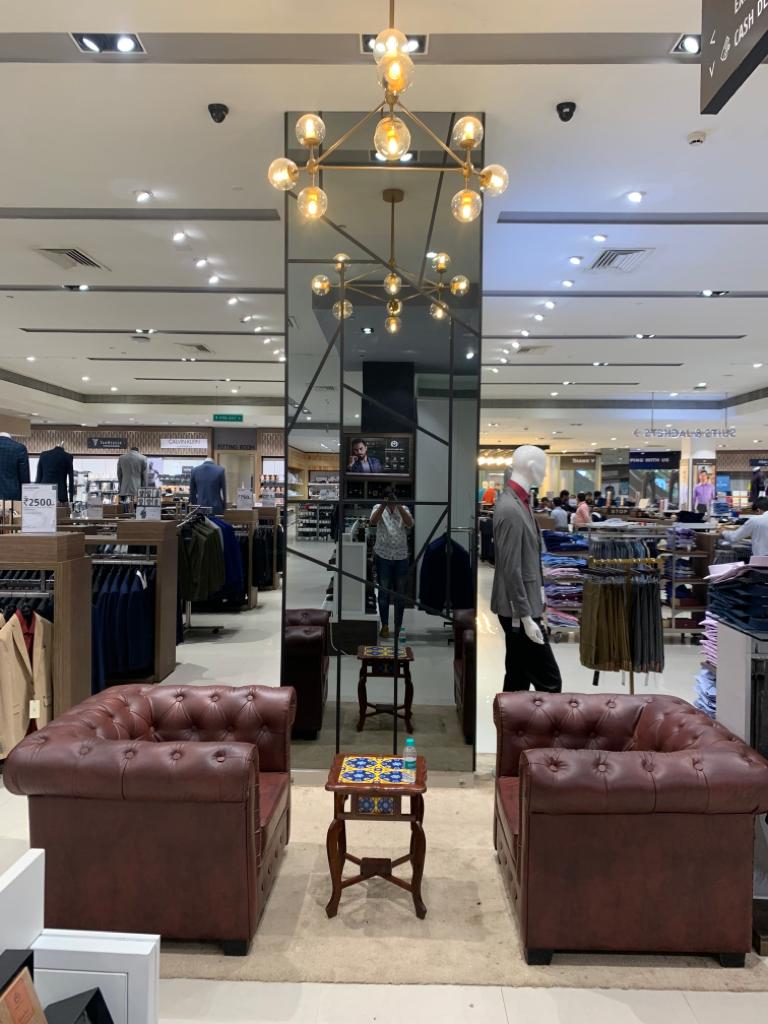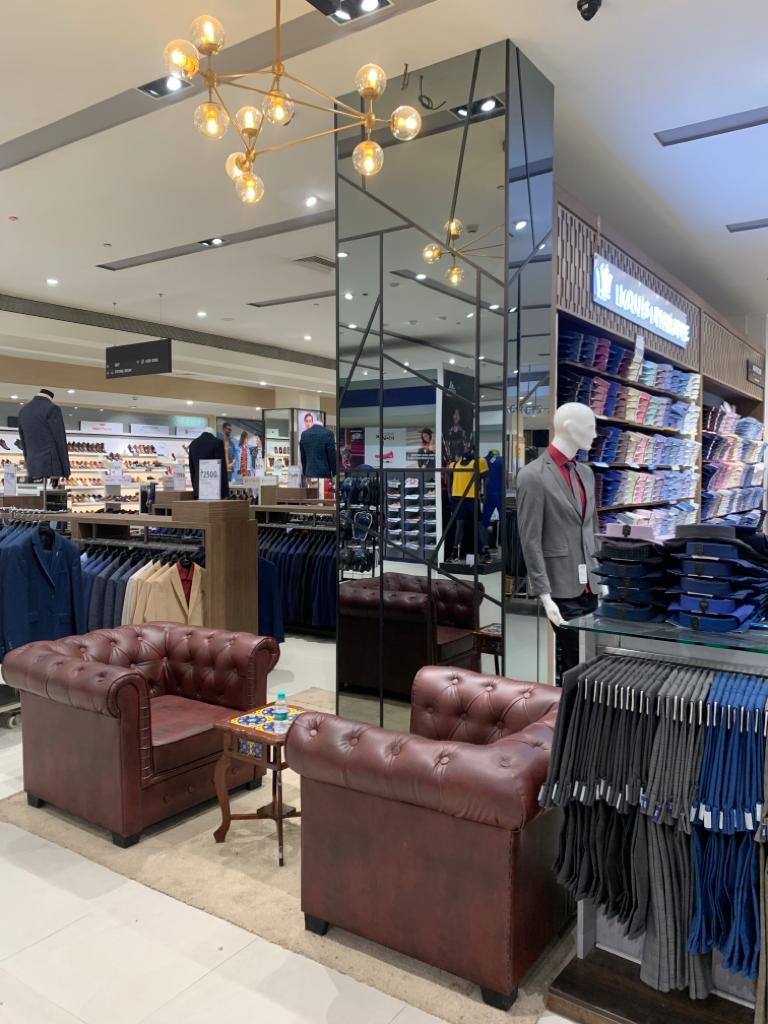 SUITS & JACKETS ZONE
The creation of bespoke lounges at specified points has helped to improve brand experience within stores. Targeting professionals who are purchasing more formal wear, these spaces have provided the opportunity for customers to relax, sit and discuss options with the sales staff before investing in more expensive ticket items.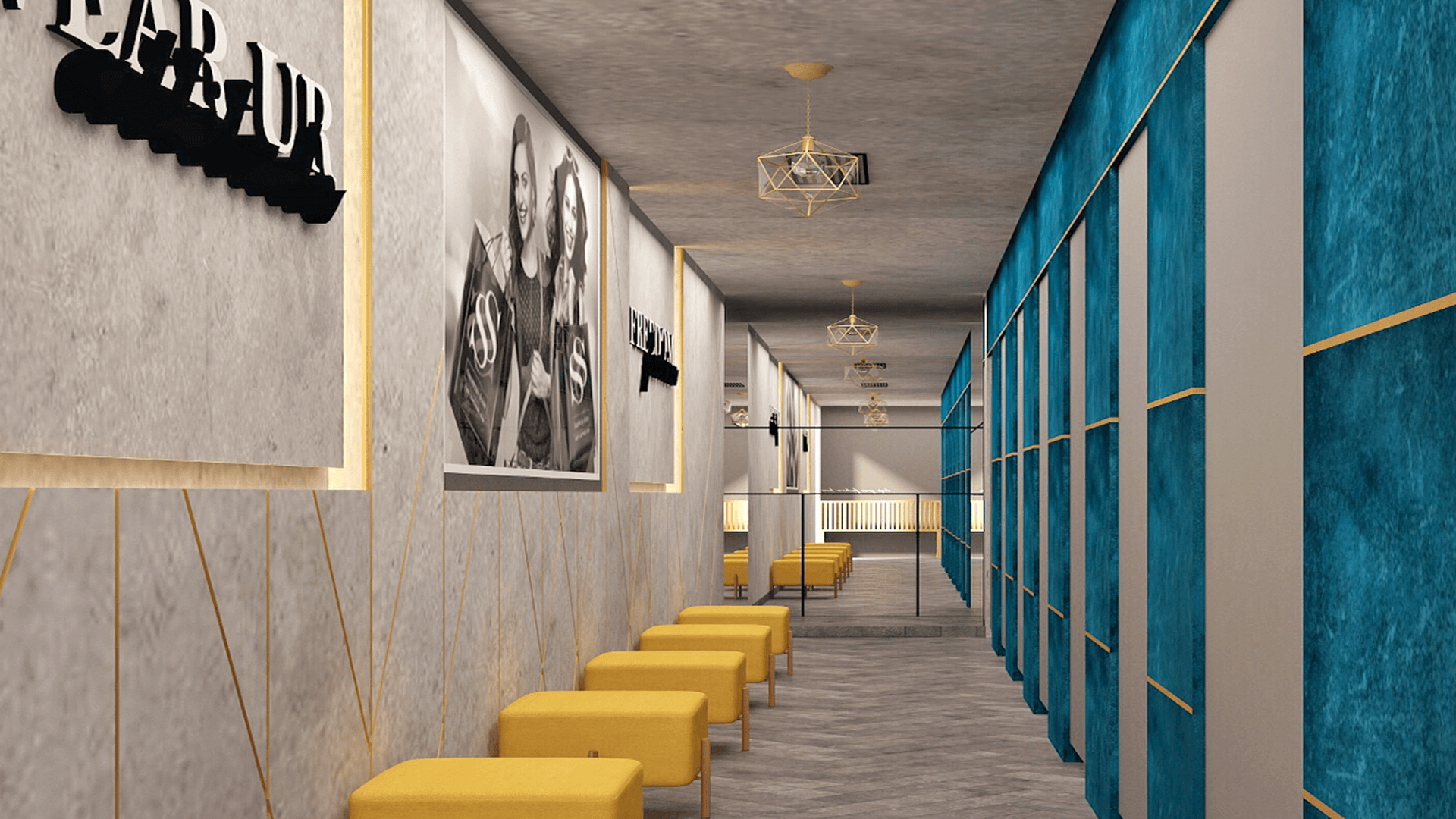 Shoppers Stop Fitting Room Concept
FITTING ROOM CONCEPTS
A revamp of fitting rooms is designed to provide a more pleasant experience for customers. We are enhancing the fitting room experience by adding:
Customisable lighting settings for different categories
Richer textures and materials
Attractive finishes
CUSTOMER SERVICE DESK
In keeping with other instore improvements, we are developing a refreshed look and feel for the customer service area.
Used when returning or exchanging items or for redemption of promotions, this area of the store is important for reminding customers of the level of service they receive at Shoppers Stop, and helping to improve loyalty.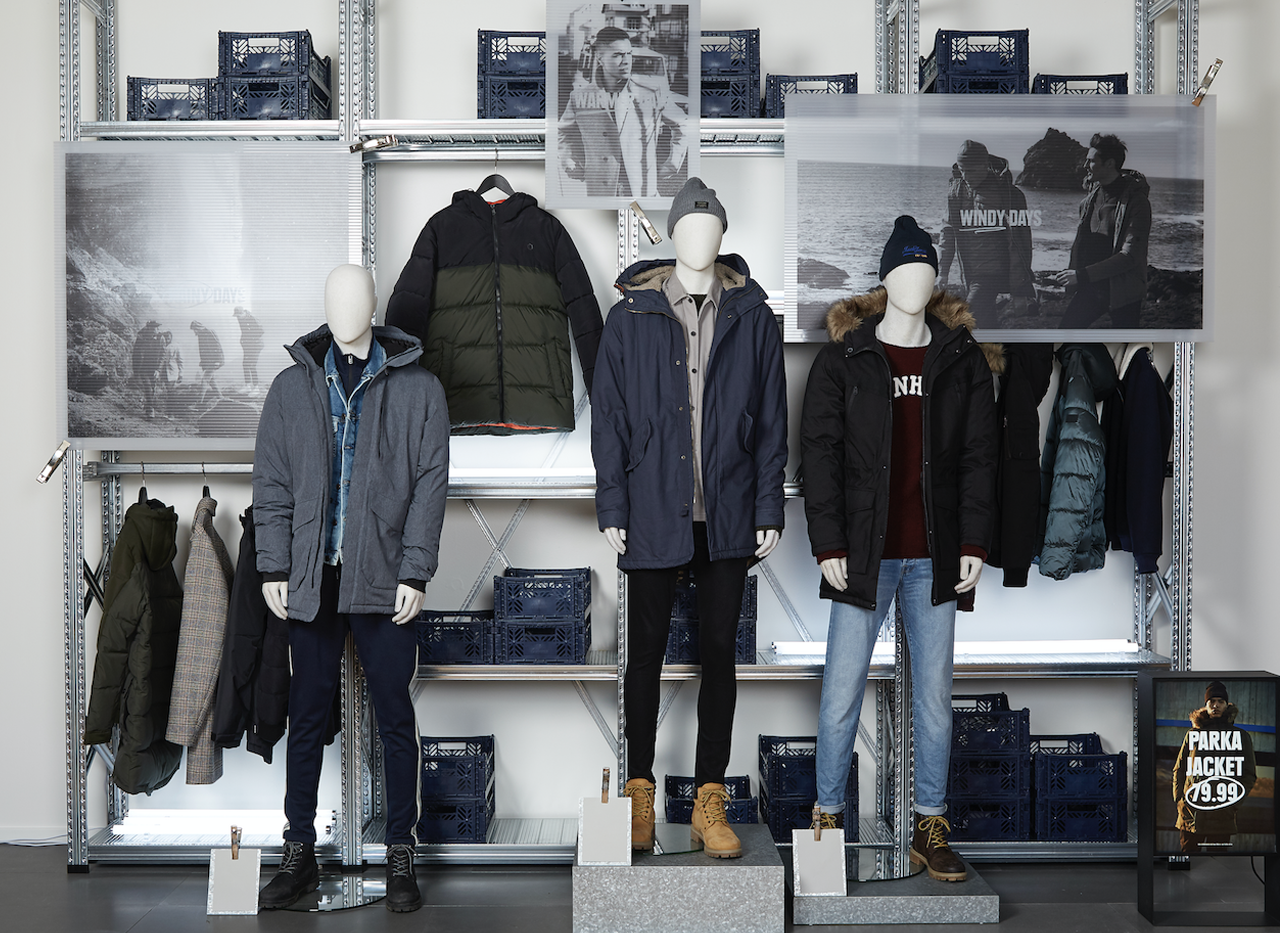 We were asked to manage the rollout of JACK & JONES' latest window displays in over 450 stores and to create a compelling and consistent retail experience across Europe, the Middle East and Canada.
With more than 1,000 stores across 38 countries, they are one of Europe's leading men's fashion retailers.

DRIVING SALES THROUGH RETAIL DESIGN
Visual merchandising is key to high street sales success.  The Interior Store Design team commissioned a bespoke racking system that can be used in a versatile way to display both their Spring and Summer collections in a variety of ways.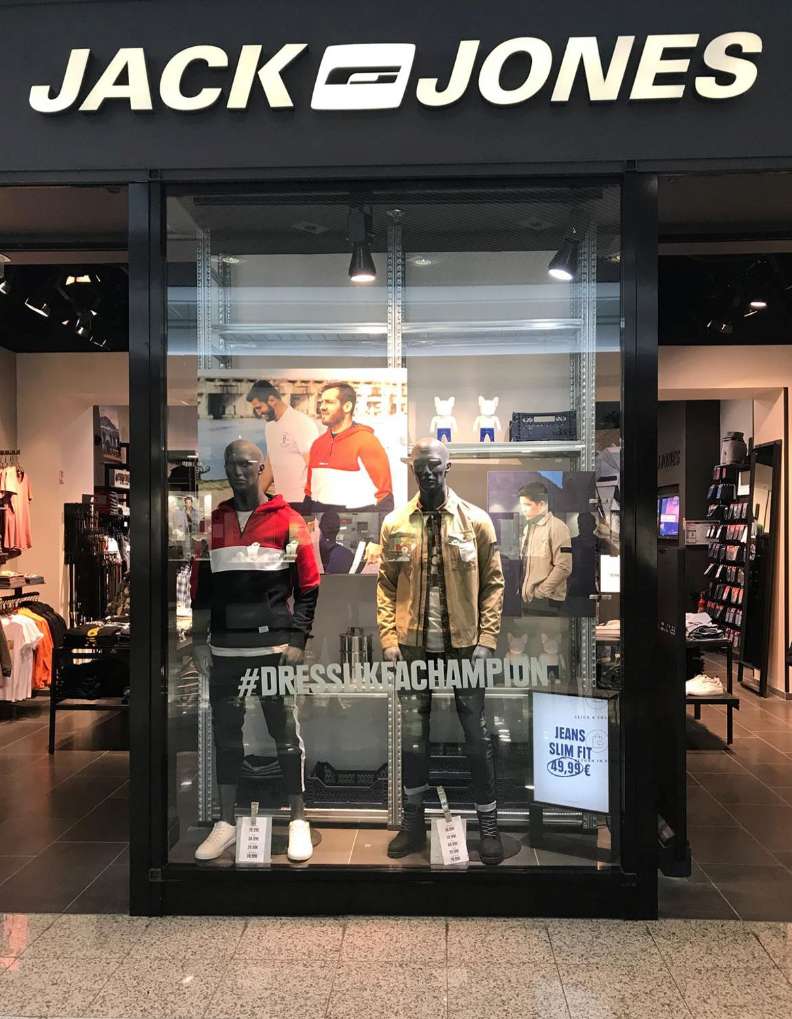 'The team at GLIMMA co-ordinated and installed the new racking system in 450+ retail stores globally. They successfully overcame the challenges associated with global supply chain, variances in store layouts and different cultures, delivering the entire program on time. The result is magnificent – with the support of GLIMMA we now have the perfect communications platform to attract and excite our customers.'
THE NEED FOR SPEED
Having secured the design and manufacture, JACK & JONES commissioned our team to manage the installations globally. Within two weeks of receiving the brief, our implementation team, working together with the manufacturer and in close liaison with each local store, completed the entire project in just 17 weeks.

ADAPTING THE LOCAL ENVIRONMENT TO ACHEVE GLOBAL CONSISTENCY
No store is the same – dimensions, architectural considerations, materials, local working restrictions – they all differ from store to store.
Our central project management team co-ordinated the rollout to achieve maximum cost efficiencies, using site surveys from the stores, to plan and implement the refurbishment.
This included the removal and disposal of old systems, posters and mannequins, as well as the construction and installation of the new racking system. Faced with a wide variety of window layouts and dimensions, our team often had to think on their feet to adapt the new system and make it fit-for-purpose.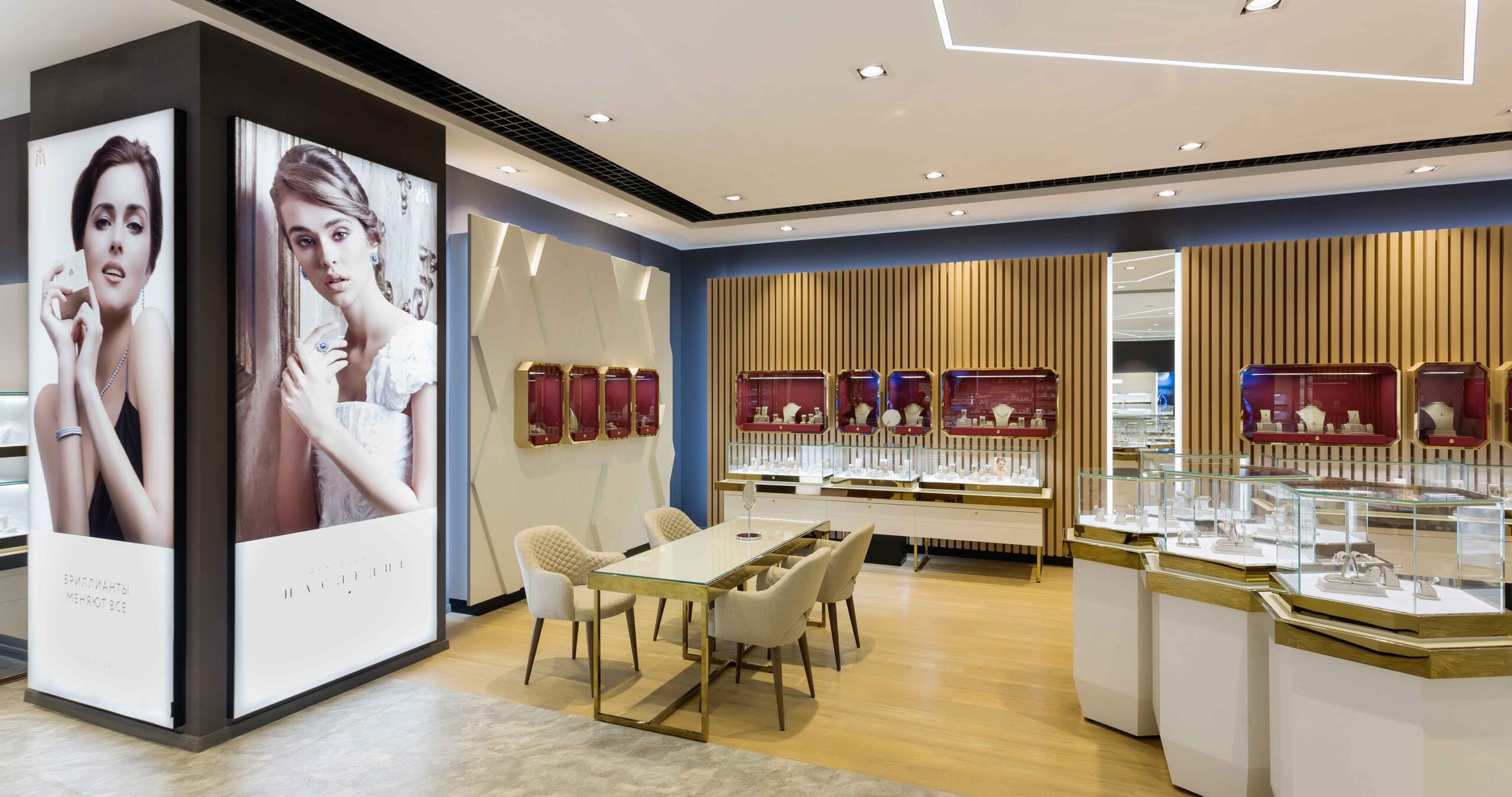 The Brief
To develop a new modular retail design concept which can be scaled to fit any size store. This concept is to design and implement the retail space in Moscow Jewelry's flagship stores in Moscow.
With over 300 stores across 104 cities, Moscow Jewelry is one of Russia's leading jewellers. Selling more than one million items in-store every year, their retail network is critical to their success.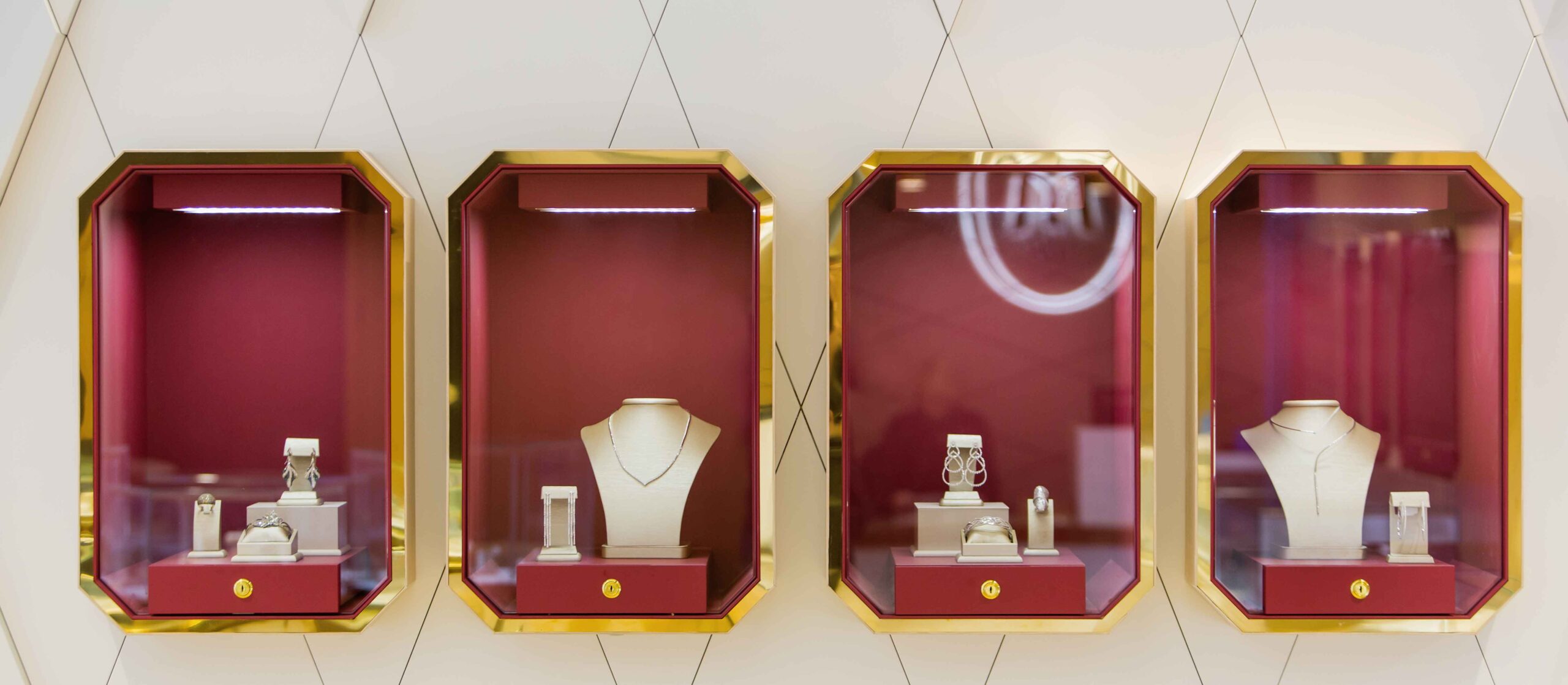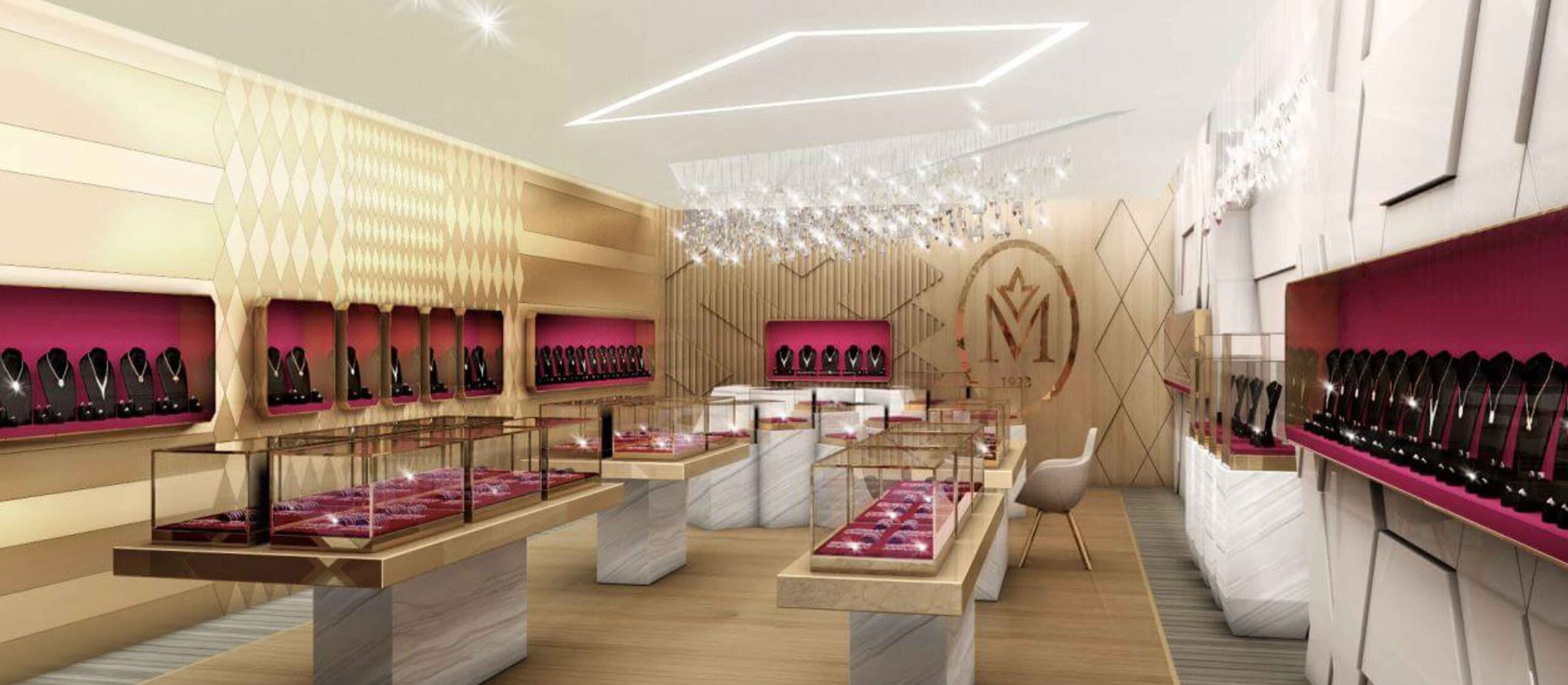 Central to success was an in-depth knowledge of their brand proposition and how this is reflected across their different product ranges.
The 1000m2 store in Moscow's AFIMALL is laid out in zones, one for each product range.
Every zone is designed with specific customer profiles in mind.
The design concept considers every aspect, from lighting, fittings and finishes to carefully planned seating areas with handpicked furniture.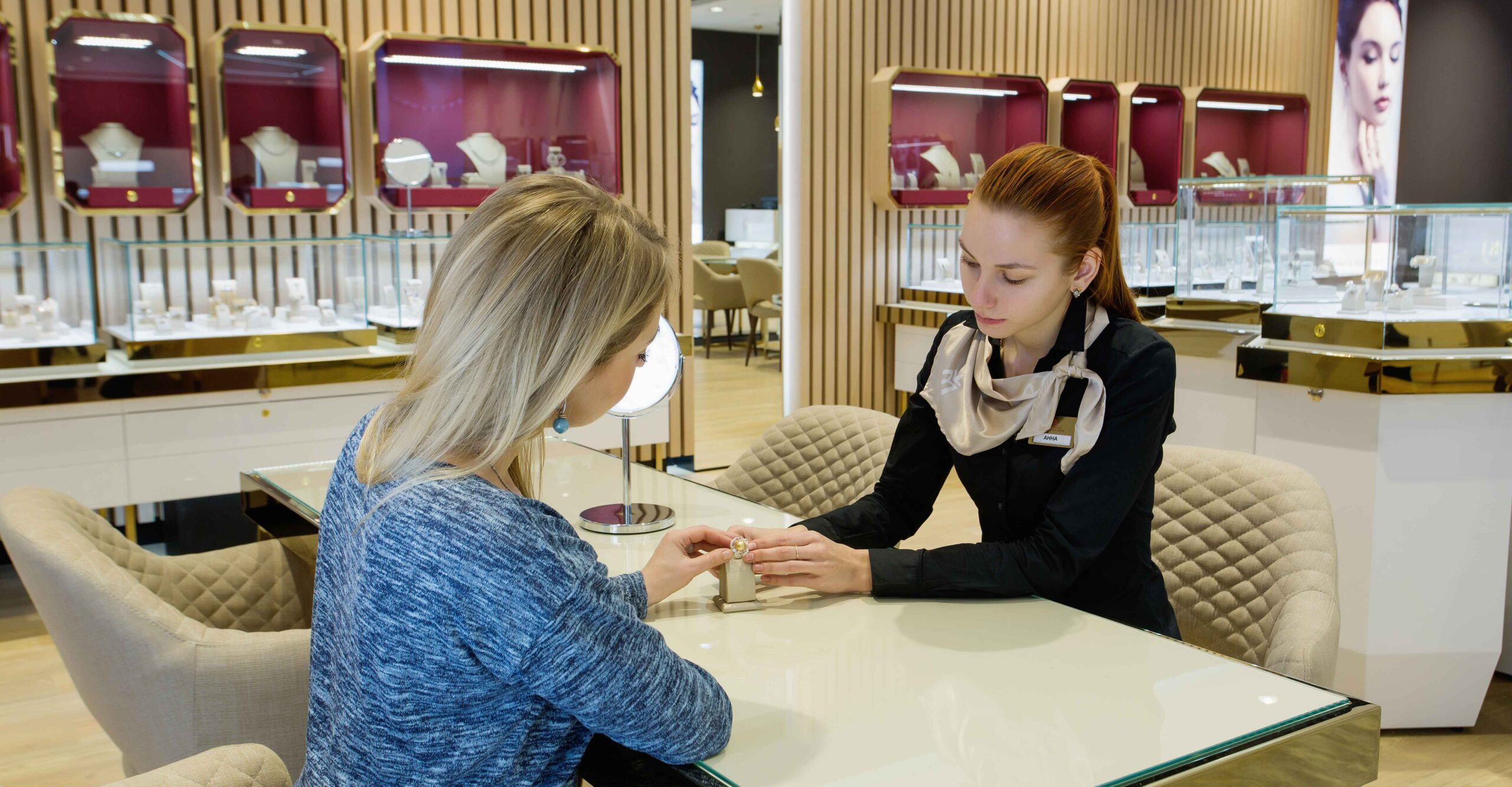 THE INVESTMENT PAYS OFF
We implemented the new design concept in two of Moscow's top shopping malls – Metropolis and AFIMALL. Since then, sales at their stores have grown by 30-35%, bucking the retail trend for luxury items in this market.
The design concept is now being rolled out at future stores.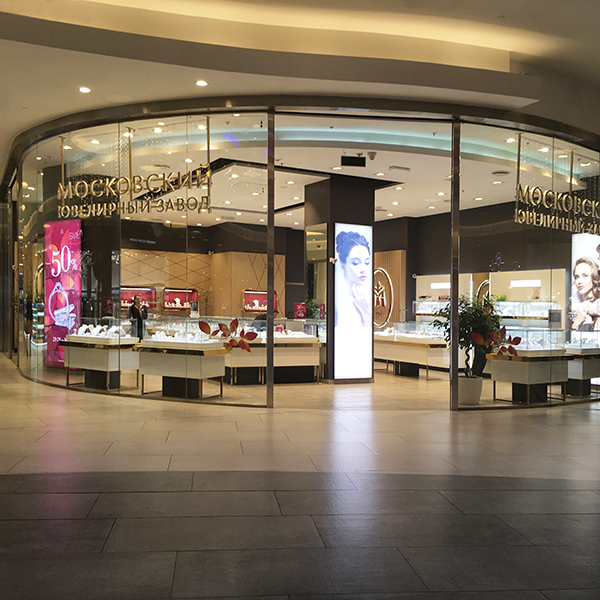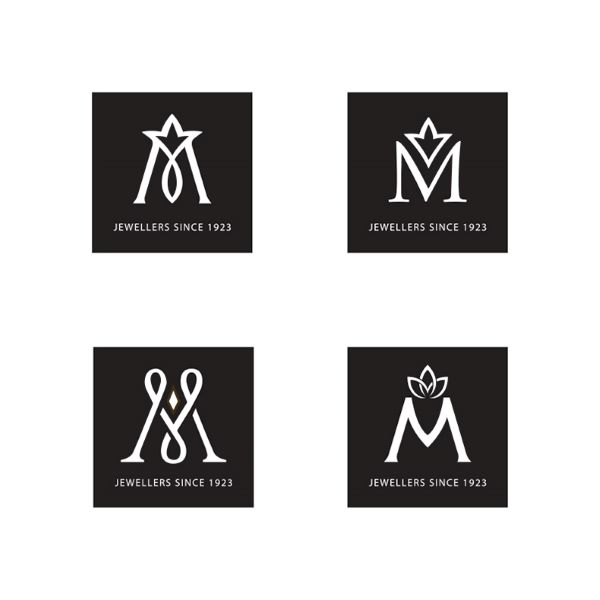 BRAND INSIGHT IS KEY TO SUCCESS
Our aim was to successfully translate their brand proposition into the retail environment, ensuring that the interior design and architecture engage every customer in the right way. The design incorporates a high level of digital interaction, with high quality video used to actively engage visitors.
The result is a welcoming branded space where every customer feels comfortable browsing and is motivated to purchase.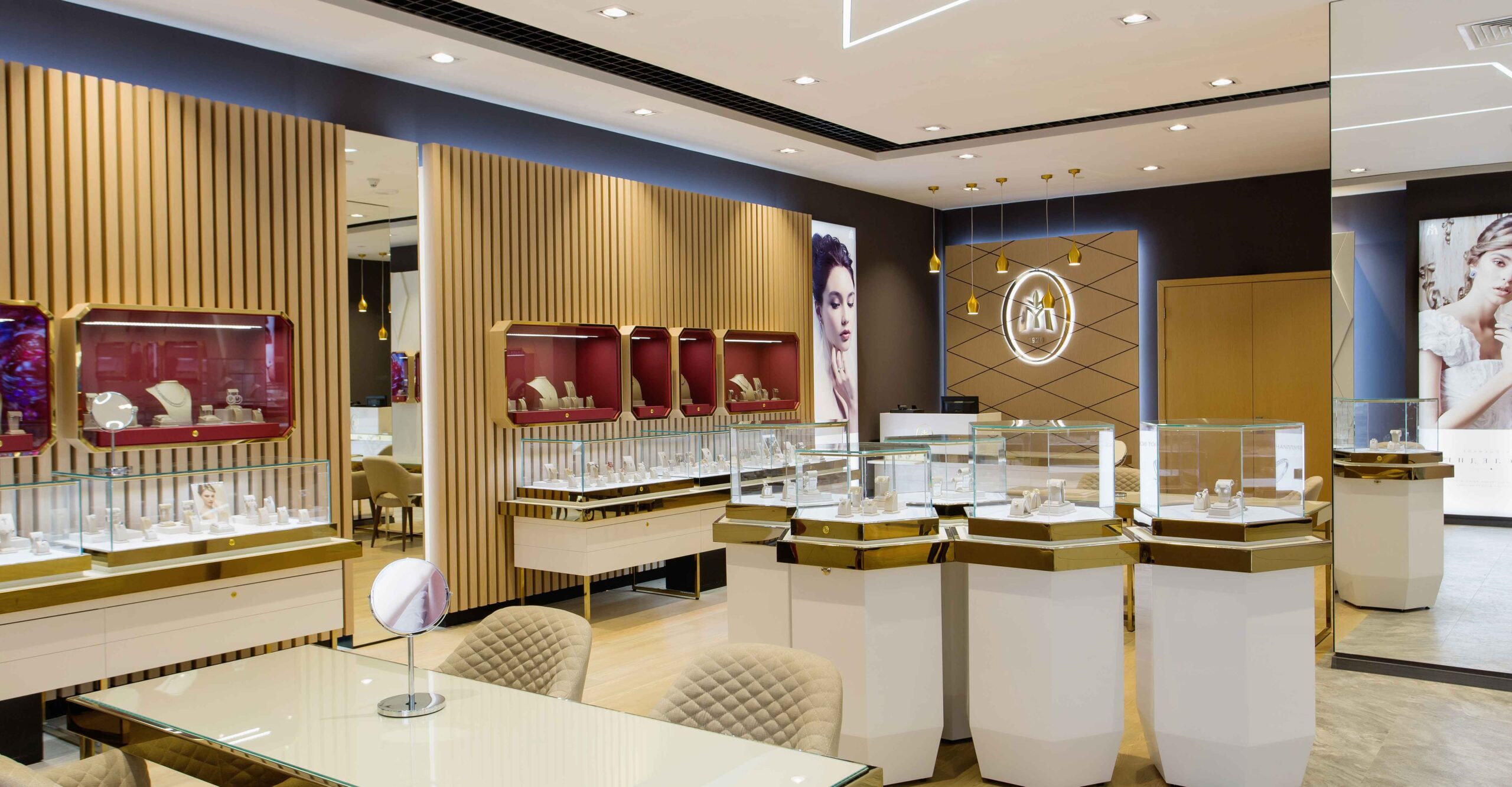 'The new retail concept has provided an incredible boost to our brand's image. Our customers and staff have truly welcomed the flagship concept and this has been reflected in our sales, which have grown by 30-35%. The combination of planning, product display and digital presence has helped us move our offer beyond what we had anticipated.'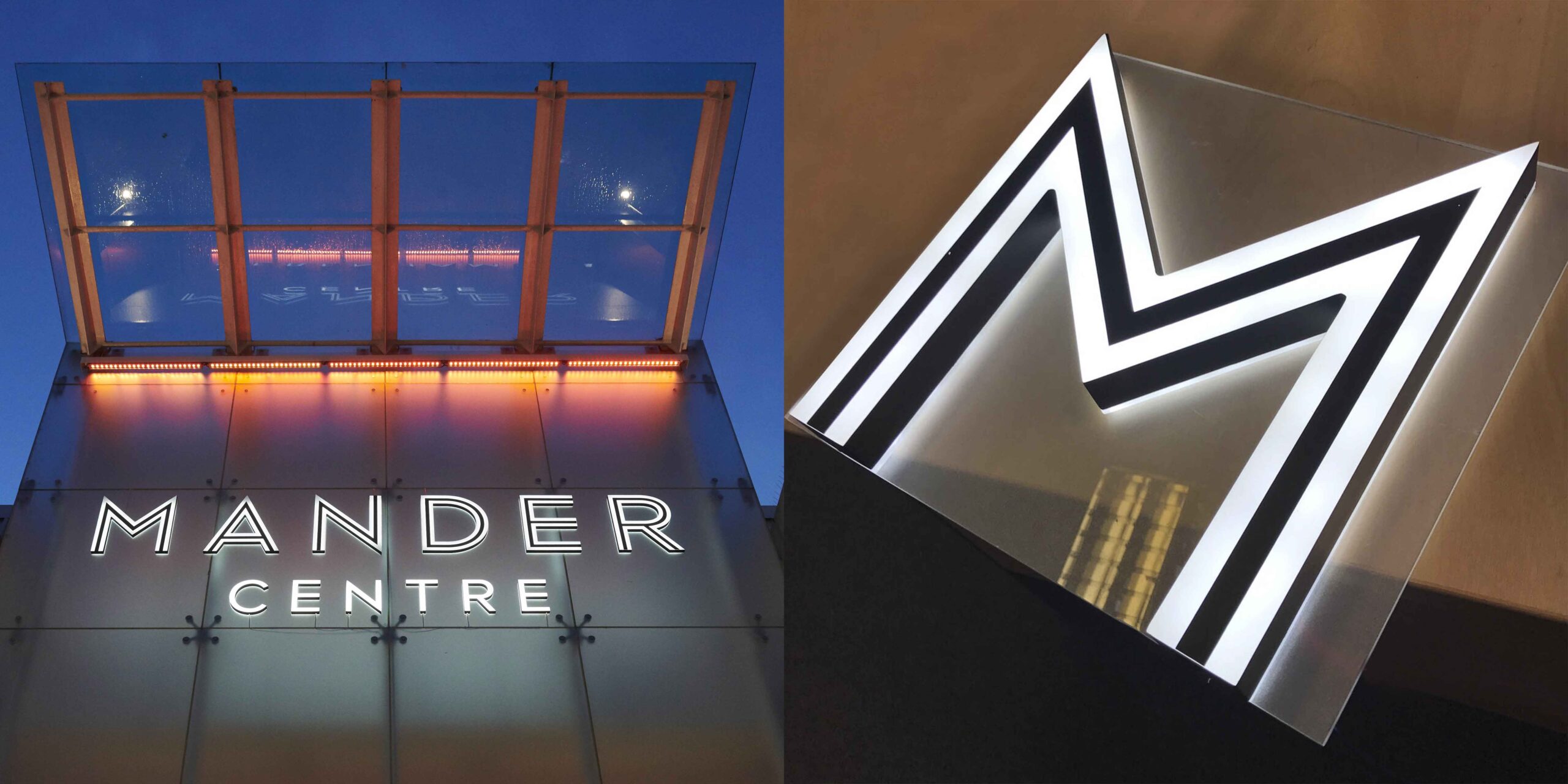 THE BRIEF
To breathe new life into the Mander Centre, a 1960s retail destination in Wolverhampton, UK. To create a new tenant mix that will attract a different profile of shopper and encourage them to stay longer.
At 52,500 m2 gross leasable area, the Mander Centre is the largest shopping centre in Wolverhampton, a lively city with a catchment of over 584,000 residents and attracting over 17 million visitors a year.
The centre was purchased by Benson Elliot in 2014. They commissioned the most significant redevelopment programme to date. The £35 million investment includes a new flagship Debenhams department store of 9,400m2, along with 10 other retail stores.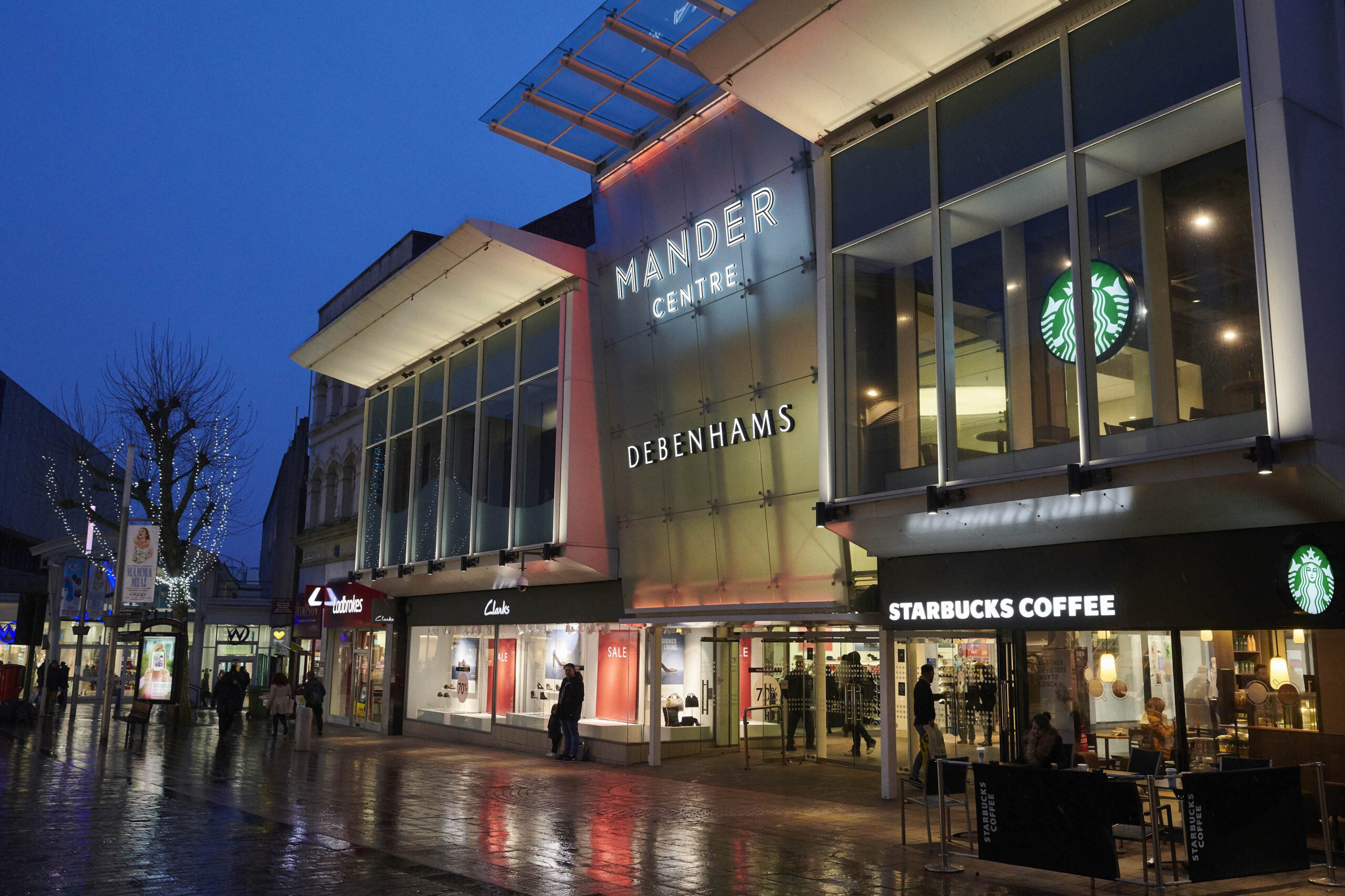 Mander Centre entrance vibrant lighting scheme
The key design features are the main entrances. The introduction of new signage and a vibrant lighting scheme ensures that the centre stands out and is welcoming, attracting visitors both day and night.
The dramatic transformation continues inside with contemporary and intuitive wayfinding signage to enhance the visitor experience, strategically located by newly installed lifts and escalators.
'The design team at GLIMMA immediately understood the brief and ran with it, producing design concepts that hit the mark with all stakeholders, from architects to the individual retailers. Their innovative ideas were readily translated into signage and lighting solutions that have dramatically transformed the Mander Centre, making it the retail destination of choice for the people of Wolverhampton.'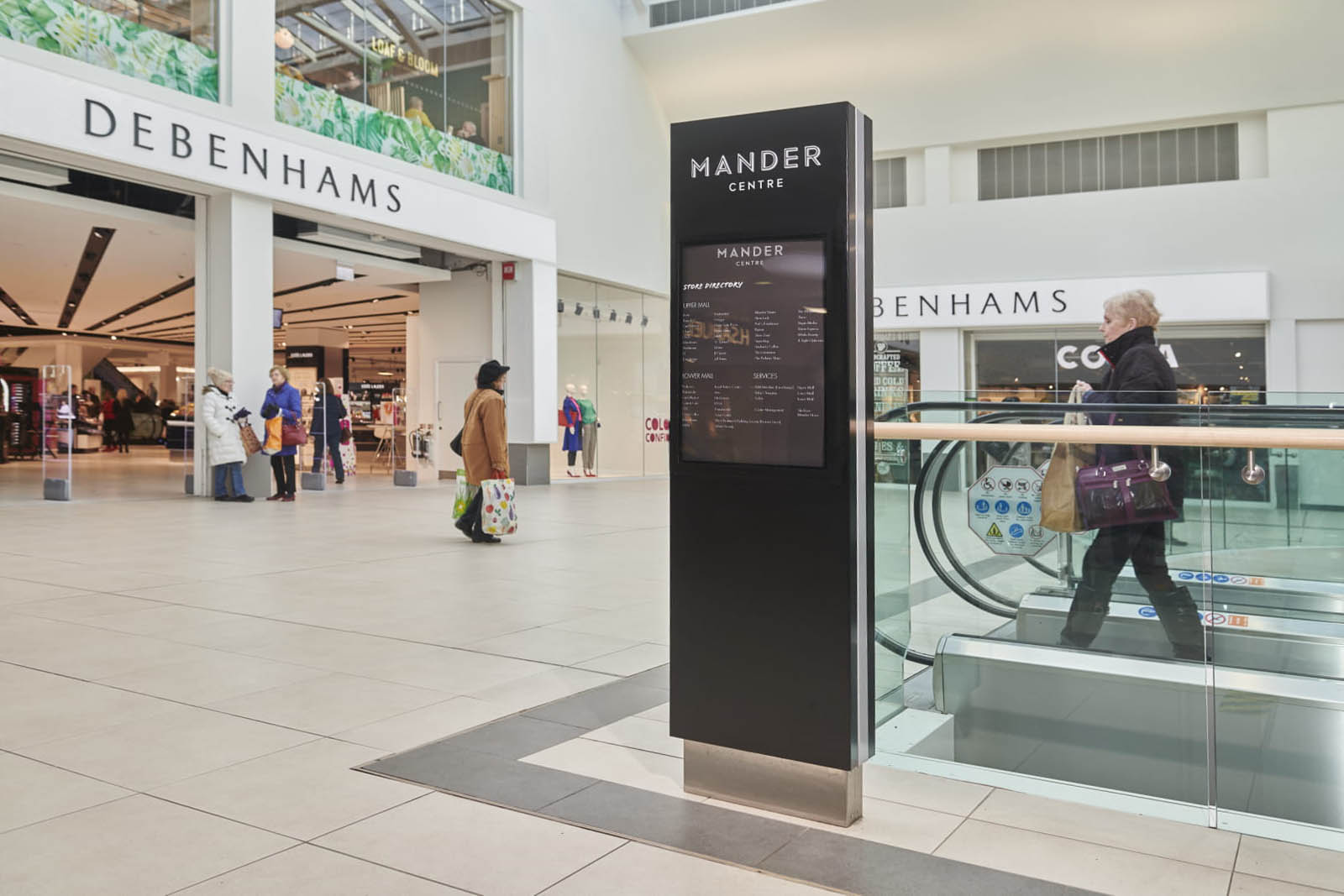 Contemporary and intuitive wayfinding signage to enhance the visitor experience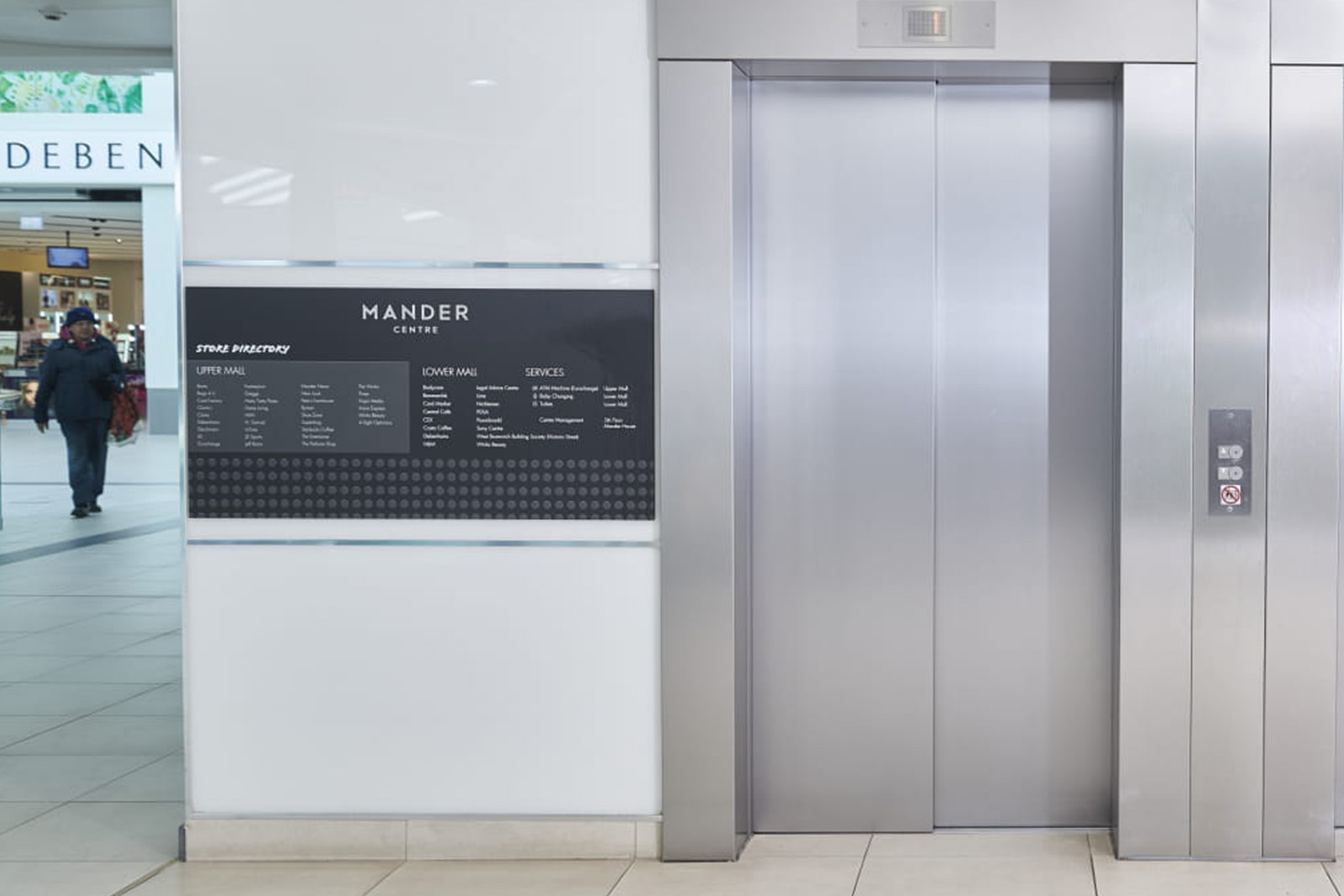 A customer journey with impact
These environmental enhancements have not only transformed the appearance of the centre but also helped to change shopper behaviour. The customer journey is carefully managed, encouraging visitors to stay longer and enjoy the wider food and entertainment experience that the Mander Centre now has to offer.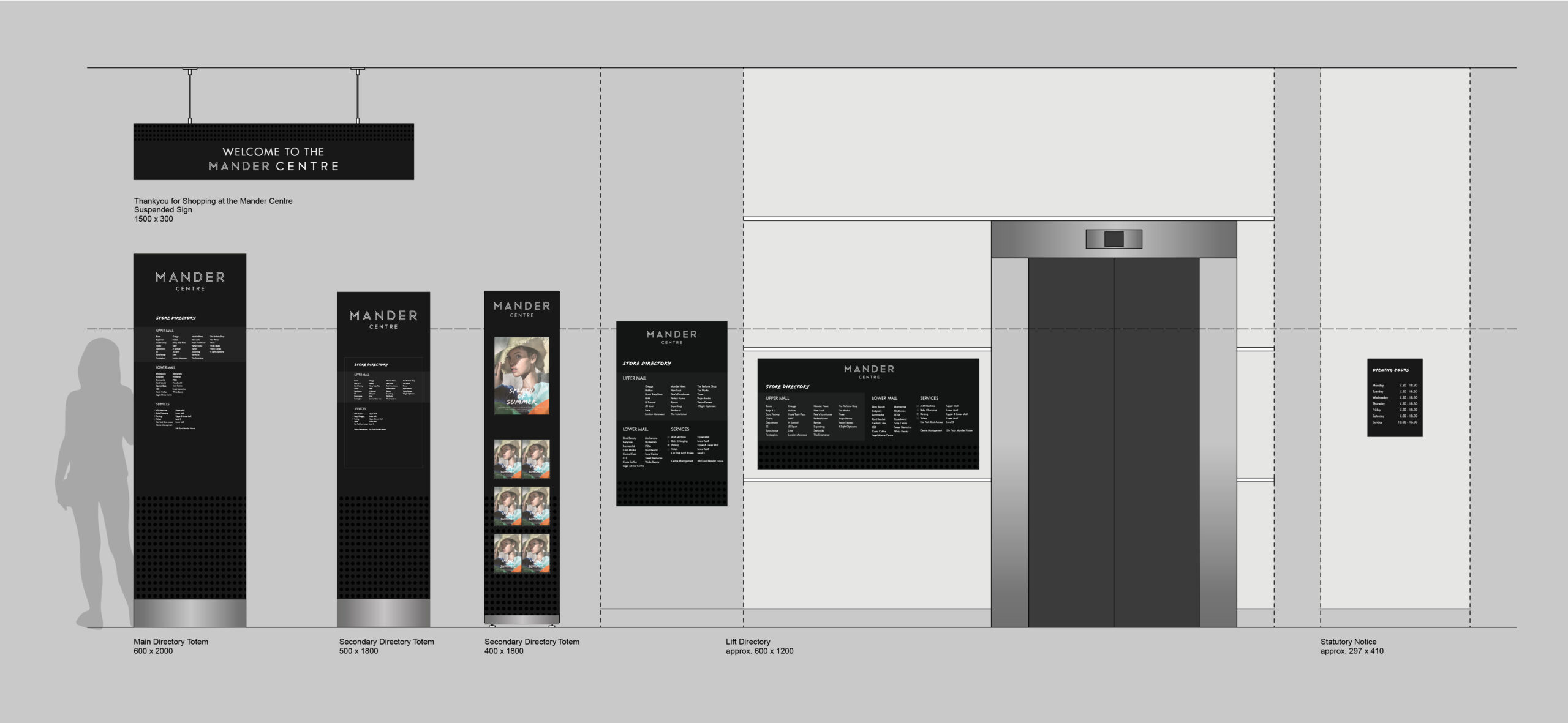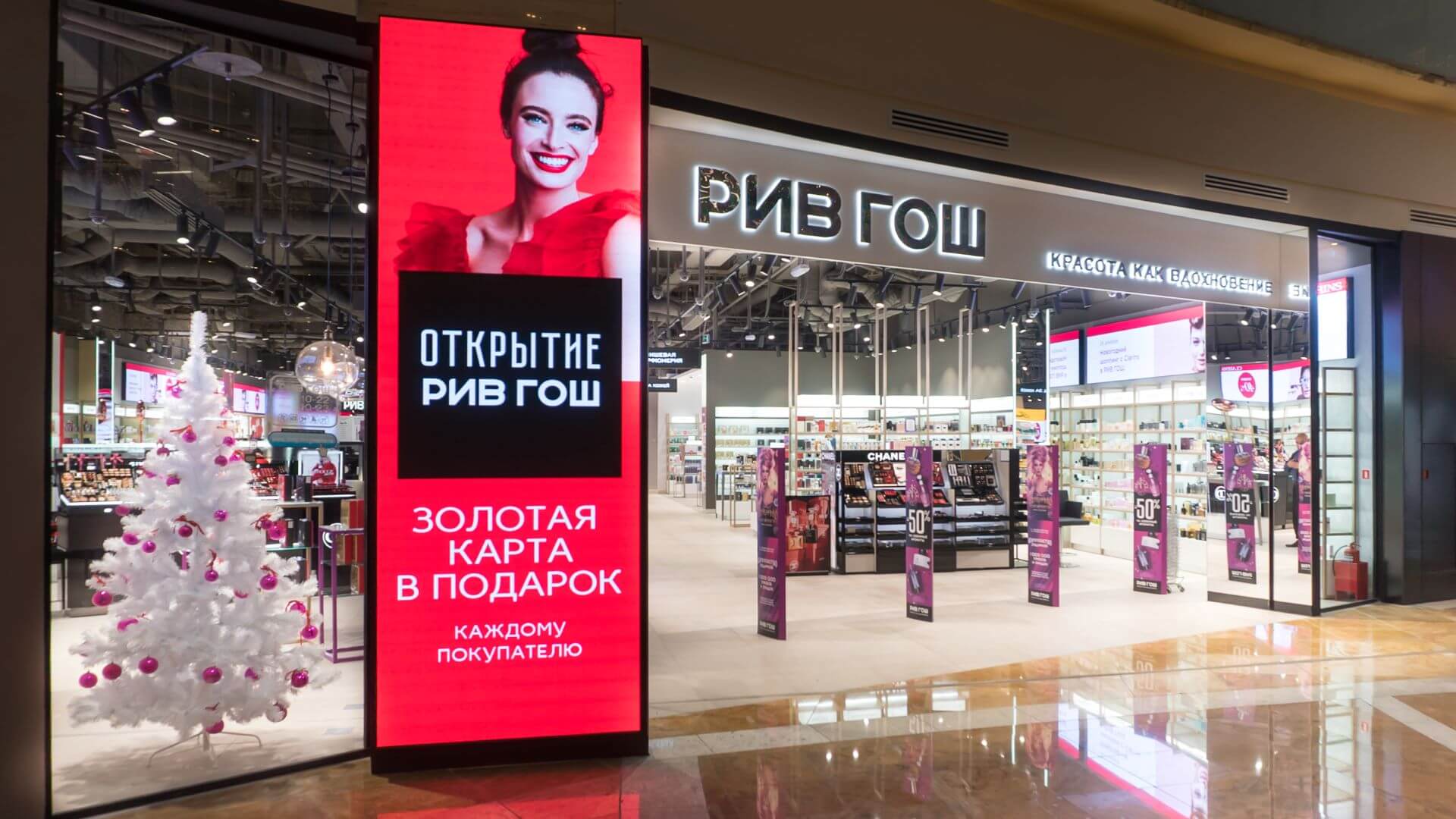 THE BRIEF
To create and deliver a new brand identity and store concept for Rive Gauche, a leading cosmetics retailer.
With 250+ stores across Russia, Rive Gauche is one of Russia's largest beauty retailers, selling brands such as Chanel, Givenchy and Dior, in addition to their own brand make-up.
BRAND STRATEGY AND DESIGN
Working with Rive Gauche's brand and marketing leaders, our G CREATIVE team in London helped to define a new brand hierarchy. Following indepth analysis – market and brand position, target audiences, tone of voice and extensive retail benchmarking – we developed a new brand identity and retail concept.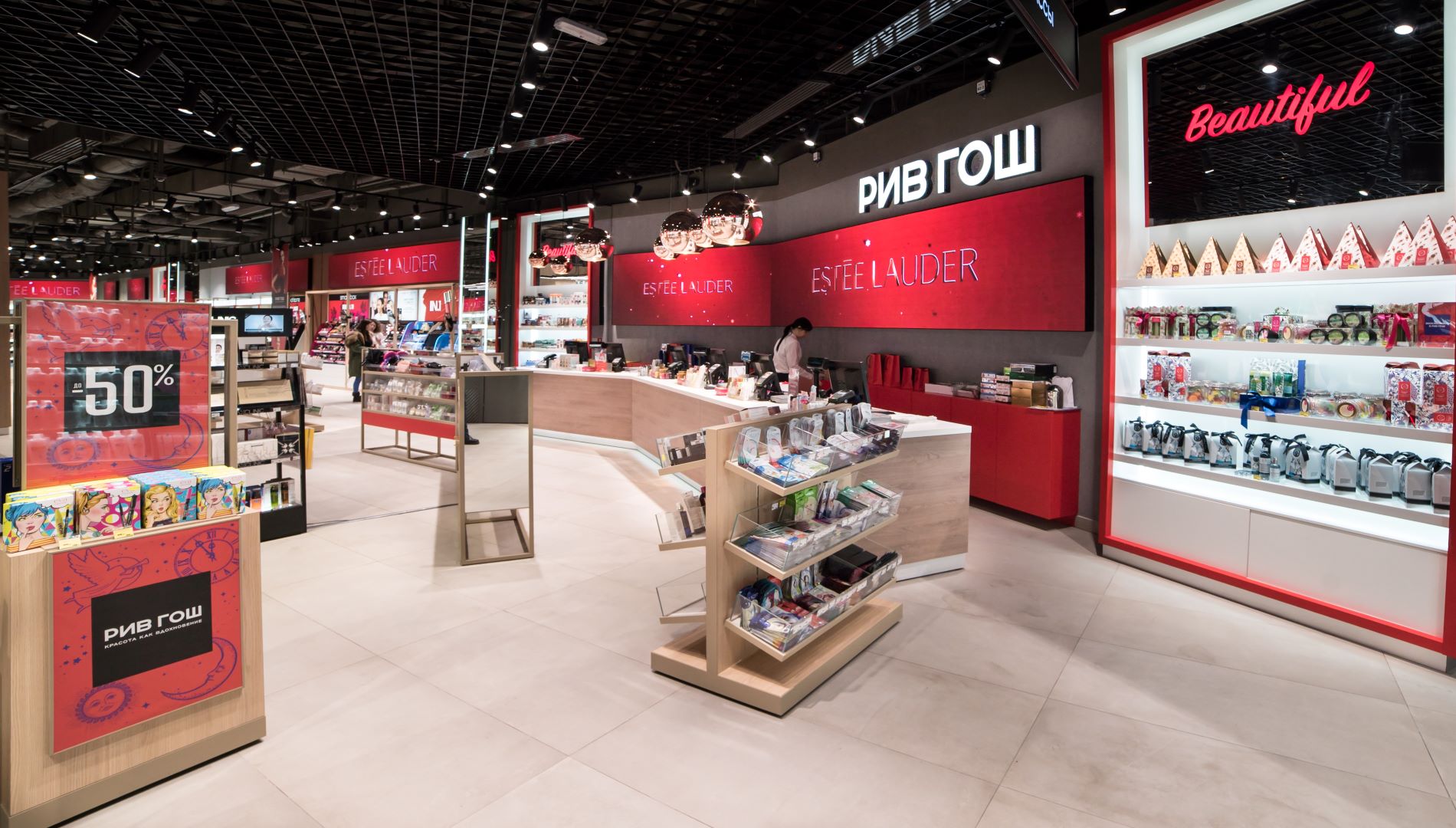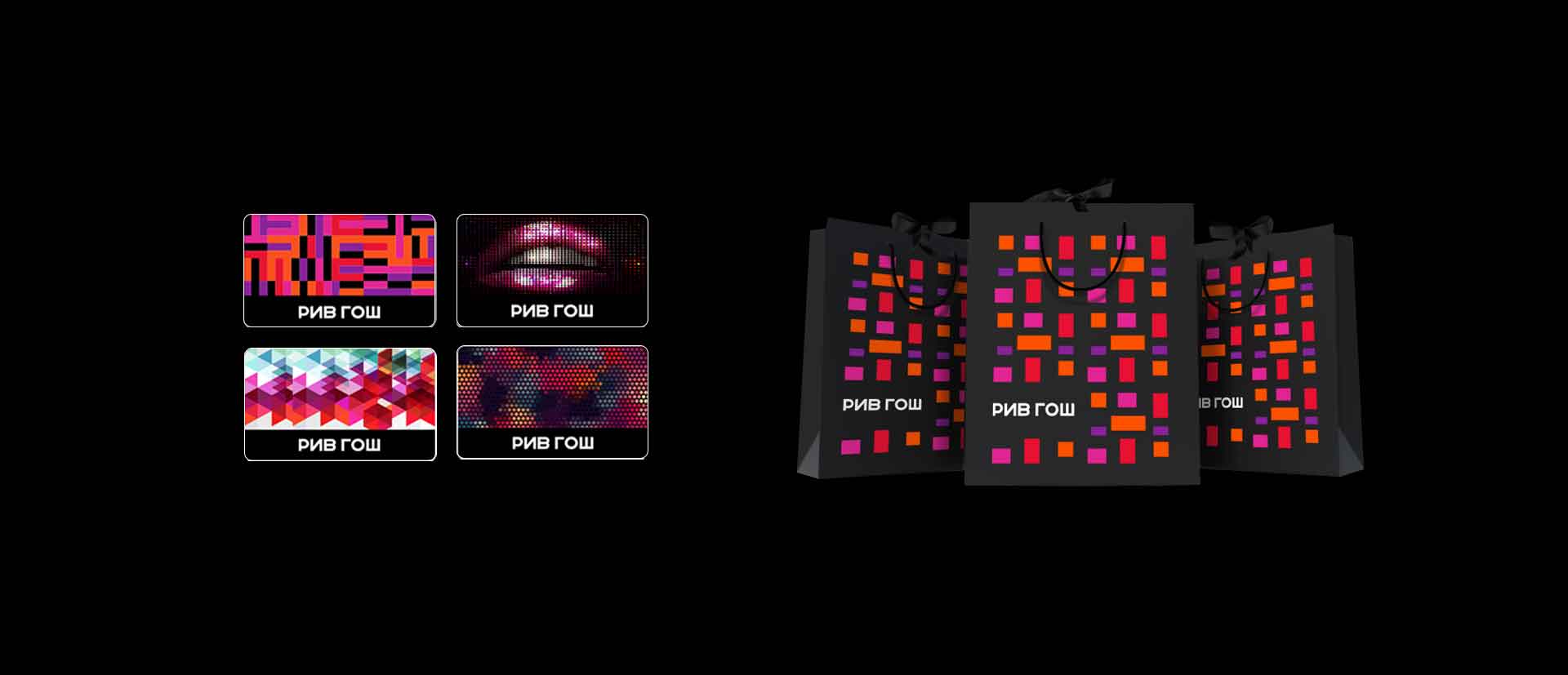 EVERY BRANDED ITEM IS DESIGNED TO MAKE A STATEMENT
The new identity has been applied across all product ranges, merchandise and instore.
Bags are important merchandise – we designed them with everyday luxury in mind. This was incorporated into the shopping bag design, strongly implying the quality of both the products and the customer experience.
The Customer Loyalty cards are clearly distinguished through choice of colour. A variety of card holders help to personalise the experience, allowing individual customers to choose the design that best suits their personality.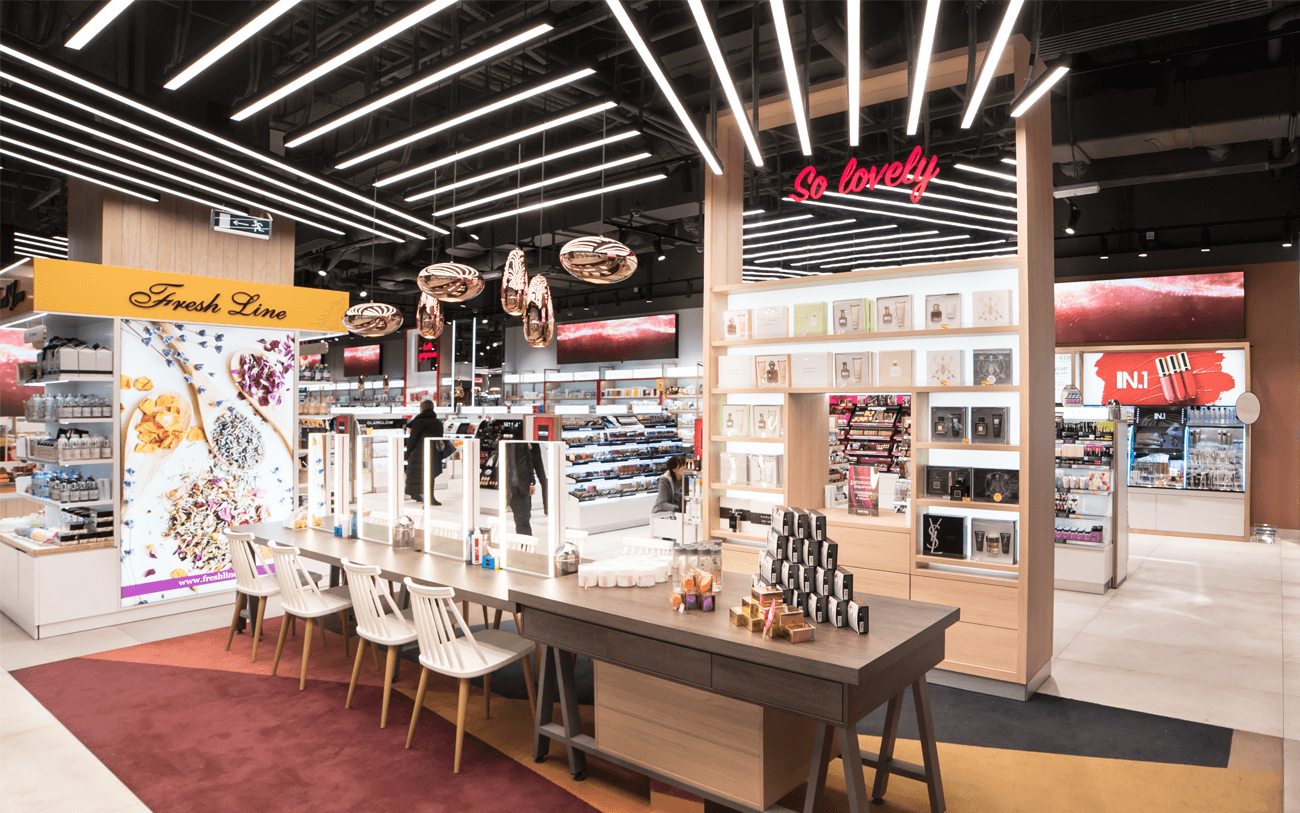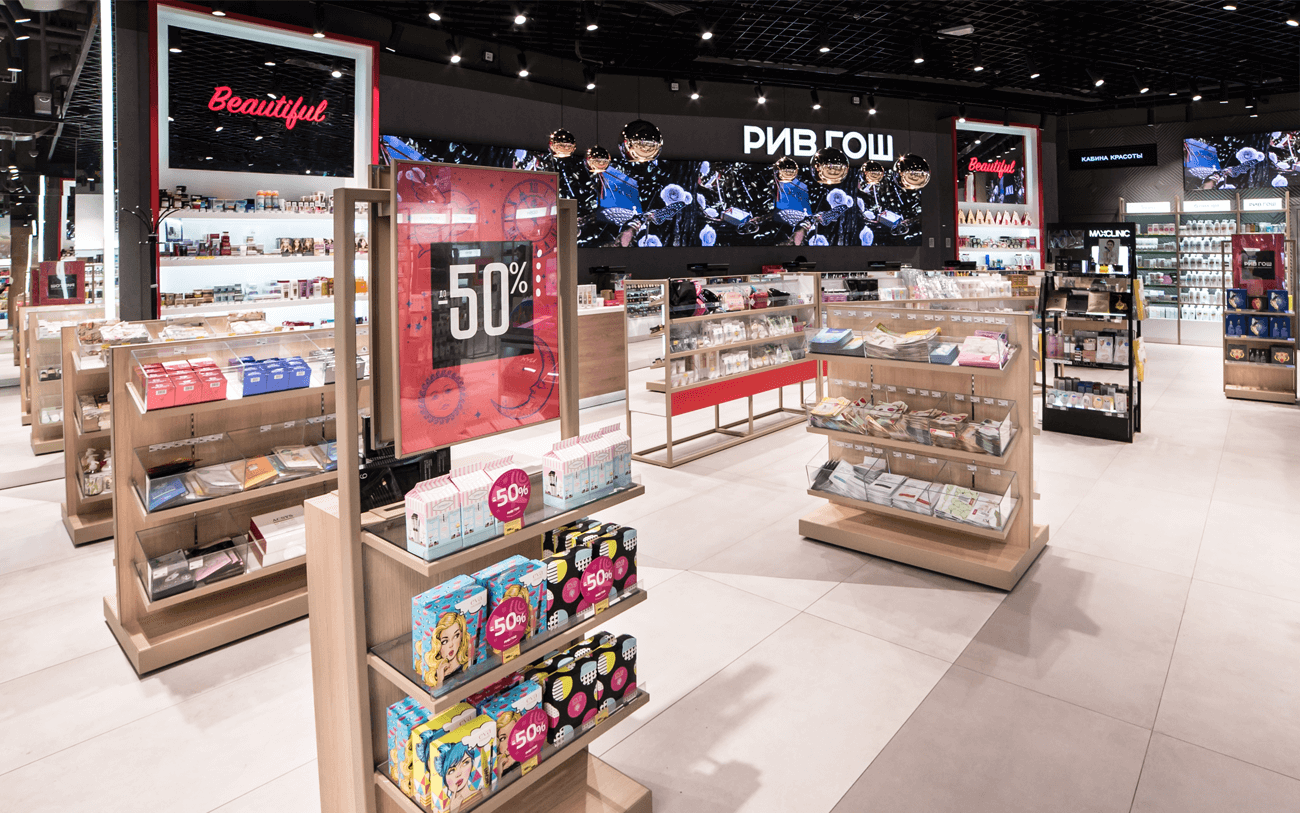 TRANSLATING THE BRAND DESIGN INTO THE PHYSICAL RETAIL SPACE
The brand vision was encapsulated into our store designs: clear and spacious floor plans, differentiated brand zones, focused promotional areas, unified graphics and formats and consistent clear signage to create a pleasant and easy customer journey that is appealing to the eye. Brand colours were implemented throughout.
Digital was a key element, creating energy and movement to catch the eye of customers and draw them into the store, into particular zones or to specific products.
We implemented the new retail concept at their 600m2 flagship store in the AFIMALL shopping centre in Moscow.
'Our new brand positioning represents a big step towards achieving our marketing goal of strengthening our leadership position. The G Creative team were able to quickly and precisely understand our objectives, translating them into a vibrant and relevant design. But perhaps more importantly, they have succeeded in making the new brand become alive instore, to create a unique customer experience.'
The end result is a warm welcoming environment. The openness encourages visitors to linger and browse.
The use of natural finishes and clean lines, the careful choice of lighting and illumination… all these elements help to create a ambience and look that ensures Rive Gauche stores will stand out from its competitors.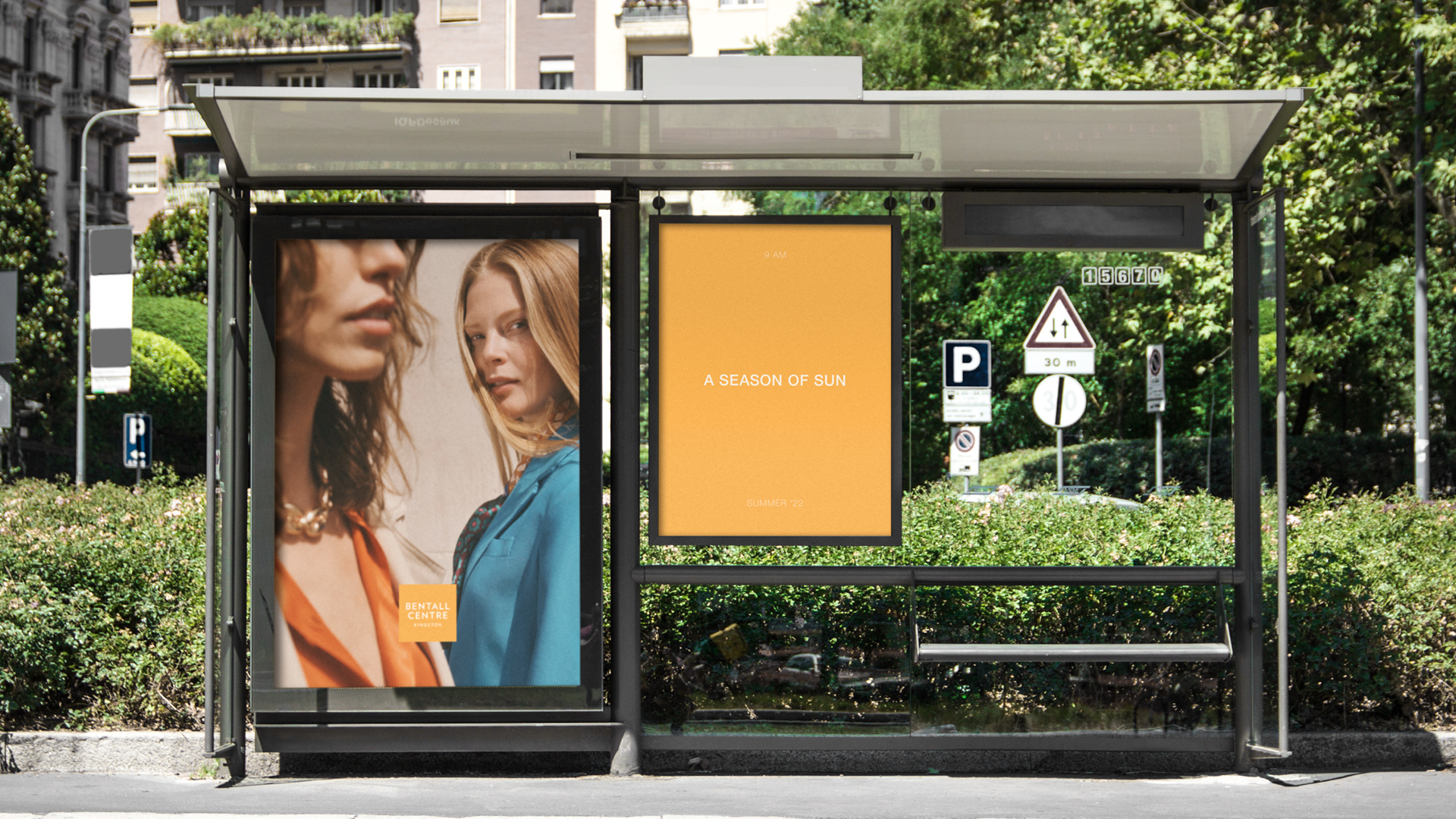 Summer 2022 Chapter 1 OOH Advertising
The Bentall Centre summer '22 campaign was created to celebrate Kingston, The Bentall Centre and its surrounding area — it took into consideration all the latest consumer trends and focused on hyperlocalisation.
The campaign talks about liberation and friendship for the summer months. It celebrates elegance and style. A sense of care-free abandon is diffused throughout as the campaign celebrates summertime friendship at the water's edge.
The campaign is divided into 3 chapters.
The first chapter called '9AM. A Season of Sun' tells us a story unravelling in Kingston town centre, following 2 friends around in Kingston Market Square.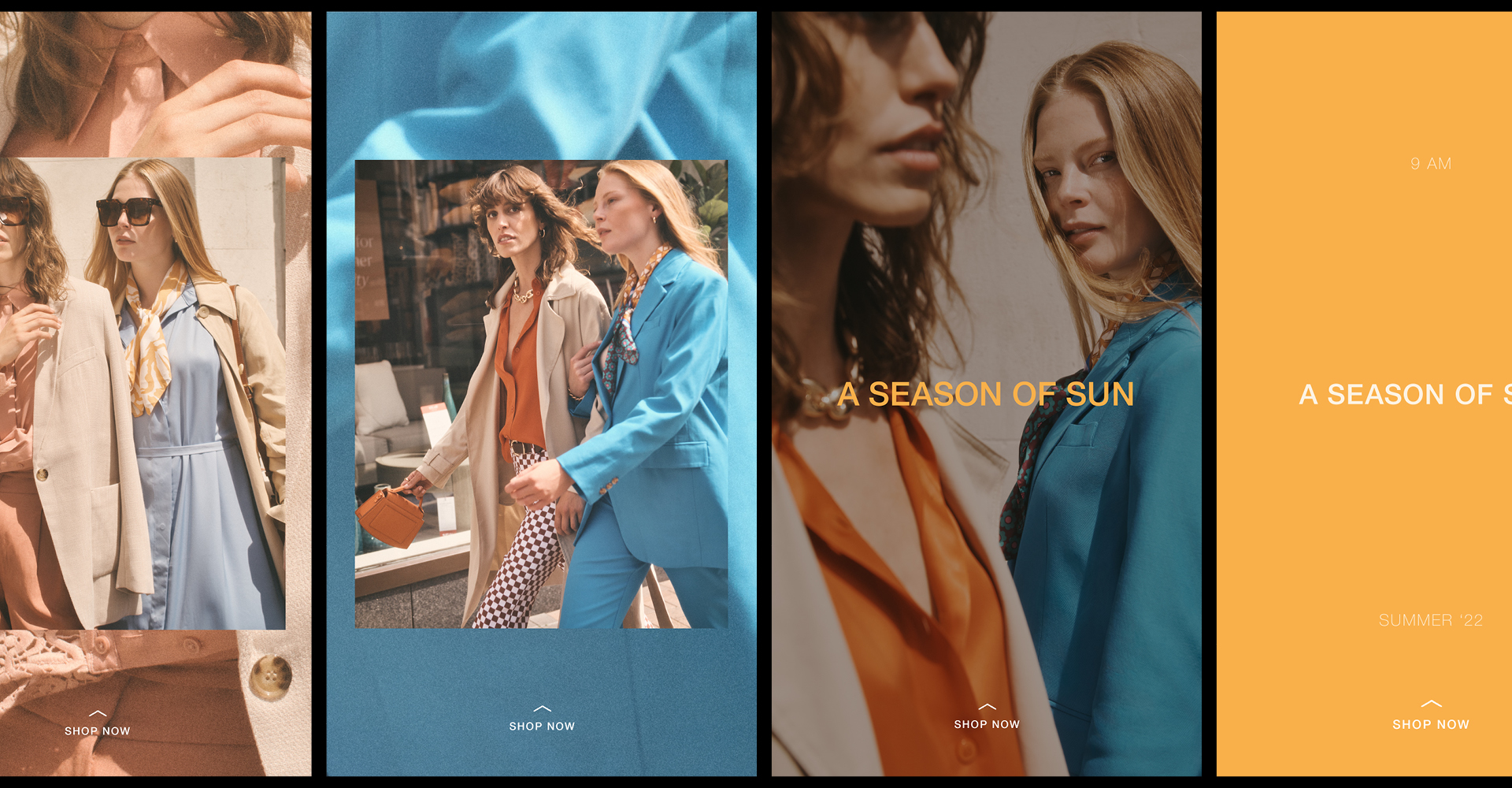 Summer 2022 Chapter 1 Social Media Marketing
The second chapter created for this client's summer campaign centred around the beauty and heritage of the iconic Kingston Bridge in the heady heat of July. As we move beyond the hustle and bustle of the town centre, our shoot's heroines get a chance to take a breath by the river's edge. This chapter, titled 'Take Me to the River' revels in the laidback, retro aesthetics of the season's fashion trends.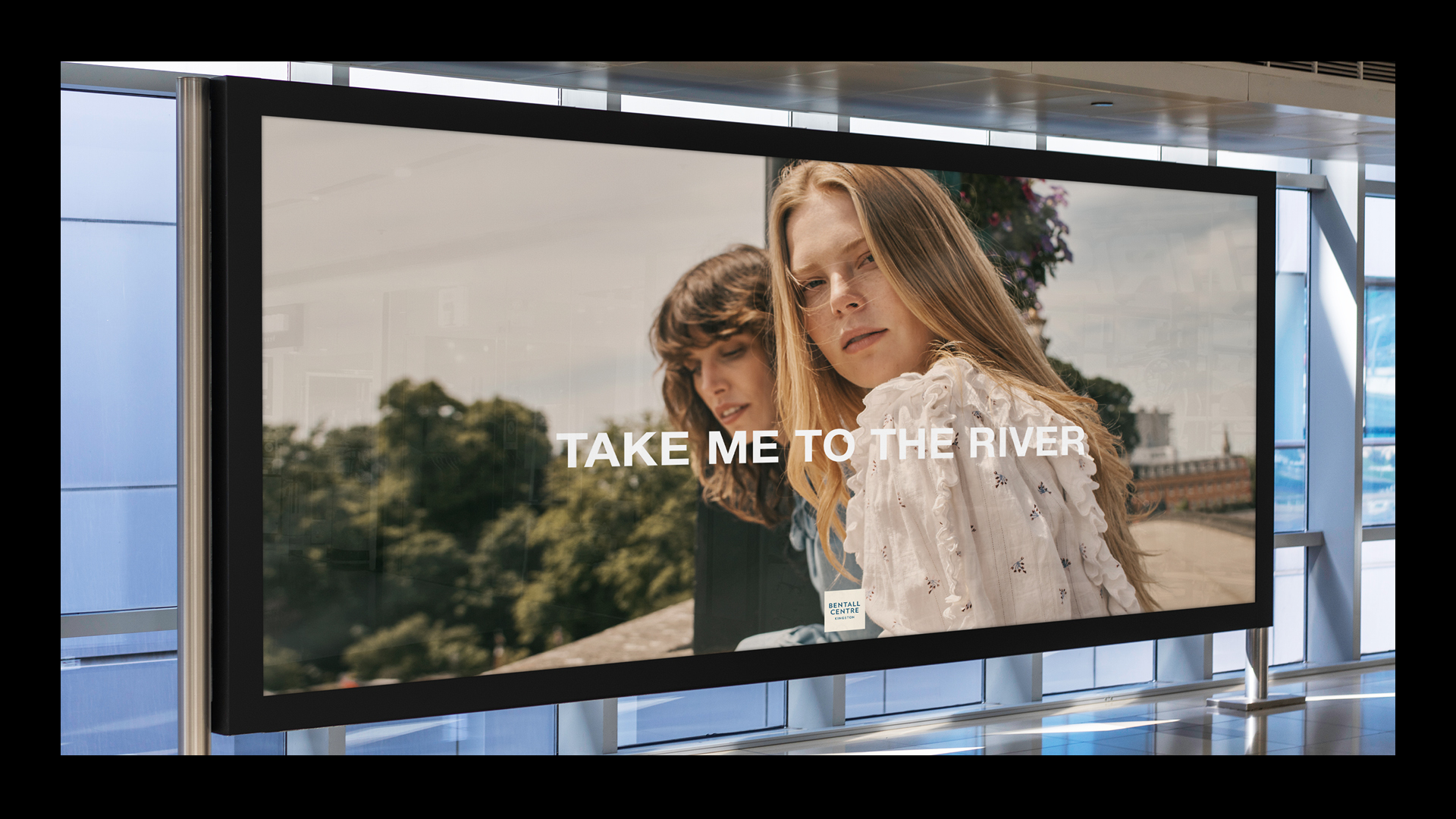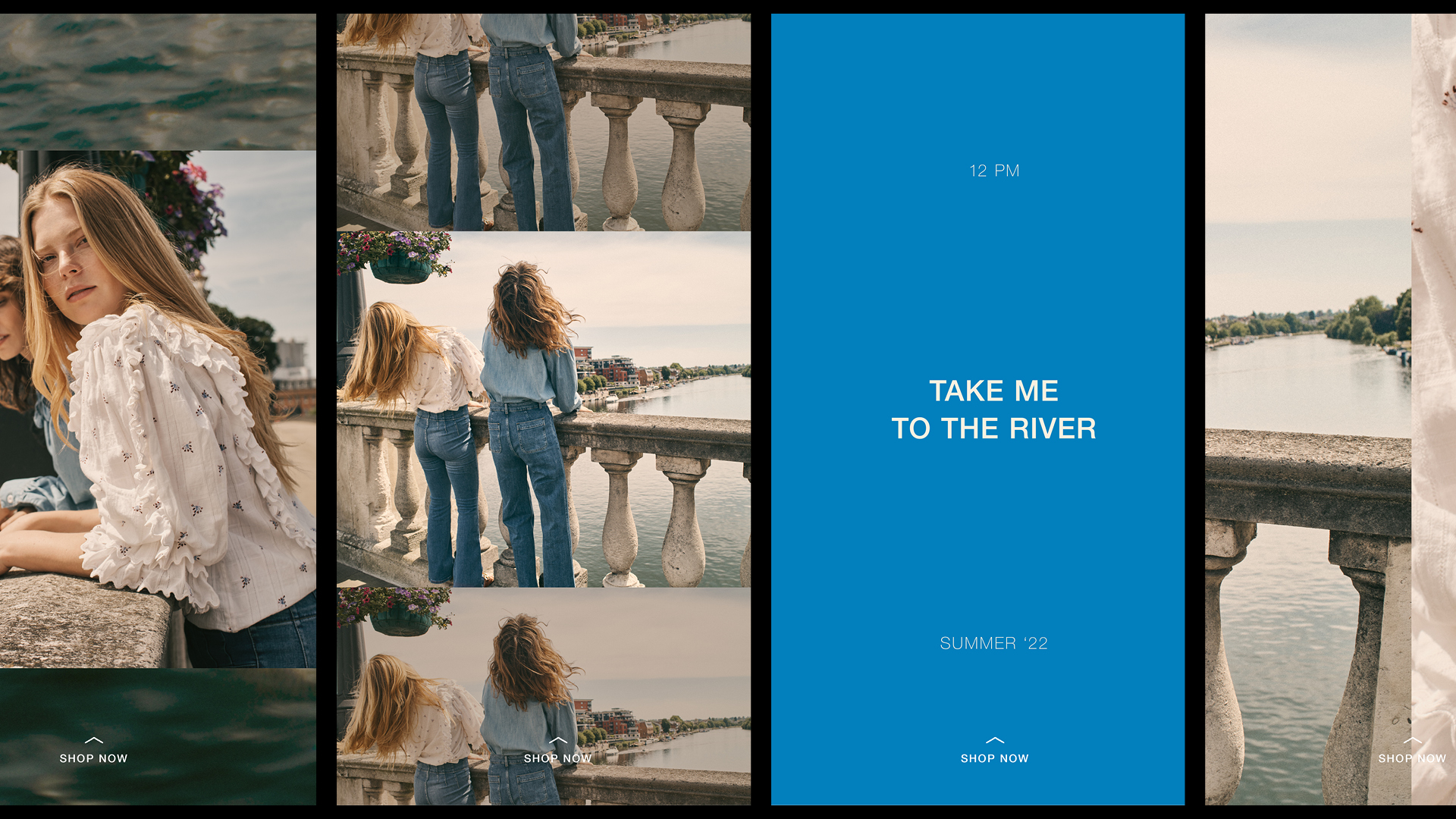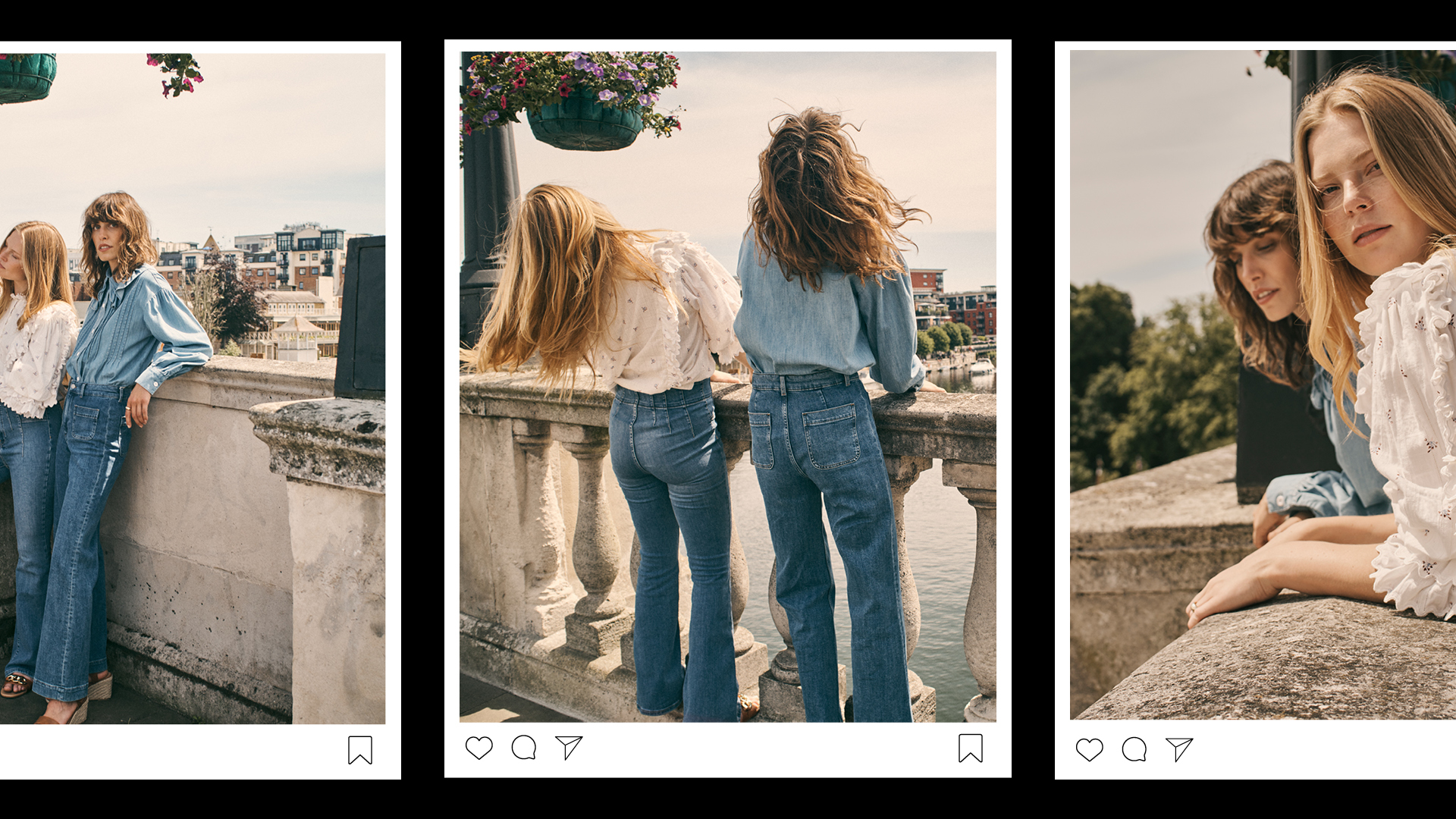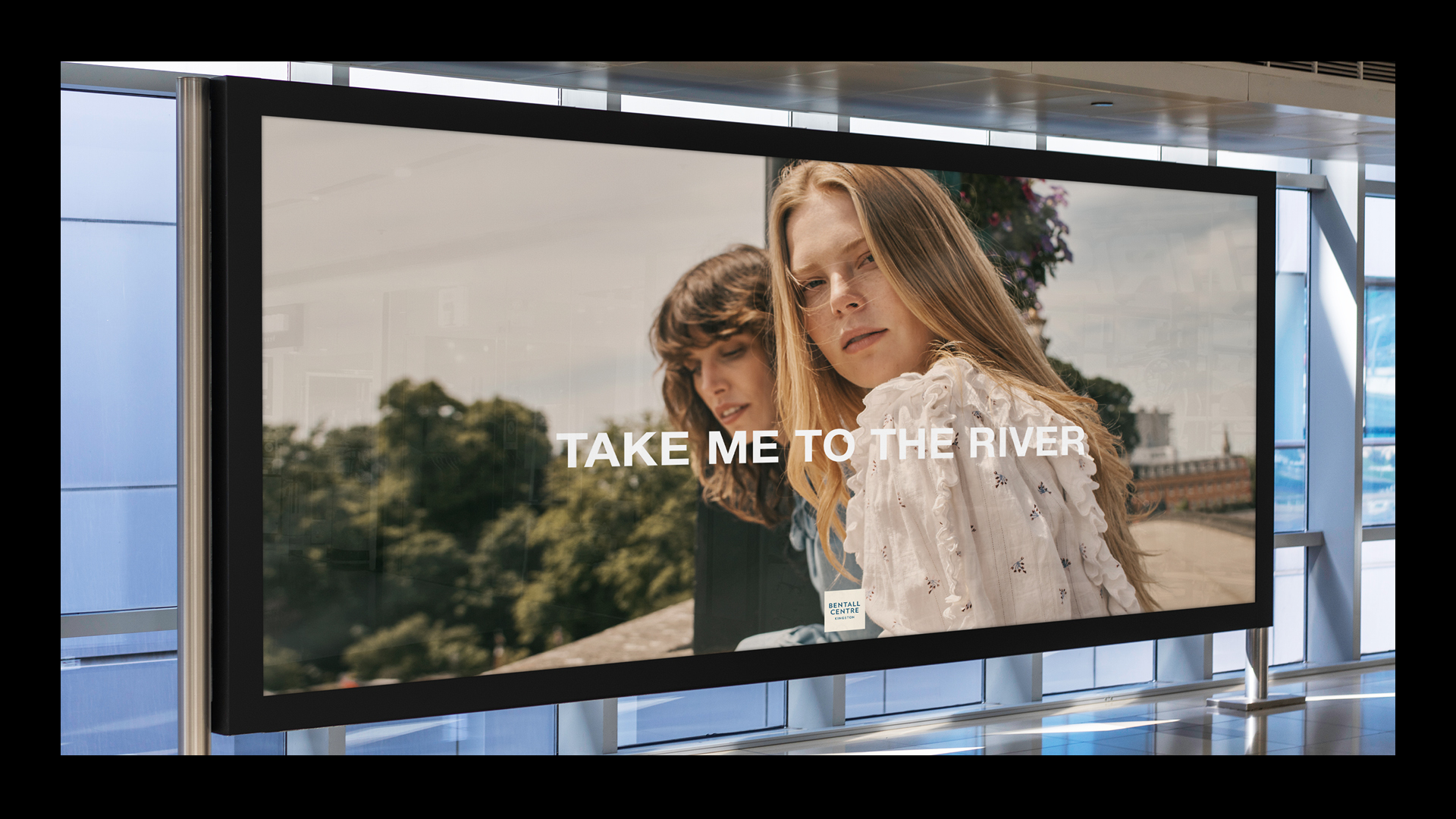 Summer 2022 Chapter 2 OOH Advertising
The third chapter closes the campaign with summer laughs and fun in the local Kingston park.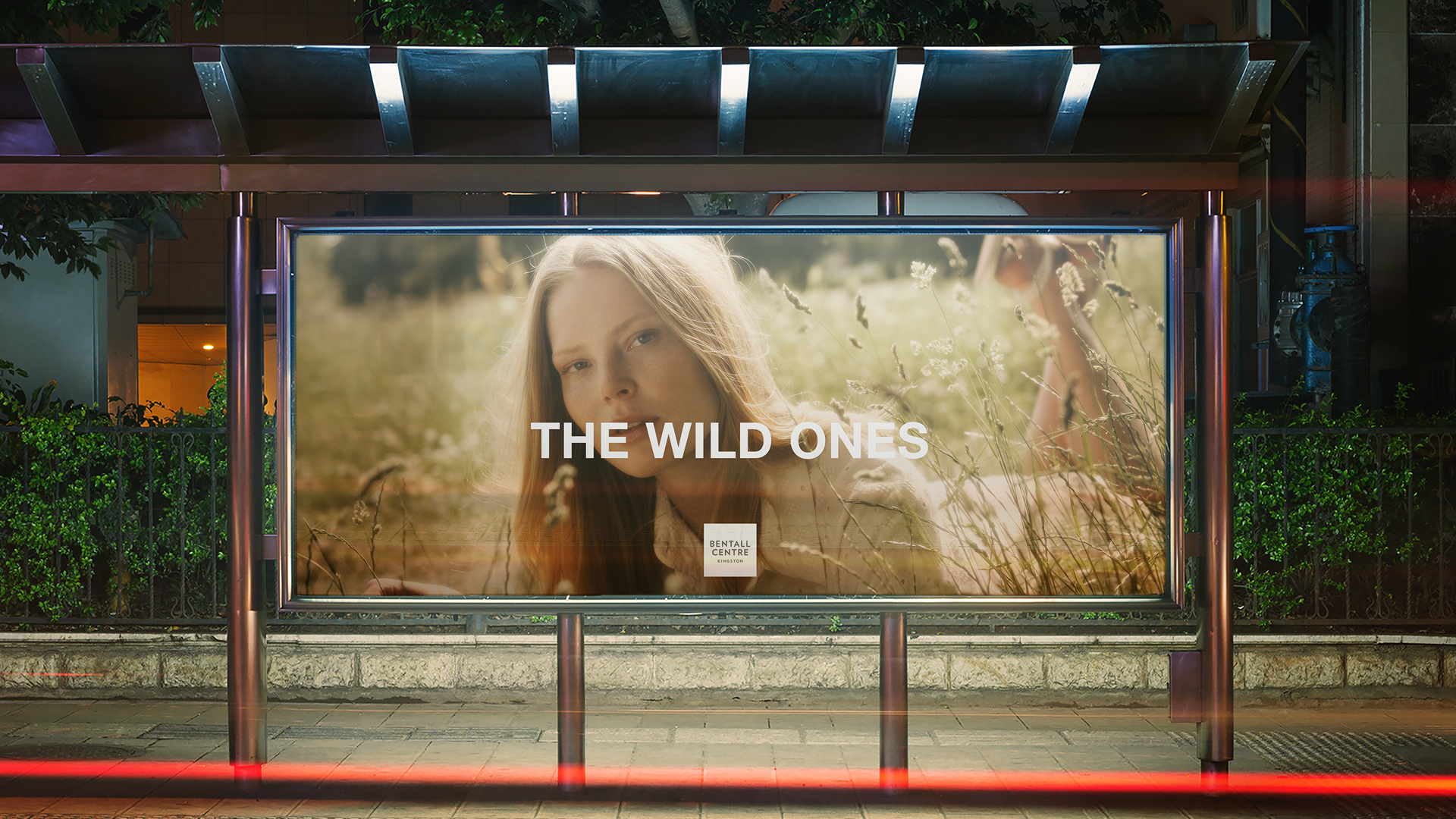 Summer 2022 Chapter 3 OOH Advertising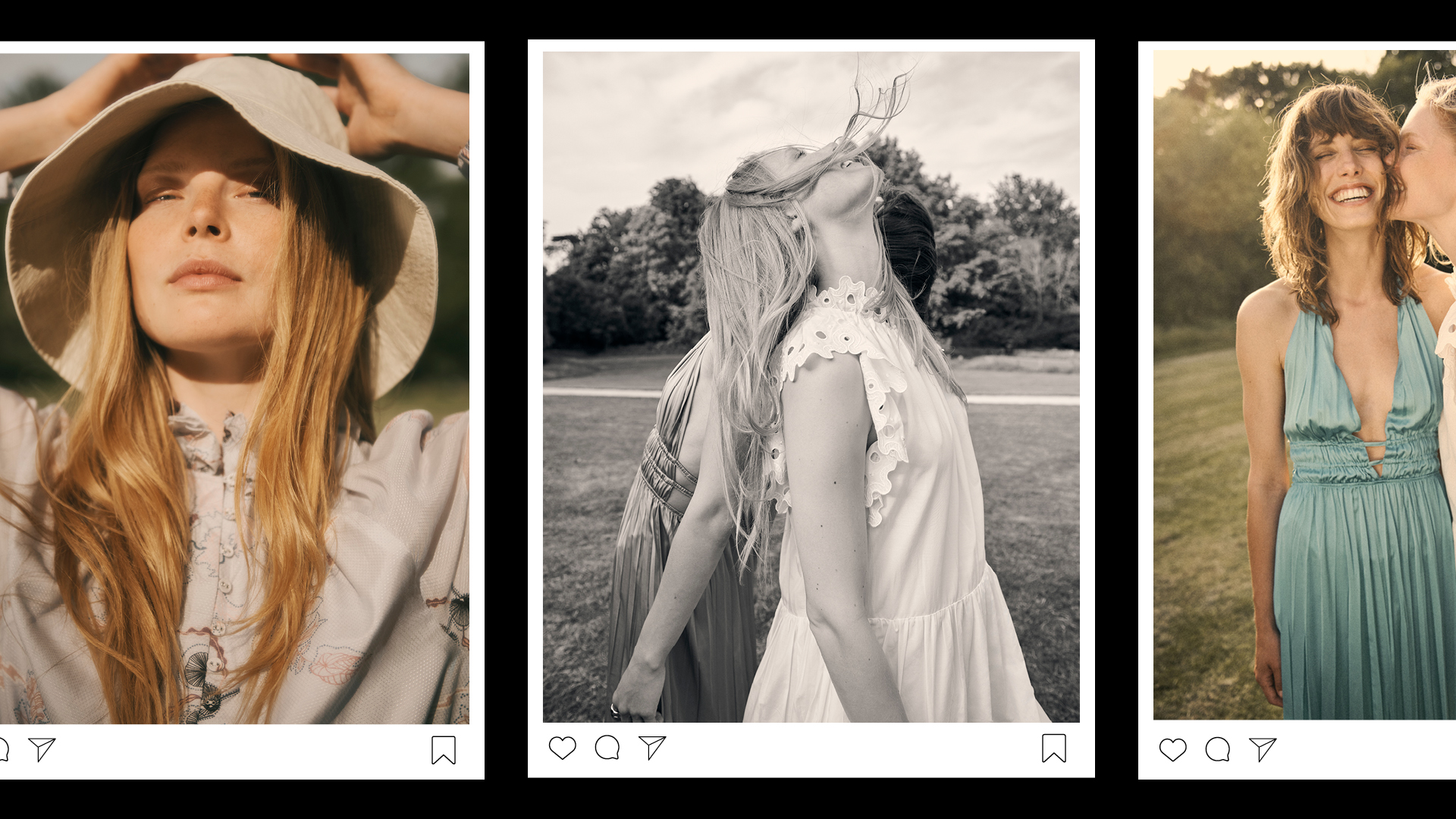 Summer 2022 Chapter 3 Social Media Marketing