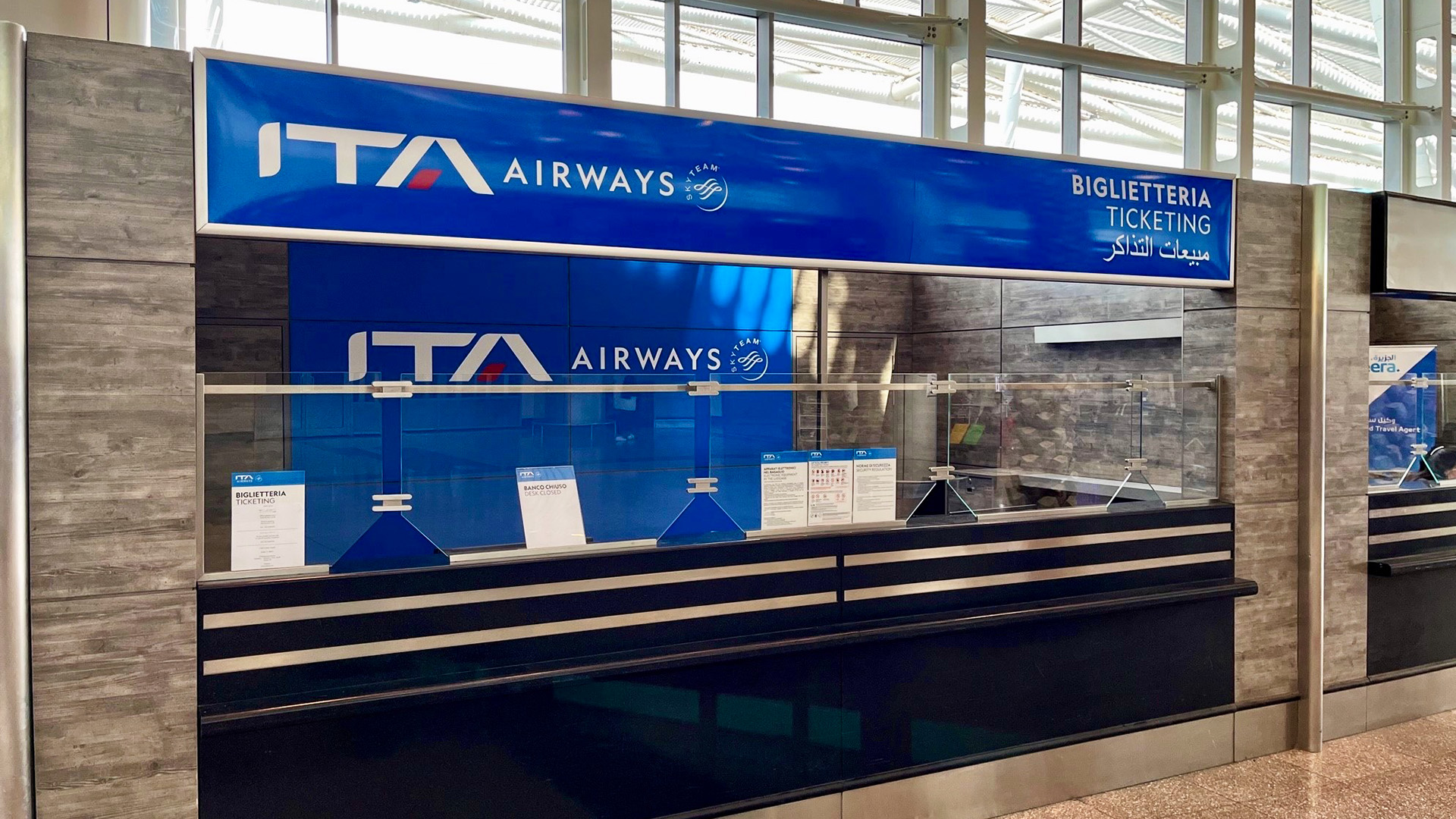 ITA Airways, the result of a bold endeavor following the crisis of former Alitalia, emerged as a new air transport company under the name Italia Trasporto Aereo. Despite securing the brand Alitalia, the company chose to enter the market with a fresh identity, ITA Airways.
In this transformative journey, GLIMMA, in collaboration with our Gold Partner DB Ingegneria dell'Immagine (Italian-based large-format print solutions company), undertook the task of replacing all previous Alitalia logos with the new ITA Airways branding across various touchpoints at international airports.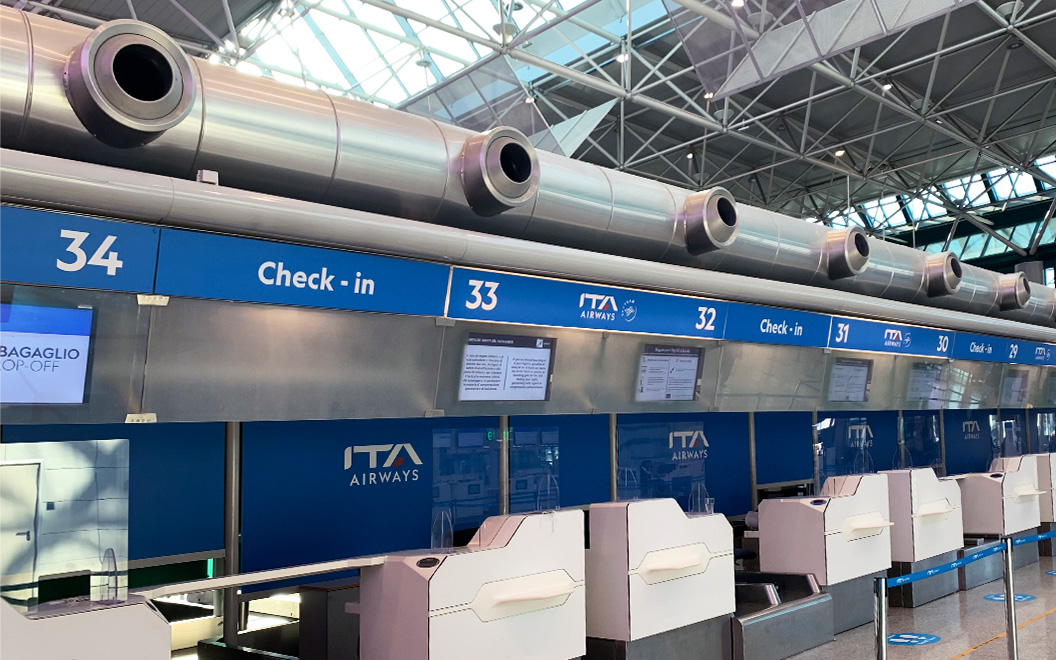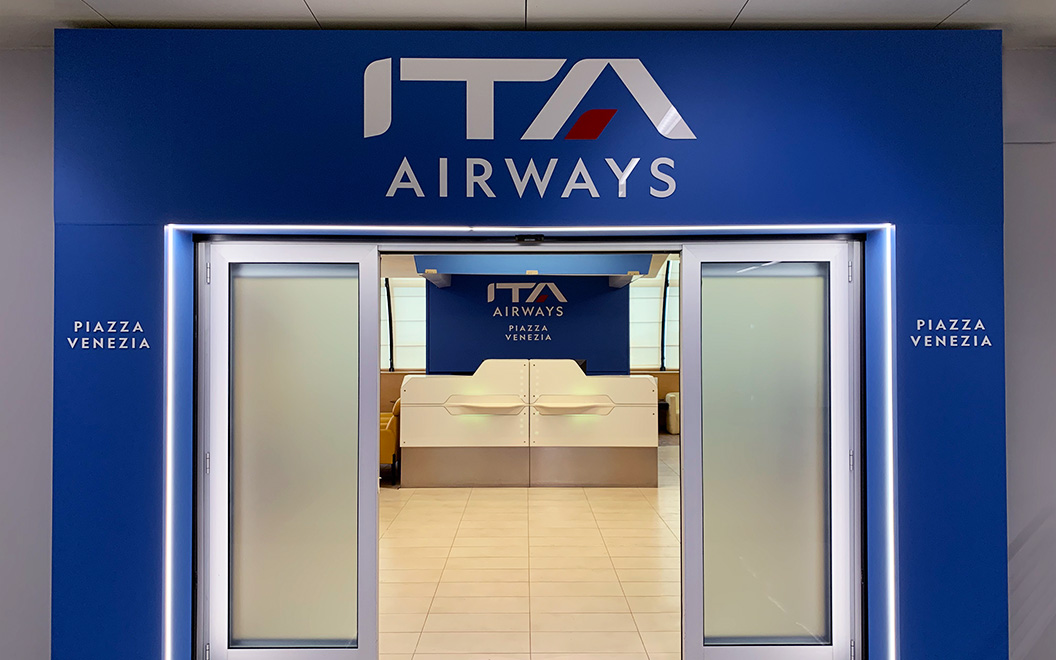 Our Re-branding Journey Encompassed:
Online project platform usage offering client 24/7 project overview
Digital self-survey tool usage (providing GLIMMA with precise information on location-specific touchpoints)
Technical Specifications Analysis
Budget Creation and Development
Production and Delivery across global project locations
Project synopsis and end-of-project audit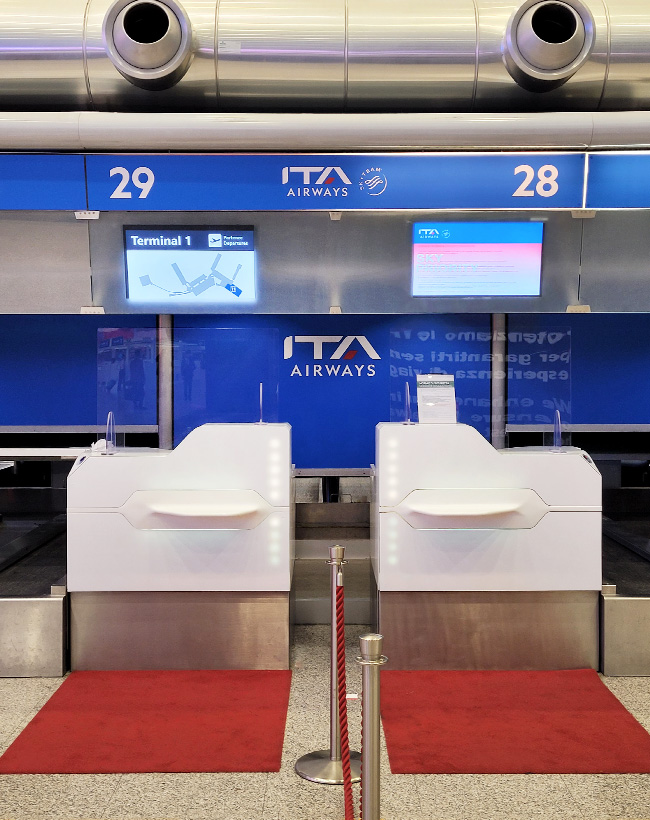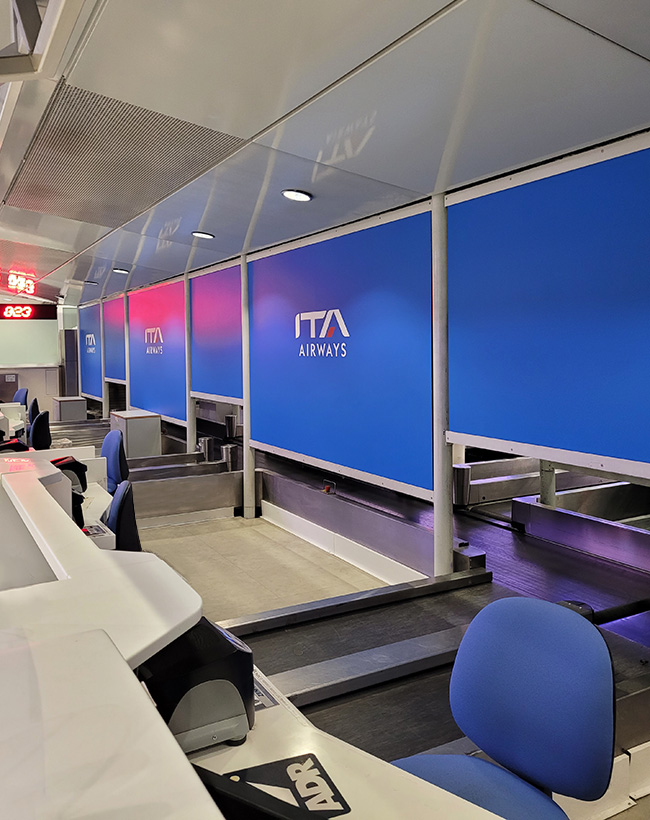 Re-branding locations included:
Algiers (ALG), Amsterdam (AMS), Athens (ATH), Barcelona (BCN), Bruxelles (BRU), Cairo (CAI), Paris (CDG), Dusseldorf (DUS), Frankfurt (FRA), Geneva (GVA), London (LHR), Madrid (MAD), Malta (MLA), Munich (MUC), Nice (NCE), Paris (ORY), Tirana (TIA), Tel Aviv (TLV), Tunisia (TUN), Zurich (ZRH), Brindisi (BDS), Bari (BRI), Catania (CTA), Fiumicino (FCO), Genoa (GOA), Linate (LIN), Napoli (NAP), Palermo (PMO), Pescara (PSR), Reggio Calabria (REG), Lamezia (SUF), Torino (TRN), Trieste (TRS), Venezia (VCE).
Throughout this rebranding project, GLIMMA and DB Ingegneria dell'Immagine executed the project with precision, showcasing our expertise in delivering impeccable brand management solutions.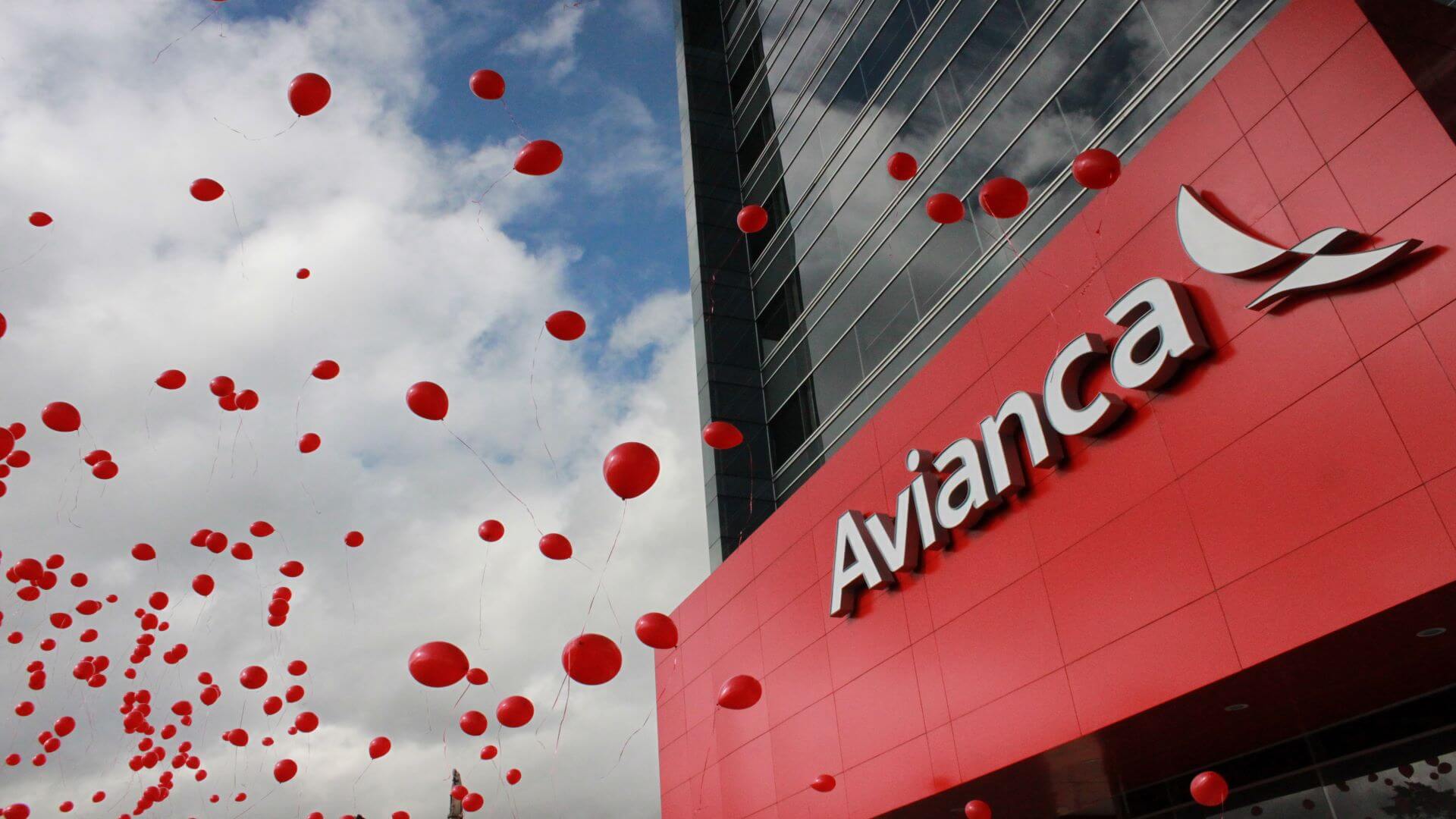 THE BRIEF
To implement Avianca's new brand identity across airports and ticket offices globally.
When Colombia's national airline took over TACA airlines and expanded their coverage in Latin Ameria, they decided to rebrand.
'Speed was essential and GLIMMA really rose to the challenge. They succeeded in delivering our new branding in 29 countries across four continents, rebranding more than 80 airports and 220 ticket offices within just 180 days.'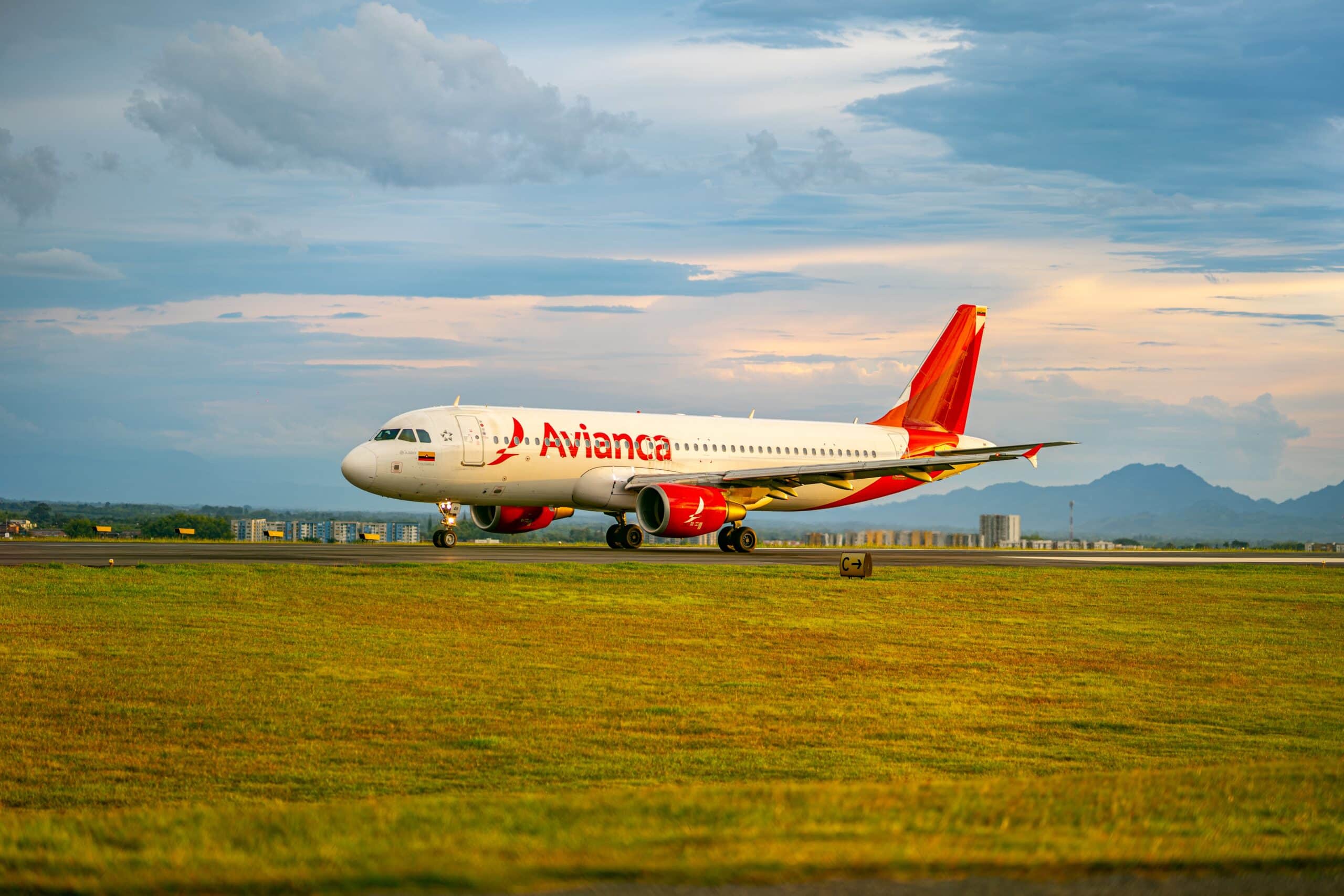 HOW DO YOU DELIVER A REBRAND IN 84 AIRPORTS IN JUST 180 DAYS?
Their new brand identity was created by Lippincott. Our role was to fully rebrand over 300 locations in the new brand identity, whilst keeping the design under wraps until launch day.
Working closely with their designated Rebrand team – HR, Marketing and Corporate Affairs – we started by undertaking a full audit of all their branded assets. This included real estate, fleet air, ground fleet and every brand touch point (including digital).
The rebrand covered every possible element – paint, digital screens, graphics, signage, point of sales materials, office branding and their entire ground fleet.
LOCAL KNOWLEDGE
We project managed the implementation of the rebrand from our offices in Mexico and Colombia.
The local knowledge of our network was critical in understanding cross-border restrictions, particulary given the senstive nature of airport environments. It also helped in providing multi-lingual signage solutions.
Avianca's award winning rebrand and our role was featured in the UK's top branding publication 'Communicate'.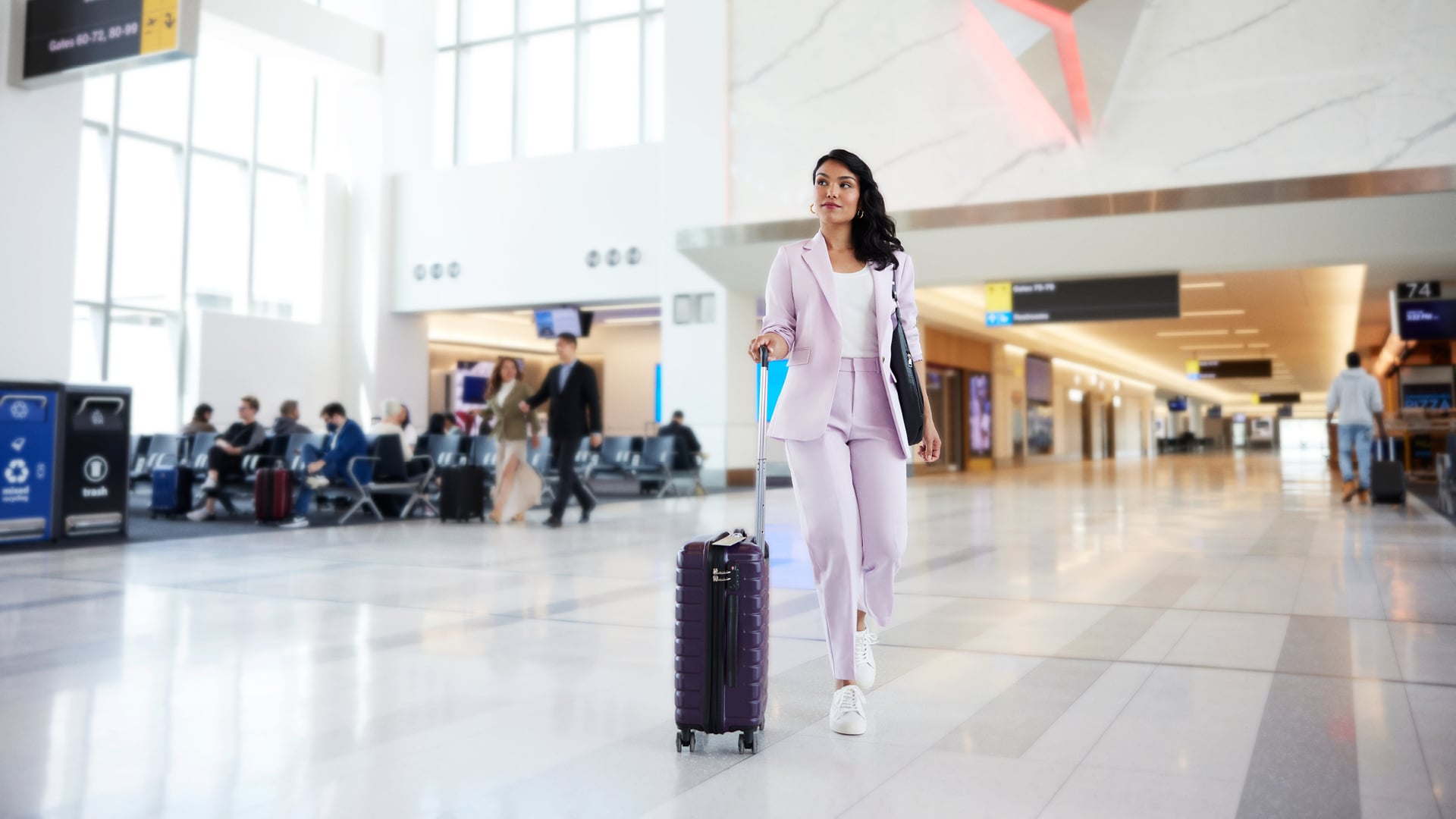 We created brand experience that is rich in quality, impact and emotion across the entire customer journey on behalf of Delta Air Lines in over 275 airports worldwide.
More than 4,000 Delta Air Lines flights take off every day, connecting people across more than 275 destinations on six continents. Delta's 80,000 employees serve over 200 million customers annually.
'We worked collaboratively to design, produce and install visual brand assets in all 275 airport destinations around the world.'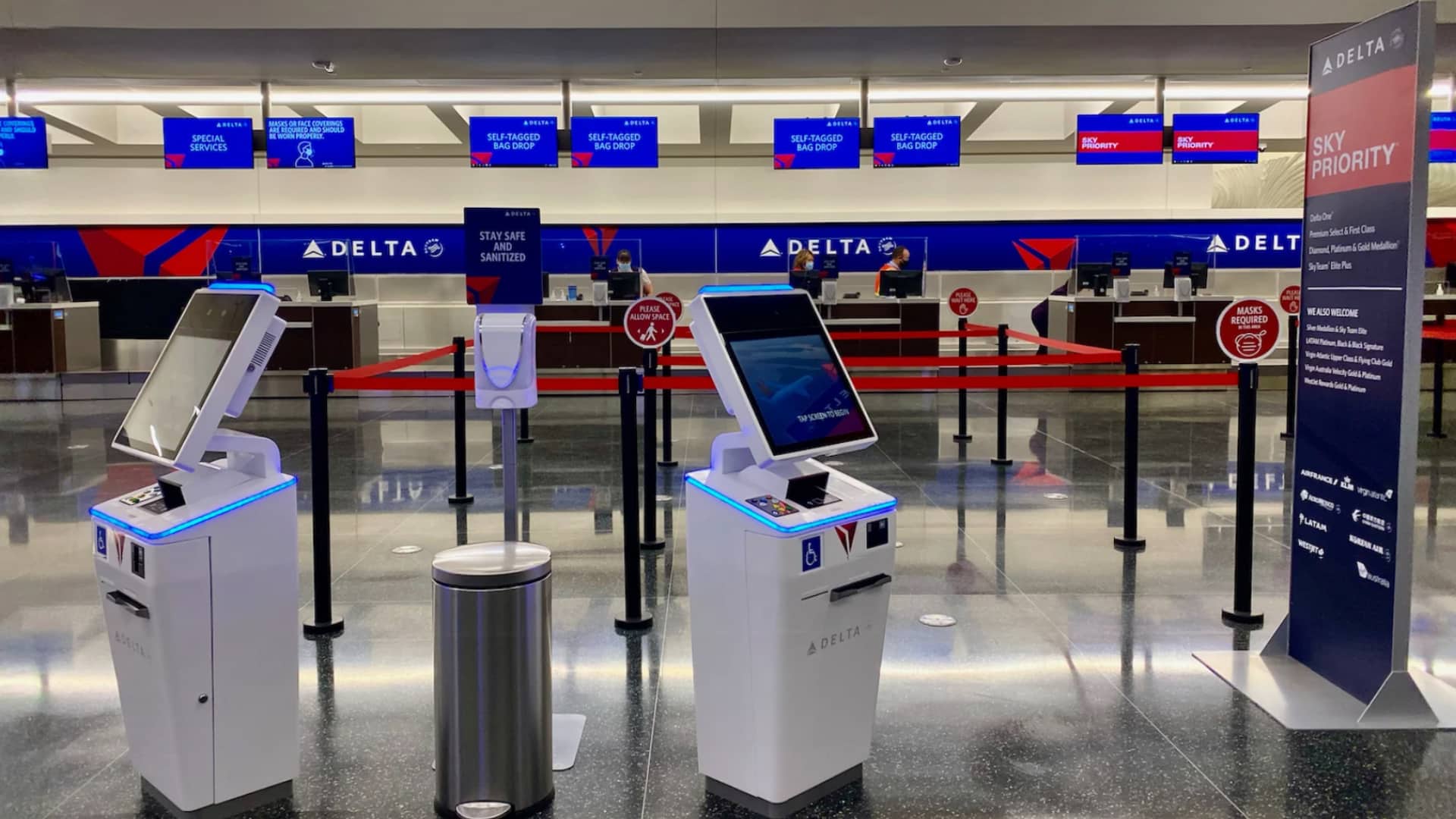 Delta Check-in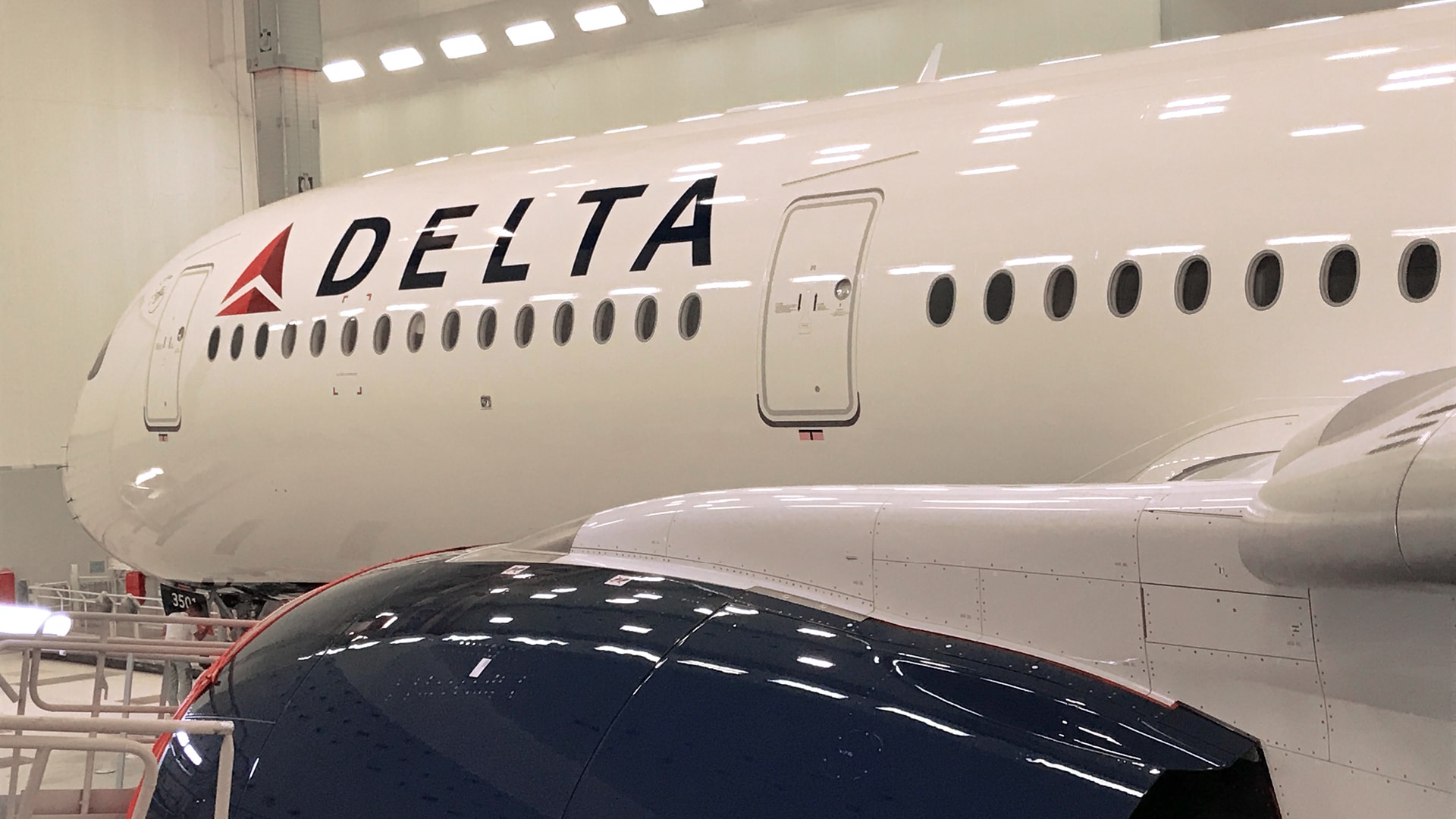 We manage an extensive range of brand assets for Delta globally and frequently complete on-site surveys, track completed projects and gather specific brand data to feed it into our brand asset database to help track Delta's branding and in-market messaging for their teams.
Our design team interpret Delta brand guidelines to create consistently effective visual signage, wayfinding, and marketing communication assets across the entire customer travel journey and we are constantly innovating with the Delta teams adding new services to the solution portfolio, including vendor network management, technology services, fleet services and product specification,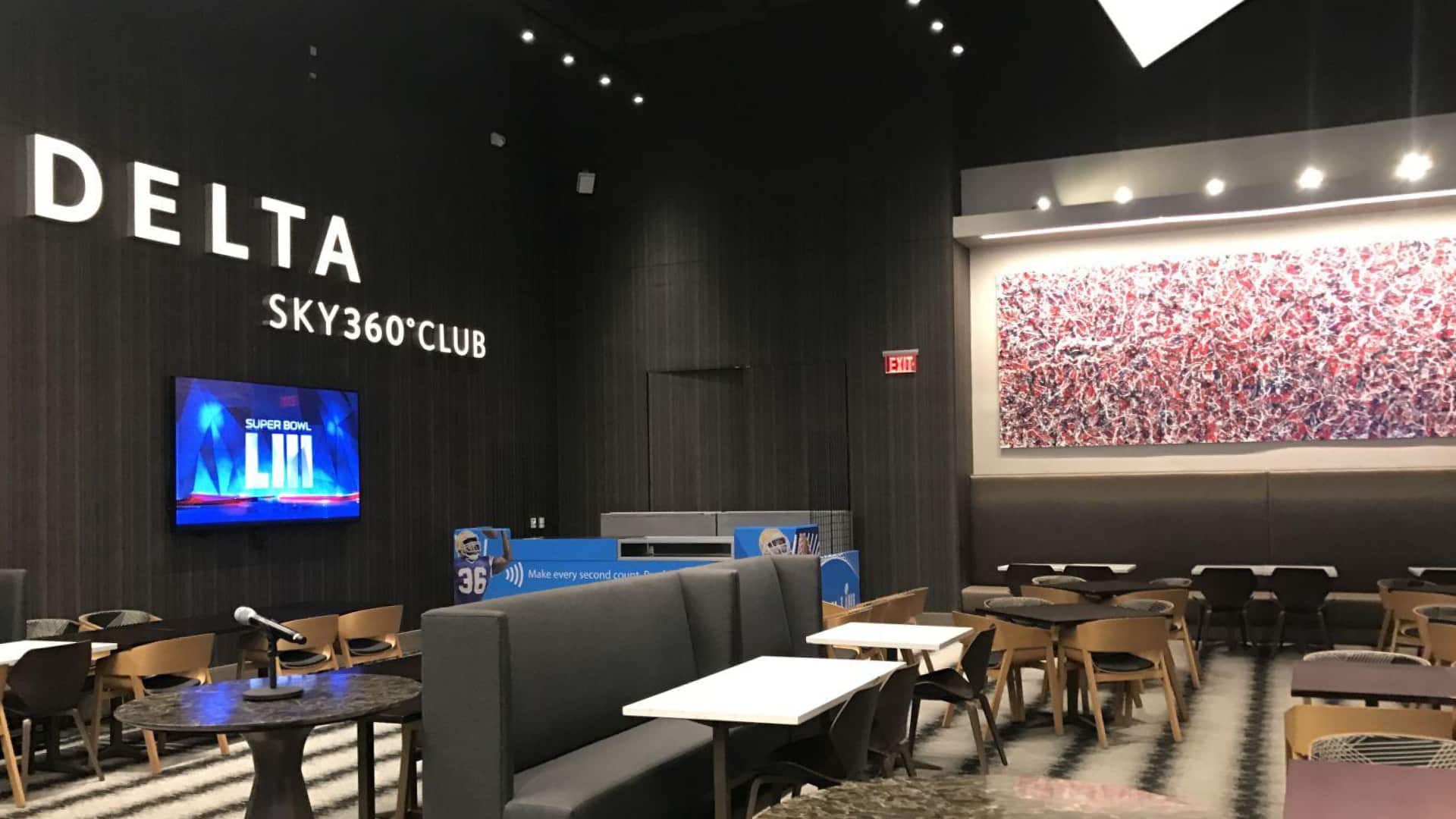 Delta Sky Lounge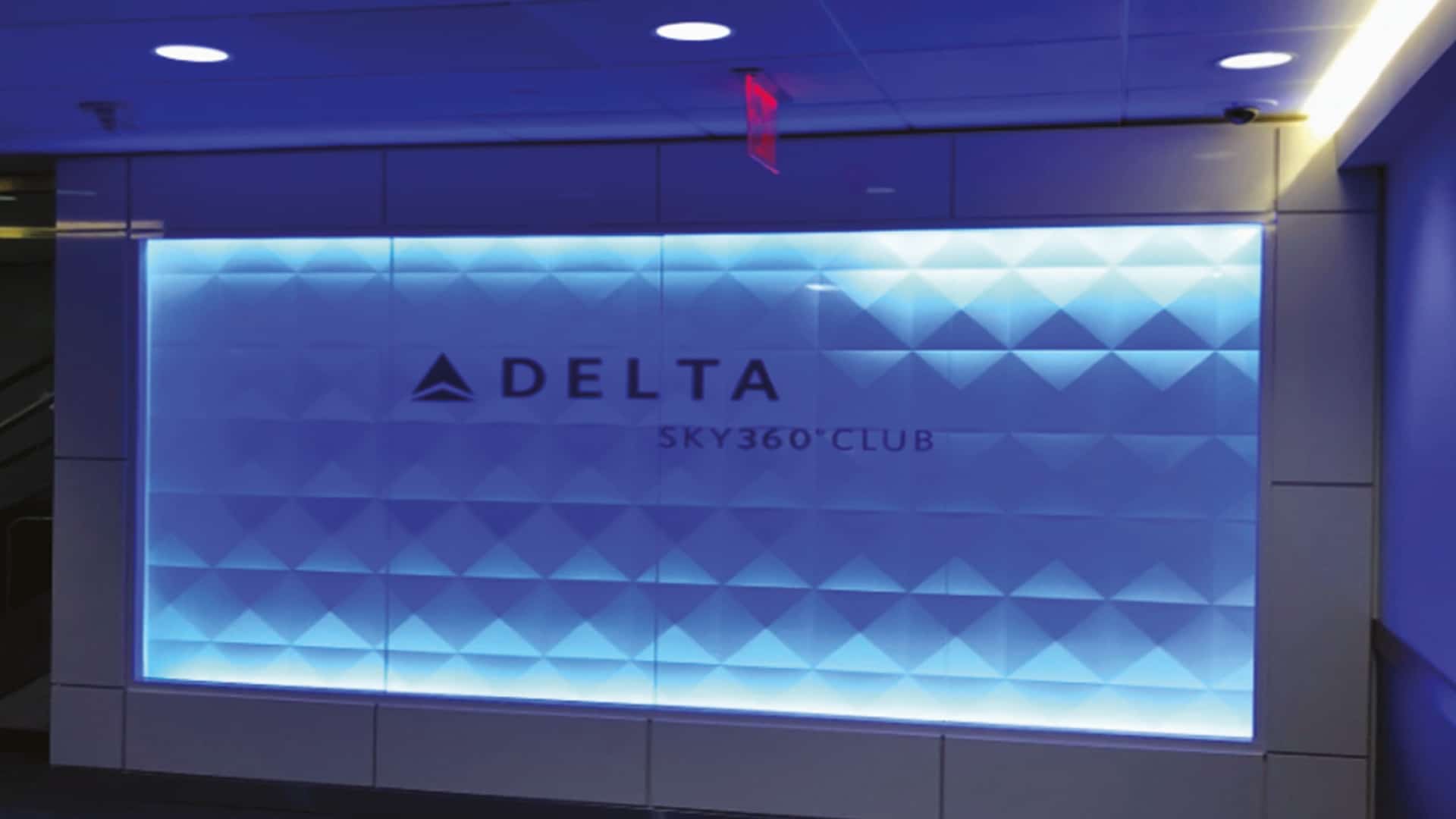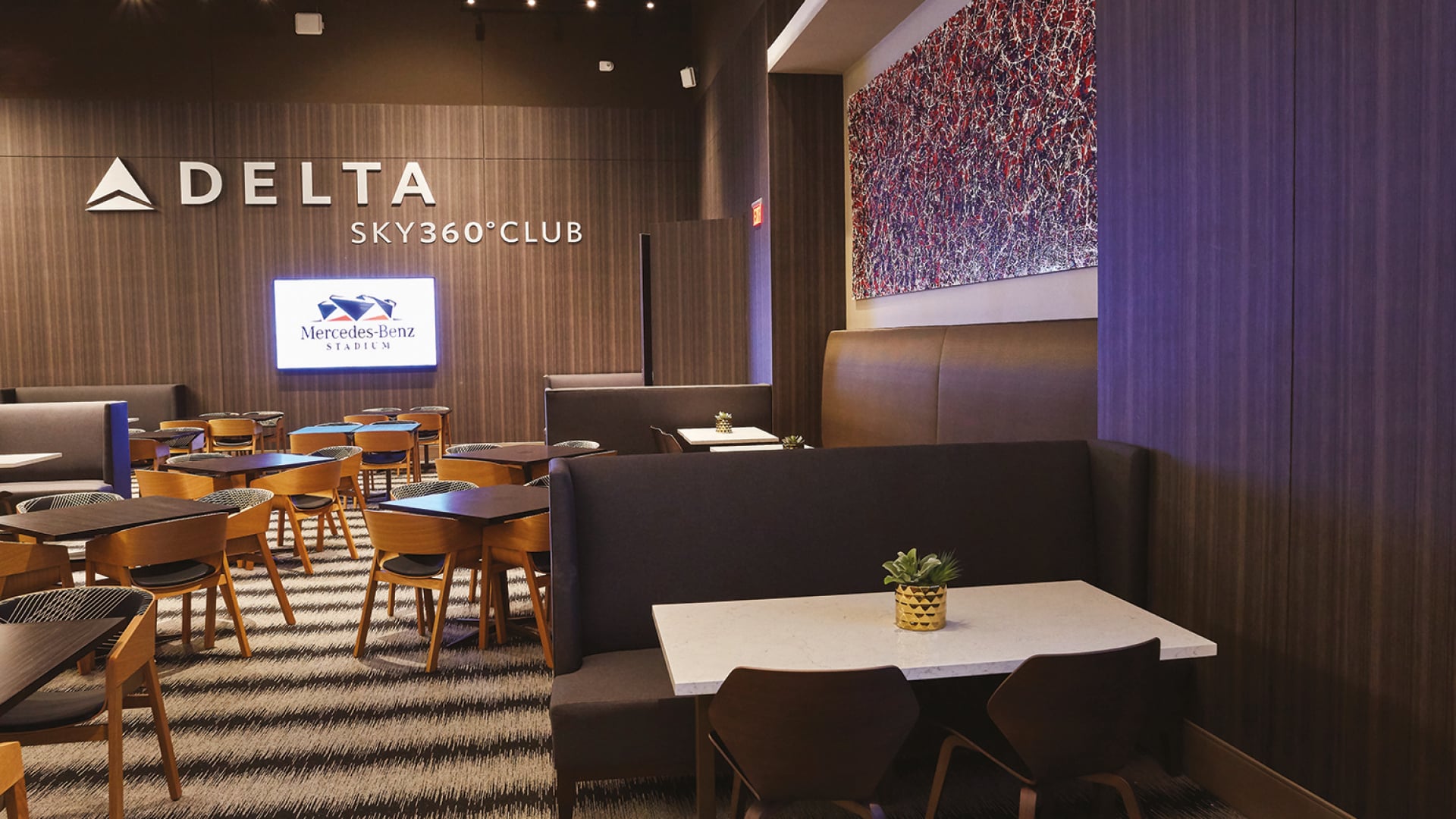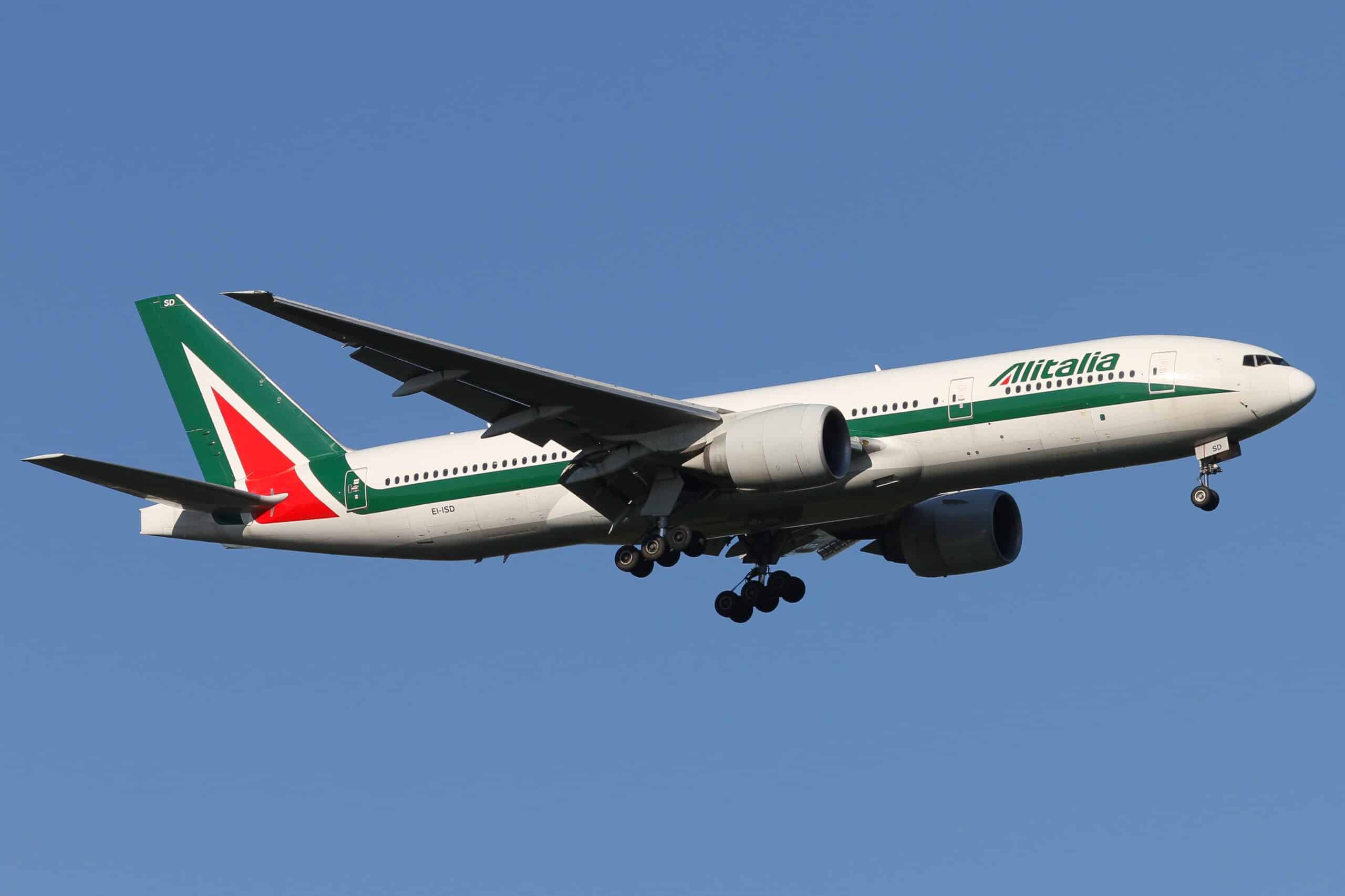 We were asked to help with the global implementation of Alitalia's new brand identity across 22 international locations. A wide variety of brand touchpoints were identified and replaced across different locations such as ticket offices and airports, helping to create a consistent customer journey.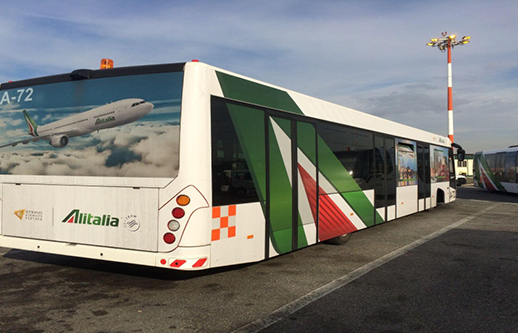 Rebranding on airport busses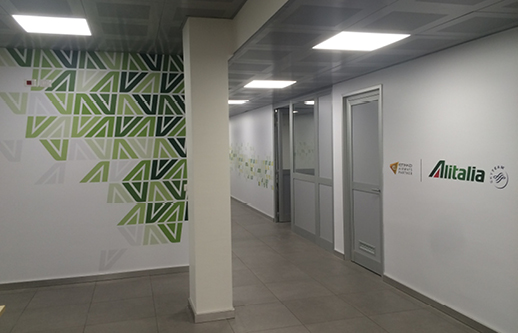 Rebranding in offices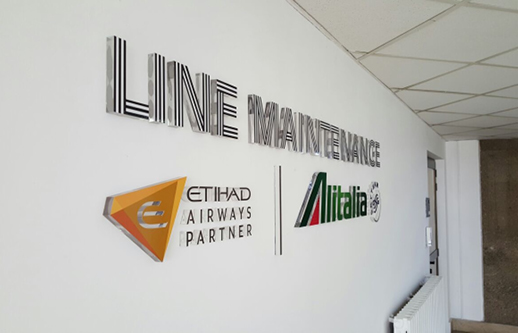 THE BRAND TEAM
We assigned a global team to Alitalia to support their daily needs, offering technical advice, in addition to project managing the implementation programme. Our team very quickly became brand gurus!
Our role also included detailed site surveys which ensured that every element was designed and specified correctly and subsequently, produced and installed to the required standard.
TRANSPARENCY AND CONTROL
With 24/7 access to our project management tool, real-time updates were available throughout the rebrand, helping the Alitalia brand team to track and monitor progress at all times.
By setting up standard procedures and adhering to a structured approvals process, we ensured that all sites and brand touch points were delivered on time and to the right specification.